Improving your WordPress SEO is critical to getting more traffic to your website. If you want to increase your website traffic, you need to pay attention to the best WordPress SEO practices. In this definitive WordPress SEO guide, we will share the best SEO tips for WordPress to improve your WordPress SEO. You may have heard that WordPress is SEO-friendly. This is why many people choose WordPress to start a blog or website.
While WordPress makes sure that its code follows the best SEO practices, there is much more you can and should do if you want to maximize your SEO efforts.
So, how to improve WordPress SEO? How to implement search engine optimization in WordPress? We have compiled a series of feasible steps that you must take to optimize your WordPress SEO properly.
Introduction to SEO
We know that optimizing WordPress for SEO can be intimidating for beginners, especially if you are not a technology fanatic. But don't worry: it's not that complicated. You can start here to learn the basics, and then you can start applying them to your website.
What Is SEO?
To answer what is SEO simply, it is called Search Engine Optimization. It's used by website owners to get more traffic by ranking higher in search engines. Search engine optimization is not about deceiving Google or playing the system. It is simply about creating a website with optimized code and formatting that makes it easier for search engines to find your website. When people search the web, your SEO content will appear higher in the SERP, learn what is SERP here, and you will reach more people clicking on your website. To achieve this, you need to learn the relationship between WordPress and SEO.
Why Is SEO Important?
Search engines are often the primary source of traffic for most websites. What is a search engine, and what search engines use algorithms to understand and rank pages in search results? They aren't perfect – they still need help to understand what your content is about. If your content isn't optimized, they won't understand how to rank it. When people search the web, your website won't show up in search results, and you'll lose all that traffic. That is why is SEO important in digital marketing. All business owners must make their websites SEO-friendly so that they can maximize search traffic.
What is WordPress SEO?
WordPress SEO refers to the SEO techniques and endeavors used to improve the web page's visibility in search engine result pages (SERPs). The main goal of using WordPress SEO is to increase organic traffic to the webpage by making it the number one result when it is searched for with related keywords and sentences.
We can divide SEO practices for WordPress SEO into two categories.
On-page SEO for WordPress refers to the practices of optimizing the pages and content on your WordPress website to improve their visibility and rankings in search engine results. It makes your website structured and enhanced so that search engines can see and understand it is related to the search queries.
On the other hand, Off-page SEO for WordPress enhances the ranking and visibility by doing outside work rather than on the page itself. In other words, promoting your website and its credibility with the help of other social media platforms.
Is WordPress SEO-Friendly?
If you are thinking about whether WordPress is SEO friendly or is WordPress good for SEO, the answer is yes! WordPress is inherently SEO-friendly. In other words, WordPress is designed and created with SEO practices in mind. It has many features to help the creators' SEO efforts and endeavors. Below are some of the reasons why WordPress is considered SEO-friendly:
WordPress generates clean and semantically structured HTML code.
WordPress allows you to create custom, user-friendly permalinks (URLs) for your pages and posts.
WordPress offers plugins that provide a user-friendly interface for optimizing on-page SEO elements, including title tags, meta descriptions, and XML sitemaps.
Many WordPress themes are built with responsive design, ensuring your website is mobile-friendly.
WordPress makes it easy to manage and organize your content, which is essential for SEO.
WordPress allows you to optimize images for the web by compressing them and adding alt text.
Many WordPress themes and plugins include social sharing features, which can help your content reach a wider audience and indirectly impact SEO.
Why Should You Invest in WordPress SEO?
As we mentioned above, WordPress SEO tries to improve your website visibility and rankings. However, you might think that WordPress is inherently SEO-friendly, so why should I invest in extra WordPress SEO strategies? Well, even though it supports SEO strategies innately, it does not ensure that it will work the same as the WordPress SEO services we will mention. In other words, only WordPress won't be enough for you to rank higher in the results and appear immediately. So, with the reasons below, you might want to reconsider your opinion on investing in WordPress SEO.
The first reason is that, as we said earlier, WordPress SEO allows you to have increased visibility and higher organic traffic. That means, with WordPress SEO, you can attract more non-paid traffic to your website with real potential customers. Moreover, you can become the number one result for the relevant keywords and phrases on the search engine results pages (SERPs).
The second reason is that WordPress SEO is budget-friendly and cost-effective. Instead of paying lots of money for advertisements and pop-ups, WordPress SEO can save you money in the long run with constant strategies and practices. Once you optimize your page, it will be enhanced for results, therefore saving you money since most people click on the higher-ranking websites.
The last reason is that WordPress SEO enables you to have user-friendly website performance, which is also critical for search engine results. With the help of WordPress SEO, you can enhance page speed, loading speed, mobile optimization, and so on. These will be critical for your website when it comes to user performance for search engine rankings.
WordPress SEO Basics
SEO can become technical, but not always. Learning basic SEO tips you should know to optimize your website can significantly boost your website traffic. You don't need to be Mr. Robot to use the techniques below. If you are already using WordPress, you have what it takes!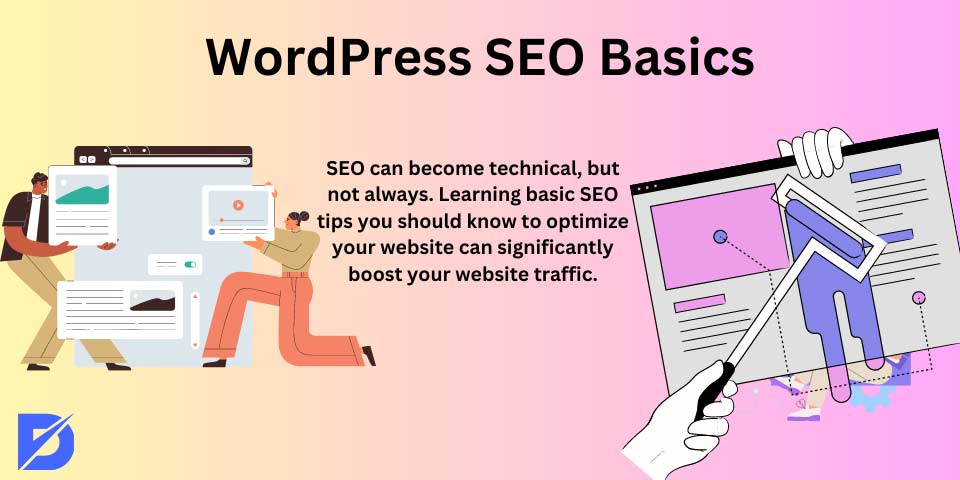 How to improve SEO for WordPress? What are WordPress SEO tips you can implement? Let's start your WordPress optimization with SEO basics and helpful SEO tips.
Check the Visibility Settings of Your WordPress Site
WordPress comes with an integrated option to hide your website from search engines. It's an option proposed for maintenance and to give you time to work on your site before it is ready to be made public. However, sometimes this option can be accidentally activated and makes your website unavailable to search engines. If your website doesn't show up in search results, you need to make sure this option is unchecked. Log in to the admin area of your WordPress website, and visit the Settings » Reading page.
You must scroll to the "Search Engine Visibility" section and make sure that the box next to "Discourage search engines from indexing this site" is unchecked. Don't forget to click the "Save Changes" button to save your changes.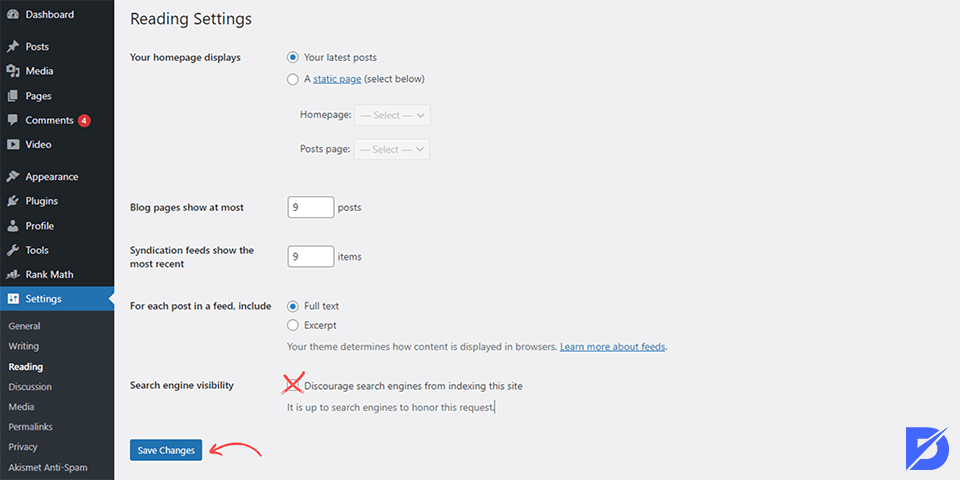 Choose a Quality Hosting Provider
Picking a quality hosting provider is significant for your WordPress website's performance. The right hosting provider can enable your website to load quickly, remain secure, and provide a better user experience. These are important since these things are crucial factors that can directly impact your SEO rankings on SERPs.
Here are some things to consider before choosing a qualified hosting provider for your WordPress website:
Speed and Performance: You might want to choose a hosting provider that is known for its fast and trustable servers. Page loading speed is significant for WordPress SEO and SEO rankings. Hence, a slow page might result in lower rankings and decreased traffic.
High Uptime: You can check the hosting provider's uptime guarantees and whether they are reliable or not. A hosting provider with high uptime means that your website is accessible to visitors all the time consistently.
Server Location: The physical location of the hosting provider's servers is crucial for being rapid and accessible. Choosing servers that are close to your target audience regarding the location can lead to faster loading times.
WordPress Compatibility: You can choose hosting providers that are also suitable for WordPress itself. These providers can have strategies and services tailored for WordPress SEO.
Security Features: You need to always prefer a host that backs up its security and takes it seriously. A host should include features like regular security scans, firewall protection, and automatic backups.
If you are looking for a hosting provider suitable for your WordPress web page, WordPress recommends Bluehost, Dreamhost, and SiteGround. These can offer you WordPress-specific hosting plans, excellent performance, and customer support.
Make Sure Your Website Is Indexable
Making sure that your website is easily indexable by search engines is an essential aspect of WordPress SEO. If search engines can read and index your site successfully, it increases your chances of ranking well in search engine results pages (SERPs).
To be able to readable by search engines, there are some settings you can do easily on your WordPress settings. In your WordPress dashboard, you can go to "Settings"> "Reading." There, you need to ensure that the "Search Engine Visibility" option, which discourages search engines from indexing your site, is unchecked. When the box is unchecked, that means your website is visible to search engines.
Pick Your Preferred Site Address Format
When deciding on your WordPress site's address format, you have two basic options: using "www" (e.g., www.example.com) or not using it (e.g., example.com). SEO can work well with both formats. Thus, your choice of format mainly can depend on your preferences and circumstances. However, it's important to pick one format and stick with it consistently for your entire website to avoid duplication.
In terms of WordPress SEO, as we said earlier, both formats can perform well if properly structured. If you want to save your URL address, you can save it from WordPress. In your WordPress dashboard,
You can go to "Settings"> "General."
There are "WordPress Address (URL)" and "Site Address (URL)" fields. There, you can enter your preferred format. For example, if you want to use "www," enter "https://www.example.com."
Lastly, be consistent and save your changes.
Add Your Website Sitemap to Search Engines
For WordPress SEO, adding your website's sitemap to search engines like Google and Bing is crucial. But for what? A sitemap can help search engines understand the structure and content of your website. That makes it easier for them to index and read your WordPress web pages, hence displaying them on the search engine results.
To be able to add your website sitemap to search engines, you need to create an XML Sitemap for your website. However, don't worry. By default, WordPress creates an XML Sitemap for your web page automatically. You can have access to your sitemap easily by adding /sitemap.xml to your website's URL (e.g., https://www.example.com/sitemap.xml).
How to Submit Sitemap to Google Search Console
After creating a sitemap for your web page, before submitting it to the Google Search Console, you need to verify it to be able to submit it. Thus, if you don't have an account, you need to create a Google Seach Console account, formerly known as Google Webmaster Tools. There, by following the instructions given, you can add and verify your website. After doing that, here are the steps you need to follow to submit your Sitemap to Google Search Console: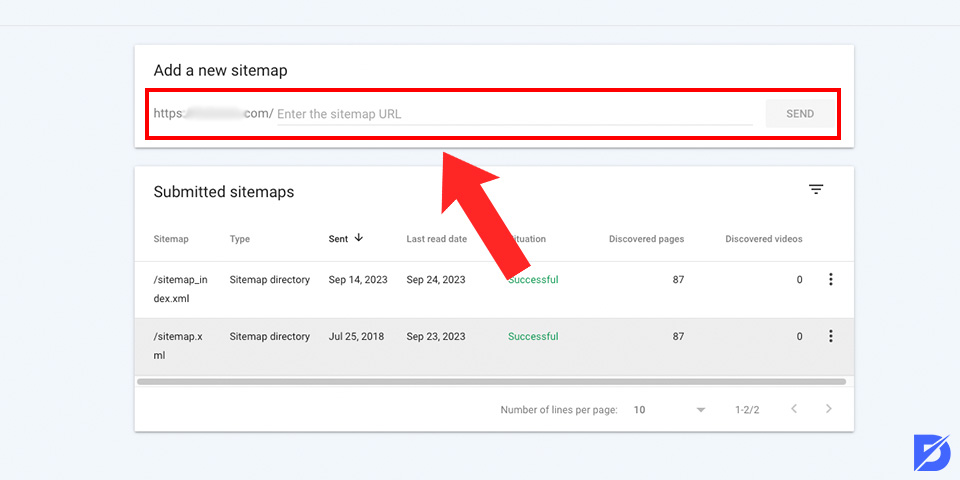 In Google Search Console, you will click on your website property to access its dashboard.
In the left-hand menu, you need to click on "Sitemaps."
In the "Add a new sitemap" field, enter the sitemap.xml we mentioned above (or the appropriate URL if your sitemap is located elsewhere) and click the "Submit" button.
After doing these steps, all you have to do is wait for Google's response. Google will process and analyze your sitemap submission. You can always check the status of your submission on the same "Sitemaps" page that you submitted before. Google will provide you details on how many pages have been submitted, indexed and or whether is there any potential issues or not.
Install an SSL Certificate
Security is a must for not only WordPress SEO but also SEO itself. Hence, using a secure HTTPS connection will be able to increase your rankings faster. Not to be seen as "not secure" on web browsers, you need to obtain an SSL (Secure Sockets Layer) certificate for your web page. However, don't worry, it is easier than it sounds. Without losing time, let's talk about the steps for how to install an SSL certificate for your WordPress SEO:
You need to log in to your hosting account's control panel (e.g., cPanel or Plesk).
There, you will look for the "SSL/TLS" or "Security" section in your control panel. You may find an option called "SSL Manager" or "Install SSL Certificate."
After that, you can follow the provided instructions to install your SSL certificate. This process might involve uploading the certificate files or pasting the certificate details, including the private key, certificate, and intermediate certificate (if applicable).
Lastly, after you install the SSL certificate, you should see a confirmation that the SSL certificate is active. It may take a few hours for the changes to be applied.
Use HTTPS
We talked about how you need to install an SSL certificate to increase security. But to be able to be seen as "secure", you need to use HTTPS (HyperText Transfer Protocol Secure). Using HTTPS is not only important for your website security, but it is significant for WordPress SEO services as well. Google uses security as a ranking factor for SEO; hence, being secure is one of the important steps that will enable you to rank higher on SERPs.
To enable HTTPS, you need an SSL certificate for your web page. You can get an SSL certificate from a trusted Certificate Authority (CA) or through your qualified hosting provider. Some hosting providers can offer you free SSL certificates through services like Let's Encrypt.
Setup an SEO-Friendly URL Structure
WordPress creates automatic URLs for your website and posts. Consequently, these can be longer, hard to read, and not appealing to the eye. These are important credentials since they decide upon your website's ranking according to the SEO. However, with the help of WordPress SEO, you can easily create short SEO-friendly URLs that will be shorter and easier for the eye. What we need to enable that is permalinks. So, let's check the steps you can follow to easily set up your WordPress SEO URL.
The first step is to go to the "Settings" on your WordPress dashboard and find "Permalinks".
Here, you will see lots of WordPress options to create permalinks. You can choose the most SEO-friendly option for your site in line with your preferences. The options are:
Post Name: This option uses the title of your posts. It's one of the most SEO-friendly choices and is recommended for most websites, especially blogs.
Custom Structure: If you don't like the ones provided by WordPress, you can create a custom-made one. For example, you can use "/%category%/%postname%/" to include the category name in the URL.
Day and Name: This one includes the date and post name in the URL. While it's descriptive, it may not be ideal for all types of content, as the date can make the URL not readable.
Numeric: This structure assigns a numerical ID to each post or page. It's the least SEO-friendly option and is not recommended since it is not appealing to the eye.
After picking one, you can save changes and check for your website. If you have older ones and try to change them, you can always update them from the "Edit" button next to the permalink, which is usually below the post name.
Utilize Structured Data
Structured data, also known as schema markup, is necessary for WordPress SEO since it can improve how search engines understand and show your website and your content in SERPs. With the help of utilizing structured data or schema markup, you can make your content more appealing and informative to users. As a consequence, you can increase click-through rates (CTR) and visibility of your WordPress web page.
By utilizing structured data, you can mark up anything related to your content. The most common ones are "Article," "Product," "LocalBusiness," "Organization," "FAQPage," and "Review." However, these are not the only ones. You can use those that are suitable for your content and web page.
If you think this process is hard and time-consuming for WordPress SEO, don't worry about it. You can use plugins for WordPress to simplify the process for you. Some popular plugins for adding schema markup to your posts are "Schema Pro" and "WP SEO Structured Data Schema." Nonetheless, you can also use plugins like Yoast SEO, which also has the ability to create markups for your content.
Create WordPress Tags and Categories
Categorization is beneficial for your website's order and tidiness, hence appealing to the eye. Tags and categories enable you to organize your posts into relative groups and enable users to find related content easily. Since WordPress only accepts content as categorized and lists the ones that are not in groups as "uncategorized", it is essential to pick a group for each of the content.
Creating Categories
Categories are broad topic groups that help you organize your content into logical sections. Here's how to create categories: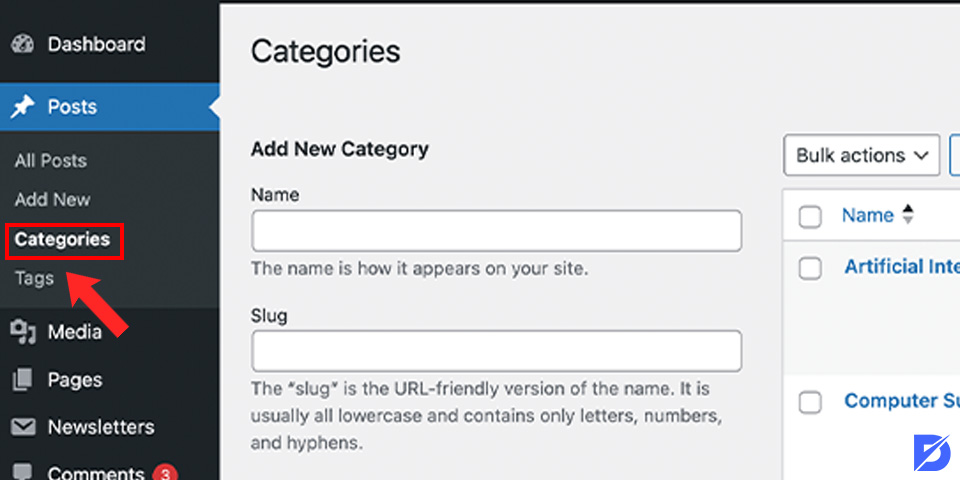 You need to open your WordPress dashboard first.
Then, you need to go to "Posts"> "Categories."
You can add a new category by entering a name, a slug (URL-friendly version of the name), and a description (optional).
After adding that, you can click the "Add New Category" button to save your changes.
Creating Tags
Compared to categories, tags are more specific and are used to provide additional information about the content of your posts. They can enable your posts to be displayed higher for the related keywords and phrases on the SERPs. Here's how to create tags on WordPress:
First, open the WordPress dashboard.
Second, go to "Posts"> "Tags."
There, you can add a new tag by entering a name and slug (similar to categories, but for tags, the slug is often automatically generated from the name).
Lastly, you can click the "Add New Tag" button to save your changes.
Enable Breadcrumbs
For WordPress SEO, breadcrumbs provide navigation links that show users the path from the homepage to the current page. It makes it easier to navigate and understand the website's structure for the users. They can also appear on SERPs, which will increase your rankings as well. So, enabling breadcrumbs is essential for attracting organic traffic and increased rankings for your WordPress SEO endeavors.
The easiest way to enable breadcrumbs is using a plugin created for WordPress. The ones we can suggest to you are Yoast SEO and Breadcrumb NavXT. These can help you to ease the process and enable you to save time. For example, if you're using the Yoast SEO plugin, you can follow these steps to enable breadcrumbs for your website:
The first step is to go to "SEO"> "Search Appearance" in your WordPress dashboard.
Secondly, you can click on the "Breadcrumbs" tab.
Here, you can toggle the "Enable Breadcrumbs" switch to "On."
There, you can configure the breadcrumb settings according to your preferences. You can customize the separator character, choose whether to display breadcrumbs on specific content types (e.g., posts, pages), and more.
Enable Manual Approval for Comments
If you have been in this sector for a long time, you know how spam accounts come and comments under your posts to promote their accounts. Spam comments and accounts may not harm your WordPress SEO efforts, but it won't help you either. Search engines want you to fight against spam comments because they can harm your credibility and trust users have in you, and they are irrelevant. Thus, by enabling manual approval for comments, you can avoid spam comments on your posts and do not lose the aesthetic of your web page.
You can easily enable manual approval from your WordPress dashboard. Under settings, you can go to the "Discussions" and enable your manual approval for comments. After that, you will be able to see the comments your users made before posting them on the website.
Enable "Last Updated" Date
Being up-to-date and posting current posts are crucial for user experience. Since the user experience is essential for WordPress SEO, enabling the date the post is revised or updated is beneficial for you to be transparent to your users and potential customers.
The easiest way to use "Last Update" on your posts is by using a plugin. You can install a plugin like "WP Last Modified Info" or "WP Last Modified Date." For example, if you're using the "WP Last Modified Info" plugin, follow these steps:
In your WordPress dashboard, go to "Settings"> "Last Modified Info."
Choose the display settings as desired. You can choose where to display the "Last Updated" date (e.g., before or after the post content), customize the date format, and more.
Save your changes.
With the help of this plugin, your users will be able to see how the content is current and up to date. However, the users are not the ones who see the date. Search engines like Google can see and index the date of your posts. Hence, it can rank higher if the content is more up-to-date and newer with the related keywords and phrases.
Using URL-Friendly SEO Permalink Structures in WordPress
SEO-friendly permalink URLs contain words that clearly explain the content of the page and are easy to understand by both humans and search engines. Learn what is a permalink here. Some examples of SEO-friendly URLs are:
https://www.yoursite.com/how-to-install-wordpress/
https://www.yoursite.com/category/wordpress-seo/
Note that these URLs are readable; a user can guess what he will see on the page by merely looking at the URL text. What does a non-SEO-friendly URL look like?
https://www.yoursite.com/?p=10477
http://example.co/archives/123
Note that these URLs use numbers unrelated to content, and a user can't guess what they will come up on the page by looking at the URL. Using the SEO-friendly permalink structure improves your chances of obtaining better positions in search results. Here's how you can check and update the permalink structure of your WordPress site. You must visit the Settings page » Permalink. Select the "Post Name" option, then click the "Save Changes" button to store your settings.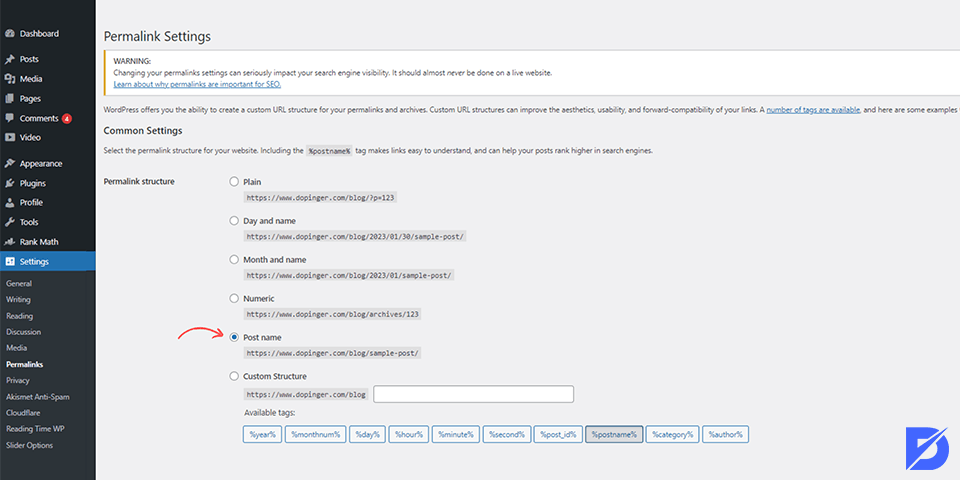 For more details, please have a look at our guide on "How to Optimize Title, Description, and URL for SEO?"
Note: if your website has been active for over six months, please do not change the permalink structure unless you use the Plain option. If you are using Date and Name or Month and Name, keep using it. By changing the permalink structure on an active website, you will lose the number of shares on social media and risk losing your existing SEO positioning.
WWW vs. Non-WWW
If you are just starting with your website, choose whether to use www (http://www.examplesite.com) or non-www (http://examplesite.com) in your site's URL. Search engines consider these two websites different, so you need to choose one and stick to it. You can set your preferences by visiting the Settings » General page. Add your favorite URL in the "WordPress Address" and "Site Address" fields.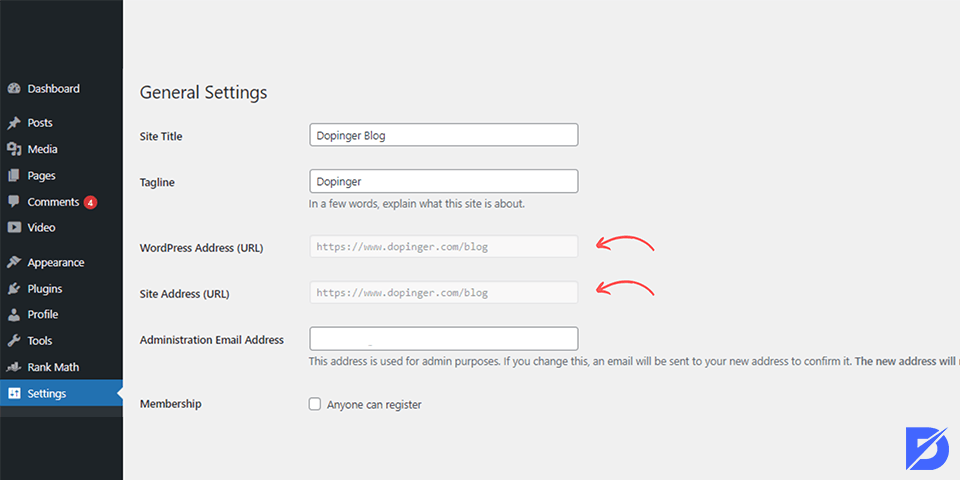 Use SEO-Friendly WordPress Themes
By default, WordPress has thousands of free and premium themes for your websites. However, it does not mean that every one of them is WordPress SEO-friendly and will enable you to rank higher. Here are some factors to consider when picking the best WordPress theme for SEO.
Clean and Lightweight Code: You can pick themes with clean, well-structured, and lightweight code. You may want to choose to avoid themes that have unnecessary features since they can slow down your website performance and negatively impact SEO.
Mobile Responsiveness: You need to ensure the theme is mobile-friendly and is suitable for different devices. Google considers mobile-friendliness as a ranking factor, so it's crucial for WordPress SEO.
Readability: You can pick a theme with a design that eases readability and accessibility. You can look for themes whose text is easy to read and whose contrast between text and background colors is good and suitable.
SEO Plugins Compatibility: Since plugins are crucial for your improvement of WordPress SEO and the overall performance of your website, you need to check their compatibility. You can look for whether it is suitable with plugins like Yoast SEO and Rank Math.
Yoast SEO
When you use a theme that is compatible with Yoast SEO, you can benefit from its features to optimize your content better than others. These features include optimizing meta titles and descriptions, managing XML sitemaps, and ensuring that your content meets SEO best practices.
Rank Math
Another excellent choice for WordPress SEO is Rank Math. Like Yoast SEO, Rank Math can enhance your WordPress site's rankings and user performance. When your chosen theme is adaptable to Rank Math, you can benefit from its advanced features, such as rich snippet optimization, keyword analysis, and SEO score tracking.
Noindex Unimportant Pages
When you have so many contents and pages on your website, you might think, "Would users want to see this one on search queries?" If your answer is no, then you can use a WordPress plugin to make those pages non-indexable and unreadable for search engines. Thanks to this feature, you can easily put your current and relevant content in higher rankings on SERPs while you can conceal the unrelated and unimportant ones.
If you activate your plugin, the steps you need to follow are easy:
Edit the Page: The first step is to navigate to the page you want to "noindex" by going to "Pages" or "Posts" in your WordPress dashboard. You need to find and edit the page you want to exclude from search engine indexing.
Access SEO Settings: There, you need to scroll down to the SEO settings section provided by the SEO plugin (e.g., the Yoast SEO meta box)
Set to "Noindex": In the SEO settings for the page, you should find an option to set the page to "noindex." In Yoast SEO, it's under the "Advanced" tab, and you can find it by clicking the gear icon.
After doing those, the only thing you need to do is save changes. Then, you will have no indexed pages for your websites.
Create a User-Friendly Site Architecture
A well-prepared site architecture enables both search engines and users to index and navigate easily. Hence, site architectures can help you enhance your WordPress SEO and attract organic traffic to your website. To create an SEO-friendly site architecture, here are some things you need to consider and follow.
Before you start building your site, you should plan its structure in great detail. You can determine the main categories and subcategories beforehand so that you can organize your website groups logically. Your site's hierarchy should look like a tree. That means the homepage should be at the top, and categories should be branching out into subcategories and individual pages or posts.
If you are a traditional person, you can use pen and paper as it was in the good old days. However, if you believe technology is faster, you can use websites like Google Sheets or MindMeister.
The Best SEO Plug-ins for WordPress
In a self-respecting SEO WordPress guide, a part dedicated to plugins couldn't be missing. One of the best parts of WordPress is that there is a plugin for everything, and SEO is no exception. There are thousands of SEO WordPress plugins that make it more difficult for beginners to choose the best SEO WordPress plugin. Instead of installing separate plug-ins for individual SEO activities, we will help you choose the best SEO plug-in for WordPress that does it all and is 100% free.
Choosing the Best SEO Plug-in for WordPress
When choosing the best SEO plugin for WordPress, you will most likely narrow down your choices to the two popular tools: Yoast SEO or All in One SEO Pack. Both are effective solutions. In Dopinger, we use Yoast SEO, so in this tutorial, we will use Yoast SEO for screenshots and examples.
XML Sitemaps in WordPress
What is sitemap? XML sitemap is a particular file that lists every single page of your website. This allows search engines to find all your content easily. It doesn't improve your site's search rankings to create a sitemap but helps search engines find pages quickly and start ranking them. So, learn how to create a sitemap entirely if you are interested. If you are using the Yoast SEO plug-in, it will automatically create an XML sitemap for you. To find your sitemap, go to this URL (don't forget to replace example.com with your domain name):
http://examplesite.com/sitemap_index.xml
Read the next step to see how to submit your XML sitemap to Google.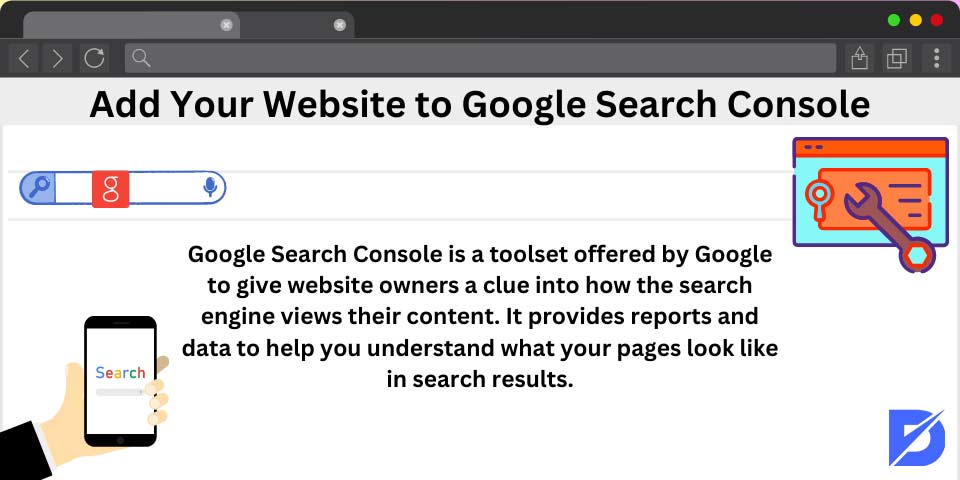 Add Your Website to Google Search Console
First, what is Google Search Console? Google Search Console is a toolset offered by Google to give website owners a clue into how the search engine views their content. It provides reports and data to help you understand what your pages look like in search results. You can also see the actual search terms people use to find your website, how each page appears in search results, and how often you click on your pages. All this information helps you understand what works on your site and what doesn't. Then you can plan your strategy accordingly.
Google Search Console also warns you when there is something wrong with your website; for example, when crawlers can't access it, find duplicate content or confidential resources. We have a guide on "How to Verify Google Search Console in WordPress?" if you are interested in learning more.
After adding your website to Google Search Console, go to Index> Sitemap. Next, you need to add your sitemap. Your primary sitemap is sitemap_index.xml, so add it to your site address and submit it.
After successfully adding your sitemap, it will appear as pending. Google needs some time to crawl your website. After a few hours, you may see some statistics about your sitemap. It'll report the number of links found in your sitemap, how many of them have been indexed, the relationship between images and web pages, etc. We recommend checking your Search Console at least once a month to collect detailed information and see your website's SEO progress.
Optimize Your Blog Posts for SEO
Beginners often make the mistake of thinking that installing and activating an SEO plugin for WordPress is enough. SEO is a continuous process that you must follow if you want to see maximum results. With Yoast SEO, you can add a title and description and focus the keyphrase to your blog posts and pages. It also shows you a preview of your website's Google results. It's recommended that you optimize your title and description for maximum clicks. When you write your blog post, scroll down to the Yoast SEO section, and make the most of it.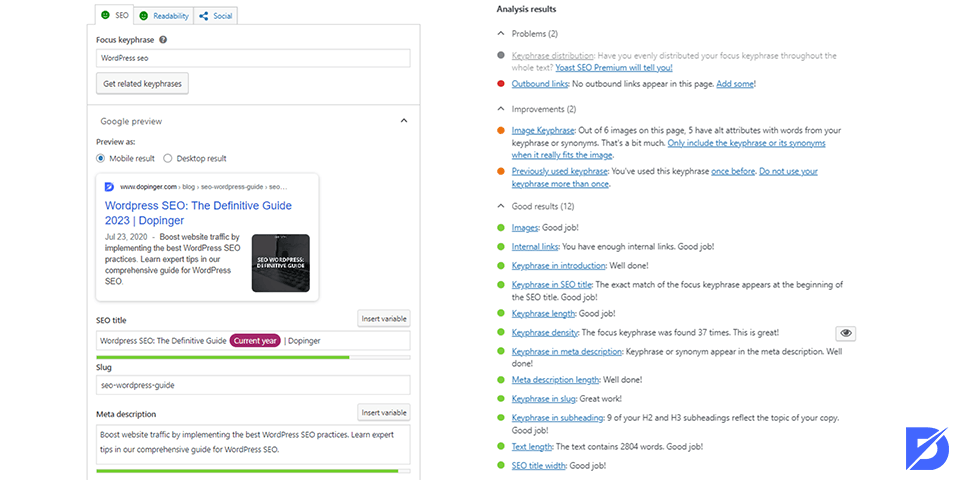 WordPress SEO Best Practices
If you follow the basics of this SEO WordPress guide and use a good WordPress SEO plug-in, you will be ahead of most websites. However, if you want even better results, follow the WordPress SEO best practices below. These are not too technical, but they will make a big difference if you follow them.
Best On-Page SEO Practices for WordPress
As we said earlier, on-page WordPress SEO means the optimization practices that you do for the increase in the rankings and the organic traffic through the page. To use them effectively, there are some strategies and WordPress SEO services that will ease your job and enhance the performance of your website. Let's delve into the detailed world of on-page optimization for WordPress SEO.
Analyze User Search Intent
As we all know, knowing the target keywords and focusing on those is significant for WordPress SEO practices. The first step of conducting a well-done keyword research is understanding the user search intent. That means understanding what users and potential customers want to achieve and seeing the keywords they are using. To understand the user search intent better, there are four categories.
Navigational: For the navigational search intent, users are looking for a specific website with looking for the name of the person or a brand as a query. To be able to rank higher for the query, you need to make sure your website is well-structured enough to navigate easily.
Informational: Informational search intent means that users are looking for answers by entering specific questions. So, you can create blog entries, content, and entries for the answers to the questions that can be asked by the users.
Commercial: Commercial user search intent means that users and potential customers are searching for a specific product to buy or to benefit from.
Transactional: When it comes to transactional ones, users or potential customers already know what to buy; what is different here is that they are looking at and comparing the other options and prices before purchasing the product.
Conduct Keyword Research
We talked about the first step of conducting keyword research, which is analyzing the user search intent. But what is keyword research? Conducting keyword research is essential as an on-page practice for WordPress SEO. It helps you to understand what users enter for something, what their intent is, and how you can use it for your benefit in order to rank higher on SERP. For better keyword research, there are two types of keywords that can help you analyze keyword entries.
Short-tail Keywords
Short-tail keywords, also known as broad keywords or head keywords, are short and general words people use to search for. They generally consist of one or two words. These keywords have high search rankings, but they are also highly competitive since they are too general. For example, "shoes" or "digital marketing" are short-tail keywords that are open to competition.
Long-tail Keywords
Long-tail keywords are more specific and longer keyword phrases compared to Short-tail Keywords. They are highly targeted since they are specific and bound to the topic. However, that means they have less competition. These keywords are important for niche marketing and optimizing content. To illustrate, "best running shoes for flat feet" or "digital marketing strategies for small businesses" are examples of Long-tail Keywords.
Search Volume
Search volume is a metric that shows us how frequently a specific keyword or keyword phrase is used in a given time period (usually it is a month). It helps you understand the demand for a keyword for a specific entry and time. High search volume keywords generally have more potential traffic but also bring more competition since they are more general. On the other hand, low search volume keywords may target a smaller audience but with less competition.
Keyword Difficulty
Keyword difficulty is another metric that analyzes and assesses how hard it is to rank for a particular keyword in search engine results. It considers the competition from other websites aiming for the same keyword. High keyword difficulty means strong competition, which makes it harder to rank since there are lots of options for users. Nonetheless, low keyword difficulty brings less competition and better ranking opportunities since they are more specific with fewer competitors.
Keyword Cannibalization
Keyword cannibalization occurs when multiple pages on your website target the same or very similar keywords. In other words, that means having more than one result for a specific entry. This can lead to confusion for search engines because they may have difficulty deciding on which page to rank for a specific keyword. To avoid keyword cannibalization, you need to create a unique and specialized web page or content for each targeted specific keyword or keyphrase.
Create High-Quality Content
Creating high-quality content is significant for WordPress SEO endeavors since it represents the prestige and the quality of the web page you have. With high-quality content, you are not just attracting users, but also you are signaling to the search engines that your website is authentic, authoritative, and valuable for users. To create high-quality content, here are the four things you need to consider.
Quality
Relevance and Value: You need to ensure that your content is relevant to your target audience and gives value to the content and the audience. You need to address their needs, questions, or main points effectively.
Accuracy: You need to verify the accuracy of your information. Incorrect information may mislead your audience, hence disturbing your reputation and credibility.
Depth: For high-quality content, you can aim for in-depth content that thoroughly covers the topic. Detailed content about a specific topic tends to rank higher on the SERPs.
Originality
Avoiding plagiarism and creating unique content is significant for both creating high-quality content and WordPress SEO. Duplicated and stolen content can lead to SEO issues and penalties for your website.
Readability
Clarity: For better readability, you can write in a clear and concise manner. You can use short paragraphs, bullet points, and headings to make your content easy to skim and read.
Grammar and Spelling: You should definitely proofread your content for grammar and spelling errors. Poorly written content can harm your credibility. So, using SEO applications like Grammarly can help you correct your mistakes and increase readability.
Audience-Friendly: You can prepare your content according to your target audience's reading level and preferences. Hence, it can reach more people in your target audience with higher feedback and reactions.
Structure
When it comes to structure, you need to use a hierarchical heading structure (H1, H2, H3, etc.) to organize your content structurally. This organization can help both users and search engines understand the content's structure and hierarchy.
Moreover, you can use bulleted or numbered lists to break down information into chunks. These lists inside a content both increase the readability and enhance the structure of the content. Also, you can add internal links to other contents of your website inside another one. This can help users to lead to more traffic within the website and navigate easily.
Keyword Cannibalization
As we said earlier, you need to be careful about targeting the same keyword on multiple pages of your website. Keyword cannibalization will confuse search engines and, thus, impact your rankings negatively. If you do not want to rank lower on SERPs, you can use tools like Google Search Console to identify and resolve keyword cannibalization issues on your website.
Keep Your Content Updated
Keeping your content updated is one of the significant on-page WordPress SEO services. Regularly updating your content can help you to maintain relevance, accuracy, and overall quality for your web page. These can enable you to improve your search engine rankings on SEPRs and better user performance. To make sure your audience and search engines can see your updates on the content, you can enable the "Last Updated" option for your website with the help of the plugins we mentioned earlier in our guide.
Optimize SEO Titles
Optimization of SEO titles, or meta titles, is one of the most significant ranking factors to rank higher on SERPs since they give short information about the content before entering the website. A well-written SEO title can increase the organic traffic on your website. Here are some WordPress SEO tips to write better meta titles for your content: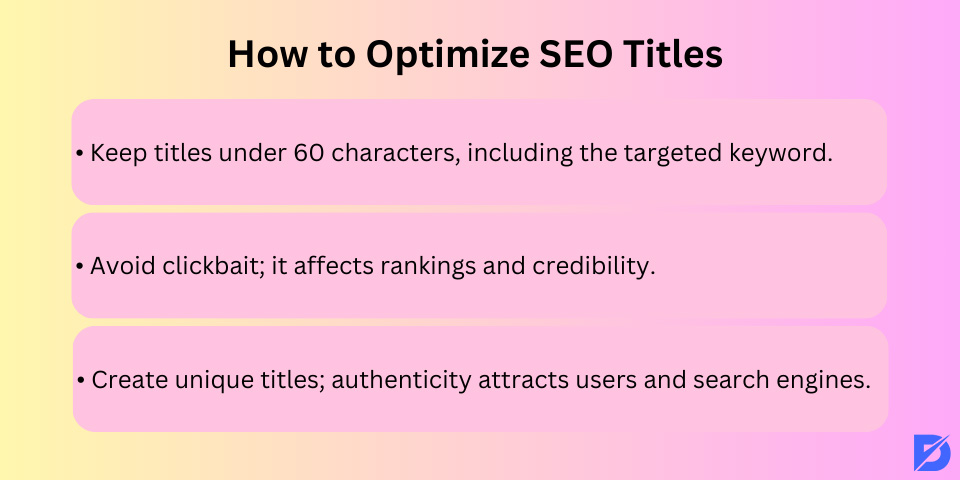 You need to keep it short, preferably under 60 characters, because search engines will cut it down if it is too long.
You should always include the targeted keyword in your title. Search engines will understand best to put your website on the fitted SERPs if they see your keyword on the title.
You should definitely avoid clickbait since it is misleading and breaks the credibility of the website. Users will come and go when they see the clickbait. This time between going in and out is measured by search engines, hence affecting your rankings negatively.
You can use and create unique titles for each of your posts and content since authenticity attracts more users and takes the attention of search engines.
Optimize Meta Descriptions
After optimizing meta titles, another feature of WordPress SEO is optimizing meta descriptions of your content. Meta descriptions are short summaries that appear in search engine results or other social media platforms when shared. These can provide users with a glimpse of your content, and they can get an idea about what it is talking about. Optimized meta descriptions can also improve click-through rates, which helps search engines understand the relevance of your pages for the search inquiry. If you want to write better SEO-friendly meta descriptions, here are some tips you can use:
Even though it seems simple, you need to make sure your meta description accurately reflects the content of the page. It should be relative and clear so that users can comprehend the idea.
To make all of the meta descriptions visible in search results, you can keep them between 150-160 characters.
You definitely need to include targeted keywords in your descriptions to make them relevant to the search inquiry. However, you should avoid keyword stuffing while doing that. That will decrease your chances of high ranking.
You can encourage users to take action by including a compelling call to action in your meta description, such as "Learn More," "Discover," or "Shop Now."
After implementing those tips, here's a before and after version of a meta description. Before, it was "An overview of our company's history and mission." With the help of tips that we provided, it can turn into "Learn About Our Company's Inspiring Journey and Mission to Excellence." Therefore, it can attract more users and potential customers to the website easily.
Optimize Your Heading Tags
Heading tags are crucial for WordPress SEO since they create a clear structure for both users and search engines. Heading tags can start from H1 to H6. You should be using one H1 per content for the SEO's sake. Since H1 often becomes the title, you need to include the focused keyword on your title so that search engines can understand your aim better.
For the rest of the article, you can use H2 to H6, respectively. However, lots of sub-headings will make the readability poor and become lengthier. Hence, you can prefer just boldly writing those things and keeping the word count minimum.
Create SEO-Friendly URLs
Creating SEO-friendly URLs in WordPress not only improves SEO but also enhances the performance experience and makes your website more accessible to users. It's an essential step in optimizing your site for search engines and attracting organic traffic. As we said earlier, there are lots of types to create short URLs, and permalinks will help you to choose the best one for you. Here are some tips for you to create SEO-friendly URLs:
Shorter URLs are easier to remember and share. So, you may prefer to keep your URL shorter and more descriptive while still conveying the message you want to give.
If it is possible, you can integrate focused keywords into your URLs. This will make search engines think that it is relevant to the targeted keyword on SERPs.
You can use hyphens (-) to separate words in your URLs. You need to avoid spaces, underscores, or special characters to do that since it will negatively affect your SEO.
Instead of uppercase, you may prefer lowercase letters because most servers treat URLs as if they are case-sensitive.
If possible, use static URLs (e.g., example.com/my-page) rather than dynamic ones with query parameters (e.g., example.com/?page=123). Static ones have a clean and readable appearance that will enhance user performance.
Create an Internal Link Strategy
Internal links are the hyperlinks that will lead users to other posts, contents, or blog entries within the same page. When used strategically, they can improve user experience and search engine optimization since they increase the traffic inside the webpage. There are two types of internal links that you can use for WordPress SEO.
Navigational internal links basically contain the website's main structure. They help users find the page or the content they are looking for easily and quickly. Navigational internal links include the ones on the navigation bar or the sidebar. These internal links can enhance the navigation within the web page and the web page performance, which are crucial factors for rankings.
On the other hand, contextual internal links, as its name suggests, are embedded in the content piece by piece. For example, on a product page, the description might have internal links to other pages that explain the features in detail. These types of links can enhance the readability and clarity of the content you provide for users.
Creating an internal link strategy for WordPress SEO is significant for three reasons:
Improved Navigation: Internal links make it easier for users to navigate your website, discover related content, and stay engaged with the website.
Distribute Link Equity: Internal linking distributes link equity (SEO value) across your site, benefiting both new and existing pages equally.
Keyword Relevance: By strategically linking related pages using relevant anchor text, you reinforce the importance of specific keywords and topics used in the content, hence increasing the SEO value.
Audit Your Internal Links
Auditing your internal links is a significant aspect of both creating an internal link strategy and WordPress SEO. Regularly reviewing and optimizing your internal linking structure helps improve user experience, ensure SEO effectiveness, and identify opportunities for enhancing your website's structure. To be able to audit your internal links effectively and regularly, here are some WordPress SEO tips we collected for you: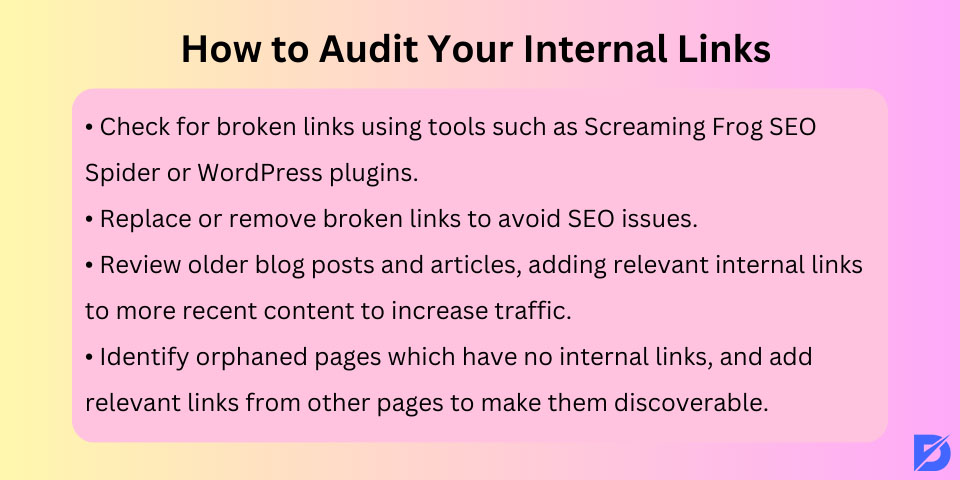 You need to look for broken links. You can use tools like Screaming Frog SEO Spider or WordPress plugins to find broken links within your web page. You can replace them with new ones or just remove them to avoid SEO issues.
You need to be sure whether the text is relevant to the internal link itself.
You can also review older blog posts and articles to see if they can benefit from new internal links pointing to more recent, relevant content. So that you can increase the traffic for the older posts as well.
You can look for orphaned pages. Orphaned pages are those with no internal links. You can easily identify these pages and add relevant links from other pages so that you can make them discoverable.
Include Reliable External Links
You don't need to always link your content with other content on your webpage. If there is no related content about the topic you wrote about, you can use external links to mention other credible websites to enhance the reading for the users. External links, also known as outbound links, can enhance the credibility and usefulness of your content. Here are some tips you can use before adding an external link to your content.
You need to add a link to reputable and authoritative sources. You can look for websites with established credibility, such as government agencies, universities, or well-known publications. Otherwise, if your outside resource is not something credible, it will also affect your web page's reliability as well.
You should constantly check for updates on the links. You need to verify that external links are still active and lead to the intended content. If those links are broken, that can harm user experience and SEO for the website.
If it is possible, make sure it is available to open in a new tab. You can consider setting external links to open in a new tab or window, especially if they lead users away from your site. This keeps your page accessible for users, and they can always come back easily.
You shouldn't bombard the text with links. You need to maintain a balance between internal and external links within your content. Overloading with links may divert users away from your site.
Optimize Core Web Vitals
Google has recently announced that Core Web Vitals are also considered for ranking factors. Thus, it has become important for SEO endeavors, whether it is WordPress or not. But it is more important for WordPress SEO since it deals with websites. Core Web Vitals focus on user experience and measure the loading performance, interactivity, and visual stability of your web pages. So, to be able to rank higher on the SERPs, optimizing your core web vitals is crucial. Before talking about what to do to optimize vitals, let's talk about what those are on your web page.
Largest Contentful Paint (LCP): LCP evaluates the render time of the main content in the visible area of a page, which can be the largest text or image.
First Input Delay (FID). FID evaluates the time delay between a user's first interaction with a page (such as clicking a button or tapping on a link) and the browser's response to that interaction.
Cumulative Layout Shifts (CLS). CLS assesses the time it takes for a website to have a stable visual appearance without any unexpected on-page layout shift.
Tips for Optimizing Core Web Vitals
Here are some of the best WordPress SEO tips to speed up your website instantly and easily with the help of the optimization of core web vitals:
You can optimize images by compressing and resizing images to reduce their file size without compromising quality.
You can minimize JavaScript Execution on the webpage. You can reduce the amount of render-blocking JavaScript, especially in the critical rendering path of the website.
You need to make sure that the most important content loads quickly and doesn't require excessive scrolling to fully load.
You can implement browser caching to store frequently used resources on users' devices, improving load times.
You can create a space that is reserved for dynamic content like ads and embedded videos to prevent unexpected layout shifts.
You might use a Content Delivery Network (CDN). CDNs distribute your content across multiple servers globally, reducing server response times by a great amount.
You may want to choose a fast, SEO-friendly WordPress theme for your website that will decrease the load time for your content.
Optimize Your Site Speed
A fast-loading website not only improves user experience but also contributes to better search engine rankings. So, optimizing your website speed is crucial for your WordPress SEO efforts. If you are thinking about why optimizing site speed is important for your website, let's talk about its benefits. Then, we will talk about how you can make your website faster with the help of WordPress SEO and plugins.
Fast is always better. Faster websites lead to lower bounce rates and higher user engagement.
Speed is crucial for SEO. Site speed is a ranking factor for search engines, so optimizing it can help your site rank higher on SERPs.
Faster websites can have higher conversion rates, which leads to increased sales.
Test Your Site Speed
To be able to make your site performance better and faster, firstly, you need to understand what the current situation on your website is. You can use tools like Google PageSpeed Insights, GTmetrix, Dopinger's Website Speed Test, or Pingdom to see your website speed and the areas that need improvement.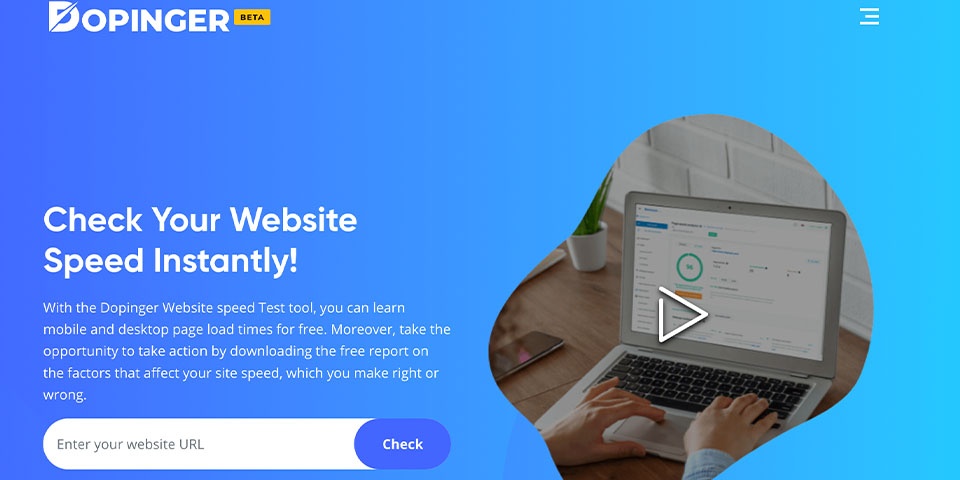 Install A Cache Plugin
Caching is a technique used in optimization that helps your website to load faster. It stores static versions of your web pages and reduces the server load for loading. If you have a WordPress website, the best WordPress SEO plugins for caching are W3 Total Cache and WP Super Cache. You can tailor plugin settings to the needs of your website and regularly clear or update the cache while you make changes to your website.
Use a Content Delivery Network (CDN)
A Content Delivery Network (CDN) distributes your website's content to multiple servers across the world. So, it ensures that users receive content from the server nearest to them while increasing the load speed. Popular CDNs that you can use are Cloudflare, StackPath, and Akamai. If you want to use a CDN with WordPress, you need to sign up for a CDN service, optimize it according to your website needs, and then you can follow the CDN service's instructions one by one.
Minify Your Code
As we all know, smaller files load faster. So, minification, or minification of the code, means removing unnecessary spaces, line breaks, and comments from your HTML, CSS, and JavaScript files to make them smaller and reduced. You can use WordPress SEO plugins like Autoptimize or WP Super Minify to make the minification process automated on your WordPress website. You can adapt the plugin settings and then test your site's performance. So that you can see minification doesn't cause any issues with your site's ongoing functionality.
Optimize Your Images
Images are what attract the audience, and that enriches the content. However, more or bigger images mean a longer loading time and a slower pace of the website, hence resulting in lower rankings. Optimizing those images can gain you a lot of time and speed so that you can be higher on the SERPs. Moreover, smaller and optimized image files consume less server bandwidth, and that can enable you to save costs. So, without further ado, let's talk about how you can optimize your images and enhance your user experience.
Compress Your Images
Image compression can decrease the size of the file without disturbing its quality. While doing that, you can choose between lossy and lossless image compression, which depends on your type of image. If you are optimizing a JPEG file without too many details on it, you may prefer lossy compression. On the other hand, lossless compression is more suitable for PNG images with a lot of text and details. You can use WordPress SEO plugins like Smush or WP Smush to reduce image file sizes without losing quality.
Use Proper Image Sizes
You can resize images to the dimensions that are required by your website's layout. You need to avoid uploading large images and relying on CSS or HTML to scale them down. This process can slow down your website, thus resulting in a negative performance. To hinder that situation, you may use image editing software to adjust sizes and formats before uploading on your website.
Add Alt Texts
Alt texts, or alternative texts, are what make your website more accessible by defining and describing images on your website to the search engines. Screen readers can also use those alt texts for visually impaired users, increasing the accessibility of the website. By default, WordPress has features to add alt text to images while uploading them. You can assign the alt text via the media library or via the block editor. Here are some WordPress SEO tips you should be careful about while writing alternative texts:
Write an accurate description both for the search engines and visually impaired users.
Write a short alt text while keeping it between 80-125 characters.
Try to use keywords if they are related, but avoid keyword stuffing.
Be careful about the grammatical structure of the sentence.
Create SEO-Friendly File Names
The names of the files are crucial since they also give an idea to the search engines about what the image consists of. In fact, search engines prefer and may suggest images with readable names to users. Therefore, writing a definition of the picture as a file name instead of numeric ones like "IMG_010623" can increase the traffic to your website.
You may prefer to keep those names under five words since short names look clear on the file URL. Also, you may try to include keywords in the name so that it can appear on the related searches as well. And lastly, you may want to avoid the usage of uppercase letters and spaces because Google prefers and changes them with lowercase letters and hyphens as spaces.
Correct Use of Categories and Tags in WordPress
WordPress lets you sort your blog posts into categories and tags, making it easier for users to manage content by topics and search for content. Search engines can understand the structure and content of your website with categories and tags. Often beginners get confused about how best to use categories and tags. After explaining it to thousands of readers, here's how we deal with categories and tags. The categories are meant for a large grouping of your posts. If your blog is a book, the categories are the summary. On a personal blog, you may have categories such as music, food, travel, etc. Categories are hierarchical so that you can add subcategories to them. Conversely, tags are more specific keywords that describe the content of a single post. For example, a blog post archived in the food category may contain tags such as salad, breakfast, pancakes, etc. Think of these as a section of indexes in a textbook. By using categories and tags correctly, you make it easier for users to navigate your website. Because it's easy for users, making it easier for search engines to navigate your site.
Utilize Google Tools
There are lots of WordPress SEO plugins for website improvement, but making use of Google tools is crucial since you can directly interact with what a search engine wants. You can use Google Search Console and Google Analytics for the improvement of rankings on the SERPs. These tools provide insights into your website's performance and help you make data-driven decisions by giving real data.
Google Search Console
Google Search Console with being free, shares insights with you about your website's current performance. It shares information with you about your website's search engine visibility, SERP position, and your web vitals core score. Here are some benefits of Google Search Console for the usage of WordPress SEO:
You can submit your website's XML sitemap. This helps Google to index your site's pages more efficiently.
You can regularly monitor index coverage to see that Google is successfully and regularly indexing your web page.
You can use the "Coverage" and "Mobile Usability" reports to understand whether is there any crawling or mobile issues that may affect your site's SEO performance.
You can conduct keyword research easily for your website.
With the help of the reports, you can find which areas need improvement on your website for the sake of SEO.
Google Analytics
Google Analytics, on the other hand, offers real-life data about your performance, which includes acquisition, engagement, and retention rates. Again, you can use these data to enhance your WordPress SEO efforts in order to rank higher on the SERPs. If you are looking for reasons to use Google Analytics, here are some:
You can set up Google Analytics to track user behavior on the website. With the help of Google Analytics, you can track metrics like page views, bounce rate, session duration, and conversion goals to understand how users interact with your page.
You can use the site speed report to see how fast your website is. If there are any improvements, again, you can make use of the report and enhance the areas for your website speed.
You can analyze and identify which pages are high-trafficking and during what time of the day so that you can prepare marketing strategies for those pages and products.
You can use the Behavior Flow report to understand how users move on your website. You can analyze popular pathways and areas where users of the page commonly go through.
Avoid Duplicate Content
Duplicate content may arise from variations in URLs, like having both www and non-www versions for the same webpage. A web page can have multiple URLs due to URL parameters, e.g., sorting options on e-commerce websites. Search engines may see these variations as distinct pages with the same content. Hence, it can lead to the canonization issue we mentioned earlier. For the sake of WordPress SEO, you may want to avoid duplicated content to protect your website's authenticity and your ranking on the SERPs.
To avoid duplicate content in WordPress SEO, you may choose to implement strategies such as canonical tags, handling of URL parameters, pagination management, and unique meta information for each page. You need to monitor your site's performance regularly to see the improvements you made. You can use tools like Google Search Console to identify any duplicate content issues promptly.
Consider Google's EAT Criteria
Utilizing Google's E-A-T criteria (Expertise, Authoritativeness, and Trustworthiness) is essential for on-page WordPress SEO. Google has been using these factors to assess the quality and credibility of a website's content. Since credibility and quality are significant for deciding on the rankings and SEO, making use of and considering these criteria can have an impact on your website.
To align with Google's E-A-T criteria, you can emphasize the expertise by displaying author qualifications and posting regularly updated content. For authoritativeness, you can build quality backlinks and mention industry experts. You may want to show the users social proof, such as awards and certifications you earned with your webpage or your company.
Trustworthiness is also crucial as the last criterion. To achieve trust, you need to be transparent. You can clearly state privacy policies, keep a detailed "About Us" page, and provide reliable contact information for the users. Moreover, you need to ensure a secure HTTPS website and prioritize content accuracy. Hence, you will be improving your credibility and reliability among the users. By consistently demonstrating E-A-T, your WordPress site can boost its SEO and attract organic traffic to the website.
Add Schema.org Structured Data
By adding Schema.org structured data to your WordPress website, you give search engines additional context about your content. Thanks to that, it can lead to improved search result rankings with enhanced SEO visibility. You can regularly review and update your structured data so that it is accurate and relevant to your content.
To simplify the process of incorporation, you can install a Schema.org WordPress SEO plugin, such as "Schema & Structured Data for WP & AMP." This plugin allows you to add structured data markup without coding it one by one. After downloading the plugin, the rest is easy.
You can pick and determine which Schema.org types are most related to your content. You can pick one and use the data provided by the plugin. The most common types are generally "Article," "Product," "LocalBusiness," "Review," and "FAQPage." After picking one, the steps you should follow are similar to below:
For individual posts and pages, you can use the WordPress editor.
Look for the Schema.org plugin's options or settings within the editor.
There, you can select the appropriate schema type for each specific piece of content.
Lastly, fill in the required fields, such as name, description, author, date, and any additional relevant information.
Local SEO
Local SEO is a digital marketing strategy that generally focuses on adjusting a website to increase its visibility in local search results. The main goal of local SEO is to make more local users and potential customers see your website and improve your online presence. There are some ways to improve your local SEO for WordPress SEO.
The first way to enhance local SEO is verifying the Google My Business listing if you have a physical location. You can add your business information, and then you can be seen in the Google Maps of the nearby area. You can also add high-quality photos of the business to attract more customers.
The second way to improve local SEO is by conducting local keyword research and optimizing your web page according to that research. Identifying local keywords relevant to your business and location is crucial for the local SEO. You need to know what your targeted local audience uses when searching for your product or products similar to yours. When you know that, you can optimize your web pages in line with those words and can rank higher on the SERPs.
Best Off-Page SEO Practices for WordPress
We talked about what you can do to enhance WordPress SEO with the optimization of on-page practices. However, these are not the only things you can do. There are things that are outside of your page to enhance WordPress SEO for your website. You can enhance your online authority with off-page practices that we will talk about in this section of our guide. Let's delve into the world of off-page optimization for WordPress SEO!
Build Your Social Media Presence
Social media may not be the first thing that comes to your mind when it comes to WordPress SEO. However, social media has a great significance for the off-page activities that will enhance your online presence and authority. Social feedback, such as likes, shares, and comments on social media platforms, can indirectly impact your website's search engine rankings. So, here are some social media strategies that will enhance your WordPress SEO indirectly: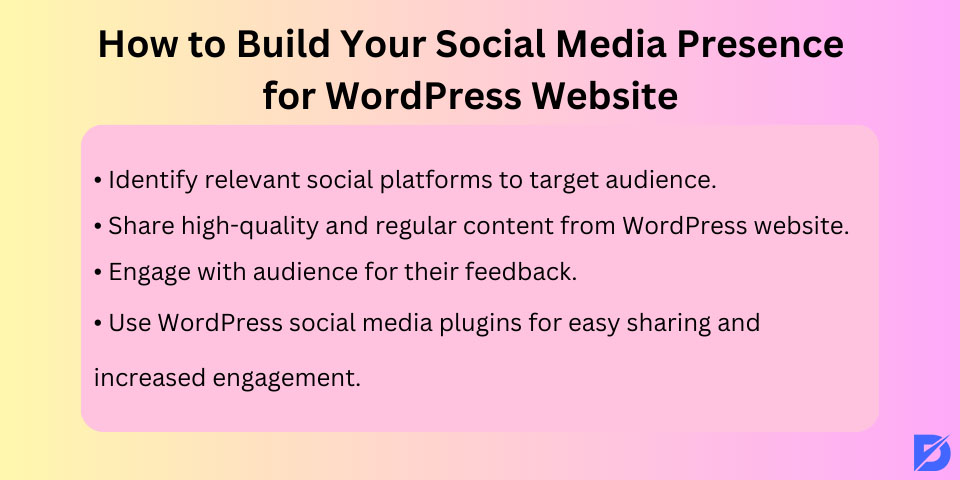 Choose Relevant Social Platforms: You can identify the social media platforms that are most related to your target audience and the industry. You need to pick and focus on the platform in which your audience is most active and online.
Share High-Quality and Regular Content: Consistency is key. Regularly share high-quality content from your WordPress website on your social media profiles. These contents can be blog posts, articles, videos, infographics, and more. So that you can reach more people on social media platforms.
Engage with Your Audience: Communication is essential for the audience's feedback and the experience. When you engage with them on a regular basis, they will feel seen, accessible, and a part of the community of your industry.
Use a WordPress social media plugin: There are some plugins that enable users to share your content on other social media platforms easily. Some even show the share count of your posts so you can increase the engagement of the posts.
Gain Quality Backlinks
Gaining quality backlinks is one of the most essential off-page WordPress SEO practices for improving your search engine rankings on SERPs. High-quality backlinks from authoritative websites mean that your site is trustworthy and relevant from the perspective of search engines. Here's how to acquire quality backlinks to gain trust:
Guest Posting: You can write guest posts for famous websites in your industry or niche. You can include a relevant link back to your site within the guest post or author bio.
Broken Link Building: You may analyze broken or outdated links on other websites in your niche. You can turn this to your advantage by reaching out to the website owners. You can inform them about the broken link and suggest replacing it with a link to a page on your website, attracting traffic to your website.
Link Reclamation: You can regularly check mentions of your brand, products, or content on other websites using tools like Google Alerts or Mention. If there are any unlinked mentions, you can politely request from the source website to add a link to your web page.
Get Unlinked Mentions
As we said earlier, some web pages may refer to you or your content but don't give the link to your website. These are called unlinked mentions or link reclamation. Since unlinked mentions do not have any hyperlinks, search engines cannot find them. Hence, it is crucial for you to include unlinked mentions in your link-building strategy for WordPress SEO.
You can use online monitoring tools like Google Alerts, Mention, or BrandMentions to track mentions of your brand, products, or content across the web. By regularly checking those, you can find the linked and unlinked mentions of your website. But you need to be careful about whether it is relevant to give a link or not. If it is, the last thing you can do is contact the owner of the website. You can politely request to put the link on the content itself. However, if it is a negative review, we do not recommend you do the same.
Build Dofollow Links
Building do-follow links is another effective link-building strategy that will improve your WordPress SEO. Dofollow links enable search engines to crawl back to your website with mentions of your business on other web pages. Since these links are on the other sources, there is little to do for you. But don't worry, with the help of little strategies, you can build do-follow links easily:
Recover Broken Links: If you see a broken link in another website, it is a great opportunity to promote your website. You can contact the owner of the website and tell them about the broken link. Then, you can politely request to replace the broken link with your post or content and talk about why it is better to use yours.
Email contact: You can contact the owners of the high-quality websites and send them samples or ask them to put links to your contents if they are related.
Comment on others: If the website allows user-generated comments, it is definitely advised to put comments under contents and put backlinks to your web pages if they are mentionable.
Guest Blogging
Guest blogging is a widely used off-page WordPress SEO strategy that involves writing and publishing articles or blog posts on other websites within your niche or industry. With guest blogging or guest posting, you can write for other websites and put backlinks to your own web pages easily. Moreover, you can also increase the number of mentions your website has around the internet. This practice can help you build high-quality backlinks, increase brand visibility, and establish authority in your field.
Create a Newsletter
Of course, we can say that email newsletter does not directly influence SEO efforts, but indirectly, they can increase the visibility, credibility, and organic traffic to the website. Creating a newsletter is an amazing way to keep your users engaged and updated about the newcomings of your website. To be able to create an email newsletter, you can select an email marketing platform that integrates well with WordPress. The most common ones are Mailchimp, Constant Contact, AWeber, and ConvertKit. When you collect your users' email addresses, you can easily start your newsletter with the help of those WordPress SEO plugins.
Turn the Use of the Internal Links Into a Habit
Search engines allocate each page on your website a rating (page authority). The recipe for this score is kept secret so that people cannot distort the results. However, the most common signs of authority are links. That's why you must link to your content from other posts and pages on your blog. You should make linking your posts whenever possible a habit. This will help you improve page views, increase the time users spend on your site, and ultimately improve the SEO score of your posts and blog pages.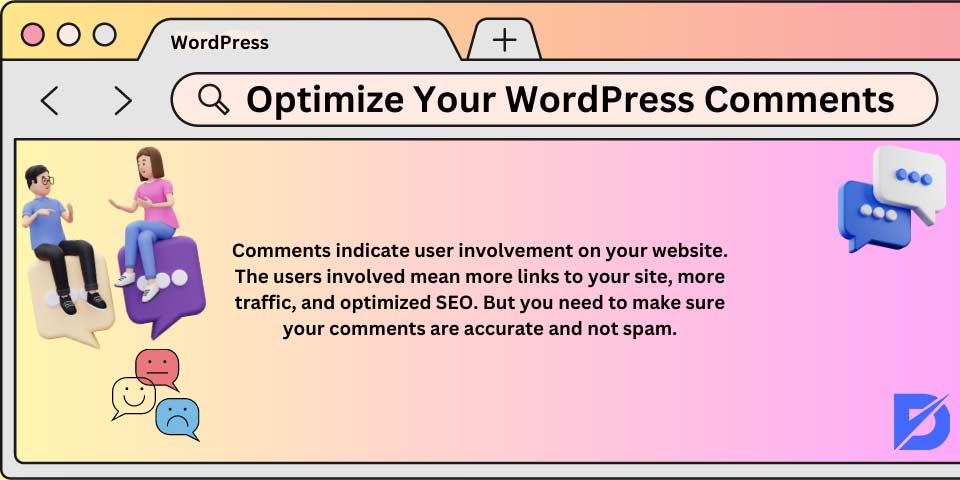 Optimize Your WordPress Comments
Comments indicate user involvement on your website. The users involved mean more links to your site, more traffic, and optimized SEO. But you need to make sure your comments are accurate and not spam. Spammers send comments with incorrect links that could affect and even ruin the search rankings. This is why it's recommended that everyone start using the Akismet anti-spam plugin. It is one of two pre-installed plug-ins on every WordPress site and helps you fight spam in comments. If Akismet alone can't handle spam in comments, check out these tips and tools to combat spam in WordPress comments.
If your blog posts attract a lot of authentic and spam-free comments, of course, it's a perfect thing. Nonetheless, too many comments on a post can slow loading, which also affects search engine rankings. To prepare your website so that it can manage the burden of your comments on your server and not lose speed, you can divide the comments into multiple pages.
Nofollow on External Links in WordPress
As mentioned earlier, links help search engines decide which pages are essential. When you create an external link to another website, you pass part of your site's SEO score to that link. This SEO score is called "link juice." For a good search ranking, you need to make sure you get links from other websites more than you give. Adding the "nofollow" attribute to external links indicates that search engines do not follow these links. Learn here what are nofollow links to understand better. This helps you save the juice of the link.
Complete Posts vs. Summaries (or Extracts)
WordPress displays and links your posts on several pages, such as the home page, category archive, tag archive, date archive, author pages, etc. By default, it shows the entire content of the article on all these pages. This affects the SEO of your site, as search engines may find it as duplicate content. Full articles also slow down the loading of archive pages.
Viewing full articles anywhere also affects page views. Like, when users subscribe to your RSS feed, they will be able to read your articles without ever visiting your website. The easiest way to solve this is to show summaries or excerpts instead of complete articles. All you need to do is go to Settings » Reading and select "Summary."
Speed and Security for WordPress SEO
But still, even if you follow all the WordPress SEO tips and best practices above, if your site is slow or is removed by a hacker, your search engine rankings will not be very successful. Please continue reading to know how to prevent your site from losing search engine traffic due to slow performance or poor security.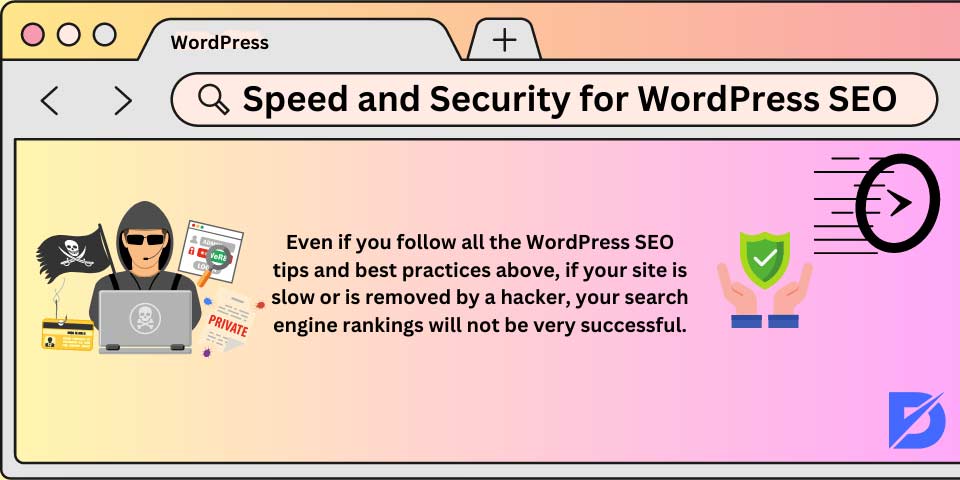 Optimizing the Speed and Performance of Your Site
In the Internet age, the average length of human attention is less than that of a goldfish. Web experts believe users decide whether to stay or leave a website within seconds of visiting. Website owners only have a few seconds to present their content and engage users. So you don't want to waste this precious time waiting for your visitor to load your website. Search engines like Google admit that they rank faster websites better than slow-loading websites.
To improve your site's speed, take a look at this guide on what affects WordPress speed performance.
Optimization of Images in WordPress for SEO
Images are more engaging than text but also take longer to load. If you are not careful with the size and quality of the images, they can slow down your website. Make sure that you are using optimized images for faster loading. Another trick here you can use to optimize your images for search engines is to use the title description and alt tags. These help search engines to understand what your image is about. They also help users with visual impairments since their screen readers can read the alt and title tags on them. WordPress allows you to add titles and alt tags when you upload an image.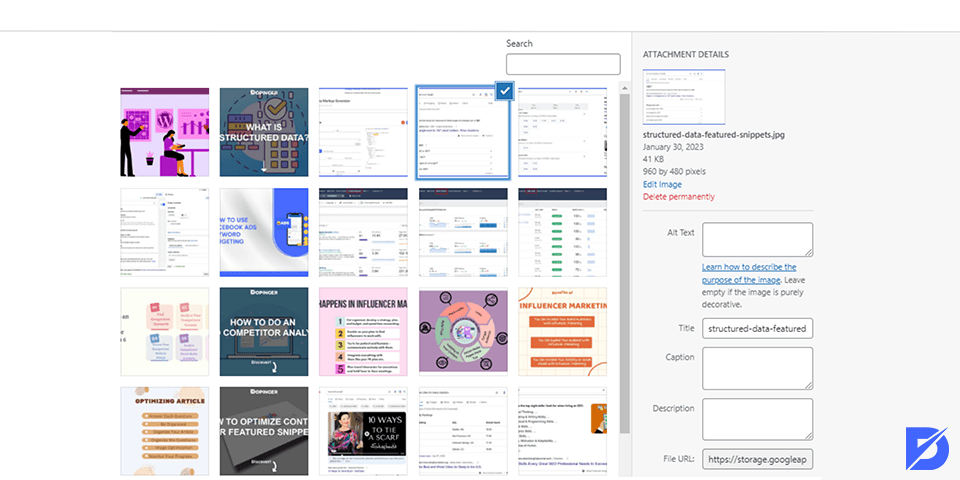 Security and Protection of Your WordPress Site
Every week, Google blacklists about 20,000 websites for malware and about 50,000 for phishing. When a site is blacklisted, it is not displayed in the search results. It means that the security of your WordPress is essential for good positioning. You don't want all your hard SEO work to be wasted if a hacker compromises your site. The good news is that protecting your WordPress site is not difficult.
Start using SSL / HTTPS
SSL (Secure Sockets Layer) is a protocol that encrypts the connection between a user's browser and the server they are connecting to. This adds an extra layer of security to your WordPress site. A padlock indicates SSL-protected websites in the browser's address bar. This makes your website more reliable and is necessary if you run an online store with WordPress and process sensitive payment information. You can get free SSL with Let's Encrypt. Several WordPress hosting companies, such as Siteground and WPEngine, have already started offering encryption integrations with Let's Encrypt.
Use a Backups Plugin
Implementing regular and consistent backups is essential to protect your website's data and content. You can install a reliable WordPress SEO backup plugin that allows you to schedule automatic backups for your database. However, you need to make sure that your backups are stored safely, preferably off-site or in a cloud service.
Use a Security Plugin
You can also enhance your website's security by setting up a reliable security plugin. These plugins can offer you features like malware scanning, firewall protection, and login attempt monitoring. With the help of those, you can detect hacking attempts or spam easily and secure your website. Some of the popular options are Wordfence Security, Sucuri Security, and iThemes Security.
Update Regularly
Similar to every other application, WordPress core, themes, and plugins get regular updates that often include security patches. You can keep your website safe by regularly updating it to the latest versions. If available, you can enable automatic updates for minor releases, but be cautious about the major ones as they may require compatibility checks.
Install Only Trusted Plugins
Even though we recommend lots of different WordPress SEO plugins, we also recommend being careful about the companies that create them. You need to select plugins from trusted sources, such as the official WordPress Plugin Repository or reliable third-party developers. You should always read user reviews and check when the plugin was last updated. Updates are important as with the new updates, plugins improve their security patches as well.
Use Latest Update Dates
Trustworthiness and credibility are significant factors for WordPress SEO efforts since they also deal with user experience. To build trust with your users and maintain your website's credibility, you need to be sure that your content is regularly updated. It is better for the users if you display the last update date on your articles and pages. Thus, your users will be able to know your information is current and reliable. This also signals to search engines that your content remains relevant to the current issues and topics.
WordPress SEO: Other Tools and Resources
After learning the WordPress SEO best practices, we recommend further improving your skills to overcome the competition. If you are ready to delve further into the topic, consult our WordPress SEO archive.
If you are unable to implement those techniques on your website, consider getting WordPress SEO services.
Conclusion
That's all! We hope this definitive WordPress SEO optimization guide has helped you learn how to optimize your WordPress site for SEO. And also, we hope that SEO tips for WordPress were helpful. Go ahead and apply some of the tips in this SEO guide for WordPress, and you will see an increase in your traffic within a few months while the search engines process your changes.