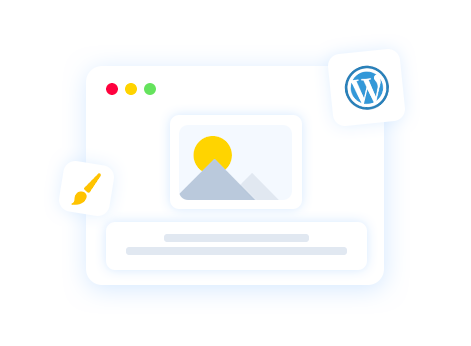 WordPress Web Design
WordPress has almost become a synonym for web design over the years. Recent statistical studies show that 43.2% of websites all around the globe are using it. This tendency is not likely to fade anytime soon, so you may rest assured that web design on WordPress remains a premium choice. Be it for professional websites or more amateur initiatives, this open-source content management system (CMS) makes so many tasks way easier. Leading-edge plugins are one of the reasons explaining this performance.
HubSpot, Yoast SEO, Soliloquy, TablePress, and so many others are here to facilitate website design with WordPress. Understand it as a form of web design that embraces interrelated aspects. Let's just cite SEO (search engine optimization), web page design, analytics, and even CRM (customer relationship management) as some typical examples. So as you have probably deduced by now, we are pretty fond of WordPress. To offer you always the optimum working interfaces.
Check out the guide about our WordPress Web Design Services.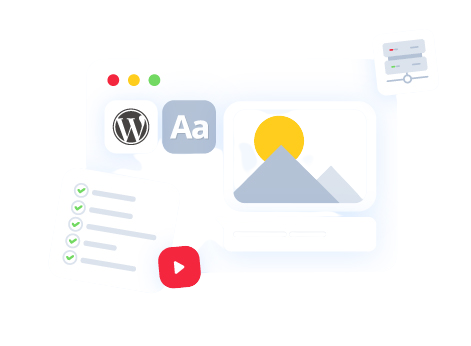 Responsive Web Design
At Dopinger, we always look for new ways to design responsive websites. We are even proud to call ourselves 'picky' in that matter. Web design shouldn't be a burden, especially in our current era dominated by high-tech. It should rather be characterized by a smooth and flawless experience with a responsive web design, both for the designer and the users. Our web design agency always selects the best tools that help obtain flexible and evolved designs. Above all, we care about mobile-friendliness. This is a 'must' that allows our customers to access content from any type of device (computers, laptops, smartphones, tablets). We make sure that your website remains available everywhere, for everyone.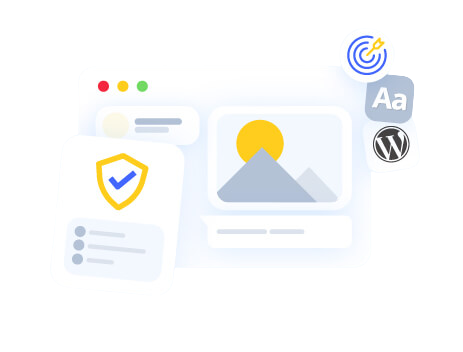 SEO Friendly Web Design
Nowadays it's pretty hard and even unrealistic to dissociate SEO and web design. One should either have both or none. Indeed, it doesn't make sense to try and run a site that ignores search engine-oriented requirements. Dopinger's expert team knows exactly how to come up with a website design that perfectly integrates optimization strategies. First of all, we help you define your goals with as much precision as possible. We also make sure that you have everything needed to track your results through Google Analytics as well as various reports and insights. In fact, we believe that the 'web design mindset' should be present in every nook and cranny of your site. That's why we also design a web page-centered environment. What we mean is that our web design company applies the most effective SEO techniques to every single page of your site.
What's In the
Web Design

Service?

A lot, actually. We provide both web design and development services. We are here for you when it comes to:
Selecting the most reliable site hosting options for your company. Afterward, we also take care of backups and handle everything related to your server, software, and online safety.

Optimizing site structure and speed. Since you can't have one without the other, we first establish a clean and comfortable architecture for your site. Then we complement it with the adjustments that turn your site into the Speedy Gonzales of modern times, so to speak. All in all, we design responsive websites that are likely to please both your visitors and search engine crawlers. We also provide web acceleration services.

to increase the site speed.

Applying graphics that perfectly mirror your style. Dopinger is also here to enhance your term aesthetically speaking. Logos, wordmarks, business cards, infographics, and even entire e-books. All you have to do is order and let our web design agency materialize your dreams.
Personal Website Design
Through a personal website, you can display your creativity and motivation. It functions like a portfolio to demonstrate who you are, what you do, and what you want to convey to your audience. A personal website allows you to express yourself and expand your audience.
At Dopinger, we want to help you connect with your audience while being true to who you are and the story you want to tell. In addition to assisting you in developing a personal brand, our team of WordPress specialists also offers you a WordPress web design service that you can fully utilize.
Our customized WordPress web design process focuses on adding unique touches to the graphics, fonts, titles, logos, themes, templates, and more to utilize web design to convey your story. It personalizes your WordPress web design so that it might appeal to website visitors and ultimately aid in your job search.
Our team of professionals will work with you to develop a website that will increase your online visibility and search engine optimization (SEO) so you can connect with new clients or consumers.
Professional Website Design 
Maintaining a professional website is different from running a personal blog. When you begin building a professional website for your company, there are a few things you should consider. Make sure to analyze your product or service, the market you intend to serve, your business goals, any potential risks, and potential solutions. Therefore, you should consider website design after making your business plan.
Make sure you have an offer that will attract customers to your website and a business plan that includes your targeted demographic and your market before considering acquiring a WordPress custom web design. When it comes to web design, however, you may seek the help of WordPress web design companies. 
Our experienced staff at Dopinger works closely with you right away to comprehend your business plan and support the creation of your website. We also make an effort to stay current with new WordPress plugins and WordPress themes, business trends, and updates.
Here's the list of what Dopinger's team of experts offers for professional web design services:
Various customized themes and WordPress web design templates for your business,

Updated themes that meet today's expectations,

Well-crafted content that tells the story of your brand,

Additional

SEO plugins for WordPress

that will improve your SEO,

A WordPress web design price list that meets your budget plan 

Web design with a WordPress plan that meets the goals of having a professional website. 
E-Commerce Web Design 
Many people are turning to online shopping today to market their goods and services. In a sense, the success of your online store will have a significant impact on how people shop in the future. So, it turns out that customers care a lot more than you might believe about how you promote your products or services.
Managing an e-commerce web design involves more than just having your website look good. Your website design is one of the most important elements that affect whether consumers and potential buyers have a positive or negative experience while exploring your website. So, the way your website is designed has a direct impact on how people perceive your store and its offerings.
At Dopinger, we aim to provide you with complete WordPress web design services that will aid in your first impression. By developing a user-friendly and unique website design, we will focus on how your potential customers perceive your business and products and attempt to change any unfavorable perceptions into positive ones.
To give you a distinctive brand personality, user-friendly site design and navigation, creative content delivery, mobile and search engine optimization, and up-to-date themes, our team will research your target audience, competitors, and market. All of this and more will be accomplished by our team of experts, who will also develop a cost-effective plan to assist you in developing a completely optimized e-commerce web design on WordPress that satisfies your business and SEO goals.

Web Design Services F.A.Q.
Click the questions to see frequently asked questions and their answers.
Does web design require a big budget?
Not necessarily. At Dopinger, we always make sure to propose a range of packages adapted for every budget. Either way, we recommend our customers look at it as a long-term investment. We never disappoint in terms of price-quality. In the end, your benefits overtake your expenses.
How long does web site design typically take?
The answer will be different for each and every different case. A web design process can take just a few weeks for small sites with a very limited number of pages. For more elaborated and larger sites, several weeks may be needed.
Can you redesign already existing web sites?
Sure. Our web design services company can help you modify or improve your past or current WordPress sites.
Can you migrate my web site to WordPress?
WordPress web design is one of our specialties. We can thus examine your site and adapt it to WordPress
Do you offer web design services for small businesses too?
Yes, of course. Our web design company does never discriminate against customers according to their size. So no matter if your business is a multinational or rather a mom-and-pop store, we are here for you.
What types of websites can be built with WordPress?
Many different websites can be set up with WordPress. For example, you can set up a Corporate or E-Commerce Site via WordPress. A blog or news site can also be set up to share content.
WordPress is an open-source content management system made specifically to provide the opportunity to develop, maintain, and modify a website without spending any money. WordPress is an excellent solution for anyone without coding experience who want to create a content-focused, SEO-friendly website.
The process of arranging and managing content on a website so that it may be shared and accessible online is known as web design. Your website's web design determines how it will seem to online visitors. It controls your website's features and aesthetics, including its colors, fonts, graphics, themes, and user interface.

What is Included in WordPress Web Design?
WordPress web design includes the process of creating a website using the WordPress content management system (CMS). It involves selecting and customizing a theme, designing responsive layouts, organizing content, integrating media, and adding functionality through plugins.
Do you need a Web Designer for WordPress?
You might need a Web designer to complete the work for you if you have no experience with it or if your business requires expert assistance. Finding a web designer, however, takes time and effort because they must live up to your expectations and comprehend your personal or professional objectives. Dopinger assists you in customizing and optimizing your site following your budget, business objectives, expectations, and more.

Is WordPress Good For Web Design?
WordPress is a flexible and secure open-source content management system that also offers a wide selection of themes and plugins. It's excellent for web design and user-friendly for beginners. Web design WordPress is an excellent tool if you don't know how to code, want to add your own personality to your themes and site design, and want to advertise your content, personal blog, or business.