In today's conditions, customer relations have evolved to a completely different level as of the point where digitalization has reached. Brands no longer need to be dependent on time or space to interact with their customers and respond to their needs. It is possible to use the web at any time and from anywhere for these purposes. That naturally means moving customer relations to a completely different level. Traditional methods have now left their place in digital methods. At this point, brands need certain tools to manage their digital customer relations processes. These tools allow your brand to manage interaction and communication with its customers in digital environments. One of these tools we mentioned is the HubSpot CRM tool. Let's get to know this tool better now.
What Is HubSpot CRM?
Let's start exploring this amazing tool together right away. The age of digital marketing is now much more dynamic than before. In this dynamic environment, you should be aware of the expectations and wishes of your customers. That's not all. At the same time, you will need to take action by analyzing them correctly. That is the only way to please your customers in this digital marketing world that is evolving almost every day. That is one of the most important criteria for businesses to be successful in their sectors today. So, how can businesses achieve this?
HubSpot is a great tool to help you keep up with the changing and evolving world of digital marketing. This tool allows you to communicate and interact with all of your brand's online customers through a single center. Thus, you can save your brand from being lost in the confusion of customer relations management in digital environments. That will lead to an increase in your business's digital reputation and business efficiency above all.
More than half of businesses with an online presence use a CRM system. In this context, HubSpot is one of the most popular CRM tools due to its simple interface and functionality. The tool offers an interface that even ordinary people can use easily. Besides, the quick functions and secured services it provides to its users are among the most important reasons for its popularity. It's no surprise that the HubSpot is the most popular CRM tool, considering that it's free with all the possibilities it offers. Although the tool is completely free, it has no limitations. So, you can benefit from all the features of the tool as much as you want without any limitations. Let's start explaining how to use this tool now.
Step by Step Guide to Use HubSpot
HubSpot has a number of features that provide extremely important advantages in customer relationship management. In order to benefit from these features with maximum efficiency, you need to know how to use this tool. In this detailed guide, you will be able to get all kinds of information about how to use this tool. However, before moving on to the part where we'll examine HubSpot in detail, let's learn how to set up an account. To do this, simply follow these steps:
Time needed: 5 minutes
However, before moving on to the part where we'll examine HubSpot in detail, let's learn how to set up an account. To do this, simply follow these steps:

Go to HubSpot

First, go to the HubSpot website. The home page will welcome you here.

You will see the texts Get HubSpot for Free on this homepage. One of them is in the middle of the screen with a red button.

And the other is in a green button in the upper right corner of the screen. Click one of these buttons.

Once you click on one of these buttons, the login page will appear.

Fill in the required information correctly to register the tool here. In this section, we may list the information that the tool will ask you for registration as follows: First Name, last Name, e-mail address, and password.

Click the Get HubSpot Free button.

After you have entered this information correctly, click the Get HubSpot Free button.

Sign up HubSpot

However, you can also sign up for HubSpot directly with an active Google account.
Performing the actions we have listed above will be enough to open a HubSpot account. After completing these procedures, the tool will greet you with the home page of your account. Let's take a closer look at what the tool allows you to do on this home page screen.
How to Connect Social Media Accounts?
What would be the benefit of connecting your social media accounts? Today, social media plays an extremely important role in customer relations, marketing, and sales processes. In this way, you can create your social media posts in a very practical way through the platform offered by the tool. Once you're done creating your posts, publishing them on any social media channel is just one click away. The possibilities that the tool offers you on social media channels are not limited to this. At the same time, you may follow the audience participation in all your social media channels through a single platform. The tool allows you to connect social media channels such as Instagram, LinkedIn, Facebook, Twitter, and YouTube. However, let's also mention that you have the opportunity to connect YouTube only as a marketing center corporate. So, how can you connect these social media channels to this amazing tool?
First, sign in to your HubSpot account. You may complete HubSpot log-in process via Google.
Click the gear icon to open the settings drop-down menu.
Now, you will see the marketing option in the left sidebar menu. Click on it.
Click on social from the options that open under this menu.
Finally, you will see the Connect Account option in the upper right. You may connect your desired social media account to the tool by clicking on this option.
HubSpot Home Page Screen
There are many things you can do on this screen. First, you can create a new contact from this screen. This screen also allows you to import your existing contacts. Another operation you can perform from the main screen is to edit the columns. The tool allows users to create and save filters according to their special needs. One of the most important features that the tool offers to its users. You may perform these processes through the home page of the tool. Let's explain step by step how to use these features.

How to Create a New Contact?
To do this, first, click on the create a new contact button on the home page. Then the tool will ask you to enter information about this new contact you will create. The information that the tool will ask you is your name, last name, and e-mail address. That's all you need to do to create a new contact. If you want to keep creating contacts, click the create and add another button instead.
You have now added your contacts to the tool. What if the information you entered is incorrect? All you need to do for this is to select the person whose information you want to edit. Then, four different options will appear just above the contacts tab. These options are Assign, Edit, Permanently Delete, and More. Click the edit option to rearrange the information you entered incorrectly before. We may list the features you can edit through this option as follows:
Agency
Date of birth
Degree
You will need to save the changes you have made after editing this information. So, you have to click the Update. Let's now explain how to assign an owner to the contacts.
How to Assign Contacts?
First, click on the person you want to assign an owner to simply. Now, you will see four different options just above the contacts tab, as we have mentioned above. Click Assign among these options. You will see the Assign selected items to this owner notification on the screen that will appear. When you click on the box below this notification, you will see a list of people you may assign as owners. Now select a contact from this list. Then click on Assign in the dark orange button.
How to Import Contacts?
Thanks to this feature, you don't have to go through the trouble of adding your contacts one by one. The import is an option that allows you to add multiple contacts at the same time. For this, click on the start an import button, which you will see on the home page. Here you will see a screen where you can select the files you want to import. The tool allows you to import files from your computer. You may also import contacts stored there if you integrate the tool with your Gmail account. Finally, you have the possibility to import an opt-out list.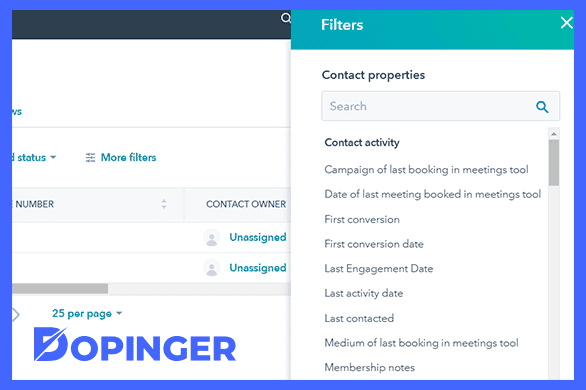 How to Use the Add Filter Feature?
Another feature that welcomes you on the main screen is adding filters. Thanks to this feature, you may make the search process in the tool much simpler. We may list the main options you can filter using this feature as follows:
Agency
Associated Companies
Associated Deals
Select the option you want to filter among them and make your choice. Then, you may perform your search by clicking the Apply Filter button. In the meantime, keep in mind that you can save this filter. You may visit the all saved filters tab to access and apply these filters later.
How to Edit the Columns?
To edit columns, first, click on the Actions button on the top right side of your screen. Then, simply click on the Edit Column option from the drop-down menu that will appear on the screen. After you click on it, the screen that will appear will allow you to edit the properties. You can also restore your contacts through this screen.
How to Send Invitation to Your Teammates?
We have explained in detail how you can add your contacts and companies to the tool above. So, how will you continue to use the tool after this stage? You have added your contacts and companies to the tool. Or you did it by importing them. In the meantime, the tool will automatically send an e-mail to the people and companies you have added. This e-mail will also contain a guide with entry instructions. Here you will be able to send an invitation to invite your entire team to use the tool. In this way, you will be able to combine the services you offer to your customers under a single center.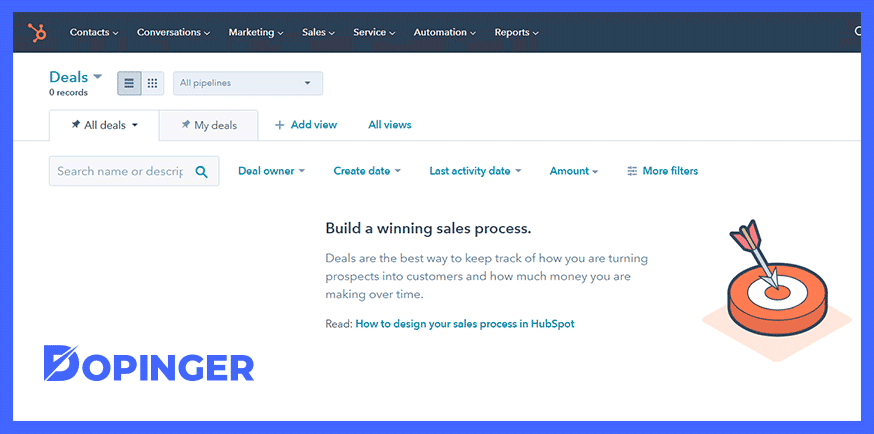 How to Create a Deal and Define Deal Stages?
This feature allows you to organize your sales. You may also follow the progress of your team members using the tool with this feature. This way, you may manage multiple relationships at once easily. The Deals feature also offers its users a portal where they may identify roadblocks. There are a few steps you need to follow in order to carry out all these processes that we have listed. In order to carry out these processes, it will be sufficient to follow these steps in order:
First, click the create deal button.
In the next step, you will see a screen asking you to enter some information. We may summarize this information as follows:
Deal Name
Deal Stage
Deal Owner
Sales Pipeline
Close Date
Product
Amount
Contact
Company
After entering the information we have listed above, click the Create button.
You may follow the deal you have created by entering this information through the control panel.
Also, you have the opportunity to edit the deal in question later from here. You will see the edit icon on the left side of your control panel. Simply click on it to edit your deal. You will see the Action button in the upper left corner of your screen. When you click this button, a few actions you can perform will appear as a list in the drop-down menu that'll appear. One of the actions you will see in this menu is to view the property history. You may also find the action to delete agreements in this menu. Finally, you will be able to see the action to view all your properties in this drop-down menu. Let's explain more about the deals for you now.
More About HubSpot's Deals
You may also compose an e-mail via the tool's deal feature. You should schedule a meeting for this. In this way, it is possible to communicate with your deal. In order to do this, you actually have three different options. You can take advantage of these options by clicking on one of the Call, E-mail, and Meet icons. These options allow you to schedule the meeting directly you want to have with your deal.
Another major advantage of the deals feature is that you can add notes. To add a note to your agreement, first, click on the note icon. Then, you may create the note you want to add to your agreement by clicking Create Note from the options that'll appear. All you've to do is type the information you want to add to your deal in the field provided by the tool. The tool also stands out because it allows you to create deals directly. You may simply use the import from contacts button for this.
The steps we have listed above are enough for you to use the mentioned features of the tool. By using these features, you will be able to evaluate the sales dashboard easily. Thus, calculating the deal estimate will become much more practical than before.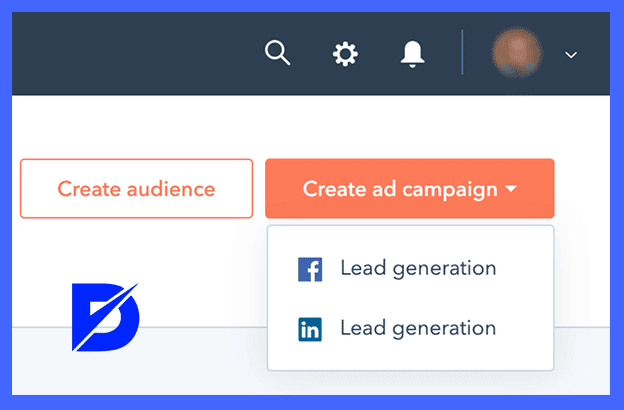 How to Generate Lead Ad
Thanks to the guide we have prepared for you, you may easily create your agreements with the tool. Now, how would you like to enhance your business efficiency even more than before? All you have to do is generate new leads using the tool. So, how can you do this? Now, let's share with you how to do this, down to the smallest detail.
First, click on the other feature, the marketing settings button on your home page. After you click on this button, the tool will take you to a new screen with the contact account button. By clicking this button, you will be able to create relevant and targeted ads on the screen that will appear. While creating your ad, there is another important point that you should keep in mind. The ads you create here should always appeal to every stage of the buyer's journey.
You may communicate with your target audience on Facebook and Instagram through this screen. To do this, click on the Facebook link in the menu that opens. Then, click next. At this stage, you will perform lead synching. For this, first, enter your e-mail address. Then, type your account password as well. As a result of this process, the ads you create will also reach your audience on Instagram and Facebook platforms. Identify your target audience and make your marketing campaigns more efficient.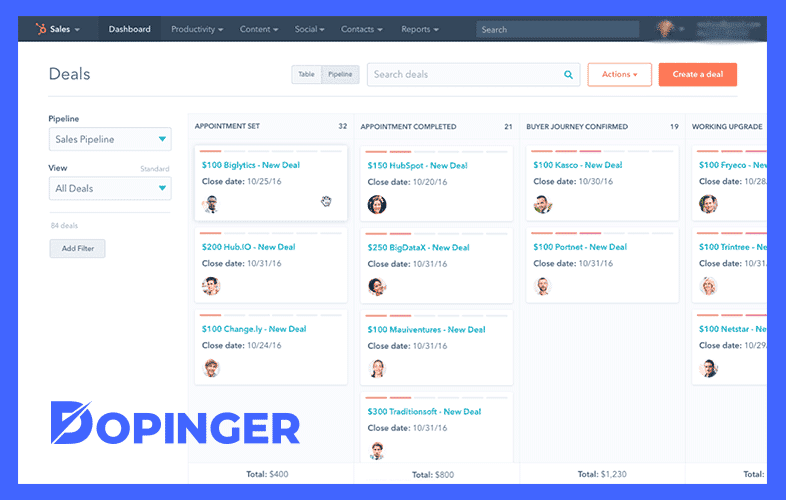 How to Manage Sales Pipeline
The tool stands out among its competitors with its advanced features. One of them is the way it provides the appearance of the sales line. It allows you to view all historical data along with the entire sales pipeline. In this way, it becomes easier for you to foresee future businesses. In this way, you have the opportunity to measure both sales decreases and sales increases easily.
The sales pipeline of the tool also allows you to analyze the data by dividing it into various time periods. You can view the vehicle's sales pipeline in sequential order. In this way, you can have a clearer idea about the productivity of your business. We may list the items on this screen as follows:
E-mails sent and received
Calls made and received
Deals created
Deals won
Thanks to all this information on this screen, your sales department will have the opportunity to fine-tune their work. Besides, you may follow the individual performances of the team members in the sales department via the sales line screen. That helps you to provide full transparency to the sales processes. Another important feature of the sales pipeline is that it allows you to set periodic quotas and forecast numbers. Thanks to this feature, members of your sales department will be able to make periodic determinations on these issues. Besides, members of the sales team have the opportunity to assign these quotas to another team member. Thus, you will be able to hold each individual in the sales team responsible for different targets.
The HubSpot sales line also has full access. That provides great practicality for development teams to create a more suitable production schedule. In this way, you can sell projects with a quick turnaround. In this way, you will be able to sell quick-turn projects.
How to Track Prospects?
Many different visitors visit your website during the day, along with many companies. So, would you like to know who they are? Don't worry. You now have a CRM tool that allows you to keep track of who the companies are visiting your website. Moreover, it is able to do this completely in real-time. The only thing the tool needs for this is visitors has filled out a form on your website before. So, what advantages will this give you?
Knowing which companies view your website and when will provide you with many advantages. The most important of these will be to know what the companies visiting your website are interested in most. In this way, when you arrange a meeting with these customers, you will have very important trump cards. That means that you'll be prepared for what your customers are interested in and will be able to identify important points in advance.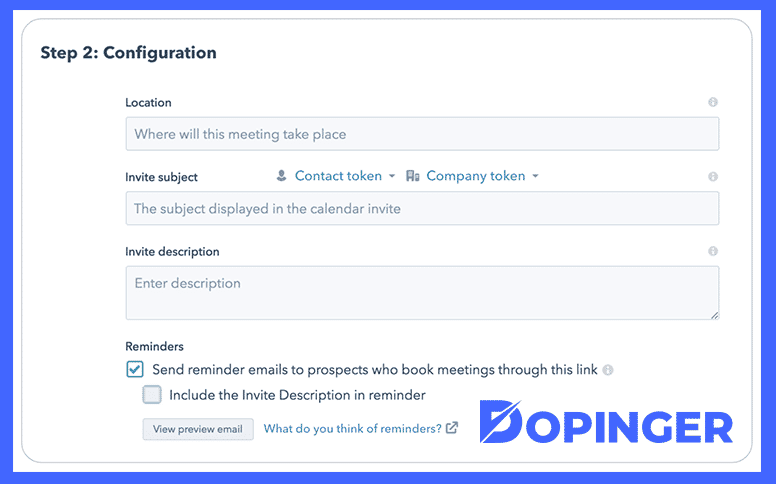 How to Set a Reminder?
Here we come to another important feature of our amazing customer relations tool. It allows you to create and add reminders by time and date. This feature allows you to perform task management more efficiently, especially of team members in your sales team. In order to achieve this, both you and the sales team members can note down specific details for each task you assign. Thus, the tool will automatically send reminders to the relevant team member as the deadline approaches you set for the task.
This feature provides quite important benefits in many different respects. For example, you may take advantage of this practical feature of the tool when arranging business meetings or meetings. This feature also provides great benefits in organizing your daily tasks. That is especially critical for business professionals. As you can see, this tool provides great convenience to its users in applying the most effective methods with these features.
How to Map Your Data?
There are some important things you need to do before importing your data. The first is to audit your current data. This way, you can start using the tool with a clean and organized database. So, how can you do this?
To do this, first identify the standard fields that your sales team members are currently using for Contacts, Companies, and Deals. Then, also consider how many custom fields your business has. While doing this, do not forget to determine the type of each of your fields. Also, decide what your field options are. Finally, identify which objects your field options depend on currently. Then start by eliminating fields that no sales team members currently use.
These processes we have listed are valid for business owners who have used a CRM tool before. The process works a little differently for those new to using a CRM tool. For this, it may be necessary to determine some issues beyond the standard fields. Determine the information that your sales team members are monitoring beyond these standard fields. Then, check to see if you can standardize this information. Another important point in this regard is to identify fields that some of your sales team members can follow but others cannot.
RECENT POSTS
Is Cro a Good Investment? 
A/B testing is something you've likely heard about before. Although it always seemed helpful, it was never truly necessary. But as the noises have bec...
You should also decide which information would be most beneficial to ask the visitors who'll fill out the forms on your website. Finally, you should also examine the ways in which your sales team members do not prioritize leads.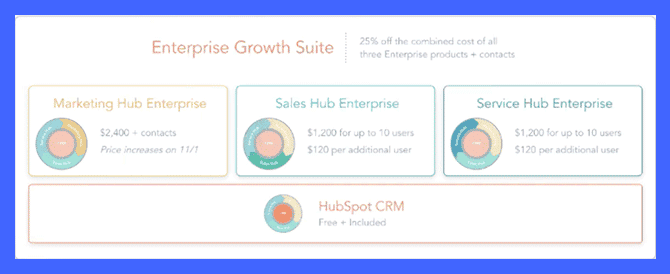 What Is Growth Suite?
This package comes with the premium version of the tool. Users define the growth package as a seamless service package. This package is most useful for users who may benefit from sales, marketing, and service hubs. Is your business familiar with inbound marketing? Or are you new to inbound marketing? Believe me, it doesn't matter. Whether you've been familiar with inbound marketing for years or just moved on, you may easily adapt to it with this package.
This package includes all hubs, as we mentioned before. Thus, you'll be able to focus both your sales, marketing, and service teams on the same target through a single center. Let's continue our article by explaining other hubs.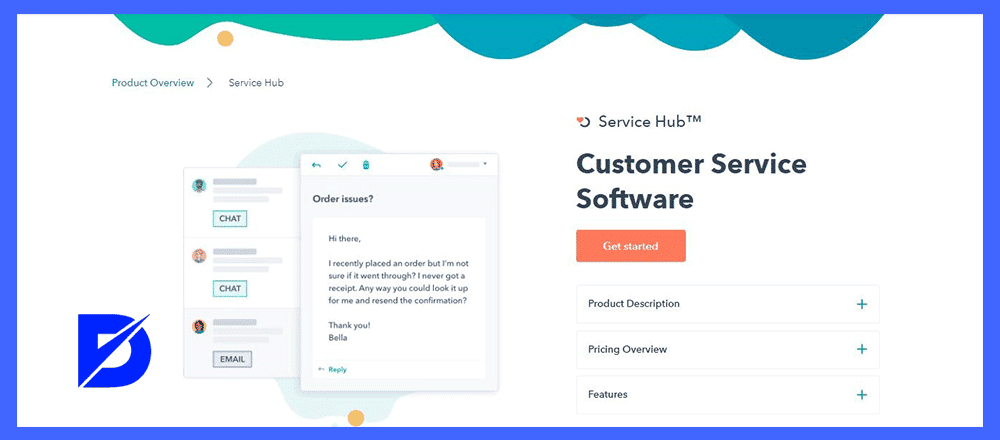 What Is Service Hub?
Thanks to the HubSpot service hub, you can support the customer service department, making their work much easier. By using it, your customer service department will be faster at identifying your customers' problems. At the same time, they will be much more effective in solving these problems. That will undoubtedly make your customers much happier than before. Get support from this center so that your customer service department may deliver the most effective solutions with maximum efficiency. So, what feature greets business owners and customer service departments at the service center? So, let's take a closer look at this issue.
One of the most striking features of the service center is the live chat feature. The tool also provides the chatbots feature here. In this way, your customers will be able to reach you whenever they need support. And, you will be able to offer them the solution they are looking for without being dependent on time and place. Another prominent feature of the service hub is the e-mail templates it offers to its users. This feature provides you with e-mails that are easy to format, send and monitor.
Do your customers keep asking the same questions over and over every day? Answering these may seem quite time-consuming and a chore for you. Then, try making use of ready-made snippets from the service hub. You'll be able to give the perfect answer to your customers who ask the same questions every time automatically.
One of the best features a CRM tool may have is a customer feedback database. Thus, you may ensure that your team members, who're talking to customers, may get support from the HubSpot knowledge base. Here you can also arrange multiple ticket lines according to your customers' query topics.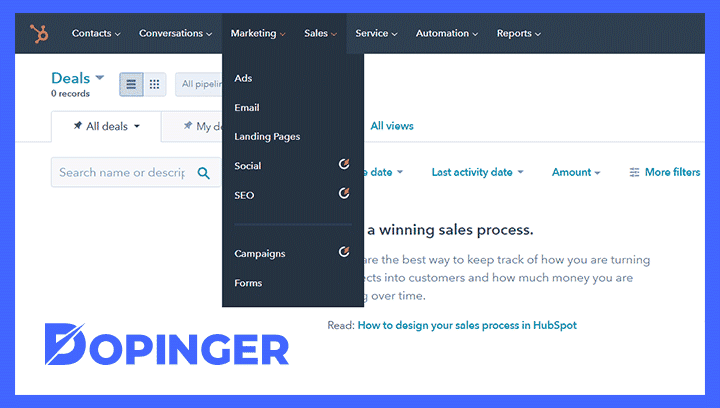 What Is Marketing Hub?
If you want to manage your marketing teams from a single center, this hub is for you. You may integrate the hub with the tool completely seamlessly. In this way, you may enable your marketing team members to identify more qualified customers. You may increase your website traffic by using it. That will naturally increase your conversion rates and increase the efficiency you get from your marketing efforts. The processes you will perform from this center facilitate the daily business processes of your marketing department. Thanks to the data you get from this center, you can also create the perfect content. You may then use these contents in your e-mails, social media channels, or your blog.
One of the most important features of the marketing hub is to stand out in terms of data. Through this center, you may monitor your data with advanced metrics. It also provides advanced reports on this data. We may list the data provided by this center to its users as follows:
Number of visitors to your website
Where do your visitors go after they leave your website
When your visitors came to your website and when they left it
How satisfied your visitors are with your landing page
The marketing hub presents the data we have listed above in layers according to the needs of your business.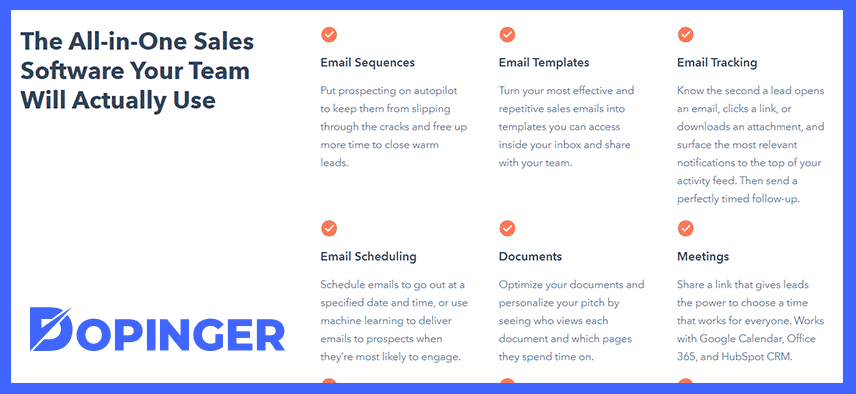 What Is Sales Hub?
Thanks to the HubSpot sales hub, sales team members may prepare and complete better deals in less time. Every feature in the center has been developed to maximize the efficiency of your sales teams. These advanced features of the tool allow your sales department can focus their performance on closing deals with qualified customers. Another important feature of this tool that makes it stand out among others is that it is compatible with inbound marketing methodology. It is extremely popular as one of the few CRM software developed in this way. Thus, you may complete your agreements with your potential customers as soon as they are ready to sign an agreement.
It also allows team members in your sales department to see which pages they visit. That is one of the biggest benefits of this center. That's not all. It also allows them to see how often visitors do this. It even automatically alerts your sales teams when your leads open an e-mail you sent. In this way, your sales team members can understand whether your potential customers are fully ready to close a deal. At this very moment, you may complete agreements by preparing personalized workflows and providing them with qualified information.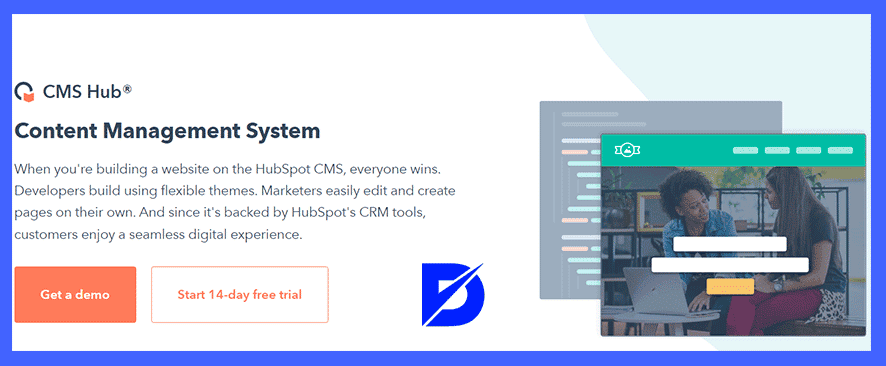 What Is Website Builder?
You can use HubSpot website builder tools to help your business provide customers with a more consistent online experience. You can find many ready-made themes in these tools. The biggest advantage of website builder tools is that they work with an intuitive drag and drop method. Thus, you may embed themes and content much more easily to build your website. Besides, the tracking code in the tools is extremely functional. In this way, you can both capture form submissions and monitor visitor behavior.
There are special opportunities for developers in website builder tools. The most important of these possibilities is CMS CLI. That will provide developers with the ability to build their websites locally. An active account of the free version is all you need to create landing pages with ready-made templates of the tool. You may also easily access detailed user guides for each website builder tool from the official website.
How to Use HubSpot, In Short
Today's customer relations have now completely moved to digital environments. Because the digital world offers quite important opportunities for customer relations. So, businesses also need tools that can best meet customer relations in digital environments. In this article, we have examined the extremely popular HubSpot tool in detail for you.
We have explained in detail the most important features of the tool. You may use many features on the home page of the tool. We have prepared a guide that can help you in this regard. Then we explained step by step how to register for the tool. Some businesses may not want to settle for the free version of it. We discussed the sales, marketing, and service hubs of the tool. In this article, we have also talked about website builders that you can use integrated. We hope this article helped you find answers to important questions in your mind about the tool.