SEO is the improvement made for a website to rank higher in search engines. SEO covers all of these improvements. Users use search engines for two reasons. More precisely, users use the internet to receive two things. These two reasons are to buy products and get information. Therefore, search engines are the largest customer and visitor resource in the internet world. That has resulted in users showing more interest in the search results that rank in the higher places. Thus, the efforts of websites to rank higher in search results emerged. This is the story of how off-page SEO entered the internet world and why it has become so important.
One of the first things known about off-page SEO is keywords. In this way, web pages may get higher rankings in search results. Thus, they may reach the highest number of visitors in search traffic. However, this is not the only ingredient of SEO. Let's learn more.
SEO studies aim to make websites compatible with search engines in all aspects. Thus, it provides the opportunity to provide a web platform that visitors can reach more easily and quickly. In a way, SEO provides three things for your websites. SEO makes websites more understandable, easier to use and it also helps the visitor get what they are looking for. SEO work is of two types. These are On-Page SEO and Off-Page SEO. There are apparent differences between these two types. On-page SEO studies make improvements to the content of your site. These include topics such as the software and design of your website. On-page SEO covers very comprehensive studies. Off-Page search engine optimization is the opposite of it, as its name suggests. These studies focus on resources from outside of your website. These sources are as follows:
Links from outside the website
Visual materials from outside the website
Social media
Internet forums
Blogs
Off-Page optimization studies aim to provide a flow of visitors to your website from all these resources. Thus, it increases the recognition and quality of your website.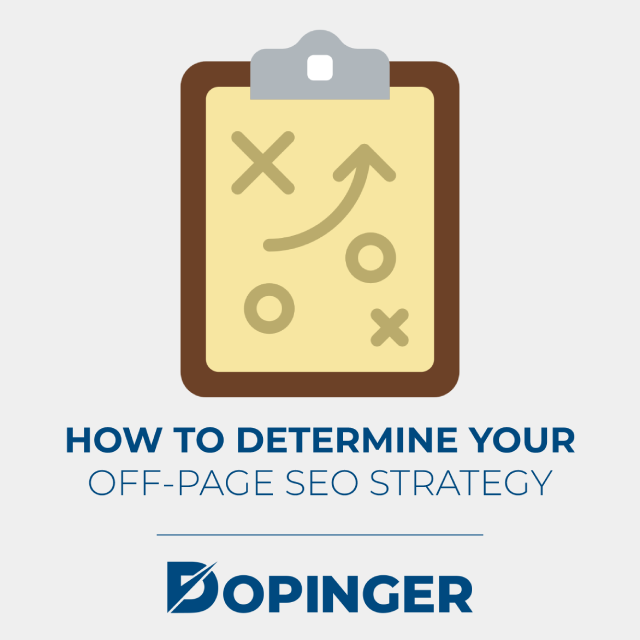 How to Determine Your Off-Page SEO Strategy
Here's what you need to be able to create great off page SEO ranking factors and strategies.
Examine your website: You should examine your website where you will perform Off-Page SEO optimization with professional tools. As a result of this review, you should create a detailed SEO report.
Analyze Report: Then, you have to analyze this report according to specific criteria.
Decide on resources: As a result of these analyzes, you should decide which resources to use Off-Page SEO optimization.
Decide on Word Groups: You should determine which word groups you want to be in the top positions in the search results.
Conduct off-page SEO: Then, you should do your off-page SEO optimization based on these word groups.
Achieve Success: As a result, more of your content will appear in search results.
More Points to Consider on Off-Page SEO Strategy
Off-Page SEO studies are among the technical items. While doing these studies, you should highlight the main categories that your website has. Besides, you should make the necessary analysis about the working areas of your website. After all these processes, you will come to the most critical stage for Off-Page SEO. This stage is to find strong, quality, and different links that may reference your website. The most immediate impact on Off-Site SEO is promotional activities. This definition is also known as referencing system. You may buy references to your website within the scope of Off-Site SEO work. However, you should do a good analysis of the website where you will perform this process.
You should examine the website where you will make the purchase process about two issues. The first is to make sure that this website is relevant to your field and business. Second, these websites should be high-quality and high-traffic websites. Preferring pages with these features will result in more positive results for your website. You should also perform these operations within SEO standards. Also, you should not include repetitive pages in these processes. You should also make sure that it does not contain any text that is not semantic. It would be helpful to stay away from textbooks and posts that do not describe your work.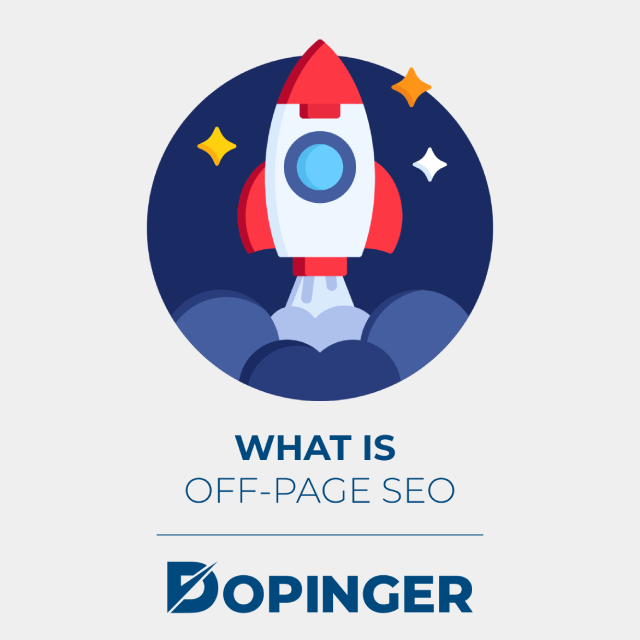 What Is Off-Page SEO
Off-Page SEO studies are the studies made for a website to rank higher in search results in search engines. These search engines may be Google, Yandex, or Bing. Off-Page SEO work is user-oriented. Such studies are within the scope of professional branding studies. Off-Page SEO work is done through different sources outside of the site. The purpose here is to enable sectoral customers to visit the website. We may list the scope of these studies as follows:
Keyword studies
Backlink studies
Open URL studies
Providing information with sectoral articles
Comment studies
All company promotion studies
The Working Areas of Off-Page SEO
Blogs that broadcast on the internet
Forums
News websites
Social media platforms
Video platforms
Dictionaries
PDF document adding and sharing platforms
Broadcast media such as TV, Radio, Newspaper, Billboard
All advertising works of companies
There is an essential point in Off-Page SEO work. These are reference links provided from authoritative and quality sites. These links are also known as backlinks. You should do your Off-Page SEO work following search engine quality guidelines. This way, you may ensure that your website becomes an essential authority in your industry. At the same time, you should support these studies with quality, authentic, natural, and original website content. These studies have a significant role in your website's ranking in search engines. Off-Page SEO work is the most important of SEO work. However, these studies also have essential tools like other SEO works.
Tools to Support Your Off-Page SEO Efforts
Different Search Engines and Ads
Digital Page and Group Platforms
Dictionary and Comment Sites
Directory and Company Addition Sites
Map, Location, and Address Adding Sites
Competitor and Industry Related Websites
Social Media Platforms and Channels
News, Promotion, and Competition Sites
Video, Article, and PDF Adding Sites
Personal Sites, Forums, and Blogs
What are the Key Points of Successful Off-Page SEO Work?
The most important of these are the contents. The content should be of a quality that will rank higher in search engines. For this, your content must have three features. Your content must be user-oriented and remarkable. Your content should encourage readers to share. If you produce content with these qualities, these contents will reach a wider audience.
Always analyze your website with Google Analytics and similar tools. You may check the links that come to your website with tools like this. Also, these tools may control, deny and block spam traffic. You should present your website content to your visitors on all social media platforms using hashtags. This way, you may create an effective interaction with your target audience. Always follow Google's website quality guidelines for your website. Determine strategies for your website according to these instructions.
You should stay away from sites where you cannot gain traffic for your website. These websites contain a lot of unnecessary links. Conducting promotional activities on such sites will damage your website's reputation. Set all links that link to your site as dofollow and nofollow. This way, you may preserve the quality of your site for a long time. Follow the Google Webmaster tool constantly. This tool is also known as Google Search Console. Observe the warnings and instructions of this tool. This way, you may make your off-page SEO work more efficient. Also, make sure to get comments and reviews from many social media and blogs.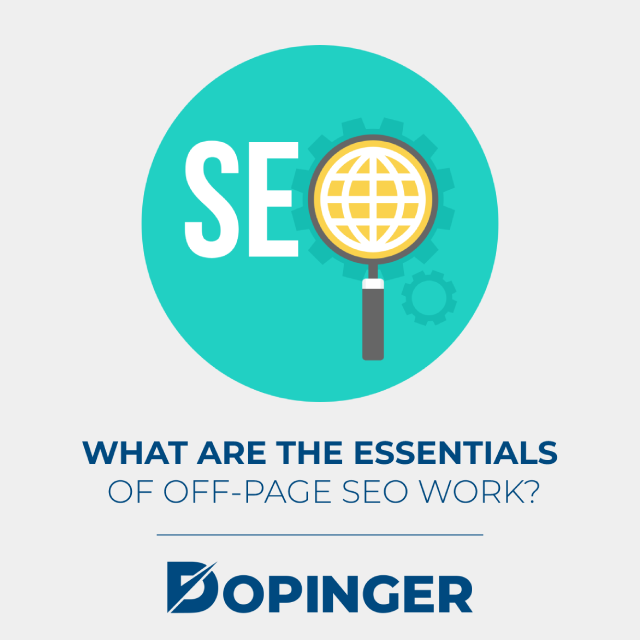 What Are the Essentials of Off-Page SEO Work?
The most important of these issues is the way you create your ads. You should make sure that your ads include your brand name and a good tagline prepared with your keywords. Also, make sure that these advertisements are professionally trained to add brand value to your company. Analyze the websites of your competitors that rank high in search results. Thus, you may benefit from the backlink sources of your competitors' websites. The better you analyze these websites, the more efficiently you will benefit from their backlink resources. Take care to provide your backlinks from authoritative sites that have sectoral proximity to your company. The backlinks of your website should consist of content that has rank higher in search engines. This will also affect your website's position in search results. This will also increase the trust in your website.
If you want a successful website, you should do off-page SEO work. But before that, make sure that all content on your website is user-oriented. In other words, all content on your website must comply with SEO rules. You should pay attention to this situation during the preparation of your content. The internet world is quite wide. In this world, a new competitor may get into your industry every day. Be sure that your competitors will also implement these studies. That's why you should complete these studies and always update them.
Why Is Off-Page SEO Important?
All the SEO work you do for your website is directly proportional to the branding of your business. It is of greater importance if you have SEO success outside of your website. Your Off-Site SEO work affects your interaction with your target audience. With Off-Site SEO work, you may create a positive perception for your business in the mind of your target audience. In other words, the perception you create on the internet through your website affects your business. Your website is the face of your business in the internet world.
However, as we mentioned before, the internet is a very large world. In this world, new competition may arise every single day. A new competitor may enter your business' industry. This competitor may build a very modern website with the most up-to-date facilities. In this case, most of the visitor traffic you earn on the internet shifts to your competitor.
Moreover
For the reasons we mentioned above, you should never see the positive signals you will receive for your website sufficient. You should update your website periodically. Your website should always be compatible with the most up-to-date technologies. You should keep track of your competitors' activities on the internet. You should also analyze them well.
After doing all these, you may now convince your target audience to take action. For this, you should use your language as if you were performing an art. Your customers will reflect this in the comments that they made for your business. Their natural and quality comments will make you stand out outside of your website. In this way, you will be able to announce the merits and quality of your business to large audiences outside of your website. Customer reviews are the best quality and cheapest ads. These comments are the key to achieving your strategic off-page SEO goals.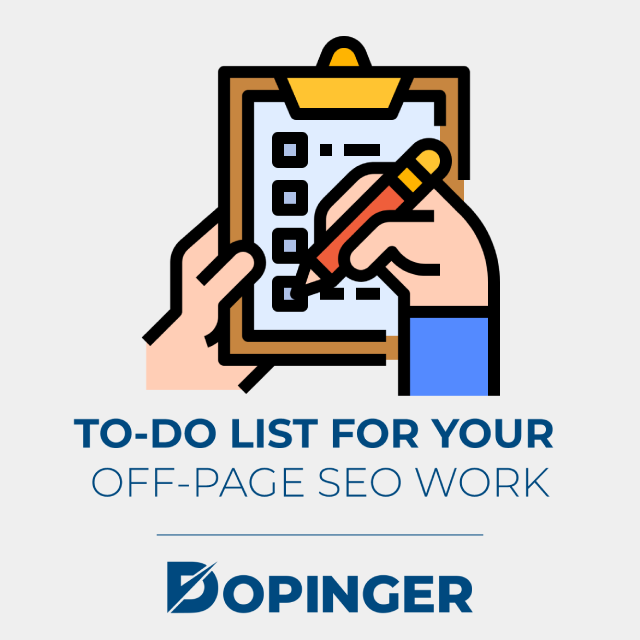 To-Do List for Your Off-Page SEO Work
We have prepared a list that may guide you for your off-page SEO work. Backlinks are at the top of this list. Google tries to make sense of the quality of its content. This way, Google also tries to detect its relevance to search topics through backlinks. You may get these links from any website. It is also a very common way to get these links via social media. The backlinks you earn from important marketing channels such as Google My Business are more reputable. At this point, you should pay attention to an issue. Users should link to the website in the correct content and the correct user searches. This way, Google will understand web pages better. Thus, the probability of Google listing the page in the relevant user search results increases. At this point, you should know that ranking in the search results is also important.
There is always an important issue in SEO work. That is to bring your website together with the right user and the user search. So, what are the ways you can earn backlinks? The first way to do this is to analyze your competitors' websites well. There are applications and tools you may use for this. Take a good look at the backlink report you provided from these tools. This way, you get the chance to get in touch with the relevant people on the website. You may ask them to link to your website. Also, do a good backlink analysis of your website. Thus, you may detect lost and broken links on your website.
Lost Links and Broken Links
You may encounter these when you do the backlink analysis of your website. There are two reasons for lost and broken links. The first of these reasons is that the web page linking to you no longer exists on the internet. The second reason is that the person linking to you has removed this link. The second of these options that comes to your head is something you can do. You may contact these people again. If the webpage is no longer on the internet, there is something else you have to do. You may examine the website on which the page is located. You may use similar content on this website.
Besides, you may have received spam backlinks due to a bad SEO service. That's why you should always check the backlink profile of your website. So, create a disallow list to get rid of spam backlinks. Then, upload this list to Google Search Console. You may not have many networks. In this case, you may work with a PR agency. However, there is one thing you should be careful about. This situation is to focus on websites where your target audience is active while doing these studies. Let's explain this with a simple example.
You own a business that sells cosmetic products. In this case, the websites that you should focus on while doing your off-page SEO work should be websites where women comment on their cosmetic products. So, it wouldn't be wise to focus on websites where men talk about cars.
More About Backlinks
Google cares most about natural backlinks. Quality content may have more backlinks. Another way to gain backlinks is to be able to use the scroll-up to review the product. We may explain this as follows. This is the feature you often come across on Instagram. Sharing of influencers on this platform is very important. An influencer may link to your website using this feature. That means your website may be flooded by millions of users at once. However, you have to deal with an influencer with the right target audience. Besides, this influencer should have an audience that may increase the traffic of your website. You should also remember that this job may be a bit costly. If you have the budget to devote to this job, you will get what you expect.
Another important way to gain off page SEO backlinks for your webpages is by being a guest writer. For this, you should examine the content pages and forum pages related to your industry. You may use guest writer apps for this. However, this is not enough. You need to write original and attention-grabbing content on the subject. Thus, the value of the link you will give to your webpage will also be of high quality.
How Effective Is it to Prepare a Newsletter?
There is an effective way to deliver newsletters to a wider audience. You may use social media and forums for this. This way, your newsletters reach a wider audience. This means that your backlinks reach a wider audience. So your websites will get more traffic. You must prepare your publications for your target audience. The target audience is at the center of off-page SEO efforts. Prepare your newsletters according to the frequency of your posts. You may add the links of the content on your websites to these newsletters. That may seem like self-linking. However, you may be sure that it is an effective method.
Effect of Google My Business and Google Search Console
There are a few conditions to open a Google My Business account. The first condition for this is to have both a concrete store and an online store. So, you should also have an office and an address with a real zip code. You may evaluate the Google My Business platform as a social media channel of Google. There are many things you may do with Google My Business posts. You may share your discounts, campaigns, blog content, products, and many other topics in these posts. You may also self-link in these posts. Just like the newsletter.
The most reliable tool for organic traffic analysis is the Google Search Console. This tool provides its users with the most accurate reports with a very simple interface. Backlink analysis is among the analysis you can do with this tool. Through this report, you may see which sites and through which words you have received links. You may also view the links inside the site through this tool.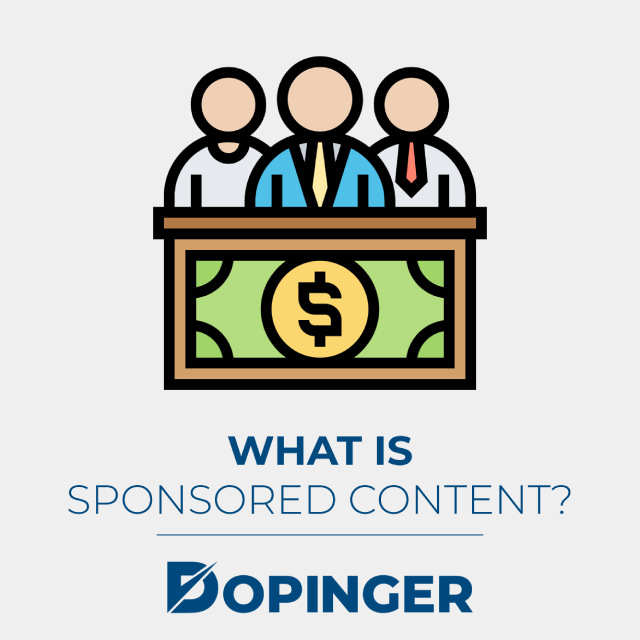 What Is Sponsored Content?
Sponsored content also carries backlink value for you. At this point, the website you will be in as sponsor content is also very important. You have to analyze the audience of this website very well. Then, you may decide on which website you will appear as sponsored. You may consider sponsored content as an ad type. This way, you may provide both indirect and direct organic traffic to your website.
Social media platforms are marketing channels where people frequently share links. You should pay attention to the high interaction rates of your social media accounts belonging to your business. You may share the page you want to highlight under the relevant posts. However, the posts you make, Let's explain this with an example.
You have decided to share your content about cosmetic products on social media platforms. For this, you found a few posts with high interaction and got to work. However, most of these posts are about luxury cars or electronics. You may be sure that men who are interested in luxury cars will not pay enough attention to your cosmetics. This will result in frustration of all your efforts and negative results.
Advantages of SEO Studies
Every business owner wants to exist in the internet world. These businesses aim to grow their business by ranking high in search engines. The first way to do this is to give AdWords ads with high budgets. The second option is to do SEO with low budgets. In the first option, you have to spend higher budgets. In off-page SEO studies, this budget is quite low.
Getting high rankings with Google Adwords ads will not have a lasting effect. Besides, you will experience a slow but effective and permanent increase with off-page SEO works. Small and medium-sized businesses prefer off-page SEO studies most. These businesses complete their corporate identities in the internet world in a short time with off-page SEO works. You may implement these simple SEO techniques on your own. However, you need to work with an expert in advanced off-page SEO work. So, let's explain simple off-page SEO techniques you can apply yourself.
Simple Off-Page SEO Techniques You Can Apply Yourself
The most important point of off-page SEO works is the backlink strategy. Although it is correct as an application, it is a method that you need to do carefully in technical terms. There is an important point you need to consider here. That is the website on which you will get a backlink that must be relevant to your industry. Besides, these websites should have a high domain score. Another area where these websites should have a high point is the trust score. These scores are very important for search engines. That's why you should inquire about the scores of websites for your off-page SEO work. Getting backlinks from low-rated websites will also lower your website's score. In other words, the web pages that you connect via backlinks may cause you to both rising and fall.
Off page SEO techniques are not just tactics that improve your search rankings. Off page techniques in SEO requires measuring and monitoring to understand the effectiveness of your strategy. You may monitor the reputation of your website with off-page SEO techniques. By using these techniques, you may measure how your website's effectiveness is improving. You may also check your links to see how this activity has changed. You may use online site audit tools for such reporting and monitoring activities. These tools scan your website at periods you specify. As a result, it provides you with a report on the status of your off-page SEO work. You may monitor your impact with the reputation metric provided by this report. The report also includes a breakdown of your link profile. It compares this report with the results of other websites. Thus, you may see how competitive you are online.
Off-Page SEO and Strategies, in Short
Being present in the online world is a must for today's businesses. However, in the light of developing technology, this is not enough by itself. A new social media platform is coming into our lives every day. There are dozens of search engines nowadays. For these reasons, you should pay attention to your off-page SEO strategies. You should not pass these studies. There are some things you should pay attention to while doing these studies. The first of these SEO tactics is SEO backlink work. Building links is also an important part of these efforts. However, you shouldn't pass on broken link building.
By reading this article, you will have great content and will be able to optimize your website in the best way. You may contribute to your off-page SEO works by publishing these contents like blog posts. Besides, by guest posting, you may reach your content to a wider audience. With your off-page SEO works, which you carry out as a whole with local SEO works, your website will succeed.