Website migration, also called "SEO migration" is a set of strategies you need to follow not to lose traffic when deciding to make changes regarding your website's SEO. There can be many reasons for choosing to change a website. You might want to change your URL, redesign your website content, merge websites, change your hosting, etc. However, when you change these things, search engines' behavior toward your website will change too.
They don't know about these new changes, and they don't know which metrics to apply. With website migration project, you prevent losing your traffic and search ranking in the scenario where you decide to move your website.
Steps to Follow for Site Migration
Successful migration web is not easy and requires a lot of effort. To ensure that this process does not fail, you must plan, execute and control very efficiently. SEO is an excellent tool, but it is also a complicated one. For successful site migrations, there are some essential steps you need to follow.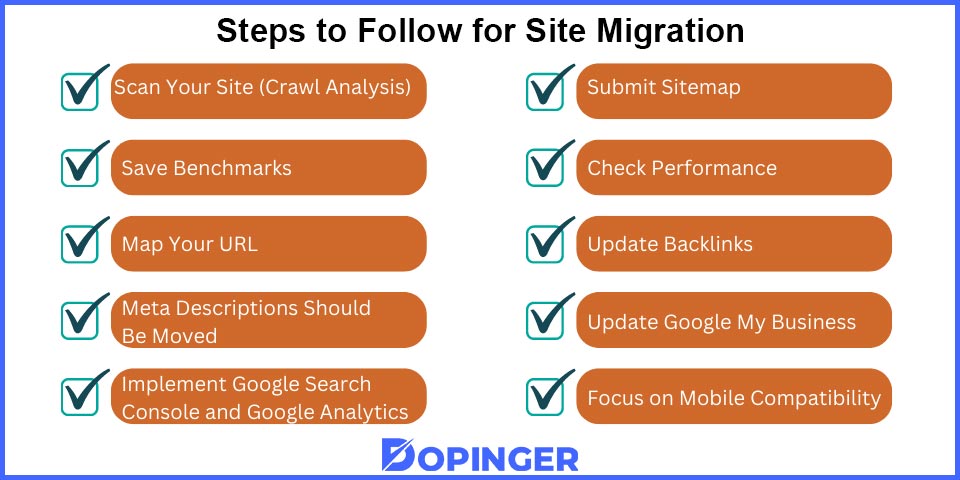 Scan Your Site (Crawl Analysis)
You should crawl your site to get the URL's on your domain migration SEO process. This is the starting point for your URL mapping, and you can learn about the content and link you should give importance to represent the new URL structure.
Save Benchmarks
Data analytics can be deleted when moving your site. Since your past benchmarks will be valuable, you should keep them. Much data will be lost when you decide to move your site. Your previous benchmarks are valuable assets in this case. Take a look at your analytics and your most valuable content so that you can have ideas for the design and creation of your new site.
Map Your URL
Changing a URL means redirecting Google and your website users to the new URL from your old one. An intelligent way to do this would be to direct users to the replacement page. Let's be honest no one likes a 404 page. By doing that, you can tell search engines and users that some new things are replacing your old carrier.
Losing all the authority and history your old site created is not desirable. Building a strategy that involves mapping your URLs would be beneficial for this. You should list URLs and map them to the current site.
Meta Descriptions Should Be Moved
The meta content and page titles are an essential part of SEO, and you need to make sure that your content of meta of migrating pages is transferred to the new site. New pages can also be created while this transaction is taking place. Make sure they include the optimized titles and meta tags and are updated vital.
Implement Google Search Console and Google Analytics
With the help of Google Search Console, you can learn about indexes, ranks, and crawls Google provides for your website. That is why it's an important step in moving a website. Moreover, Google Analytics and Google Tag Manager should be installed correctly, and you should make sure they collect data.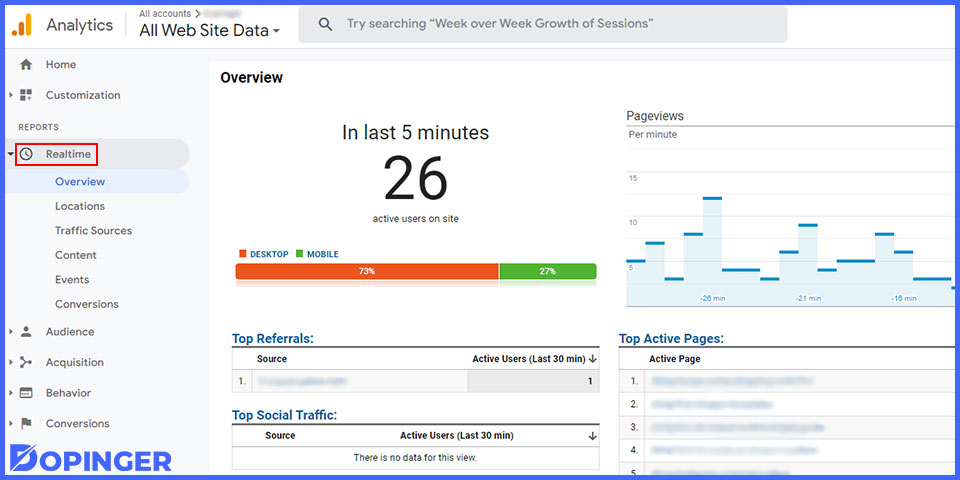 Real-Time Analysis report in Google Analytics will be a fast way to do this as it gives real-time information about what's currently on your website.
Submit Sitemap
Search engines will use XML sitemaps to identify the new pages after migrating your site. No errors should take place in your XML sitemap. Afterward, you submit your sitemap to Google Search Console and let Google use it.
Check Performance
To ensure your referrals are running, you can have a post-migration plan to control and inspect your traffic. You can know if the migration of website is going smoothly using user engagement and retention, traffic, and keyword ranking metrics.
Update Backlinks
You should have an idea about the pages that collect backlinks. You can visit Search Console or Moz Link Explorer to see which ones do that. After that, you can reach websites linking to your site and update the backlinks. Do not forget to keep track of the new backlinks, annotate Google Analytics and control the outreach. You should plan effective backlink strategies for your new page.
Update Google My Business
Also, do not forget to update your website link in the new domain in Google My Business while updating your domain. Because Google uses this data while verifying and ranking you, it is essential to optimize Google My Business listing for your SEO strategy.
Focus on Mobile Compatibility
Google checks your site's mobile engagement and experience before indexing your website. A mobile-friendly website will help your website to be ranked the right way.
Google has a service that assesses and gives recommendations about your site's mobile-friendliness. Using that service, you can create a responsive design.
The Reasons Why Website Migrations Fail
There are many reasons why a site migration SEO might fail. You should know clearly why they fail and what needs to be done in a failure case. Websites require a lot of effort, and a failed migration system might cause a big loss of effort, advantages, rankings, etc.
The Most Important Reasons
Ensure that you are careful about the following subjects, as they are the most common reasons for failure in SEO site migration.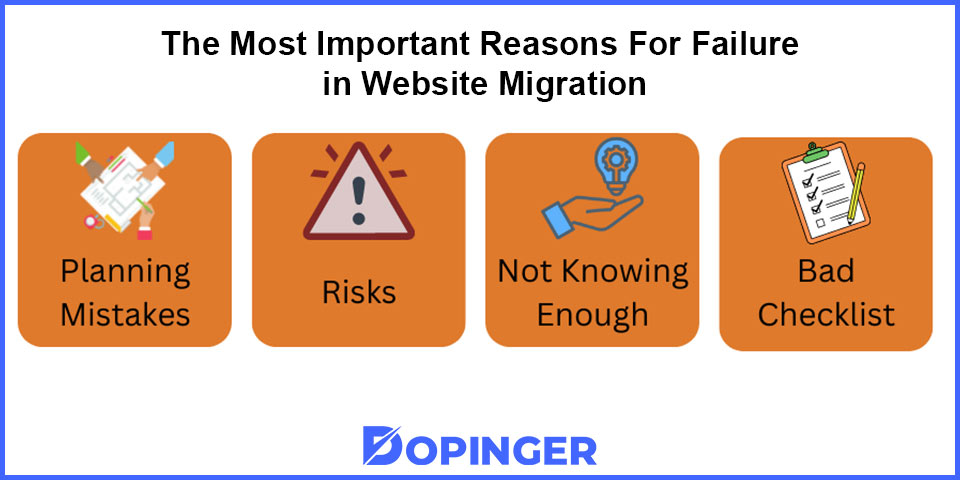 Planning Mistakes
All the well-planned SEO migrations become successful in the end. You should plan as soon as you decide on migrating your website. And you need a lot of time to have a scope, a plan, and a team, and you should also have a budget and checklists know clearly what your goals are and move accordingly. You need to be quick and early. If you don't plan well, you will likely fail. If that is the case, you should have a meeting with your team about deciding on moving on or postponing the move.
Risks
You should be aware that moving a website has a lot of risks. Even though SEO is a powerful tool, it does not give you any guarantee. There is a high chance of things going wrong with a migration site SEO. You may not gain your previous rates. Make sure that your team knows these risks and then move forward. Clearly, show your team the advantages, disadvantages, and all the possible outcomes.
Not Knowing Enough
Making sure that your team has an understanding of the risks is helpful. However, you should make sure they are knowledgeable enough about the topic. This is the same for people working alone as well. Website migration services require intensive knowledge of SEO. They require knowledge about redirects, content change, URL environments, etc. You should know about the failures before you and analyze them carefully. Also, you need to know the risks, what to expect, and what is needed.
Bad Checklists
"What more can go wrong after I know the risks, have the knowledge, and have the proper team?" we hear you say. Well, you could have a bad checklist. You need to have vital and sufficient checks. Your list should involve pre-launch and post-launch controls.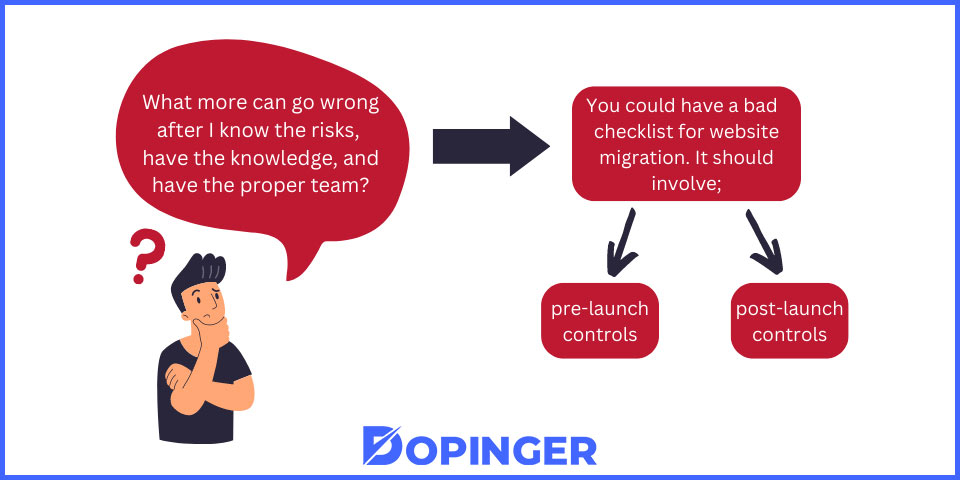 What Should You Do to Not Fail?
You should plan a detailed checklist in any migration process. You should especially have regular checks on plan redirections, content, and technical problems.
Your content should be what you anticipated and fit well with your site. You should make sure that you have good titles and meta.
You should check your URL mapping and if your redirects are going according to your plan.
On the technical side, you need to ensure the migration's technical aspects are set correctly.
Conclusion on Website Migration
SEO is not easy, and so is moving a website with SEO. You need to plan and measure everything and do a tremendous amount of research. Even the smallest mistake can cause traffic loss. In this article, we talked about website migration and the steps to follow regarding a possible website transaction. We know this process might be overwhelming, but now you know where to start!