The purpose of having a website is to make sure your content is easily available so that Google and other search engines can find and crawl your website. Without this goal, your website would only exist, not generating clicks on its content or appearing in search engine results. You could be wondering if there's a way to make sure search engines can find the content on your website and connect the information on your web pages to find your most important posts. You should consider organizing your website if you want to increase engagement, receive more clicks, and rank higher. The site structure comes into play here.
As a result, we'll provide you with a complete site structure guide in this article. We'll define the website structure for you and guide you in organizing your website according to its essential components. We will also discuss the significance of site structure for the content and SEO of your website.
What Is Website Structure?
The entire process of creating, arranging, and connecting your website's posts and pages is referred to as website structure. To ensure a positive user experience, it all comes down to how your website is created, how your web pages are connected and arranged, and how your information is placed.
The structure of a website depends on how well users can navigate it. It aims to improve user experience but also raises your website's position in search engine results. A website's structure depends on the following components due to these elements:
It provides a smooth user experience
It helps Google spiders and search engines to crawl your website
It helps you get backlinks from authority websites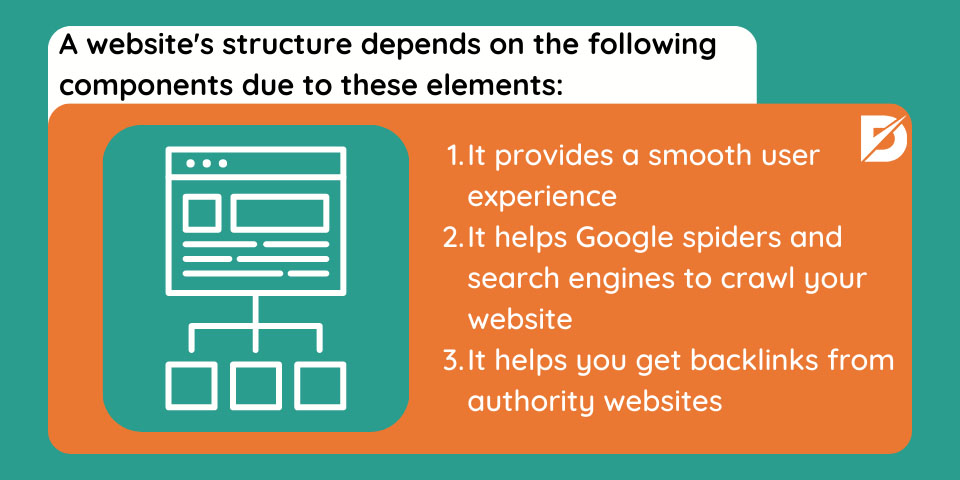 In a way, creating the structure of your website is similar to being an architect. To make it simpler for Google spiders to comprehend and index your content, you need to know where to place your valuable content and make sure there is a hierarchy on your website. You must show site hierarchy and organization to search engines for their algorithms to recognize your website. Your online ranking may be greatly influenced by this alone.
Site Structure Guide
You could find it difficult to plan and construct a website that will be user- and search-engine friendly since you need to stick to a solid site structure strategy. When building the framework of your site, be sure to check the following stages on our site structure guide if you're not sure where to begin:
Competitor Analysis
Comparing your business to similar businesses in the same industry will help you understand your strengths, weaknesses, and areas for improvement. This technique is known as competitor analysis. It enables you to define your brand, comprehend industry standards, and track your growth.
You need to know who your competitors are to perform a competitive analysis. To differentiate yourself in the market, you should research your rivals' beliefs, corporate objectives, goods, and services and attempt to understand their weaknesses and strengths.
A crucial step in the study process is competitor analysis when it comes to your website's structure. It provides insight into the elements and functions of the design process and aids in your understanding of the issues with your website's design. You can also look at your rivals' website designs to see what models they are using to market their goods and services and provide a good customer experience.
In addition, you can try to answer what their site hierarchy looks like, what can be inspired by their website, what they did incorrectly during the structure, and what modifications you would make to their website hierarchy. You may be able to build a website structure with a competitive edge by responding to these questions.
To plan how your site structure will be compared to other websites in the same industry, remember that you should undertake a competitive analysis before beginning the design process.
Categorize All Pages
Choosing how to visualize your web pages is the most important step in website design. When applying them to your web pages, you must make your categories as simple and obvious as possible. This will help users and search engine crawlers understand your website's content.
The homepage should be visitors' first page when visiting your website to give them a head start. Because you'll start to include all the other categories and subcategories as you start the website's structure, starting with the homepage. In other words, the remaining categories and subcategories will be added to your homepage.
Let's now look at an example to help you understand it better:
https://www.homepage.com
https://www.homepage.com/category
https://www.homepage.com/category/subcategory
https://www.homepage.com/category/subcategory/product
As you can see above, whatever category or subcategory you add to your website will be added to the main URL. To categorize your pages, you will utilize primary categories, subcategories, and products. To avoid creating a complicated website structure, you must keep this in mind. However, a complicated website structure could provide a poor user experience. To make a website easier to read and crawl, it is essential to choose a flat structure.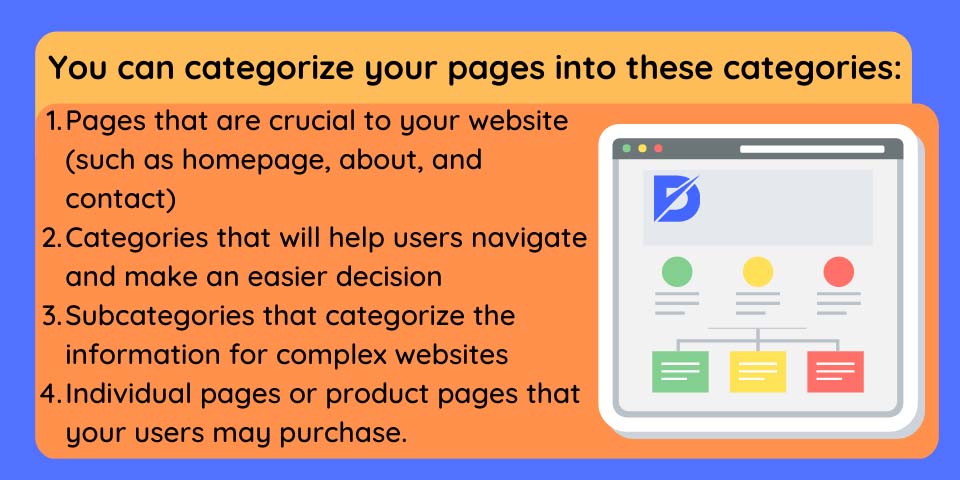 In light of this information, you can categorize your pages into these categories:
Pages that are crucial to your website (such as homepage, about, and contact)
Categories that will help users navigate and make an easier decision
Subcategories that categorize the information for complex websites
Individual pages or product pages that your users may purchase.
However, be careful not to mix this phase with structured data. Search engines can better understand the content of your website by using structured data, a series of hierarchies. Products, site navigation, and the site search box are all structured data elements. It's crucial for SEO because it provides indications about the subject of your content. You will work on your homepage, navigation, and product pages as you organize your website's pages. You can also use structured data to ensure complete site structure optimization.
Optimize URL Structure
Site structure SEO is something you should think of when designing your website. After all, your website's design and structure impact SEO more than you might realize.
One of the first things visitors and search engines notice about your website is its URL structure. Optimizing your URL structure is crucial since it makes it simpler for search engines to crawl and index your website and helps users locate the content they're looking for online. So, a strong URL structure improves user experience and helps your website rank higher.
How to Optimize URL Structure
To optimize your URL structure, you should make sure to avoid the following:
Avoid using special characters
Avoid creating a hard-to-read URL structure
Avoid using stop words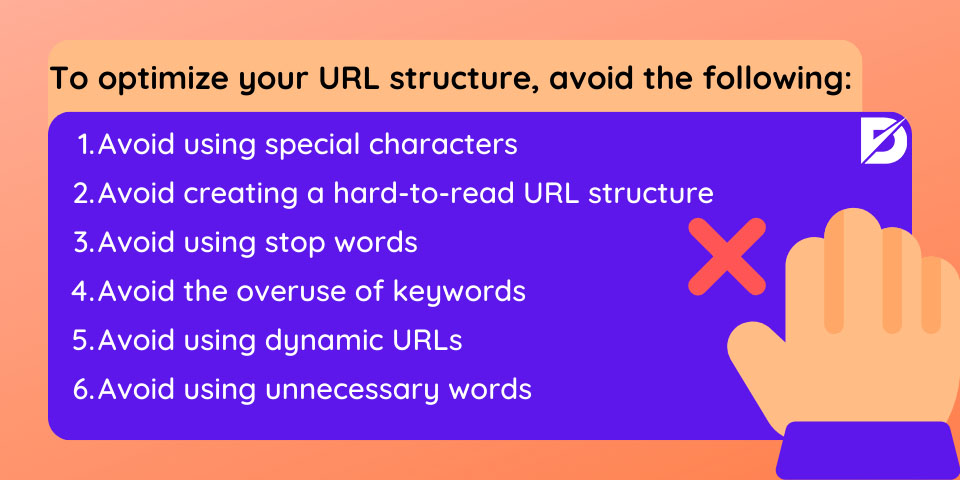 Avoid the overuse of keywords
Avoid using dynamic URLs
Avoid using unnecessary words
You must ensure that your URL contains the right keywords and you switch from HTTP to HTTPS for security and readability. Otherwise, it could be difficult to understand your website and its pages' URLs.
Thus, check to see if your URL is simple and clear. Use a domain like blog.com/blog/productname rather than anything like blog.com/blog/11/name-name. This will make it simpler for search engines to comprehend the content of your website. Moreover, remember that your URLs should be as consistent as possible. You should choose static URLs rather than dynamic ones to ensure consistency. However, this may lead you to ask, "How will I separate them?"
A static URL remains the same as long as no HTML changes are made, but a dynamic URL changes and has parameters. This improves the reading of your URLs by search engines. Next, make sure you're utilizing the appropriate keywords. To do this, you must perform keyword research and choose long-tailed keywords with little to no competition. Don't go overboard, though. We advise using no more than two keywords in your URL structure.
You're all set. Now that you know what to do and avoid, you can optimize your URL structure following our site structure guide. Remember that URL optimization will help you create a better, more SEO-friendly website.
Create a Sitemap
Your website's sitemap is a list of all of its pages. It's a file that explains to Google and other search engines which files and pages you think are essential to your website and how they connect. Sitemaps are often prepared in XML format to improve the structure of your website for SEO.
Sitemaps are extremely important since they offer important details about your website's goal and visual presentation. Making a sitemap not only makes your website easier for search engines to understand but also raises your website's ranking and visibility.
Your sitemaps' format must be chosen before you can generate one. When creating a sitemap, most websites typically utilize XML format, though you can choose HTML if you want. Next, concentrate on establishing a hierarchy amongst your web pages. For users and search engines to grasp your most important information, you should have a homepage, about me/us pages, and products, as we already explained in this article.
You can start creating your sitemap and coding after choosing the web pages. But, a text editor is a must before you can begin coding. Ensure to provide the location, the most recent modification date, the frequency of updates, and the page's priority for each URL when adding the sitemaps in a text editor. Save your file as XML after you finish, then upload it to your server. Search engines will read your codes and crawl your website as a result.
Importance of Site Structure
Like sailing without a map, using a website without a structure is similar. Creating a well-designed and simple-to-navigate website without a clear structure and an easy-to-understand site structure guide is challenging. In addition, if your website lacks a site structure, it will merely be a collection of web pages and content that users will skip.
You might be wondering why the site structure is so important that it might be difficult to maintain your website without it. We may group the significance of site structure into two categories to make it easier for you to comprehend: Site structure is crucial for ensuring the usability of your website as well as for optimizing it for search engine optimization.
Let's now take a look at why site structure is important:
It's Important for SEO
It's crucial for SEO because, as we've already discussed, Google looks at the structure of your website to determine what material is significant and relevant. Hence, in a sense, website structure gives your information a hierarchy so search engines can better understand it and display it in search engine results pages (SERP).
Site structure aids Google bots in better crawling and indexing your website, as well as helping Google and other search engines comprehend what your website is about. Site structure keeps your most recent posts at the front, which also makes it easier for Google to keep up with updates. As a result, this raises the position of your website in search engine rankings.
It's Important for Usability
The user experience on your website is what persuades visitors to stay. You will inevitably lose potential consumers if your website's users can't find what they are looking for when they visit. This justifies the significance of website structure. Site structure will assist you in deciding where to place your content, links, and items because it provides a simple navigation.
How to Maintain Site Structure
Making a nicely crafted website is one thing, but keeping it up to date and ensuring it functions perfectly is quite another. We concentrate on the crawling, indexing, and ranking procedures because we already understand how search engines operate. Sitemaps are how Google and other search engines learn about your Domain and web pages. Then they examine and attempt to comprehend the information on your page. Following that, they provide the users with your material as the best response to their query.
You must maintain a straightforward, updated site structure if you want this process to go smoothly. Your website must be SEO-optimized to achieve this. You must ensure that your site hierarchy is functional, your content is updated, and your URLs are safe since your site structure instructs Google and other search engines what to see and read.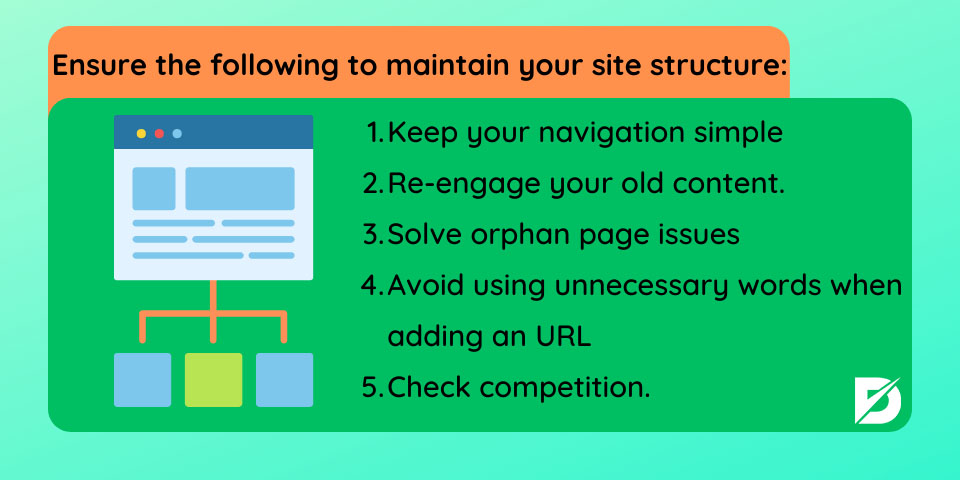 So, ensure the following to maintain your site structure:
Keep your navigation simple.
Re-engage your old content.
Solve orphan page issues.
Avoid using unnecessary words when adding an URL.
Check competition, as new competitors are always coming into the industry.
Therefore, to maintain the structure of your website, you should keep yourself informed about the market and your competitors, make sure that you are targeting long-tail, low-competition keywords, check your content to make sure it is updated, remove any unused or abandoned web pages, and ensure that your navigation is always straightforward for a user-friendly website.
Conclusion
In conclusion, we discussed the meaning of site structure and provided instructions on how to create a well-structured site. Also, we discussed SEO site structure and gave you information on why site structure optimization is crucial for both site usability and SEO. To help you construct your website appropriately, we hope this article successfully gave you a complete site structure guide.