Online marketers frequently discuss search engine optimization (SEO) and user experience (UX) together. While user experience (UX) focuses on enhancing the entire user experience on a website, search engine optimization (SEO) focuses on optimizing your website and its content to rank higher in search engine results pages (SERPs). Although they appear to be independent at first glance, search engine rankings and user experience are interconnected.
You can't get the most out of search engine optimization (SEO) unless your website is well-designed, has plenty of useful, easily-navigated information, and is user-friendly. Here's where a focus on user experience design comes in. Websites that are easy to navigate, interesting to read, and useful to visitors tend to perform better in search engine results. Your website's overall performance may also be enhanced by increased user engagement and conversion rates, both resulting from a pleasant user experience.
This article will discuss the connection between search engine optimization and user experience, as well as offer advice on enhancing your website's UX to boost your SEO. By learning the interplay between these two ideas, you can build a site that does well in search engine results while also pleasing visitors.
What is User Experience?
First, we can start with what is UI and UX. The term UI stands for the user interface. The term "user experience," or "UX" for short, describes how much a user enjoys using a certain product, service, or system. UX, or user experience, refers to the whole of a website's impact on its visitors, including their impressions of the site's aesthetics, navigation, content, and features. A good user experience is one that the user finds pleasing, useful, and up to par with their expectations.
When it comes to search engine optimization, user experience is paramount. One of the most crucial indications used by search engines like Google to gauge a website's relevancy and quality is user experience. Sites that are user-friendly in terms of loading speed, navigation, and content are more likely to achieve a better position in search engine results pages. (SERPs).
This means that search engine optimization and user experience are inextricably linked. Even if people are directed to your site because of your search engine optimization efforts, they may not stick around for long if they don't like their time there. Therefore, when optimizing a website, it is critical to consider SEO UX to enhance the user experience for both humans and search engines.
Why Is User-Experience Important?
Every website or digital product must prioritize user experience (UX) since it directly affects user pleasure, engagement, and loyalty. Regarding search engine optimization, a site's search engine rankings might also benefit from satisfied visitors. The significance of user experience (UX) can be summarized by the following:
Improved Engagement Metrics: Bounce Rate, Session Duration, and Average Page Views can all benefit from a better user experience. This sends a positive message to search engines, indicating that users find the site useful and relevant.
Sites with a good user experience have a better chance of converting their visitors into paying clients. Conversion rates, and thus your bottom line, can be improved by website UX optimization.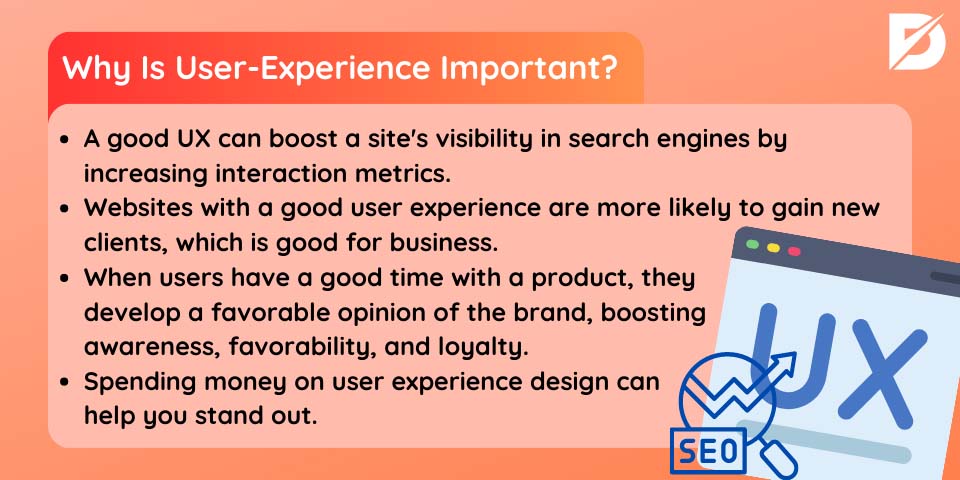 A better impression of the brand is established in the user's mind when they have a good time on a website. As a result, consumers may develop a more positive impression of the brand and be more loyal to it.
User experience has become increasingly important in today's digital marketplace as a competitive difference. You can get an edge over similar sites in your niche by spending money on user experience design.
A high-quality user experience is crucial for search engine optimization. SEO user experience optimization can boost your website's engagement metrics, conversion rates, brand awareness, and competitive edge.
SEO and User-Experience
Web design involves SEO and UX. For optimal website performance, both must be planned. Changes to the site's structure, navigation, and content are needed to improve UX. The goal is to make the website entertaining, fun, and user-friendly. UXO can boost a website's revenue by improving user engagement, bounce rates, and conversion tactics.
UX optimization improves website usability to boost search engine rankings. Better user experience means visitors stay longer and interact with content, which boosts search engine rankings. UX SEO uses responsive design, faster website loading, and high-quality content.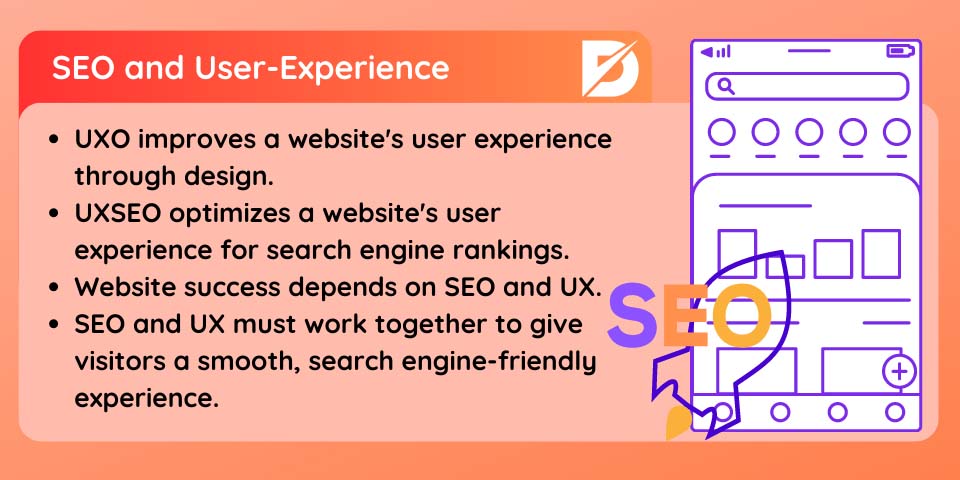 SEO and UX are essential to website success. If a website's user experience is bad, search engine optimization won't assist. Even if a website has high engagement owing to its user-friendly design, it may not be seen by its target audience if it is not search engine optimized.
Website design requires careful consideration of SEO and UX. A website's success depends on balancing SEO and UX to provide a seamless user experience and search engine visibility.
Some Stats About UX
Word-of-mouth is a double-edged sword; those who tell a friend about a positive online shopping experience are also likely to complain about a negative one. Why?
Various studies have put forth that half of the users/visitors will lament a poor online shopping experience.
More than 80% of online shoppers do not return to a website that falls short of their expectations.
Although having an excellent user interface is a plus, the lack thereof will bring great harm. Why? Because as studies confirm, 70% percent of failed businesses fail due to poor UX integration. On the bright side, however, it is concluded that better UX can quadruple sales, while a better user interface can only double it (which is excellent, but not by a great mile compared to the impact of UX.) In other words, UX is perhaps the most significant and undervalued aspect of any website or application.
But the real question is, "How do we improve user experience?" After all, every interaction is a form of "experience." So, what differentiates a good user experience from a bad one?
How to Improve SEO With User Experience
SEO can be improved with the use of various UX tactics. If you want to boost your SEO, use these user experience strategies: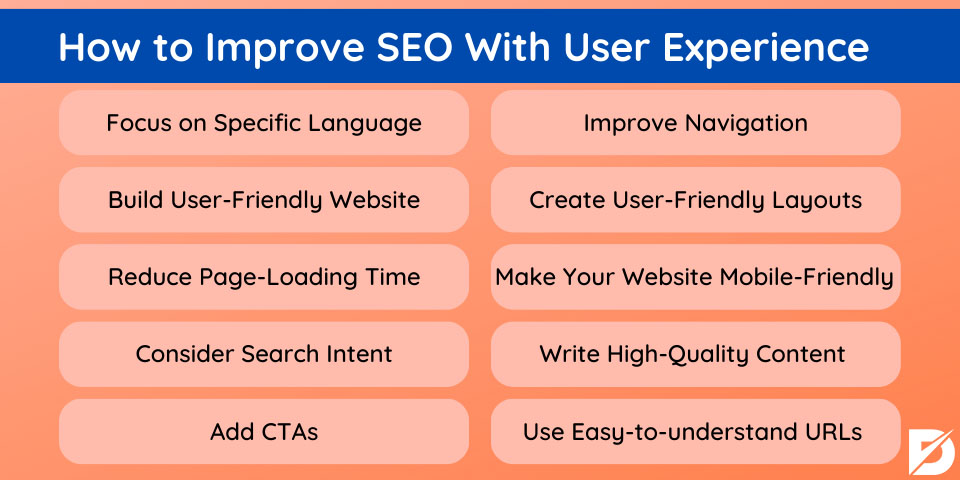 Focus on Specific Language
Every sector has a different language type, and language usage should be set according to the target customers or readers. The terminology of business should be used effectively to provide more relevant content. In addition, there shouldn't be more than one language on a page to improve SEO with user experience. If you want to provide services and content in more than one country, you need to build your website to accommodate multiple language exchanges.
Build User-Friendly Website
Websites that are easy to navigate are more likely to retain visitors and perform better in search engine rankings. A website is user-friendly if it is simple to use, has useful information, is quick to load, and can be viewed on any device. Firms should prioritize user experience while building their websites to boost their search engine results.
The quality of the user experience is rising in importance as a ranking signal for websites. Websites that are easy to navigate and provide useful information to their visitors will rank higher in search results. Businesses may improve the user experience and signal to search engines that the site is optimized for both users and search engines by using UX best practices in website design and content. Better visibility in search engines and more visitors are possible outcomes.
Reduce Page-Loading Time
For better UX and SEO, page load times must be decreased. If a site takes too long to load, visitors will likely give up and never return, resulting in a high bounce rate and a drop in the search engine results. A slow website's page load time can also have a negative effect on user experience.
In addition, search engine algorithms heavily emphasize how quickly page loads, directly impacting the website's position in search results. Search engines prefer sites that load quickly since doing so improves the user experience, and a good UX is a sign of a site's relevancy and worth. Businesses may boost their search engine rankings and site traffic by improving page loading time, which sends signals to search engines that the site is optimized for both people and search engines.
UX and page load times can be improved through picture and video optimization, decreased server response time, fewer HTTP requests, and implementing a content delivery network. (CDN). Because of the potential benefits to both user experience and search engine rankings, these tactics should be used early and often in the design and optimization of any website.
Consider Search Intent
Search intent—the reason a person searches—is essential to SEO. A search engine determines a user's intent by using several signals. Businesses may boost search engine rankings and visitor numbers by understanding search intent and customizing website content.
Informational, navigational, commercial, and transactional searches are the major intents. Informational and navigational search intents exist. Commercial and transactional search intent differ in how long they research a product or service before buying.
Businesses can better serve customers by tailoring their content to searchers' objectives. Websites with a valuable and relevant content rank higher in search engine results and attract more visitors. Thus, every SEO strategy must account for search intent.
Add CTAs
A website's design isn't complete without a call to action (CTA) that encourages viewers to subscribe to a newsletter, fill out a form, or buy. CTAs direct visitors to take action, increase engagement, and boost conversion rates, improving UX and SEO.
CTAs should be strategically placed on the website, such as at the end of blog posts or product pages. They should be clear, concise, and appealing to encourage site visitors to take action. Calls to action improve user experience, engagement, and conversions, which boosts search engine rankings and traffic.
CTAs can also capture user data like email addresses and feedback for marketing or website UX improvements. Thus, website design must have CTAs for UX and SEO.
Improve Navigation
Easy-to-navigate menus improve UX and SEO. Simple navigation improves a website's usability and accessibility.
Businesses can improve navigation by making their navigation system intuitive, attractive, and uniform across all sites. The site's navigation should help users find content. To help clients find information, businesses might install a search bar.
RECENT POSTS
Server Response Time Codes Guide  
Let's say you want to buy a pair of sneakers to use while strolling around the mall. Instead of visiting a physical store, you decided to buy the shoe...
Since search engines like easy-to-use sites, improved navigation may boost ranks. Improved navigation and a more user-friendly experience for site visitors will increase traffic and conversions by keeping people on the site longer. Thus, UX and SEO plans should simplify site navigation.
Create User-Friendly Layouts
A well-designed interface can benefit the user experience and search engine optimization. Bounce rates can be decreased, and engagement and conversion rates can be increased using a visually appealing and easily navigable layout.
Businesses can make layouts more user-friendly by ensuring key elements are easy to find and strategically placed in white space. Websites with an easy-to-navigate design tend to perform better in search engine results and attract more visitors.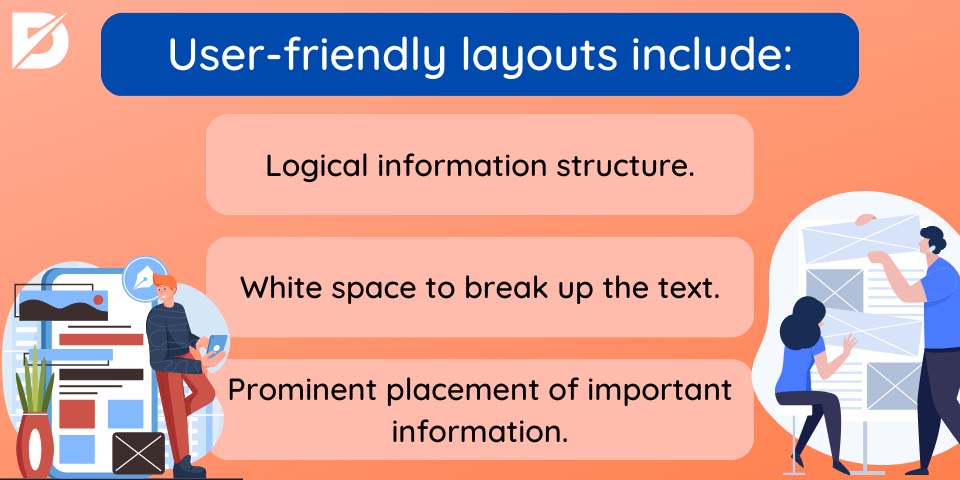 User-friendly layouts include:
Logical information structure.
White space to break up the text.
Prominent placement of important information.
Easy-to-navigate websites rank higher in search engines and attract more visitors.
Make Your Website Mobile-Friendly
If you want to improve SEO with user experience requires a mobile-friendly website. Mobile-friendly websites tend to have higher engagement and conversion rates because the vast majority of Internet users use mobile devices.
Businesses should prioritize responsive design, which automatically adjusts to the viewing environment, to make their sites mobile-friendly. To further facilitate use on mobile devices, firms could think about utilizing large fonts, high-quality photos, and streamlined navigation.
An SEO-friendly mobile site has lower bounce rates and higher engagement and conversion rates. Websites with good user experiences rank higher in search engines and receive more visitors. Making your site accessible on mobile devices is essential for user experience and search engine optimization.
Write High-Quality Content
High-quality content and a user-friendly interface improve SEO and user experience. A well-designed website helps users find and use information while increasing engagement and conversion rates. Businesses must provide well-written, helpful material to be called high-quality. Use industry-specific keywords and phrases to boost search engine rankings. In addition, it is important to create original content.
Use Easy-to-understand URLs
You should use simple URLs to improve user experience and SEO. Clear and clear URLs help site users find the information they want and give search engines context for indexing the page's content.
URLs that are descriptive and relevant to the page's content are best for companies. It's also bad for businesses to utilize long, complicated URLs.
Using basic URLs helps search engine optimization. Clear and descriptive URLs enhance engagement and conversion rates since visitors are likelier to click on them. Therefore, any UX or SEO strategy must promote concise URLs.
Last Words on SEO and User Experience
In conclusion, SEO and UX are intertwined and mutually beneficial to a website's success. Higher engagement and conversion rates and better search engine rankings can be achieved with a website designed with the user in mind. Similarly, search engine optimization (SEO) can boost traffic and enhance the user experience of a website.
Successful websites result from careful attention to search engine optimization and the user experience. The website must be user-friendly and optimized for mobile devices, with clear calls to action and informative URLs if you want to improve SEO with user experience. Businesses may design a website that does well in search engine rankings and gives a good user experience if they give equal weight to search engine optimization and user experience.