If you want to create your website, WordPress is a great choice to start. It is a content management system (CMS) that facilitates the process of making a website. WordPress saves you from doing coding and designing the website all by yourself. In the designing part, WordPress offers lots of themes that consist of pre-made templates. Yet, they can differ a lot, and you can make changes with the customization options that the site offers. If you want to choose a theme for your website, let's take a look at some of the best free WordPress themes.
When you're looking for a free WordPress theme, you would realize that there are many free themes. It is possible to say that there are more than 5000 free themes for WordPress. However, which ones are the best? To answer this question, we have come up with the 10 best WordPress themes that are recommended the most, and you can get them for free. Here is the list.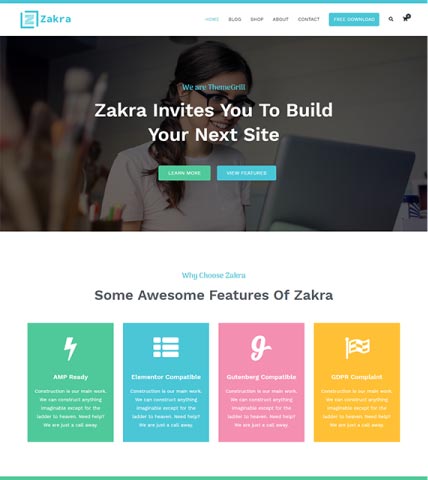 1. Zakra
The first theme we're going to mention is Zakra. It is a pretty important theme in WordPress because it has many other side themes. Zakra is an easy to use theme and flexible free. It is designed with the new WordPress 5.0 version. One of the best features of this theme is that it is compatible with Gutenberg and GDPR-ready. You can use any layout since it supports Elementor.
Zakra is an easy theme, even from the beginning. It doesn't lack your page speed, so it is fast and also SEO friendly. It offers many header styles, color options, advanced typography, free and multilingual support, and is mobile-friendly. Since it offers multilingual support, it is Ploylang compatible, which is a multilingual plugin for WordPress. It also offers WooCommerce support too. Having integration with WooCommerce is very handy for e-commerce websites.
We have mentioned that Zakra has side themes. You can set up this theme for various businesses. It is especially handy for starter websites. Here are some of the side theme options for Zakra:
Business
Construction
Firm
Agency
Restaurant
Plumber
Lawyer
Mobile App
Shop
Cafe
Spa
Yoga
Dentist
Wedding and many more.
If we were to count all of the side themes of Zakra, the list wouldn't end.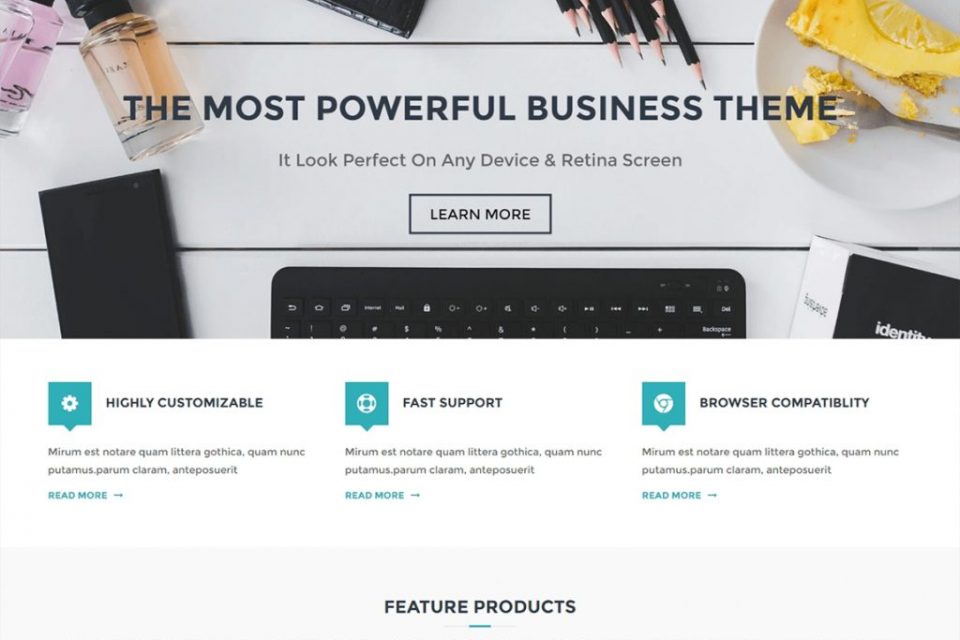 2. Flash
If you're looking for a theme that would make your website modern and professional, Flash might be a good option for you. Flash is a flexible theme, and it is suitable for using various purposes. The good thing about this theme is that it comes with many features that would be featured in premium services. For example, drag and drop option. It would be pretty surprising to see this in a free theme.
Flash comes with a plugin named Flash Toolkit. This plugin offers more than ten widgets that you can drag and drop. You can use this feature by using the original Page Builder plugin and customize the look of your website. It is possible to reorder and import demo content as well.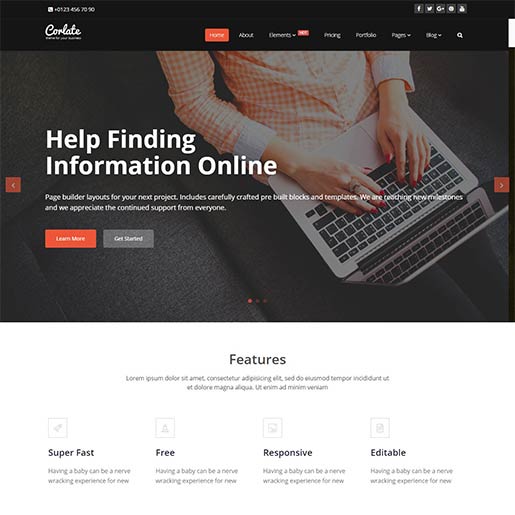 3. Corlate
In the third place of our list, we have Corlate. It is a free theme that you can use for multiple purposes. Corlate is a theme that focuses on facilitating the use of websites, especially for corporate and business sectors. It is very suitable for businesses that offer online presence.
The theme has a clean and modern look. It aims to provide an easier user experience for the visitors. Corlate offers a responsive design, and it is backed up with WP Page Builder. You can easily make changes, modifications, and editing by using the Page Builder. It is an SEO optimized theme that offers a high loading speed. Some of its best features are the Mega Menu option, resizing blog columns, built-in forms, and being Google Maps integrated.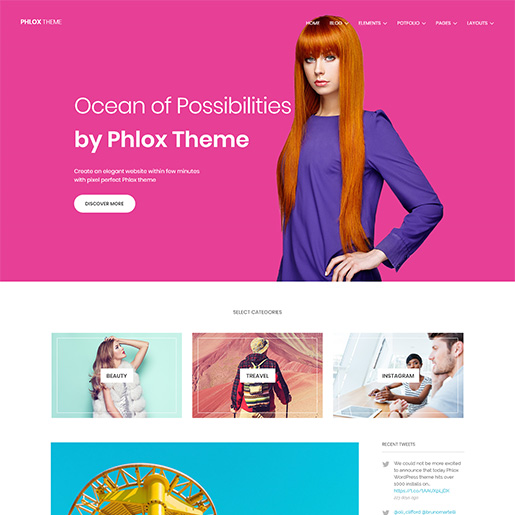 4. Phlox
Phlox is another free WordPress theme that you can use for many various websites. It offers tools for creating websites such as portfolios, blogs, travel vlogs, organization websites, and many more. However, the variety it presents is not the only good thing about Phlox. It has a more aesthetic look compared to the other themes we've covered. We can say that Phlox focuses on the good styling a bit more.
Its features can facilitate the usage and provide a better user experience to the visitors. Here are some of its best features:
Slider
Overlaying Title Text
Call to Action Buttons
Social Media Buttons
These features make Phlox one of the best themes for the website types that we collocated above. Phlox is an SEO friendly free WordPress theme that has a Google Analytics option. It also offers Google Fonts, custom widgets, and WooCommerce compatibility.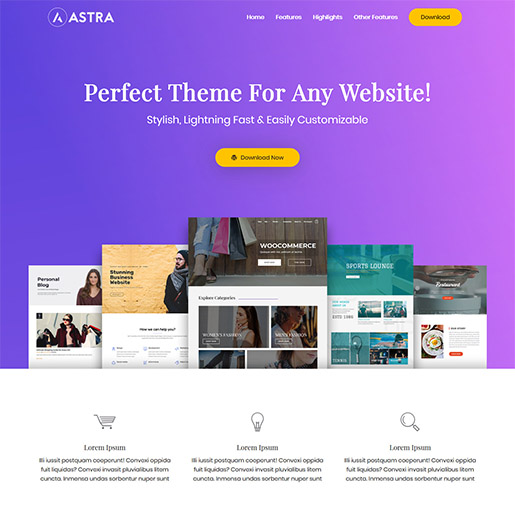 5. Astra
Astra is a highly customizable theme. It is also very fast and has a front-end size weight of less than 50KB. These features make Astra SEO friendly and one of the most preferred free WordPress theme. Astra comes with many layout options such as header styles, color, and typography customization.
Another good aspect of Astra rather than offering customization options is that it works with WooComemerce, Elemantor, Toolset, Yoast, Beaver Builder, LearnDash. It is also a translation ready theme.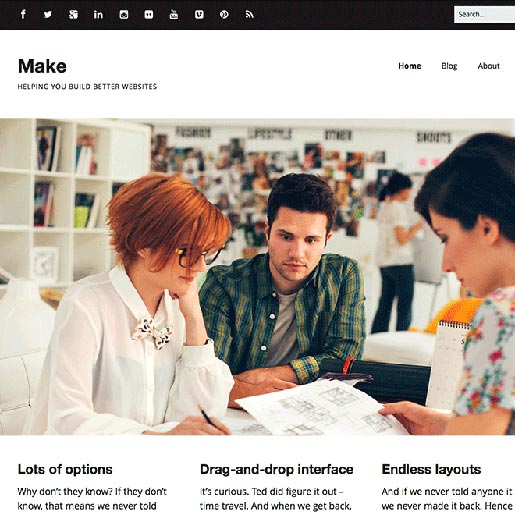 6. Make
Make is a perfect theme if you want to promote your business. It has a large area for headers and new product images. Make has a modern look that is designed to provide the impact for professional-looking businesses. Like Flash, Make offers a drag and drop Page Builder as well. It is a responsive and replete theme. You can add buttons for your other social networks as well.
Make is a highly customizable theme. You can adjust many things, such as fonts, colors, layouts, and logos. It is integrated with WooCommerce, and plugins such as Gravity Forms, Contact Form 7, Jetpack, and WP PageNavi can work easily with Make.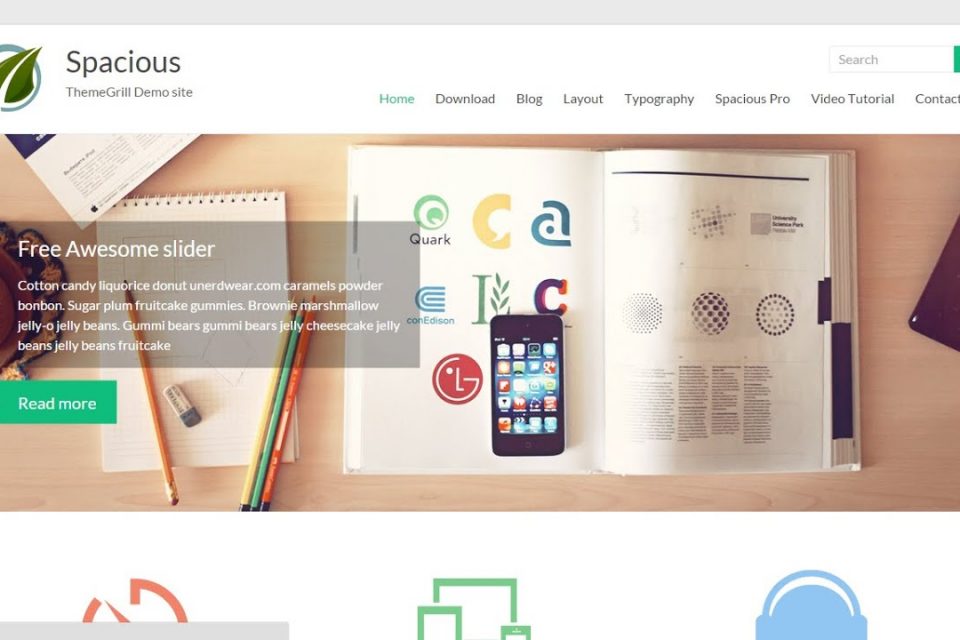 7. Spacious
As its name suggests, Spacious offers a clean layout and plenty of space. It has a cheerful design that is compatible with many different businesses. Spacious is also one of the best themes to create portfolios, blogs, and landing pages. It has four page layouts and two page templates to help you design your website quicker.
Spacious also offers some of the premium looking features such as widgets areas, translation options, and the ability to choose from dark and light skins. Since it is integrated with WooCommerce, you can easily create an online shop with this theme as well.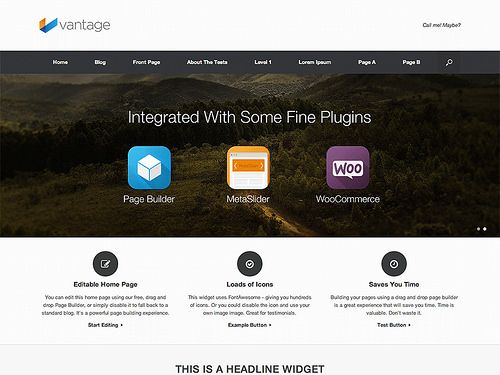 8. Vantage
Vantage is one of the most preferred free WordPress themes because of its limitless flexibility and simplicity. Like many other themes, you can use Vantage for various purposes as well. It comes with the SiteOrigin Page Builder plugin, and it makes the theme very user friendly.
RECENT POSTS
Where to Buy WordPress Themes
Throughout the journey of improving your website, the best thing about websites is that there are a lot of ways to implement new things into your webs...
How to Reset Your WordPress Website
Have you ever found yourself in a situation where you wished you could start over with a clean slate on your WordPress website? Manually deleting test...
Since Vantage supports high-resolution images, it is commonly used to create portfolios. It features custom background and menu options for you to arrange a unique looking web page.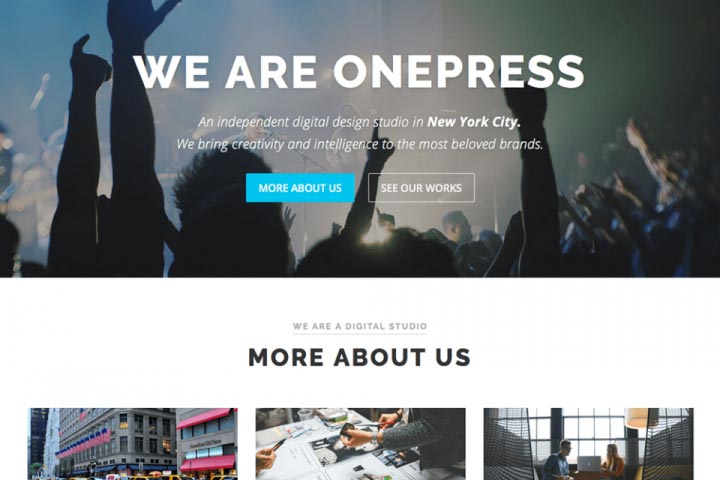 9. OnePress
OnePress is one of the most popular free WordPress themes as well. The theme owes its popularity to its simple and professional looking. It is compatible with many businesses. With this theme, it doesn't matter whether your business is a small, medium, or large scaled business. It offers a good standard for selling online products and services. Of course, it integrates with WooCommerce plugin to make it easier for e-commerce.
OnePress comes forward with its styling too. It is a perfect theme for single page websites, landing pages, and personal portfolios. It has many customizing options, parallax effect, eight flexible sections, and top-notch support.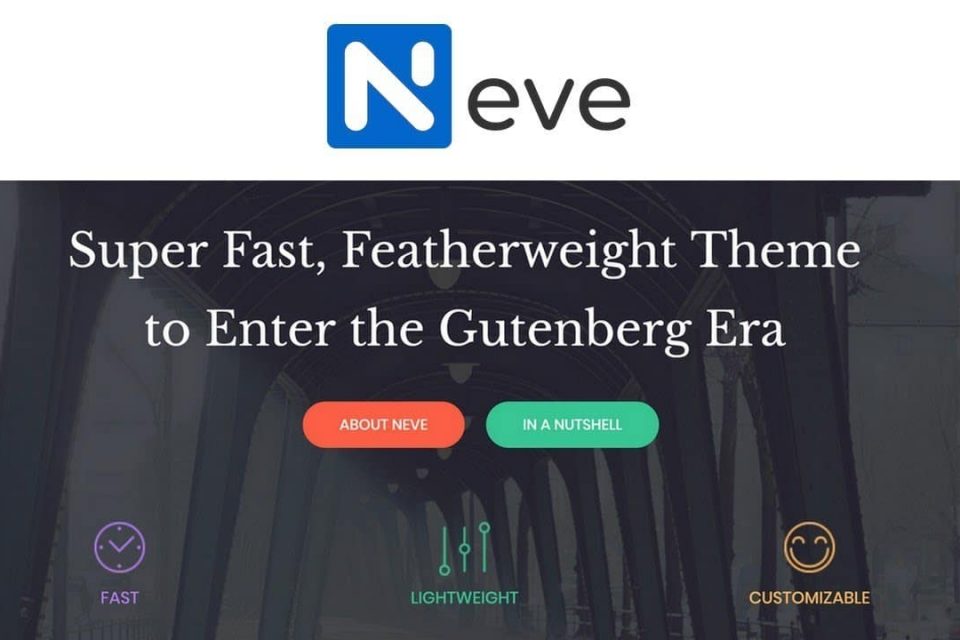 10. Neve
Neve is a quite stylish WordPress theme. What makes it so special is that Neve provides many custom animation and transition effects along with various visual elements. You can create quite unique websites with this theme. You can customize your Neve themed pages with WordPress live customizer and Page Builder plugins.
It also presents various elements such as;
Icon Boxes
Video Embed Sections
Milestones Tracking
Pricing Tables
Testimonials
All of these elements make Neve one of the most flexible WordPress themes ever. One of the unique features of Neve is that you can get support from the authors.
Conclusion
WordPress is a great CMS to design your own website without complexity. It has many different themes that you can use for various types of websites. Yet, we have mentioned 10 of the best free WordPress themes that you can use for multiple purposes. You can create business websites, blogs, portfolios, organization websites, and many more with these themes. Have a look at each theme and decide which one would be the best for you to create your website.
If you want to learn more about WordPress, creating a website, and SEO, please check out our other articles about it. You may be interested in our What Is WordPress article, if you want to have a more detailed look at what it is about.