With its commanding presence, powering 43% of the web, WordPress stands as a favorite among website owners worldwide. Its open-source nature encourages a continuous influx of improvements from contributors across the globe. Furthermore, its vast collection of free and premium plugins enables even those with limited development knowledge to create intricate websites with ease. However, as with any widely used platform, WordPress site owners must remain cautious against the constant threat of cybercriminals seeking to exploit security vulnerabilities. How to do WordPress malware removal? It's alarming to know that around 70% of the 40,000 WordPress websites are vulnerable to hacking attempts. One of the top threats to websites and sensitive data is malware, which has the ability to cause significant damage.
Consequently, mastering the art of removing malware on WordPress sites becomes imperative for website owners. By promptly identifying and addressing malware infections, site owners can take proactive steps to remove malware from websites and prevent future attacks. In this guide, we will delve into the essential steps of malware WordPress removal. We are also empowering you to safeguard your online presence from these malicious threats.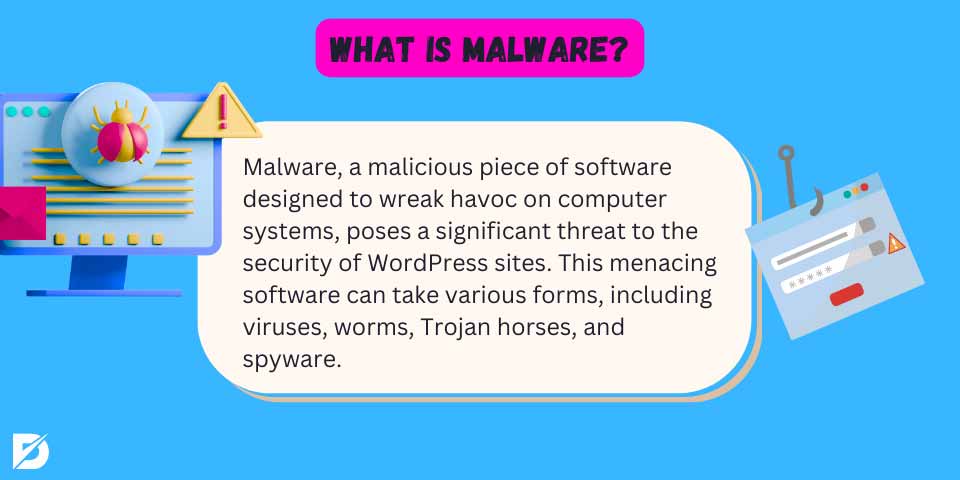 What Is Malware?
Malware, a malicious piece of software designed to wreak havoc on computer systems, poses a significant threat to the security of WordPress sites. This menacing software can take various forms, including viruses, worms, Trojan horses, and spyware. WordPress sites remain susceptible to malware attacks despite robust security measures, with malicious plugins or themes being the most common entry point for these harmful elements. Vulnerabilities in the core WordPress software or other server software also provide pathways for malware WordPress infiltration. Check the best WordPress plugins to speed up site.
The consequences can be disastrous once malware takes hold of a WordPress site. This can be ranging from file deletion to the injection of spammy links into content and even the theft of sensitive data like passwords and credit card numbers Cyber-attacks do not only lead to unnecessary downtime. But they can also harm a website's reputation and result in financial losses. WordPress malware is particularly dangerous because it can go undetected for extended periods, causing even more harm over time. Security plugins can proactively scan for and eliminate malware, ensuring the preservation of site integrity and safeguarding against potential catastrophes.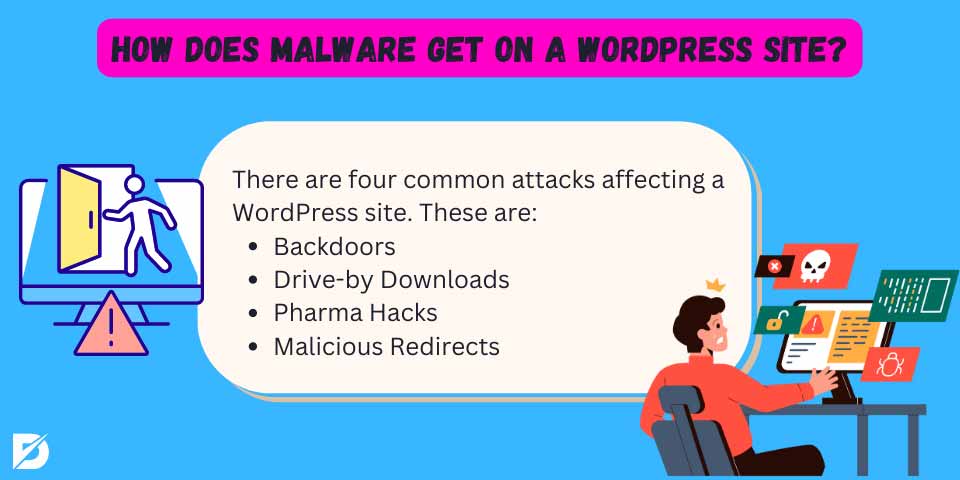 How Does Malware Get on a WordPress Site?
In this discussion, we'll focus on four common attacks that pose a threat to WordPress users. These are backdoors, drive-by downloads, pharma hacks, and malicious redirects.
Among these, backdoors stand out as particularly dangerous. It is because they grant attackers unauthorized access to your environment through abnormal means like FTP, SFTP, or WP-ADMIN. Hackers can infiltrate your website using command-line interfaces or web-based GUIs, enabling them to wreak havoc on your server. Backdoors are notorious for causing cross-site contamination incidents, wherein one infected website spreads malware to others on the same server.
These attacks often exploit vulnerabilities in out-of-date software or security holes in code. For instance, a well-known vulnerability within the WordPress community involved the TimThumb script, which was utilized for image resizing. This flaw allowed hackers to upload a malicious payload, effectively functioning as a backdoor.
How to Scan WordPress for Malware
Ensuring the security and integrity of your WordPress website is of paramount importance. And also, one of the most critical aspects of this is scanning for malware regularly. While some signs may indicate the presence of malware, it's not always easy to detect and clean malware WordPress viruses right away. That's where malware scans come in handy.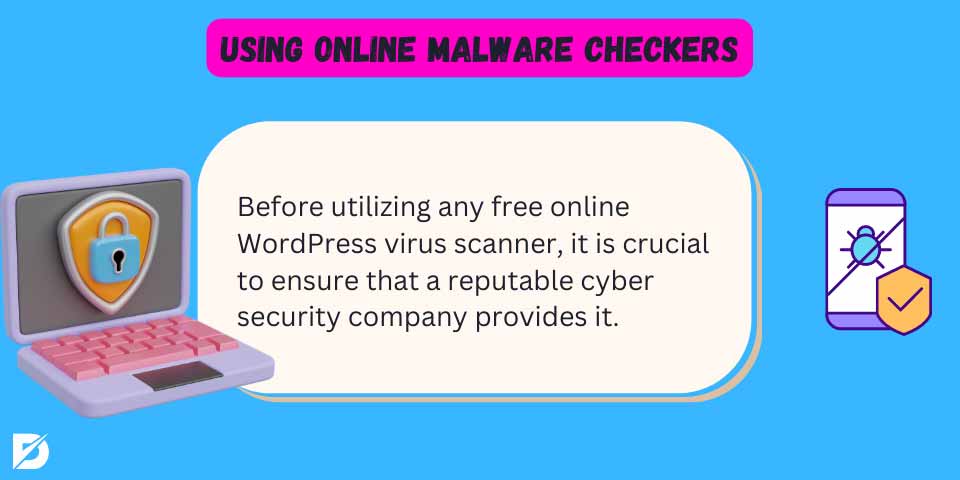 Using Online Malware Checkers
Before utilizing any free online WordPress virus scanner, it is crucial to ensure that a reputable cyber security company provides it. You can do this by thoroughly verifying the trustworthiness and reliability of the website address before running the online virus scanner.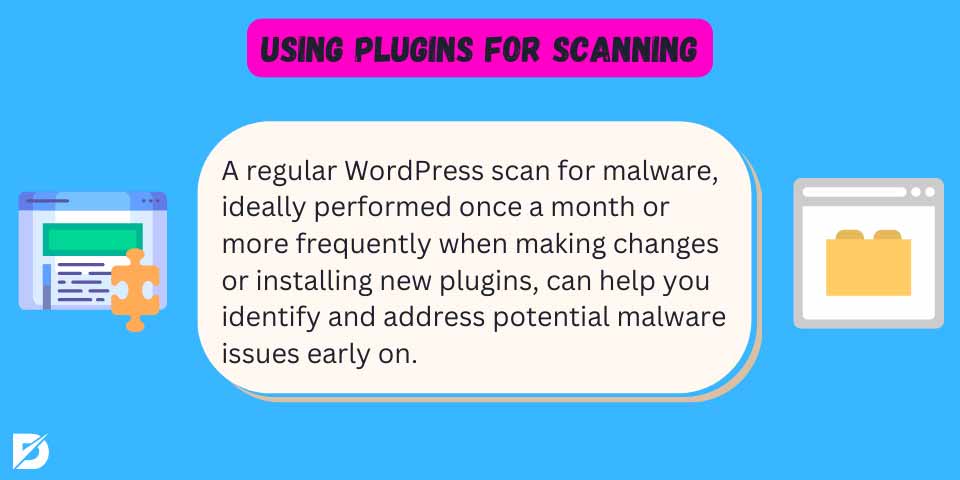 Using Plugins for Scanning
A regular WordPress scan for malware, ideally performed once a month or more frequently when making changes or installing new plugins, can help you identify and address potential malware issues early on. Establishing a routine for website scanning ensures consistent vigilance and peace of mind in the face of evolving cyber threats. Such as scheduling it on the first day of each month.
How to Do WordPress Malware Removal
There are many different types of malware and malware injection removal methods on the internet. But not all of them are specifically targeted at WordPress. To safeguard your WordPress, creating a comprehensive backup of your database is crucial. A reliable backup plugin offers real-time automatic backups, ensuring that every change to your site is continuously saved. However, manual backup using File Transfer Protocol (FTP) tools and phpMyAdmin is an alternative, albeit more technical and time-consuming.
Also, check the best SEO plugins for WordPress to perform better SEO.
Remove Malware Manually
While using a plugin for malware removal WordPress is the quicker and more straightforward approach. There may be instances where manual intervention becomes necessary, especially when a plugin's capabilities are limited. Undertaking the manual malware removal process requires a series of steps and a considerable amount of time. This makes it a less preferred option compared to automated solutions. While manual malware removal can be effective, it requires expertise in WordPress files and code manipulation.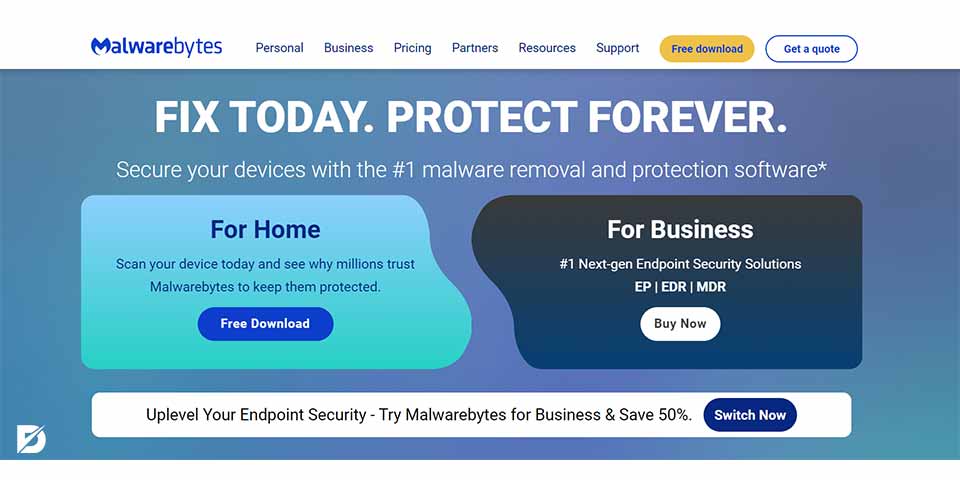 First, you must identify and locate any malware on your site, which can be achieved through the use of malware scanner tools like Malwarebytes. Alternatively, you can manually examine key areas of your site, such as the database, files, and source code, searching for common malicious syntaxes.
If malware is detected, it becomes necessary to replace all WordPress core files with a clean installation.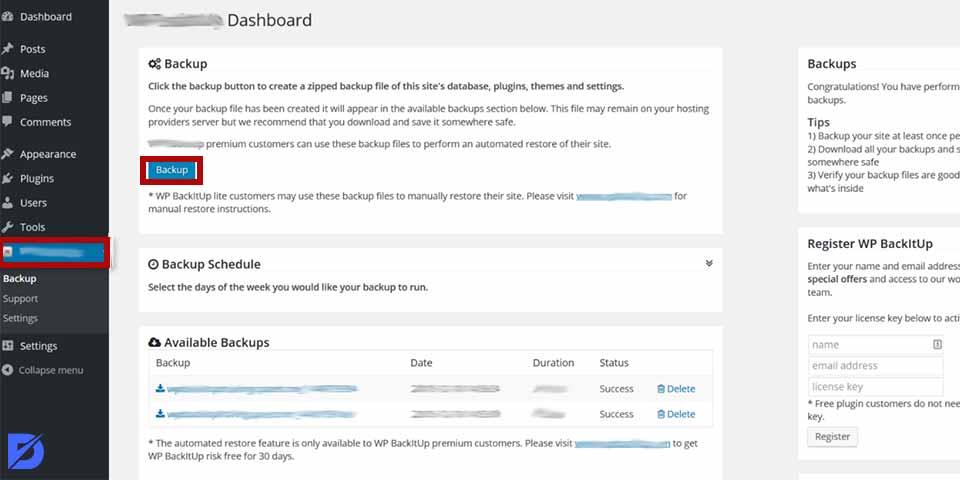 Download a fresh copy of WordPress from WordPress.org and upload the files to your server while retaining the wp-config.php file and wp-content folder accomplishes this step.
Next, removing any malicious code from the wp-config.php file is essential to ensure your site's integrity.
By comparing your existing wp-config.php file to the original version provided by WordPress Codex, you can identify any added suspicious code and eliminate it.
Reinstalling a clean version of your WordPress theme is another crucial step in the manual removal process.
If you are using a child theme with customizations, you must reinstall a clean version of your parent theme while retaining your child theme's modifications.
Furthermore, reviewing recently modified code files and searching for suspicious additions, such as PHP functions like str_rot13, gzuncompress, or eval, is vital to eradicate potential malware.
Cleaning the hacked database tables is necessary, as malware may create malicious content in your database.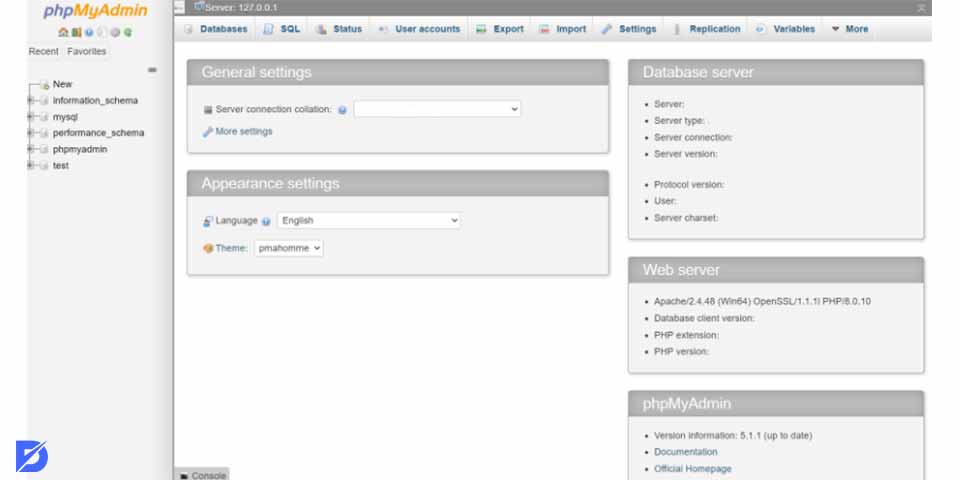 By logging into your phpMyAdmin dashboard, you can manually navigate to the infected database table and clean malware WordPress content or use tools like WP-Optimize for database optimization.
Lastly, hidden backdoors left behind by hackers need to be identified and removed from your WordPress site. To achieve this, it is necessary to search specific files and folders, including wp-content/plugins, wp-content/uploads, and wp-content/themes, and look for potentially malicious PHP functions. Thus, you can successfully remove malware from WordPress.
Remove Malware with a Plugin
The process of removing malware from a compromised WordPress site using a plugin is relatively straightforward. Plugins streamline the entire malware removal process, saving you valuable time and effort. They act like a comprehensive WordPress malware removal service in return for a little cost. Once installed and activated, you can quickly scan your WordPress site for malware with a simple click of a button. Plugin will then conduct a comprehensive scan for known malware threats, completing the process within a few minutes.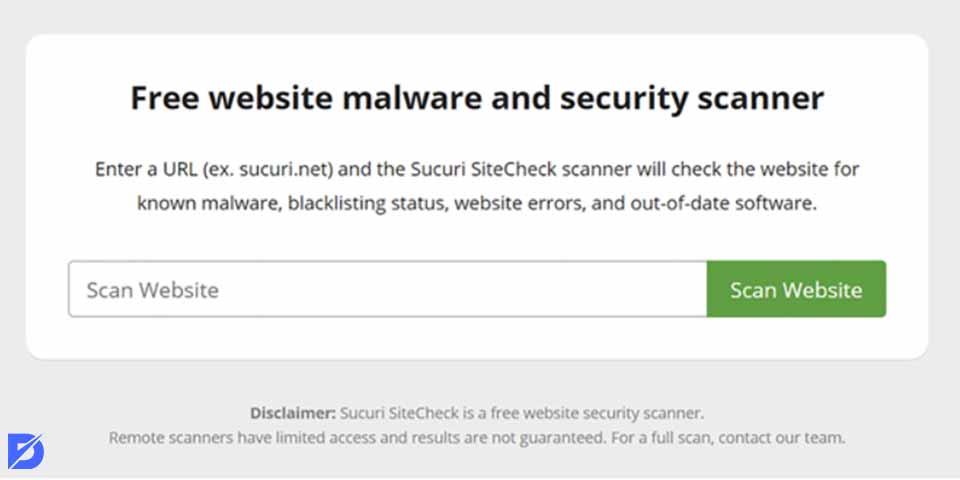 In the event that malware is detected, the plugin provides you with a list of the issues under "Malware Threats Found."
You can easily remove WordPress malware by clicking the "Remove threat" button next to each item.
This automated cleanup ensures that your website remains free from malicious code and potential security risks.
How to Strengthen WordPress Site Security
While knowing how to clean WordPress malware is crucial, it is even more beneficial to prevent malware from infecting your website in the first place. First and foremost, regularly changing your WordPress password and database credentials is an effective way to enhance security. By updating your password frequently, you make it harder for hackers to gain unauthorized access to your site. To change your password, simply navigate to your WordPress dashboard, head to Users → Profile, and set a new password in the Account Management section.
RECENT POSTS
Where to Buy WordPress Themes
Throughout the journey of improving your website, the best thing about websites is that there are a lot of ways to implement new things into your webs...
How to Reset Your WordPress Website
Have you ever found yourself in a situation where you wished you could start over with a clean slate on your WordPress website? Manually deleting test...
Additionally, it is essential to keep your WordPress site, themes, and plugins up to date. Outdated software is a common vulnerability that hackers exploit to gain access to WordPress sites. Regularly updating your website ensures it benefits from the latest security features and patches. Lastly, by installing an automated malware scan plugin, you can quickly provide a safeguarding system for your website. Plugins that can regularly scan your site for known malware and promptly notify you if any issues are detected.
Conclusion
We discuss the details of WordPress malware removal. In conclusion, safeguarding your WordPress website from malware attacks is of utmost importance to ensure the security and integrity of your online presence. Regularly scanning your site for potential threats, keeping your themes and plugins up to date, using strong passwords, and employing security plugins are essential practices to prevent malware infections. However, in the unfortunate event of a malware breach, the steps mentioned in this article can guide you in effectively removing the malware and restoring your website to its safe state. Remember to back up your site regularly, stay vigilant, and seek professional help if needed to address more complex malware issues.