Keywords are one of the most important building blocks of SEO practices. However, it is not always an easy task to identify the right keywords related to your topic. The right keywords can move your website higher in the SERPs of related search queries. On the other hand, not determining the keywords related to your target searches well will not do your website any good. That will result in nothing but the waste of your work. But don't worry, there are free keyword research tools.
As in every SEO practice, there are many tools that can help you with keyword detection. Some of these tools may help you to perform an extensive keyword study. However, many of these comprehensive SEO tools are paid. So, are there any free ones? Of course, there are. And lucky for you, this article has a great list that can help you with just that. So, without making you wait any longer, let's move on to sharing our list of the best free keyword research tools.
Best Keyword Research Tools
Before we start our list, let's have another short talk about keywords. Keyword research is one of the most important dynamics that facilitates SEO planning. What roles do keywords play in SEO practices? We may list the main contributions of keyword research to SEO practices as follows:
Thanks to this researches, you will have less difficulty in generating your keyword ideas.
Thanks to keyword research, you can analyze how many people are using the relevant search term actively.
These studies also contribute to determining the keyword trends of users significantly.
The competition you will face in ranking is also quite important when determining keyword phrases. Keyword research will also provide you with great benefits in this regard.
There are many keyword search tools on the market. Each of these keyword tools offers many different features. So, which of these is the best keyword tool? It is not possible to answer this question accurately without knowing the goals of your SEO efforts.
So, what are we going to do here? What we will do here is exactly to introduce the best keyword tools available in the market. While doing this, we will explain to you in detail the best features of these tools. In addition, as with every SEO tool, it is inevitable that these tools have some disadvantages. Therefore, we will also be talking about the disadvantages of the free keyword research tools on this list. Thus, we'll try to help you determine the best free keyword research tool for your own SEO goals. So, let's start our article with the Keyword Surfer tool, which is at the top of our list.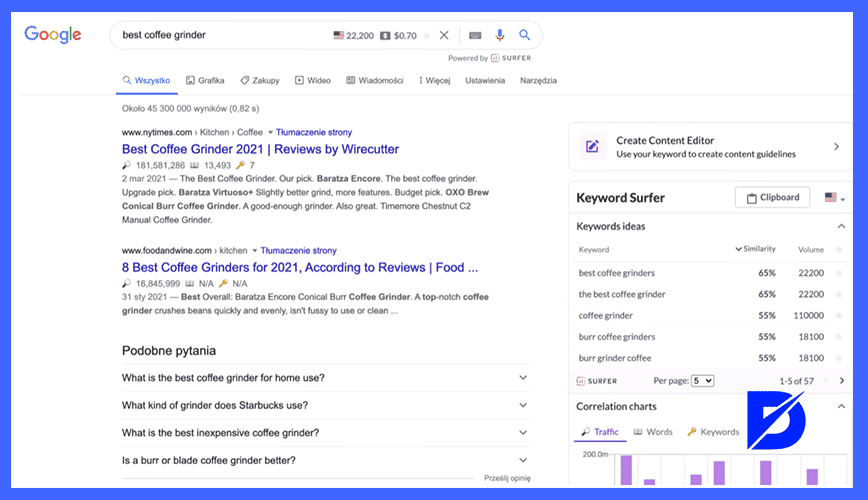 Keyword Surfer
Are you looking for a free and up-to-date tool for your keyword research? If so, you have found what you're looking for now. First, plug this tool directly into Google Chrome. Then, simply activate it. Now, you will display results for each search term you type into the browser on the right side of your screen. Moreover, after you activate the tool, it will bring these results to your screen automatically. So, what kind of data does this awesome and completely free keyword research tool provide you with for your searches? Let's talk a little bit about these and help you get to know the Keyword Surfer better.
This tool doesn't just share keyword ideas that it will show you as a result of your searches. It also provides data on search volumes. Cost-per-click rates are also quite important for the search terms you will use in your SEO efforts. In this context, Keyword Surfer also provides you with data on costs per click for each keyword phrase it offers. The tool also helps you perform a detailed competitive analysis of the keyword phrases it offers. So, it also includes the pages that Google ranks in searches related to keyword phrases. You can also access the pages that Google ranks in the top ten SERPs for the search terms you entered. In addition, the tool offers you the amount of traffic that these pages have attracted.
Keyword Surfer is one of the keyword tools that you can get the highest efficiency. The biggest advantage of Keyword Surfer is that it provides you with the results while you are operating in the browser. Now, as we promised, let's talk about the disadvantages of the tool. The data that this tool will provide may have some differences compared to other SEO tools.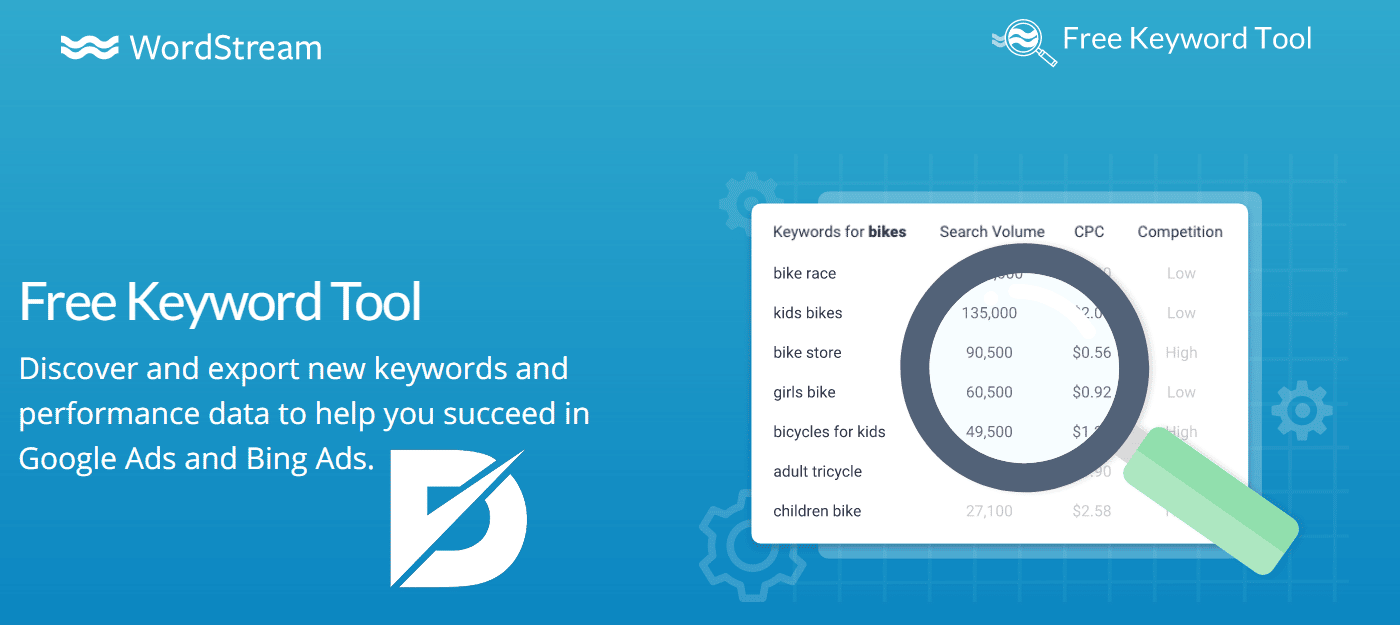 WordStream
Wouldn't it be nice and useful if your keyword research tool also made strategic recommendations? WordStream is a tool specifically geared towards PPC keyword research. It's not just that the tool stands out because it offers strategic advice. The tool also has dedicated keyword databases for more than 60 verticals. It is also worth mentioning something about the cost of the WordStream tool. Only the first 25 results in the tool are completely free. The results you want to get after this stage will only be provided free of charge via e-mail. So, how can you use the WordStream tool? All you have to do is enter the relevant search term or URL to use the tool. After this step, the tool will present you the following data about your search:
Data on search volume on Bing and Google for the relevant search term or URL
Competitive analysis data for the search term or URL you searched for
Both long tail and relevant keyword suggestions for your search
Cost-per-click rates of keyword suggestions for your search
Applying search filters for dozens of countries and dozens of different verticals
It is quite easy to obtain the data we have listed above in your keyword research with WordStream. In order to get these results about your searches completely free of charge, just register with the application with your e-mail address. The tool will then continue to send you the results of your searches via e-mail.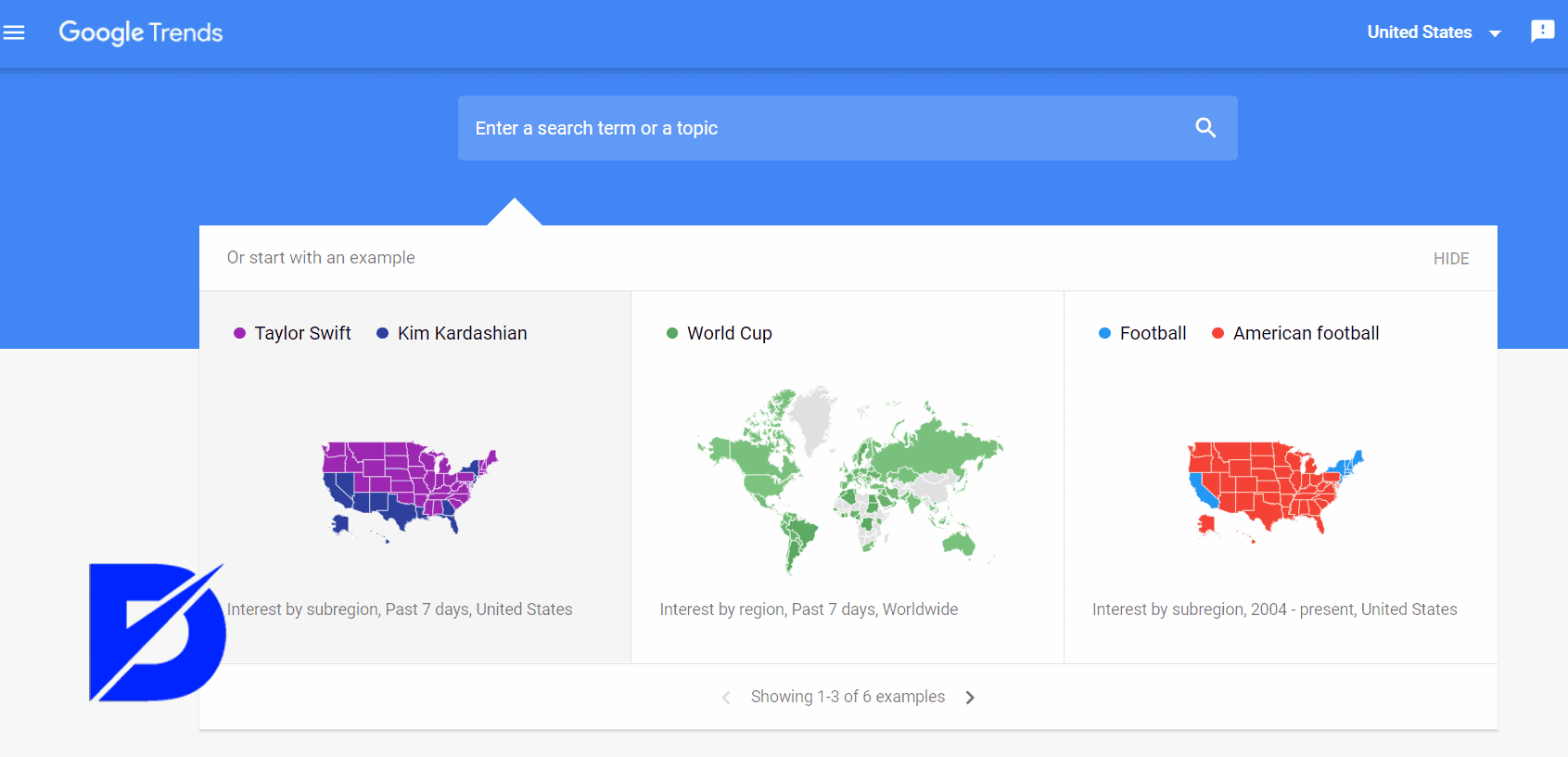 Google Trends
Google Trends is one of the first free tools that come to mind when it comes to keyword research. As the name suggests, this tool is an SEO tool developed by Google. The biggest advantage of this tool comes from this itself. Because it has the potential to provide the clearest results for your keyword research on Google. We may list the points that the Google Trends tool can contribute to your keyword research as follows:
This tool allows you to analyze relative popularity data for your related keywords on Google.
It helps you get the most efficient regional results for your keyword studies on Google. Thus, you may carry out your regional-focused keyword studies more efficiently.
As in every search engine, the volume of many keywords in Google can change at certain time intervals. Thanks to Google Trends, you may also consider these effects in your keyword studies on Google. In this way, you may determine your keywords more appropriately to user trends and seasonal changes.
The biggest advantage of Google Trends is its structure that allows you to distinguish the keywords that have been trending in the past. Thus, by determining your keywords among the most current trends, you can prevent your work from becoming outdated. The visual graphics provided by the tool are also very suitable for those who are new to using it. You may also use this data when creating a content calendar. However, in many cases, trends can go beyond content calendars. In this case, thanks to Google Trends, you may create a much more successful strategy of avoiding targeting the wrong keywords. Thus, you may delay your targeted search queries from being behind the times as much as possible. Let's continue our list by talking about the next free keyword tool.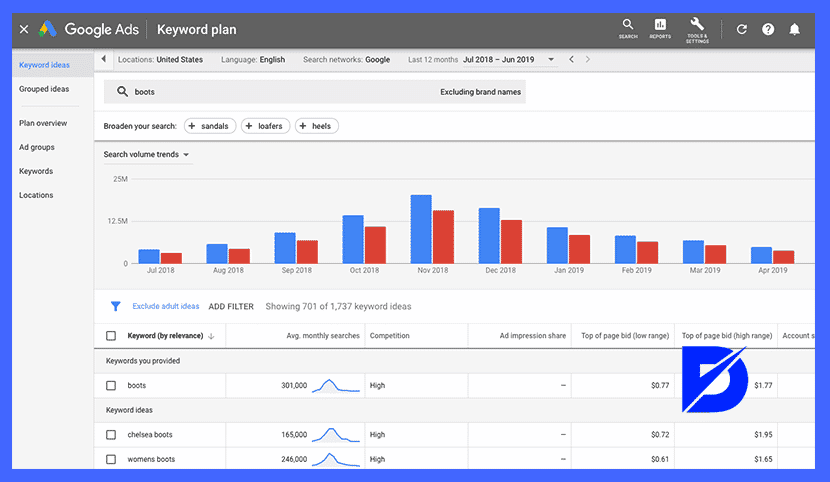 Google Keyword Planner
Do you need an advanced tool for your PPC keyword research? Google Keyword Planner is unrivaled at Google in providing amazing account insights. It also has quite unique features compared to its competitors. One of these features is insights into bid data. However, another unique feature of the tool is advanced attribute filtering. This tool, like the other keyword research tools on our list, is completely free. All you need to use the Keyword Planner tool is an active Google account. So, let's continue our article by listing the best features of Google Keyword Planner.
You may enter multiple keywords in the search box at the same time.
You may view a lot of data on both these keywords and related keywords.
It allows you to view the search volumes of both your keywords and related keywords periodically.
The tool also provides you with data on search trends over the same periods.
You may view the detailed competitive analysis in low, medium, and high categories for the keywords you have entered into the tool.
Google Keyword Planner also has an embedded keyword refiner tool. This feature allows you to filter keywords according to your industry or other goals easily.
Google Keyword Planner also helps you a lot in your advertising efforts focused on keywords. You may view the past top of page bids for the keyword you want. Thus, you may calculate an average cost in advance for your keyword-focused advertising efforts.
Google Keyword Planner also lists the ad impression shares for each keyword separately. That is too useful in your keyword-focused ad campaigns.
The tool also shows you whether the keywords and related keywords you are searching for are found in your active ad campaigns.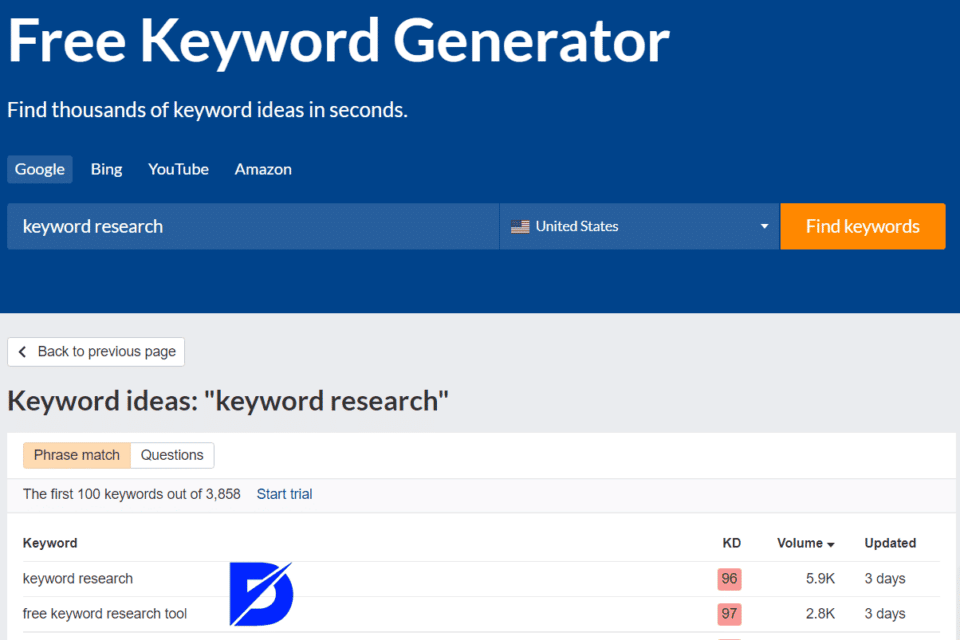 Ahrefs Keyword Generator
You have seed keywords at hand. And you are looking for different keyword ideas for these seed keywords. If the one we've described here fits you exactly, Ahrefs Keyword Generator is the tool you're looking for. All you have to do is enter your seed keyword in the search box of this tool. The tool will then rank you over 150 keyword ideas. The tool doesn't just come up with dozens of new keyword ideas for you, either. It also indicates the keyword difficulty scores for the first few keywords in this list that it has presented to you. Let's briefly explain what keyword difficulty score means.
That is a term that scores the ranking difficulty of keyword ideas by estimation. These scores are such that 0 is the least difficult and 100 is the most difficult. It'll be just as difficult to attract more traffic for keyword ideas with a keyword difficulty score of 90 or higher. In such cases, you will need to have more backlinks in order to attract traffic at the desired levels. So to sum it up briefly, all you can do to balance keyword difficulty is to provide more backlinks. Let's share with you an important reminder about the Ahrefs Keyword Generator tool.
The data for the search volumes that the tool provides for keyword ideas are specific to the United States only. Similarly, the keyword difficulty scores that we have just mentioned are also specific to the United States. That is the tool's default set data. But, with Ahrefs Keyword Generator, you can also get more than 170 country-specific data for your keywords. All you have to do is select the country you want from the settings menu of the tool. Then, you may continue your keyword research with more accurate and customized data.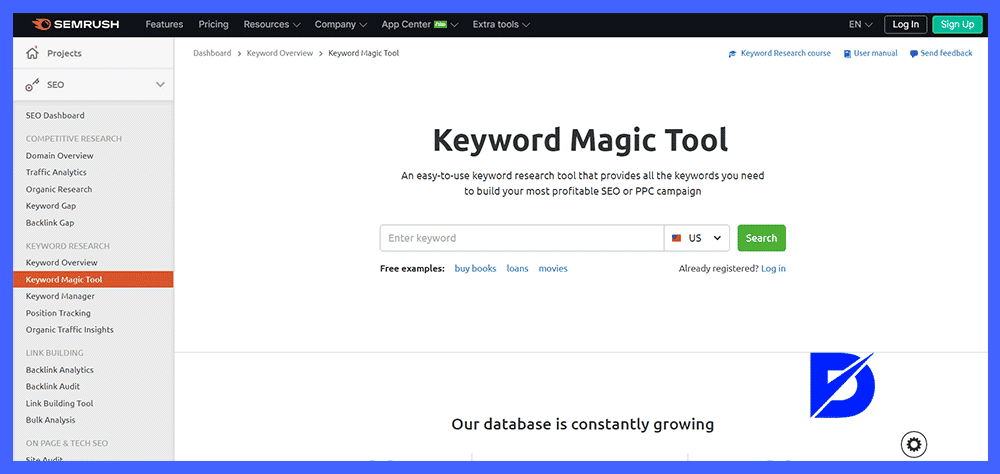 The Semrush Keyword Magic Tool
The simplest way to perform your keyword research for free on the market is the Semrush Magic Keyword tool. Although the tool is extremely simple, it also provides quite detailed and useful data. However, let us remind you of something at this point. You can make a maximum of 10 requests per day in order to continue using the tool for free. Let's learn more about the keyword queries you can perform in the Semrush Keyword Magic tool. The keyword queries you will perform with this tool include the following features:
The keyword queries you will perform with the Semrush Keyword Magic Tool will rank the broad match keywords.
It also offers you the phrase match for your keyword query.
You may also see exact matches for your keyword queries in your queries.
The Semrush Keyword Magic Tool also lists questions about both your related and keywords.
The tool has many customizations that allow you to discover what more niche audiences are searching for in search engines. Let's talk about the disadvantages of the free version of the Semrush Keyword Magic tool. We have already mentioned that the free version of the tool only allows ten calls per day. One of the most important disadvantages of the tool is that it doesn't save the searches you have made in the past. In other words, the search history feature is not active in the free version of the tool. However, in the paid version of the Semrush Keyword Magic tool, you will have the opportunity to save your search history. You may save up to 350 of your search history in the paid version. You will also be able to benefit from the data by viewing them at any time.
Also, you can use Semrush for other SEO practices as well.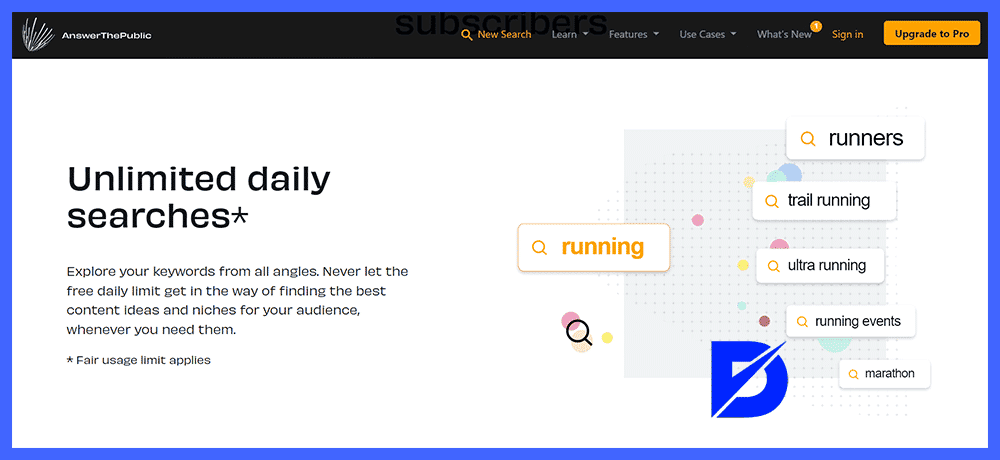 AnswerThePublic
Being able to see raw search insights is essential for efficient keyword research. AnswerThePublic is a keyword tool that specializes in just that. All you have to do is type the search term that is the focus of your keyword research into the search box. It'll report to you the most popular questions people have asked about your search term on search engines in a couple of minutes. The tool displays the results related to your search term by creating a graph. This graphic contains several types of questions search engine users ask about your search term. The main question types include question patterns such as why, what, where, who, and when.
The graphical screen that AnswerThePublic will create for you from these question types will contribute to your keyword research in many ways. In this way, above all, you will have a very productive source of inspiration for new keyword ideas. Because knowing what your customers are asking is the best way to understand them. At this point, an important advantage of the AnswerThePublic tool stands out. It allows you to download the report it has created for your search term, both as a list and as a graph.
So, let's talk about the disadvantages of AnswerThePublic, as we promised at the beginning of our list. The biggest disadvantage of the tool is that the free version allows users to make only three searches per day. So, while using this tool, it is useful to make sure that you are searching for the search term that will really work for you.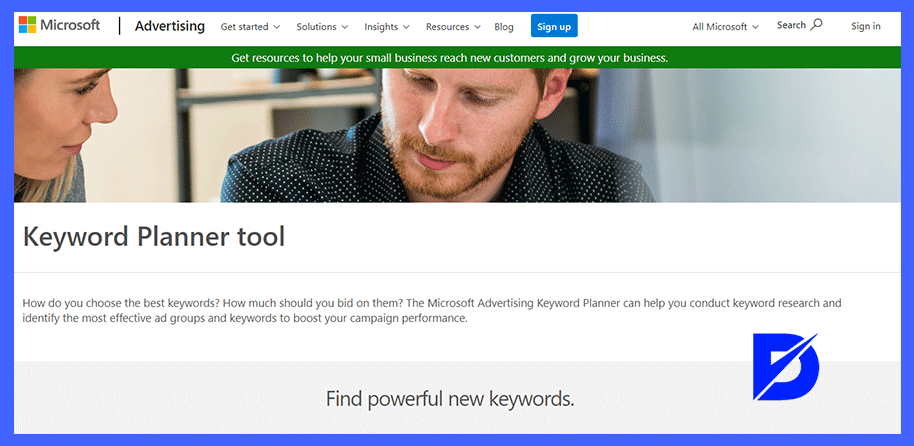 Microsoft Advertising Intelligence Keyword Planner Tool
First, let's mention that this great tool is a free Excel plugin. It's one of the best keyword analysis tools on the market. The tool reports result for your search term via an Excel plugin. So, what exactly does this report includes provided by this tool? In these reports, you can find the periodic search volumes of the keywords. These reports also include metrics such as searches and clicks for keywords. You can also view the average cost-per-click information for keywords related to your search term here. In this way, you can make more accurate predictions for the offers you will create for your online advertising activities. You'll also view data on the match types of keywords in these reports that the tool will provide regarding your search term.
This tool is called a complete keyword monster by many users. Let's talk about what you can do to don't get lost in this comprehensive report. Microsoft Keyword Planner allows you to filter the data in the Excel report in detail. In this way, you will be able to customize the report that the tool will provide you, as you need. The tool also allows its users to edit this data on an Excel file.
Microsoft Keyword Planner is especially useful for cross-channel marketing activities. You may perform the advanced keyword research you need for these studies with this tool easily. There are a couple of important and unique features the tool offers to its users. One of them is that it allows its users to create a very powerful list organization. It is also completely unrivaled in offering a quite powerful keyword research templates. There is only one condition for using the Microsoft Keyword Planner tool completely free of charge. That requirement is to have an active Microsoft Ads account.
What are the Features of a Good Keyword Research Tool?
A successful keyword research process consists of certain stages. There is only one main purpose of these stages. It is to reveal which keywords your target audience performs search queries on search engines. In this way, you can more clearly understand how to use these keywords in your work. These stages are mainly discovery, classification, and creating a keyword list. For this reason, we may explain the features that a good keyword research tool should have as follows.
A good keyword research tool should allow you to make inspiring discoveries. So, your only expectation from a good keyword tool should be data-related. In this context, many tools add some questions in your research phase to address this need. That adds a different perspective to users and helps them discover new ideas.
A good keyword research tool should also have important metrics. These metrics are also of great importance in analyzing the keywords you find during the research phase. In this way, you can more clearly predict the possible rankings you can get with these keywords. That also allows you to more easily estimate the cost of purchasing advertising. That is especially true for free tools. Because most tools keep important metrics only for their premium version.
Another important feature that a good keyword tool should have is the data it provides on keyword difficulty. Thanks to tools that provide this type of data, you can identify keywords that will help you rank more easily. A good keyword tool should be able to provide you with enough data for your local work as well. That is a quite critical issue, especially for local-focused SEO practices.
Free Keyword Research Tools
Keyword research is the backbone of every SEO effort. So, performing these studies well plays an extremely critical role in helping your SEO strategy to carry your campaign to success. For this reason, these studies are often time-consuming and require hard work. In these studies, your biggest assistant is a good keyword research tool. In this article, we have introduced you to free keyword research tools with great features. These tools are currently the best in the market for providing the best keyword analysis. We hope this list of free keyword research tools may help you in your SEO practices.