In today's digital world, your website is crucial for your business. It can make or break your relationship with potential customers. To ensure a positive impact, having an engaging and up-to-date website is important. In this blog post, we will walk you through the process of transforming your website into its best possible version. A website revamp provides the necessary tools and knowledge to create a website that stands out from the rest. By following the guidelines provided in this post, you can expand your website's content and make it more informative, engaging, and valuable to your visitors. Remember to continuously improve and evolve your website by experimenting with new ideas and approaches. With persistence, patience, and a commitment to excellence, you can turn your website into a masterpiece that will attract and retain customers for years to come.
Assess Your Current Website
When considering the redesign of a website, it is of utmost importance to conduct a detailed and comprehensive evaluation of all its elements and features. This entails thoroughly analyzing its design, functionality, content, and user experience. By conducting such a comprehensive assessment, one can gain invaluable insights into areas that may need improvement and ensure that the website revamp is a success. Below are some of the main aspects to consider, which we will evaluate thoroughly further in this blog.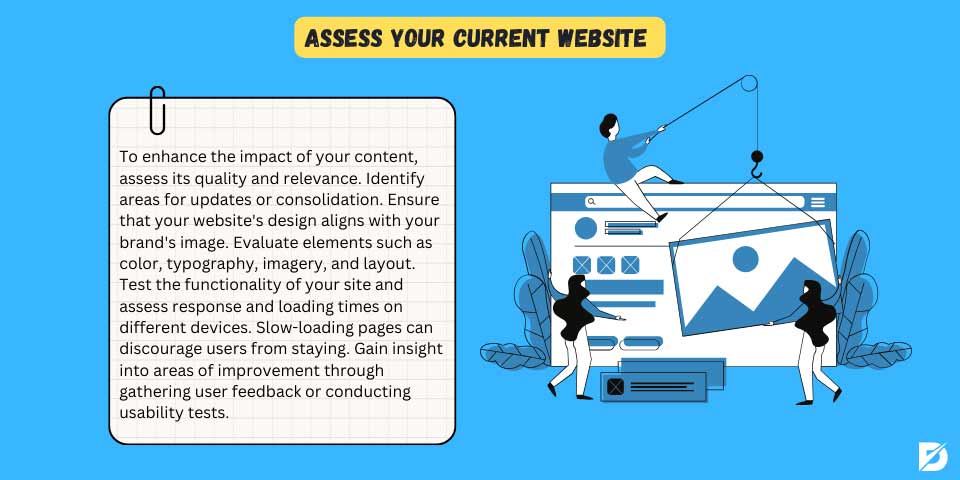 Content: To improve your content's impact, evaluate its quality and relevance. Identify areas that need updating or consolidation. This ensures your content to appeal to your audience.
Design: Make sure your website's design aligns with your brand's image. You can evaluate elements like color, typography, imagery, and layout. Check some of the website design templates.
Functionality: Test the functions of your site. Ensure that all interactive elements on your site, including forms, buttons, and navigation menus, work seamlessly.
Performance: Check the response and loading durations on various devices. Slow-loading pages may tend to drive users away.
SEO: Make sure that your website is search engine optimization (SEO) friendly. Find out if you rank well amongst your competitors or if you need more optimization.
User Experience (UX): Understand the areas for improvement by gathering user feedback or conducting usability tests. Learn how to improve user experience with SEO.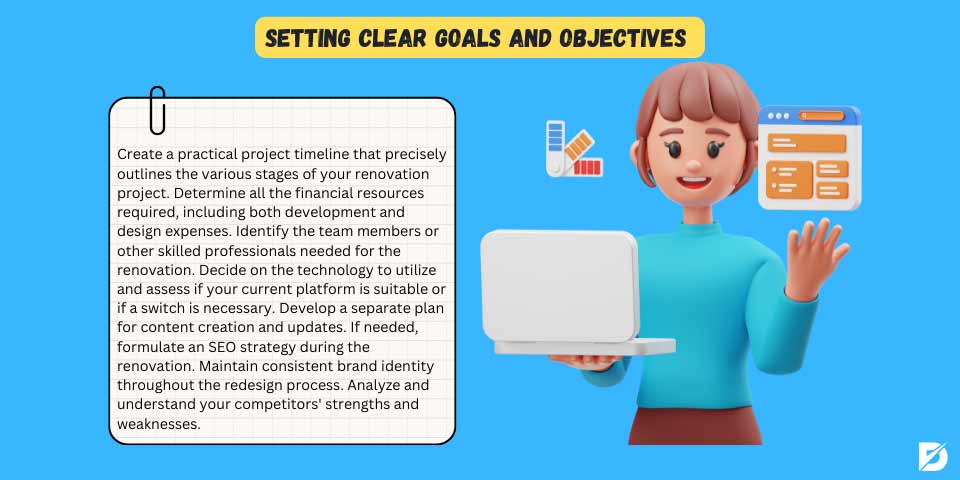 Setting Clear Goals and Objectives
When considering a website revamp, it is essential to begin by setting specific and realistic objectives that are in line with your business strategy. These goals should be carefully decided to ensure they effectively address any existing issues and support the company in the long run. Through careful planning, businesses can ensure that their website revamp is not only successful but also proves to be a lucrative course of action in terms of growth and overall success of the organization. Therefore, it's essential to have a clear plan. This way, you can create a successful website revamp project to help you achieve your goals and provide a better user experience. You can also learn more about an SEO-friendly website here.
Project Timeline: Create a realistic project timeline that pinpoints the different phases of your revamp project.
Budget: Determine all the financial resources needed, including development as well as design costs.
Resource Allocation: Identify the team members or other professionals requiring skills for the revamp.
Technology Stack: Decide on which technology to use. Find out if your current platform is suitable for you or if you should switch to a new one.
Content Strategy: Have a separate plan for content creation and updates.
SEO Strategy: Develop your SEO strategy during the revamp if necessary.
Consistent Brand Image: Ensure your brand's identity is consistent throughout the redesign process.
Competitor Analysis: Identify your competitors' strengths and weaknesses. This can help you find windows for improvement and renovation in your website revamp project. Check our competitor analysis tool.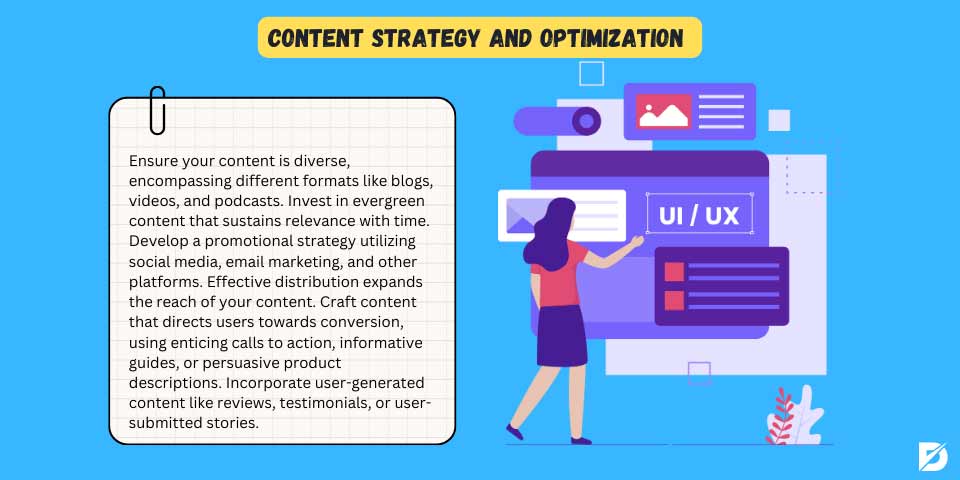 Content Strategy and Optimization
Although a revamp project is mainly about redesign and user experience, in order to attract more users, it is vital to prioritize content strategy as well. When it comes to your content strategy during a website revamp, consider the following additional points to not only deliver valuable information but also contribute to increased user engagement and conversions:
Content Types: Have diverse content, which includes various types such as blog posts, videos, and podcasts. Different formats attract different preferences and, therefore, more users.
Content Calendar: Make a content calendar to schedule content releases. Being a consistent content publisher can help maintain user engagement and loyalty.
Evergreen Content: Invest in evergreen content that can remain relevant as time passes. This type of content can continue to generate organic user traffic long after it's released.
Content Distribution: Create a promotion strategy for your content through social media, email marketing, and other platforms. Your content can enlarge its reach through effective distribution.
Conversion-Oriented Content: Create content designed to guide users toward conversion points. This type of content might be enticing calls to action, informative guides, or persuasive product descriptions.
User-Generated Content: Include user-generated content, such as reviews, testimonials, or user-submitted stories. This serves as social proof and encourages communal activity.
Analytics and Optimization: Continuously analyze the performance of your content. Identify high-performing content and optimize low-performing content to better align with user interests.
Learn more about SEO and web design.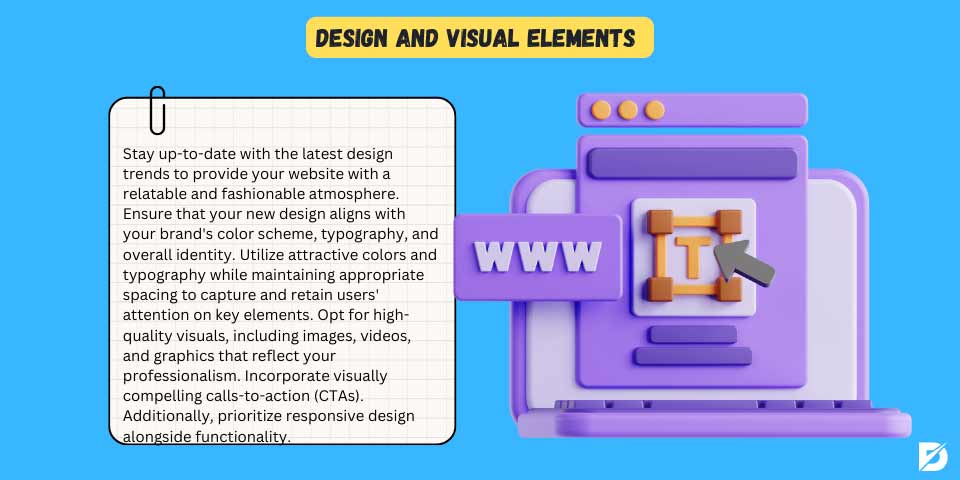 Design and Visual Elements
During a website revamp, it's crucial to keep in mind the various details about design elements that can attract and keep the attention of your visitors. Paying attention to these details ensures that your website stands out from the competition and effectively communicates your brand message to your target audience.
Modern Aesthetics: Keep up with current design trends to give your site a relatable and trendy vibe.
Brand Consistency: Ensure your new design parallels your brand's colors, fonts, and overall identity.
Visual Hierarchy: Use attractive typography and colors as well as giving the necessary spacing to keep the users' attention on what's important.
Imagery and Multimedia: Make sure to choose high-quality images, videos, and graphics that will ensure your professionalism.
Calls to Action (CTAs): Include CTAs and make sure they are visually compelling.
Responsive Design: The responsive design is as essential as the functions. So, make sure your design can adapt to different screen sizes and resolutions.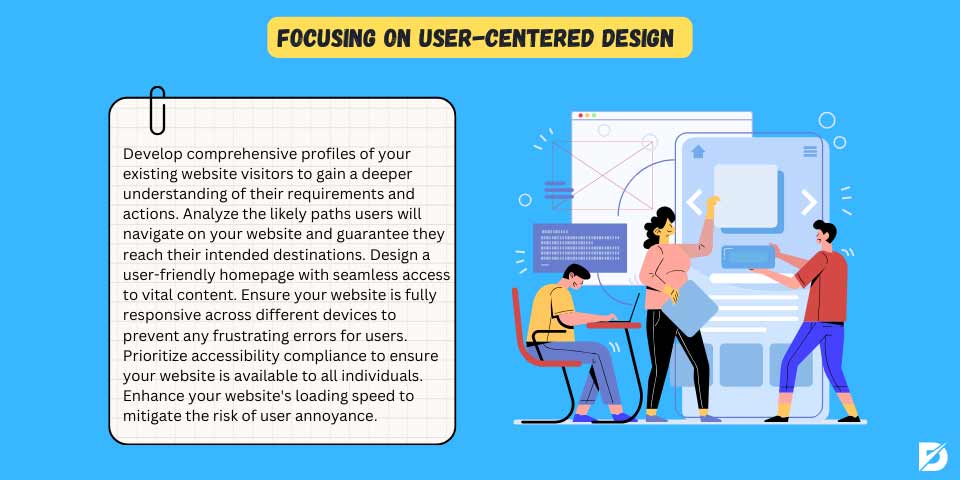 Focusing on User-Centered Design
As well as keeping the visual appearance of your website's design up to date, it is also essential to involve the user experience (UX) as a part of the design. To achieve this, it is necessary to consider the needs and preferences of your target audience carefully. By doing so, you can ensure that your website is designed to meet their expectations and provide them with a positive and seamless browsing experience.
User Personas: Create detailed profiles of your current website visitors to better understand their needs and behaviors.
User Journeys: Figure out the paths users are likely to take on your website and ensure they arrive at their desired destinations.
Clear Navigation: Create a simple and understandable home page with easy access to essential content.
Mobile Optimization: Ensure the responsiveness of your website on various devices so that the users won't encounter any unpleasant errors. You can use a mobile-friendly test tool.
Accessibility: Make sure your website is accessible to everyone by being compliant with accessibility standards.
Speed and Performance: Develop your website for faster loading times to avoid the risk of user frustration. Do a website speed test.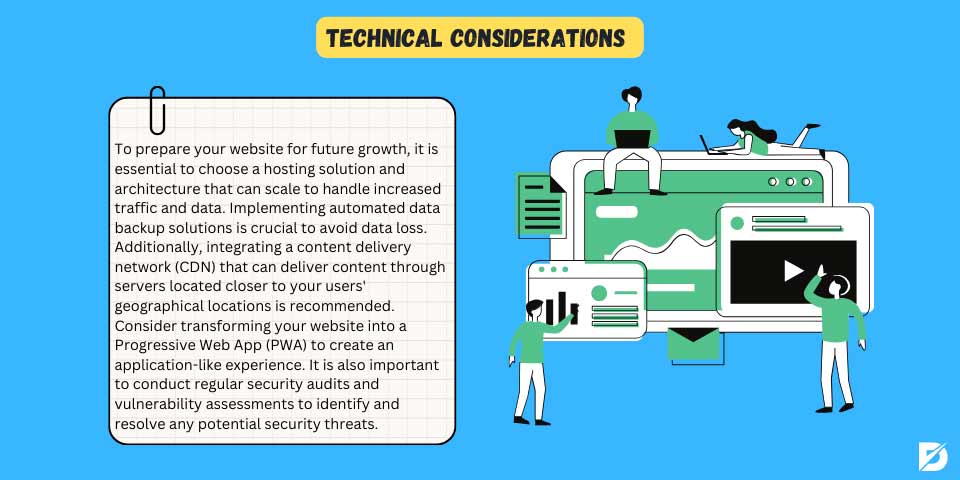 Technical Considerations
It's essential to bear the technical aspects of your website in mind, as well as consider its visual and content elements. Here are some technical considerations to address during a website revamp:
Scalability: Ensure your website can handle future growth by selecting a scalable hosting solution and architecture to accommodate increased traffic and data.
Data Backup and Recovery: In order to prevent data loss, implement automated data backup solutions.
Content Delivery Network (CDN): Incorporate a content delivery network (CDN) that can deliver content through servers closer to users' geographical locations. This way, you can reduce latency and improve loading times.
Progressive Web App (PWA): You can transform your website into a PWA to resemble an application. This might include offline functionality and push notifications.
Security Audits: You should conduct regular security audits and vulnerability assessments to detect and address any security threats.
Performance Monitoring: Make sure to continuously monitor your site's performance so that you can track your website's speed, uptime, and user experience.
Mobile-First Design: Bear in mind that most users use smartphones while online and embrace a mobile-first design approach to ensure that your website runs smoothly on mobile devices.
Consider website re-design SEO checklist while making changes.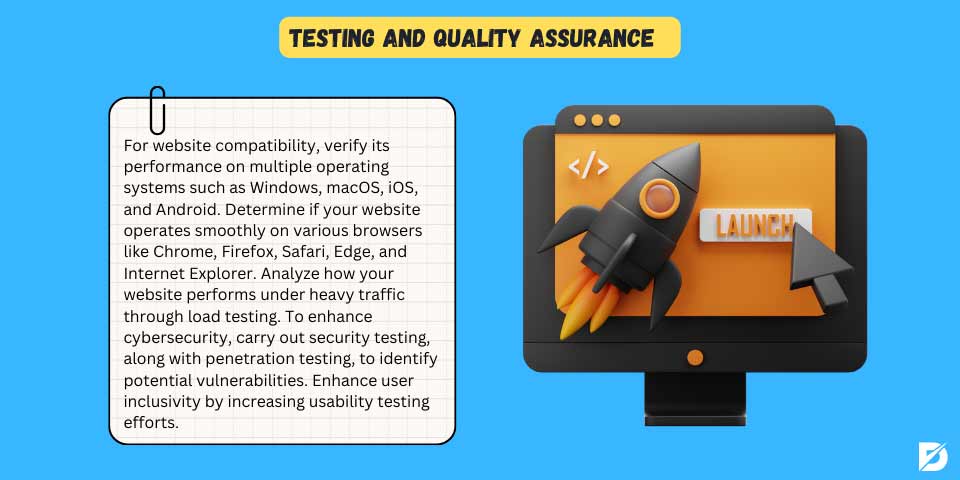 Testing and Quality Assurance
Conducting comprehensive testing is of utmost importance while revamping a website. To ensure the success of the testing process, there are some additional factors that need to be taken into consideration.
Cross-Platform Testing: To ensure compatibility of your website, test it across different operating systems, including Windows, macOS, iOS, and Android.
Browser Compatibility: See if your website functions correctly on various browsers, including Chrome, Firefox, Safari, Edge, and Internet Explorer.
Load Testing: Conduct load testing to analyze your website's performance under high-traffic conditions. This way, you can identify any bottlenecks or performance issues and address them swiftly.
Security Testing: To ensure your website is secure against cyber threats, conduct security testing, as well as penetration testing, to identify any possible weak spots.
Usability Testing: In order to address a more diverse group of users, increase the implementation of usability testing. Compile feedback on specific design elements, content, and overall user experience.
Accessibility Testing: To ensure that your website complies with all accessibility standards, perform accessibility testing.
RECENT POSTS
Is Cro a Good Investment? 
A/B testing is something you've likely heard about before. Although it always seemed helpful, it was never truly necessary. But as the noises have bec...
Also, you can take a look at the best website designs to learn more.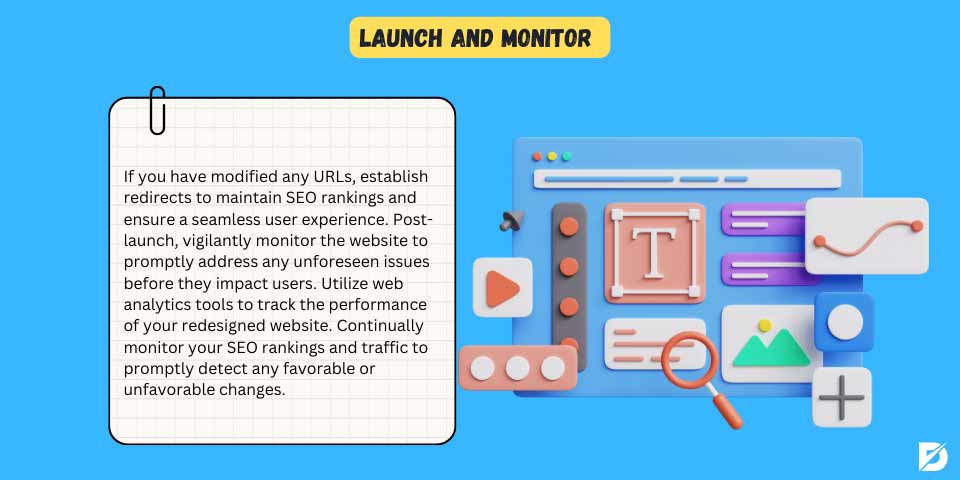 Launch and Monitor
Once you have successfully completed all the necessary steps and thoroughly tested your revamped website, the next crucial phase is to launch it. This is the stage where your website finally becomes accessible to your target audience. Since it marks the beginning of a new chapter in your online presence, ensuring that everything is set up correctly for a successful launch is of utmost importance.
Implement Proper Redirects: If you've made changes to URLs, set up redirects to preserve SEO rankings and user experience. You can do a structured data analysis.
Monitor for Issues: After the launch, keep an eye on the website to address any unexpected problems before they affect the users. Make sure to do a site analysis.
Analytics Setup: Use web analytics tools to track the performance of your revamped website.
SEO Monitoring: Monitor your SEO rankings and traffic continuously so that you can easily identify any negative or positive fluctuations.
User Feedback: Create a space where users can provide feedback on the new website and use that feedback to make better improvements in the future.
What to Expect from a Website Revamp
Undertaking the task of revamping a website is a multifaceted job that requires a systematic approach, with a keen focus on the user's needs and attention to both design and technical details. By assessing your website thoroughly, establishing clear and accessible goals, and following each section that is mentioned in this blog post, you can achieve a successfully revamped website.
The revamped website will have enhanced performance, better user experience, and a more precise alignment with your business objectives. A well-planned and executed website revamp has a significant impact on your brand image, not only by attracting and retaining visitors but also by keeping you ahead of the competition in the ever-changing digital landscape. Revamp your website and see it transform into a visually stunning and compelling platform that captivates your target audience and helps your business strive.