What can you do to increase your website's visibility in search engine results? You should go through a long process to do this. At this point, there are a lot of reasons why you should perform a search engine optimization audit. In this article, we are going to cover its basics and essentials and try to answer the following questions: "How to perform an SEO audit?" and "Why is it important?"
What Exactly Is an SEO Audit?
It is surely beyond doubt that big journeys begin with small steps. In the SEO world, big optimization journeys begin with a search engine optimization audit.
An SEO audit refers to the process that helps you track, analyze, find and fix various website elements that affect its performance and place in search engine results. When you want to improve your SEO strategy, you need to understand how your website performs and what parts have to be optimized.
The Importance of the SEO Audits
The primary purpose is to "check available issues and opportunities" on your website. At the end of the day, you will be able to track
Current opportunities to include your SEO strategy
Data in order to analyze past and current website performance
Whether your SEO efforts are effective or not
In other words, you can analyze and fix problems that affect your site traffic thanks to SEO audits.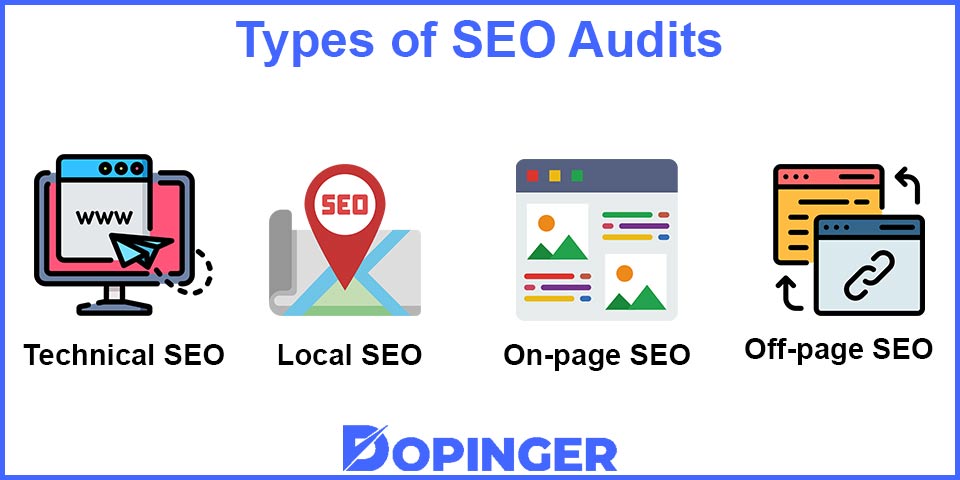 Types of SEO Audits
Before looking at how to perform an SEO audit, it's essential to understand its different types. Improvements in SEO can be classified into four main parts.
Technical SEO Audit: This audit covers the technical parts of your website, such as indexability, findability, website architecture, URL analysis, link issues, and on-page elements. Technical SEO includes optimizations that make your site more visible to crawl and index.
Local SEO Audit: Unlike the technical audit, a local SEO focuses on your website performance in local search results. When you do local SEO for your brand, you will pay attention to your business's name, address, and phone number. Well, you can ask, "Why is local SEO important?" The answer is simple. Before you target more global customers, you should first catch local customers' attention. This critical process should be done step-by-step, right? At the end of the process, you will be able to understand its shortcomings and focus on those parts to improve your global SEO strategy.
On-page SEO Audit: This type of audit is related to your content on the website. You need to optimize meta titles and descriptions, keywords, texts, internal links, headlines, and subheadlines. If you want to focus on on-page SEO, you should check a guide like On-Page SEO Checklist.
Off-page SEO Audit: You should pay attention to not only what is going on your website but also what is going on outside. Contrary to what is believed, on-page SEO and off-page SEO are not opposite each other; instead, they complement each other. Off-page SEO is related to your backlinks and domain authority.
Steps to Perform an SEO Audit
Now, it is time to look at how to perform an SEO audit. Here are seven steps that you should follow to achieve the best results in your audit process. If you are not satisfied with the results after you follow all these steps, you can get help from professional SEO Services.
Optimize Page Speed: Nowadays, no one wants to wait for anything. Everyone wants to get the best possible results as soon as possible.
Optimize Mobile-friendliness: Today, the number of mobile device users is increasing from day today. That's why mobile-friendliness is more important than ever.
Check The Content On Your Website: Content is the key factor for on-page SEO. According to Google's algorithm, you need to have original, informative, and unique content to be ranked higher on search engines.
Check and Analyze Backlinks: The practice of SEO has become more complicated than before with the development of search engines.
Determine Index Problems: Identify and get rid of index problems that might harm your site.
Make Sure Meta Tags Are Optimized: Meta tags include meta titles and meta descriptions. Google considers them to rank web pages on SERPs.
Detect and Remove Duplicate Content: Google hates duplicate pages, even if they are duplicated on the same website.
Optimize Page Speed
That's where the page speed comes into play. It should be one of the essential parts of your process when it comes to doing your search engine optimization audit. This is because your page loading time plays a critical factor in getting a more positive customer experience.
If you do not give due importance to speed tests, high bounce rates will become unavoidable for you. While working through your search engine optimization audit, hundreds of websites help you to test your website speed. For instance, Google's PageSpeed Insights, GTmetrix, and Pingdom Website Speed Test are the most popular web tools.
Optimize Mobile-friendliness
Your website should load as fast as possible, not only on desktop computers but also on mobile devices.
According to Google, page load speed is one of the most critical factors for providing a better internet user experience. That's why you will be able to be ranked higher in SERPs than your competitors' websites that aren't mobile-optimized.
You will decrease the bounce rate of your web pages.
You will also drive more traffic to your website.
Check the Content on Your Website
When creating content on your site, you need to use relevant keywords, and the number of keywords should be neither too small nor too large. In addition, you should create a header hierarchy. Especially, the main header should contain the main keyword.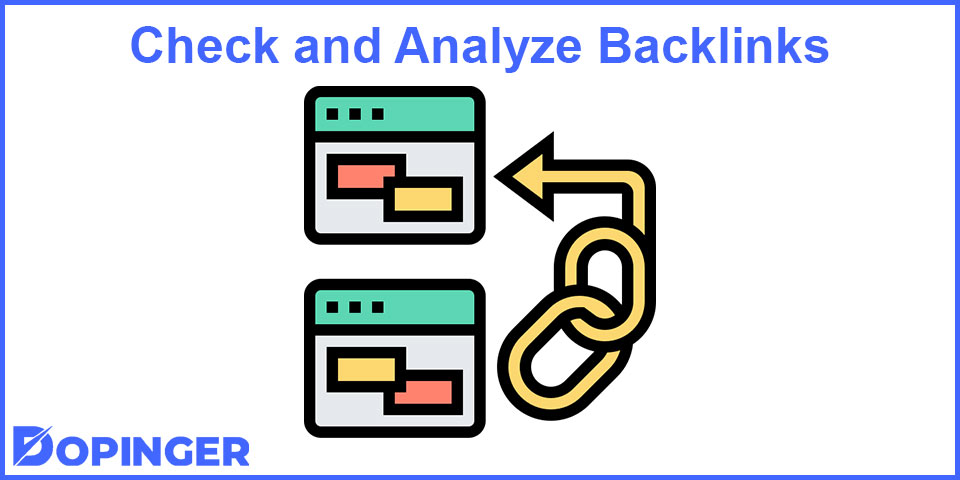 Check and Analyze Backlinks
Once upon a time, website owners used to exchange links with other websites in order to gain more links. It was a win-win situation. Now, however, there is a big difference in terms of quality and quantity between backlinks.
When Google has determined that a questionable site is linking to your website, or an unusual amount of traffic has been coming from other websites, your current rankings will be affected in a negative direction. Because of this, you have to verify that your external links are coming from different domains rather than only one domain.
Determine Index Problems
When Google and other search engines crawl your pages, they try to understand their functions in order to index them. However, if they cannot index the site properly due to some reasons like crawl errors or duplicate content, you will not be able to get any organic traffic. Therefore, make sure your website is being indexed properly. To do this, you can use Google Search Console.
Make Sure Meta Tags Are Optimized
Internet users can understand the content of your page by looking at meta descriptions. Therefore, the meta tags of your targeted web pages need to be appropriately optimized. You should be careful about the meta title and meta description. Don't make the meta description long, and don't forget to add the main keyword.
Detect and Remove Duplicate Content
You may think that you don't have duplicate content on your website, but it may unintentionally happen. Therefore, you should use a tool like SEMrsuh, Ahrefs, or Screaming Frog to check for duplicate pages of your website.
Tools For SEO Audits
You do not have to spend hours to perform an SEO audit. There are a lot of tools that you can use to shorten the audit process. Now, we are going to take a look at the most useful four tools.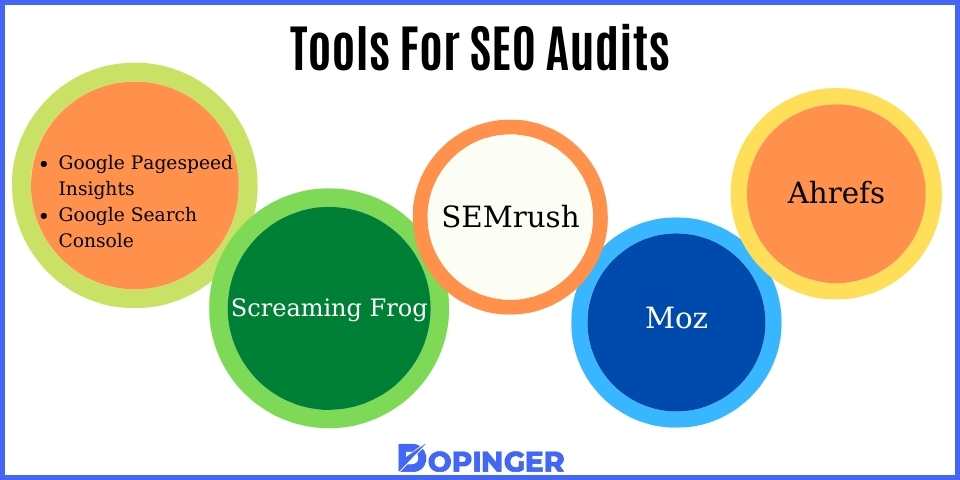 Google Tools
Everything in the SEO world depends on Google. That's why it has always been at the forefront.
Google PageSpeed Insights: You can detect and fix SEO errors that negatively affect your rankings on Google.
Google Search Console: You can determine crawl errors and broken links on your website. You can also optimize the title tags, headers, and meta descriptions of your site on a regular basis.
Screaming Frog
Screaming Frog is one of the most frequently used tools in the SEO world. You can determine not only existing but also potential SEO issues. For instance, you can detect broken links, 301 redirects, duplicate pages, link errors, unoptimized meta descriptions, and other on-page SEO issues on your website.
SEMrush
SEMrush is one of the most popular industry leaders in search engine marketing. It provides one of the best auditing tools on the web to optimize your website's SEO performance. You can focus on four different SEO auditing types at the same time: Technical, local, on-page, and off-page SEO audits. You can also analyze your website and determine current issues, such as low-quality or toxic links.
Ahrefs
Like SEMrush, Ahrefs is another leader in the search engine optimization industry. It is a comprehensive tool to detect performance issues, spammy or toxic backlinks, broken resources, broken HTML, and low-quality content.
Moz
Moz is another perfect tool used by SEO specialists. You can conduct a comprehensive audit and determine SEO issues that lead to lower rankings for your website. Like SEMrush, you can focus on technical, local, on-page, and off-page SEO audits simultaneously. You can also track changes in technical problems and their impacts on desktop computers and mobile devices.
SEO Audit in Short
To perform an SEO audit helps you analyze and determine the problems of your website that affect your rankings in search engine results. There are four different types of search engine optimization audits. These are technical, local, on-page, and off-page audits. You should understand their fundamental principles and the relationships between them before starting your audit. Then, you can begin your audit process. In this article, there are seven steps that you can follow. Optimize your web page speed. Optimize mobile-friendliness.
RECENT POSTS
Server Response Time Codes Guide  
Let's say you want to buy a pair of sneakers to use while strolling around the mall. Instead of visiting a physical store, you decided to buy the shoe...
Check the content on your website. Check and analyze backlinks. Determine index problems. Make sure meta tags are optimized. Detect and remove duplicate content. In this case, you can use SEO tools such as Google PageSpeed Insights and Google Search Console, Screaming Frog, SEMrush, Ahrefs, or Moz. If you haven't had your website audit yet, you need to do it immediately.