Any website can be closed at any time. When your website crashes, you must act quickly to fix the problem because your website will not appear in search engine results. In this article, we will look at "What is downtime and how does it affect SEO ."Also, we will touch on topics such as "how is a website working," "how to tell if a website is down," and "what to do during the time the website is down."
What Is Downtime?
Website downtime is when the website or page is partially or entirely unavailable to users due to technical problems. Generally, the user sees a "This page isn't working" message on the screen. This is an annoying situation for both the user and the webmaster and should be resolved urgently. It may cause a loss of potential customers and damage the brand image by creating dissatisfaction for the customer. Depending on the duration of the downtime, a website that is not working may experience ranking drops, a significant drop in organic traffic, and removal from search engine indexing. There are many reasons for this serious situation. Learn how to check if a website is down. Let's have a look at what causes website downtime.
Reasons for a Website Downtime
There are many reasons why a website is up or down, such as human error, software issues, hardware issues, server issues, and more. Together, we will examine in detail what these reasons are.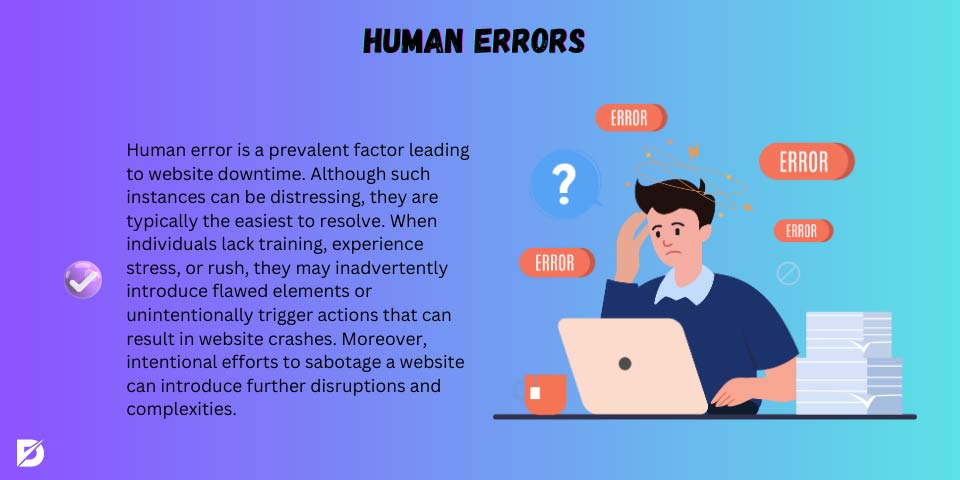 Human Errors
One of the most common causes of website downtime is human error. While downtime caused by a human error can be somewhat of a distressing experience, it is often the easiest problem to solve.
When people are untrained or due to stress or hurrying up, they may accidentally implement a faulty feature or simply press a button that could crash the entire website. Intentional attempts to damage a website can also cause many disruptions and complications. Therefore, it is necessary to constantly check the website, make technical changes to avoid human errors, and solve your errors before they turn into significant problems. Also, take a look at the website content checklist from here.
Hosting Issues
People or companies mostly use web hosting services that offer the facilities required to establish and provide a website and make it accessible on the World Wide Web. Hosting a server is an essential factor that affects your website's down or up condition. Because of a massive traffic surge, the speed of your website could slow, or your whole website could go down. Also, if other websites on the server experience a huge traffic spike, it could affect your page's accessibility. This unexpected web traffic spike could cause the website to get down, or some functions on your page may get disabled. System updating of the server host may be another reason that causes downtime. Therefore, it is essential to select a hosting service that has good quality and enough capability to avoid hosting-related website downtime. Also, learn how subdomains impact SEO performance.
Software Issues
Sometimes, software can be a reason for a website downtime. Implementing a new software, piece, version, or plugin may cause incompatibility, and accidentally, your website may go offline. What you need to test: is the website properly working with the new implementation? Check the software is compatible with your website and read the related documentation. Search the forums and pages about the latest version or implementation: is the page down because of the new software? Do not forget to conduct tests and trials for the website maintenance routine and integrate the latest software versions.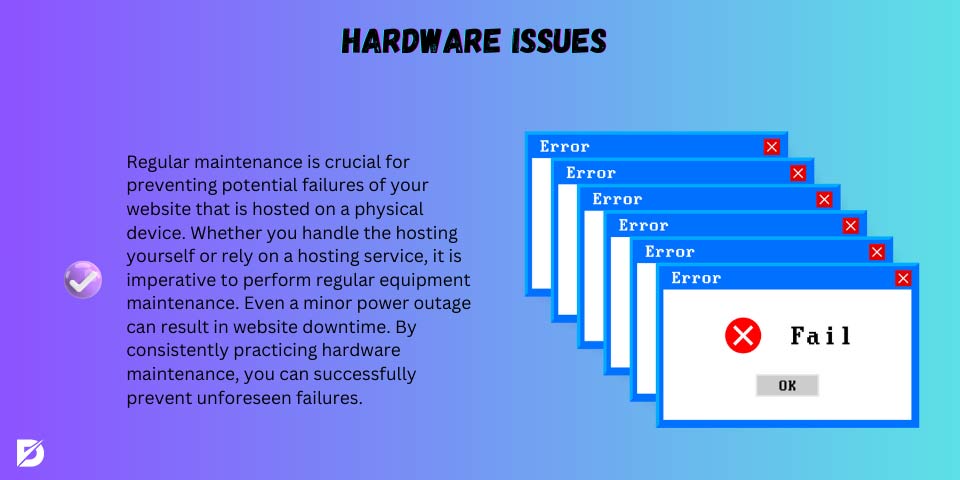 Hardware Issues
Your website is on a physical device that may fail without proper maintenance. If you are hosting your website, you should regularly maintain your equipment. If you hire a hosting service, ensure they perform maintenance regularly. Sometimes, even a simple power failure can be the reason for website downtime. By applying regular hardware maintenance, you can avoid unexpected failures. Your reward is the website working correctly and flawlessly.
Security Issues
Unprotected websites have the risk of being down by a malicious attack. It is common to face website attacks caused by hackers, virus infliction, and cybercriminals. One of the most powerful weapons on the internet is "Distributed denial of service"- DDoS attacks. They can overload the servers of the biggest websites and cause them to get down. To protect your website from people with malicious intentions to get your website down, you need to have robust security features. By using anti-malware software, you can get rid of asking yourself all the time: Is the website working? Is somebody attacking my website? Is the page down? Learn more about web security and SEO.
How Does Downtime Affect SEO?
Up to now, you have an idea of how a website is up or down, what is downtime, and what causes a website offline. It's time to dive deeper into how website downtime affects SEO.
Since you are reading this article, you know what SEO is. However, to summarize, SEO, that is, Search engine optimization, is the process of increasing the quality and number of web traffic coming from search engines to a website or a web page. Depending on the length of downtime duration, a downtime period may significantly damage your SEO by causing ranking drops, a huge loss in organic traffic, and removing the site from search engine indexing.
Crawlers help search engines collect data about web pages. They can visit web pages available on the internet and scan and add their content to the search engine index for ranking purposes. If there is downtime when a search engine visits a website, it will receive the status code HTTP 500, which is a message that shows the website's content is not accessible because of some technical issues. A "This page isn't working" message is on the screen. Later, the crawler will try to revisit the website to see if the website is still down or if the website is working. Learn how to create an SEO-friendly website.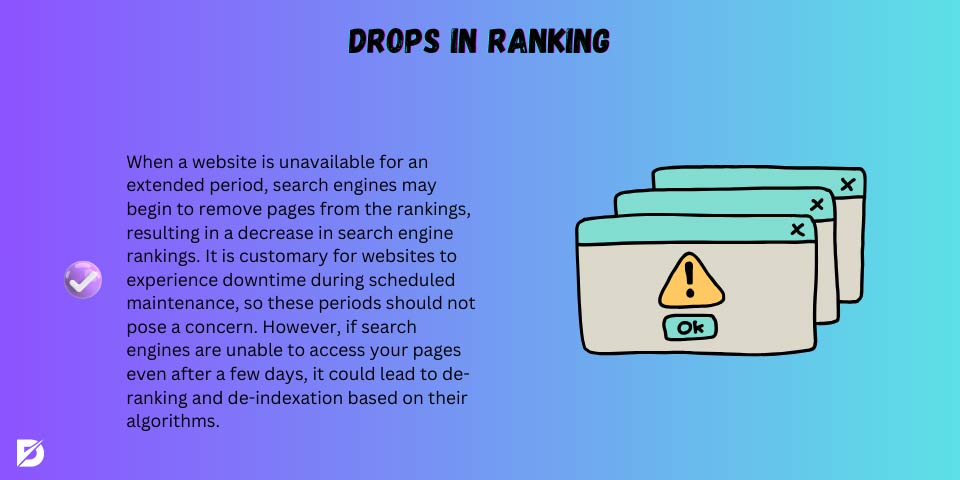 Drops in Ranking
If the downtime period is short, such as a few hours, it will not affect SEO significantly. But in case of a longer website downtime period, the search engine will remove pages in the rank and extract them from its Index. Let's see what happens when a downtime period is more extended, such as more than a few days.
As we mentioned above, when a website is down for more than a couple of days, the search engine will start to remove pages in the rank, and there will be a drop in search engine rankings. It is usual for a website to get down during regular and planned maintenance, so maintenance periods will not be a problem. But if, even after a few days, search engines cannot visit your pages, you might experience de-ranking and de-indexation according to their algorithms. This is because search engines do not want to send users to frequently down-page pages. Search engines' search algorithm calculates the rank of websites depending on many ranking factors. Such as page speed, bounce rate, and mobile friendliness. If a website is offline frequently, it is evaluated as a sub-optimal user experience, and this causes a drop in ranking, which affects SEO significantly.
De-Indexation
The search engine optimization process starts with crawling. A web crawler systematically browses the World Wide Web. Sometimes, they are named spiders or spiderbots. Search engines operate Web crawlers for Web indexing. To help users search more efficiently, web browsers copy pages for processing by a search engine that indexes the downloaded pages. If they do not index the pages, it is not possible for a search engine or the users to find your website. This is the reason why more extended downtime creates negative consequences for a website. If the search engines cannot find your pages for a long time, they will remove your website from search engine indexing. Assuming it will not work. Although your website is up after some time, if the search engines de-indexed your web pages, you need to start from scratch. This also brings the necessity to build up SEO from zero.
Things To Do During the Website Downtime
It is natural for the "website to be offline" for a while, especially during maintenance or when a new software update is made. The important thing is that the technical team quickly understands what the problem is and finds a solution. From an SEO perspective, you need to ask yourself how long it will take for the malfunction to be resolved. If the problem can be fixed within a few hours, you do not need to worry about SEO. However, if you do not know how long it will take to improve the website problem and your website to get up again, you can prevent your website from being de-ranked and de-indexed by search engines by taking a few protective measures.
Issue an HTTP 503 Code
HTTP 503 Service Unavailable error: an HTTP status code that appears when the servers are bustling. Your site cannot respond to incoming requests when the entire system is exhausted or when maintenance is being carried out on the servers. An HTTP 503 status code indicates the server will be back up in a short time. Search engines consider the HTTP 503 status code as a message that your website is offline temporarily and will be working after a short time. Also, using this message allows you to gain time until your team fixes your website's outage.
When you issue an HTTP 503 status code and gain time to fix the problem, search engines will not start de-ranking or de-indexing your web page. But if fixing time gets longer, for example, more than a week, they may accept your website as permanently unavailable.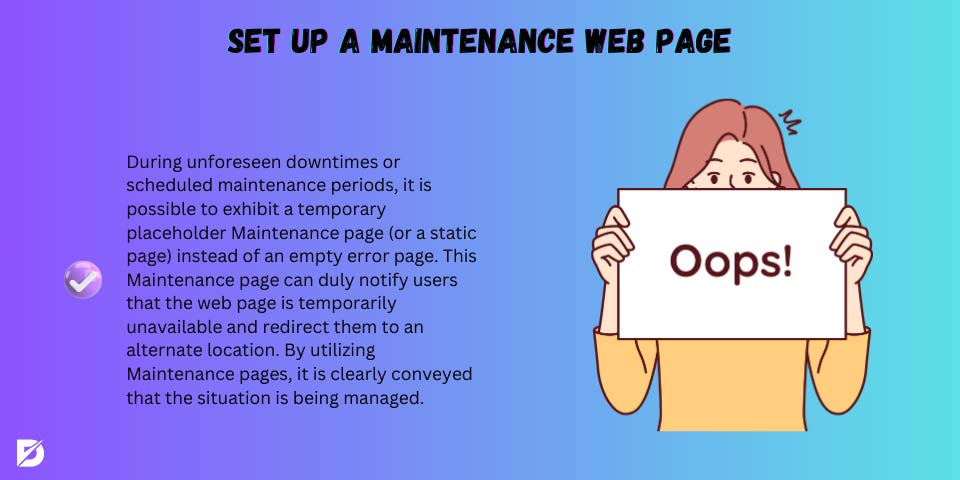 Set Up a Maintenance Web Page
You can display a temporary placeholder Maintenance page /or a static page) instead of a blank error page during unexpected outages or during maintenance time. The maintenance page can inform users that the web page is temporarily out of use and redirect them to a different location. Maintenance pages show that the situation is under your control. With a short message, you can tell website users to return to your website later and refix negative customer experience.
Reindex Your Web Page
Even if you fix the technical problems on the website and get back online, depending on the length of downtime, your site's SEO may have already been negatively impacted by the search engine algorithm.
In this situation, it's better to check what happened to your website during downtime. Have you lost some rankings for your important keywords, or have your pages been de-indexed by the search engine?
To check if your website is affected by indexing, go to the search engine page and analyze the pages that are currently indexed (or not indexed) due to server error. By checking, you can understand the status of your website. If the search engine removes some of your important pages from the Index, you can ask the crawler to recrawl your website.
Things To Prevent the Website Downtime
Consider the issues we mentioned above to increase the durability of your website. And also reduce the number of downtimes it will experience throughout its lifetime. You can use many tactics to reduce website downtime as much as possible; this list shows a few of them. Of course, there are more specific methods you can use.
Use a Monitoring Service
Website Monitoring Services will alert you if your website experiences any downtimes. And you can immediately act on any technical problems that caused the website outage. Monitoring many statistics on your website, Monitoring Services can warn you if anything is wrong. By using Website Monitoring Services, you can prevent website outages or reduce them to a minimum.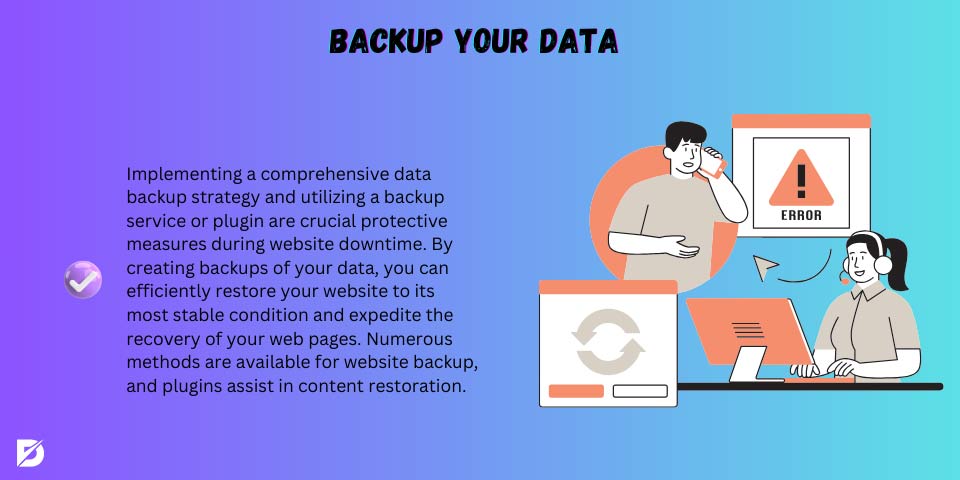 Backup Your Data
Having a detailed backup strategy for your data and using a backup service or plugin is an essential protective consideration during website downtime. By backing up your data, you can quickly restore your website to the most stable state and return your web pages fast. There are many ways to back up your website. Plugins help to restore your website content.
Most hosting providers provide notice before scheduled maintenance. You can start a backup server to stay online in the meantime. While one area experiences downtime, another area remains up and keeps your website online. Learn how to make a website revamp.
Get Reliable Web Hosting
Using reliable Web hosting is very important for a website's stability. Get yourself a reliable web hosting service that can handle intense traffic. If your web hosting has limited bandwidth or capacity, your website will probably experience downtime. The most important features of a reliable web hosting service are the maximum number of unique visitors or loading speed, SSL certificates, Server caching, Good technical support, and Fast and large SSD storage. You may not use all these features, but they will help prevent your website from going down. You may also set up a Content Delivery Network (CDN) so that you can access your website during an outage period.
Improve Security
You should strictly consider implementing protective measures on the website. It is never possible to protect your data absolutely against malicious attacks. You should apply at least some protective software. You can use many good plugins for website protection against malicious interrupts, viruses, and even DDoS attacks. These plugins perform automatic scanning and provide fixes for all kinds of security threats. Such as providing firewall and malware scans, performing security checks, and informing you about various possible vulnerabilities on the website. You can also learn how to reset your WordPress website.
Summing up What Is Downtime and How Does It Affect SEO
We hope that our article titled What is Downtime and How Does It Affect SEO has informed you sufficiently. To summarize again, every website has the possibility of crashing at some time. This period is "Website downtime," during which the website or page is partially or completely unavailable to users due to some technical problems. Depending on the duration of the downtime, an offline website may experience ranking drops and removal from search engine indexing that may significantly damage your SEO. There are many reasons why a website is up or down. Human error, software issues, hardware issues, server issues, and security issues may be the reasons to get your page down. There are also many things to prevent Website downtime. You can use a monitoring service, backup your data, get reliable web hosting, and improve your security.
But sometimes, it is inevitable to experience Website downtime. The important thing is your technical team should quickly understand what the problem is and find a solution immediately. You can issue an HTTP 503 status code to gain time to fix the problem and set up a maintenance page to show that the situation is under your control. These will keep you from losing credibility and improve the overall impact on your visitors and potential customers.