Throughout the digitalization of the world, marketing changed itself as well. If you are familiar with the techniques of marketing, then you can see the same techniques in digital zones as well. Although they are applied differently, they are not much different than traditional marketing. When it comes to digitalization, SEO, and SEM are the most important elements of digital marketing. That is why we will explain the importance of SEO in marketing.
Marketing differs a lot in itself. Yet, it has one simple base strategy called the 4Ps of marketing. If you haven't heard of this term before, the 4Ps of marketing stand for product, price, place, and promotion. As you can guess from its name, the product is what your business offers to its customers. It can be a solid product or a service. Price is the price; there is nothing complicated about it. Place means the distribution of your product. Your sell range. If we consider you to have an online business through digital media, the place determines if it is local or not or who can benefit from your product.
The last P is promotion. This one is the most important part of digital marketing because you have to optimize every promotional activity according to your purposes. This is where SEO kicks in, but before we get into it, let's explain B2B and B2B marketing.
Both B2B and B2C marketing can be applied in digital media. B2B marketing stands for business-to-business marketing. It includes marketing strategies that are targeted at other businesses. B2C, on the other hand, stands for business-to-consumer/customer marketing. B2C provides marketing strategies that are directly prepared for consumers. Both of these marketing types can take place in digital marketing.
What Is SEO?
SEO stands for search engine optimization. It is a practice that aims to rank higher in the search engine results pages (SERPs) and increase the organic traffic for a website. SEO strategies are prepared for the compatibility of the website with search engines so that it could result in ranking higher. Of course, it is not only about search engines. SEO aims to offer a good user experience to visitors. After all, it includes organic content that could differentiate the website from others, and it would be meaningless if people couldn't benefit from this content.
High-quality and organic content is essential for SEO, yet another critical point of an SEO strategy is keyword research. Keyword research requires a good knowledge of your target audience; that is why you need to be aware of traditional marketing strategies as well. If you want to do keyword research, starting with a SWOT analysis of your company would be better. If you know your audience in the best way you can, it is possible to start keyword research in the right way. Yet, if you want to learn more about SEO and its strategies, you can visit our article that explains it in more detail.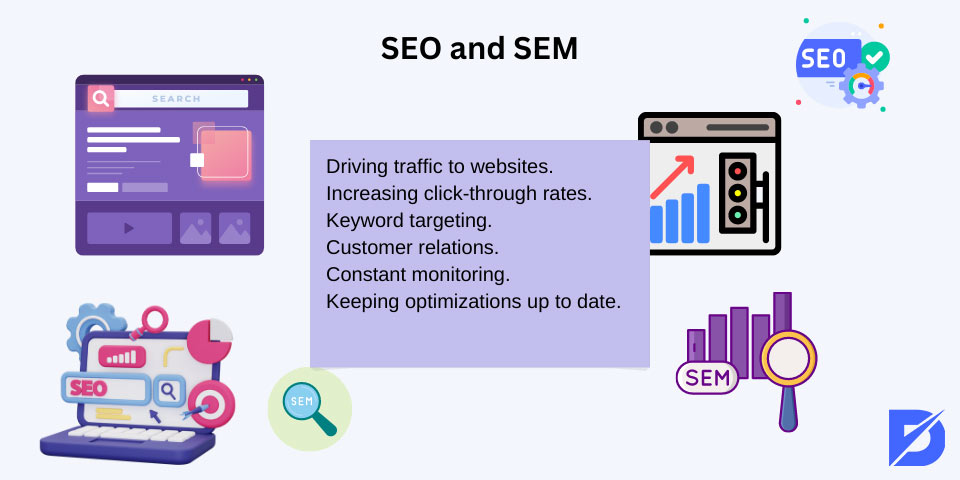 SEO vs. SEM in Digital Marketing
Marketing in digital media varies with SEO and SEM. We have explained what SEO is and what it aims to do. Now, let's elaborate on SEM. Search engine marketing (SEM) creates digital marketing strategies with paid methods such as advertisements. Of course, SEO has many common elements, such as keywords. If you search for something on Google, you have probably seen that the first results are ads sometimes. They are the results of an SEM strategy. You can quickly identify these results with the bold 'Ad' text next to their web address.
SEM can be useful for marketing if you aim to attract awareness. Let's say you have started a new business and want to promote it on the internet. Of course, you can start with SEO and directly aim for the organic audience. However, although SEO strategies are very useful, it takes time to get results from them. SEM is for people who don't want to wait for such a long time. While your SEO strategies develop and start to become useful, you can benefit from paid advertising. You may like to learn why is SEO important in digital marketing and what is SEO marketing in more detail.
The important thing in SEM is your advertising budget. If you want to advertise on Google by using Google Ads, you should optimize your budget for PPC advertising.
The Importance of SEO
SEO is a must if you want your business to be successful online. To come up with the best SEO practices, you must create content as unique as possible; to do that, you need to pay attention to your title tags, meta descriptions, and subheadings.
Without SEO, your website does not have a high chance of receiving enough traffic that your business needs. Even if you have created a great product, which is your website, it wouldn't mean anything without promotion, which is SEO. Learn how to improve SEO for better results.
It is a fact that the majority of people prefer organic results when they are searching for something. Organic traffic is always better, no matter what your industry is. Yet, the importance of it can increase depending on your industry as well. According to the research of BrightEdge, a content marketing company, business services receive 70% of their traffic by SEO.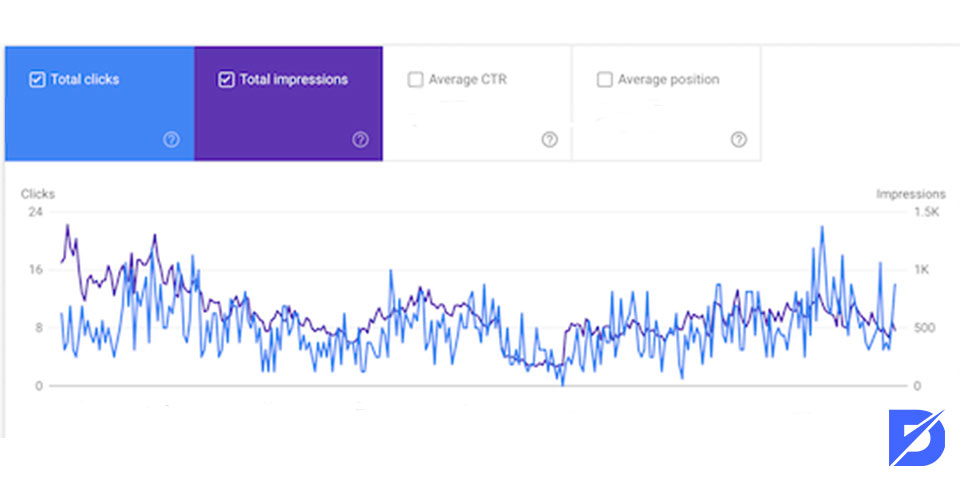 Of course, the same applies to the searches people make from mobile devices. In order to become successful in digital marketing, your website must be mobile-friendly. Nowadays, applications are quite popular as well. Yet, it is a fact that searches that are made from mobile devices have increased dramatically over the past few years. The ratio of mobile searches and desktop searches is almost 50-50, with a slightly higher percentage of desktop searches.
What Can You Achieve With SEO?
We have mentioned the aim of SEO in this article, and there is no reason to go over it again. However, it is a fact that SEO is the most important element in digital channels because it impacts the largest volume of organic traffic. Paid advertisements can be good for starting, but people skip ads in the SERPs and go directly to the organic results. That is why SEO is a must to promote your business.
SEO can help you build trust and reputation for your business. The higher you rank, the more people rely on you. People don't consider websites that are not ranking higher as trustworthy. They don't even look at the second page. They are actually right about their thoughts because when Google crawls websites, it determines which websites meet the ranking factors. The consistency of the content is a ranking factor, and websites that can optimize the consistency of their content and titles, etc., are successful in SEO.
Google has been working on new search features, and they help website owners, especially the ones that sell products online, such as through e-commerce, benefit from these features a lot. Google has released tools that may come in handy when doing SEO for your marketing objectives, and Google Analytics is one of them. However, if you want to move forward and get ahead of your rivals, you can do it via other SEO tools. With these tools, you can analyze your rival's SEO strategies, such as their selection of keywords and domain rating, PageRank, traffic, etc. So it is safe to say SEO makes you see your rivals and lets you develop strategies that will take you one step forward, and it is all legal.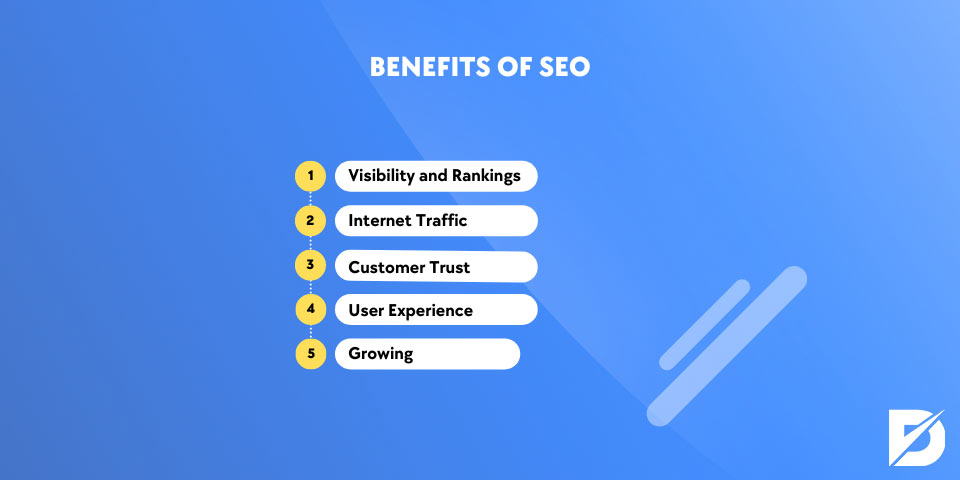 Benefits Of SEO
In this part, we will share some of the benefits of SEO so that you can understand its importance better.
Visibility and Rankings
When users do an online search, they usually choose one of the sites they see on the first page. That's why SEO is essential in helping you rank high in search results. Ranking high can get you more clicks and more customers.
Internet Traffic
As SEO increases your traffic in search engines, your site is more likely to appear. This will increase the traffic your site attracts. This means attracting more customers and being able to sell more. The more views you get, the more engagement your business gets.
Customer Trust
How well your site is optimized is very important. Ranking high in Google and other search engines also makes your brand look reliable. Searchers trust and click more on top-ranked brands. This way, you will help your brand by increasing customer trust.
User Experience
It is also vital that your website is well-designed for users. The smoother your site runs, the more time users spend and the higher their repeat visit rate. When new customers can browse your site comfortably, they will stay on your site longer. That's why user experience is an essential factor.
Growing
SEO is, of course, a critical factor for the growth of your brand. The higher you rank with high-volume keywords, the more likely you are to grow. This constantly improves your website traffic.
After You Become Successful
Let's say you have hired a team to do your SEO work or worked with a professional agency, and your website has resulted very successfully. At this point, you might be thinking about leaving the SEO work behind because you have reached your objectives and ranking high in the SERPs.
So, can you stop the SEO work after you have become successful? Definitely, you shouldn't. It doesn't mean you are done with SEO, even if you have reached success. In fact, you should continue and invest more in SEO to become even more successful and get ahead of your competitors by far.
As we have stated before, one of the benefits of SEO is observing your rivals. The same thing will always be a thread for you, and you should be ready when competitors try to outrank your website.
Conclusion
We have covered the importance of SEO in marketing. Although digital marketing has become quite popular today, what lies beneath is the basics of traditional marketing. These basic strategies are also applied in digital media, and we cannot unsee them. SEO plays a significant role in digital marketing when it comes to promoting a business. We have explained the importance of SEO and what you can achieve with it.