Dentists find themselves in an era where the digital landscape has become the best choice for patients to discover and connect with healthcare services. The world of dental care has evolved, with online presence now a critical facet of practice. Understanding the intricacies of has become an essential undertaking. This comprehensive journey embarks on an exploration of SEO strategies designed exclusively for the dental profession. These SEO for dentists strategies include on-page optimization, local SEO, technical intricacies, and off-page strategies.
What Is SEO for Dentists?
SEO for dentists is a specialized digital marketing strategy that focuses on optimizing online visibility and search engine rankings for dental practices and professionals. It involves various techniques and best practices. They are designed to ensure dental services are easily discoverable by individuals actively searching for oral healthcare solutions on search engines.
The Importance of SEO for Dentists
The importance of Search Engine Optimization (SEO) for dentists cannot be overstated in today's digitally driven world. Dental professionals who recognize the significance of SEO gain a competitive edge in attracting patients and thriving in an increasingly online-focused marketplace.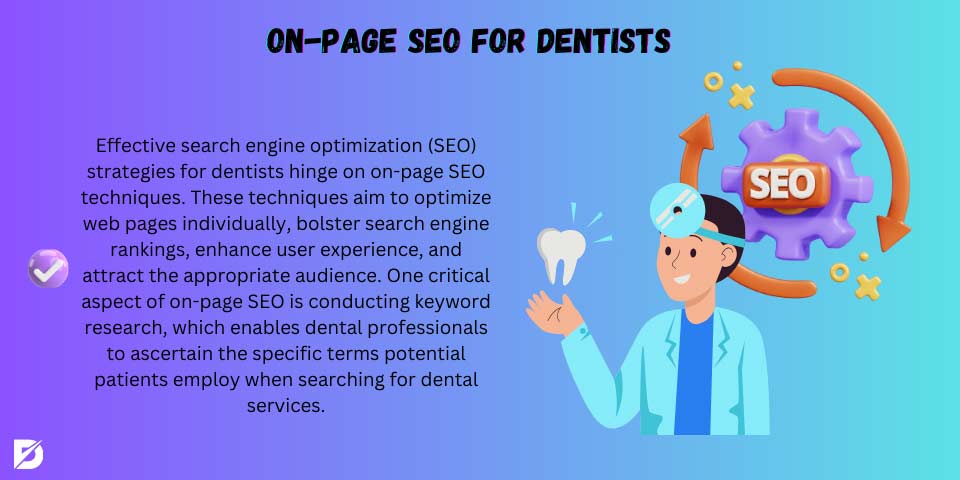 On-Page SEO for Dentists
On-page SEO techniques form the backbone of a successful SEO strategy for dentists. These strategies focus on optimizing individual web pages to enhance their search engine rankings, improve user experience, and attract the right audience. One of the most important components of on-page SEO is keyword research. It allows dental professionals to identify the terms that potential patients use when searching for dental services.
Keyword Research: Finding What Potential Patients Search For
Keyword research is at the heart of effective SEO for dentists. It involves thoroughly exploring the specific keywords and phrases that potential patients employ when searching for dental care online. This research helps dental practices craft content that aligns with user intent and ensures their services are prominently featured in search results.
Crafting Optimized Meta Titles, Descriptions, and Headers
Optimized meta elements, including meta titles, descriptions, and headers, are pivotal in dental SEO. These elements are carefully crafted to provide search engines and users with concise, informative, and relevant information about a dental practice or service. Effective preparation can significantly enhance a dental website's search engine rankings and click-through rates. Learn how to optimize title descriptions and URL for SEO.
Local SEO for Dentists
Local SEO is an indispensable aspect of your dental practice's online presence. It's the key to ensuring that individuals in your immediate vicinity can easily find and connect with your dental services.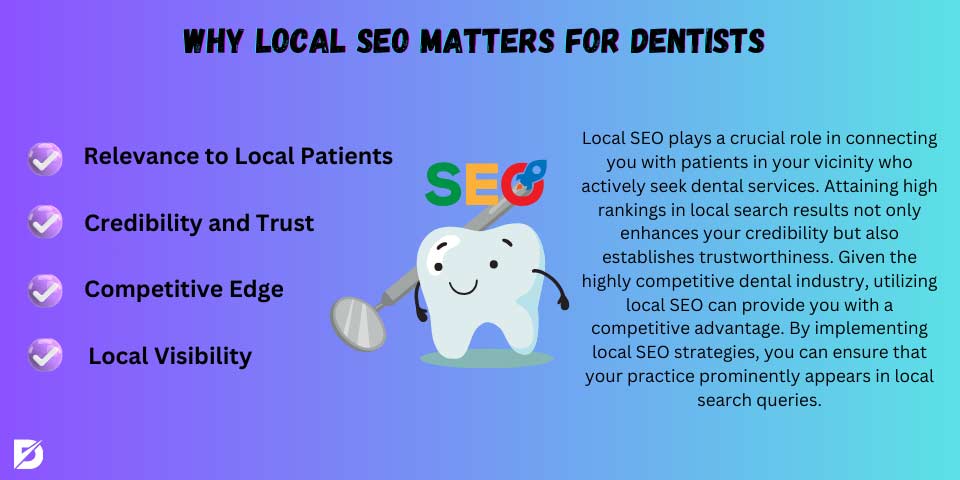 Why Local SEO Matters for Dentists?
Relevance to Local Patients: Local SEO helps you connect with patients in your area actively seeking dental services. It ensures your practice is at the forefront when individuals search for a "dentist near me" or related terms.
Credibility and Trust: High rankings in local search results convey credibility and trustworthiness. Patients often associate top-ranked dental practices with expertise and quality care, which can positively impact their choice.
Competitive Edge: The dental industry is highly competitive, and local SEO can give you an edge. By outperforming competitors in local search results, you can come forward on the market.
Local Visibility: Local SEO techniques help your practice appear prominently in local searches. When someone in your area is looking for dental services, your practice is more likely to be at the top of their search results.
Claiming and Optimizing Your Google My Business Listing
Claiming and optimizing your Google My Business (GMB) listing is a pivotal step in local SEO for dentists. A well-optimized GMB profile enhances local online visibility and provides potential patients with vital information. Let's explore the comprehensive process of claiming and optimizing your GMB listing:
Claiming Your GMB Listing: Claiming your GMB listing is the initial step, and verifying that you are the legitimate owner of your dental practice is essential. Go to the Google My Business website and verify your identity.
Accurate NAP Information: NAP stands for Name, Address, and Phone number, and consistency is key. Ensure that your NAP information on your GMB listing is an exact match with what's listed on your website, social media profiles, and other online directories.
High-Quality Images: Upload high-quality images to your GMB listing. Visual content is compelling, and photos of your dental practice, your team, and even the exterior of your office can give potential patients a real sense of what to expect.
Detailed Business Description: Craft a detailed and informative business description for your GMB profile. Explain the services you offer, your areas of specialization, and what sets your practice apart for potential patients to understand the value you offer.
Categories and Attributes: Select the most relevant categories for your dental practice. These categories help Google understand your specialty and match you with users' search queries. Additionally, consider adding attributes such as "dentist," "oral surgeon," or "pediatric dentistry" to clarify your services further.
Patient Reviews and Ratings: Encourage your patients to leave reviews and provide ratings on your GMB listing. Positive reviews and high ratings significantly influence a potential patient's decision to choose your dental services.
Website Link: Include a link to your dental practice's website on your GMB listing. This not only directs potential patients to a source of comprehensive information but also reinforces the legitimacy of your listing.
Technical SEO for Dentists
Technical SEO is the foundation upon which a successful online presence for dental practices is built. It encompasses a range of behind-the-scenes optimizations that ensure your website is well-received by search engines and provides a seamless experience for visitors. Dentists can benefit from various technical SEO strategies to enhance their digital presence.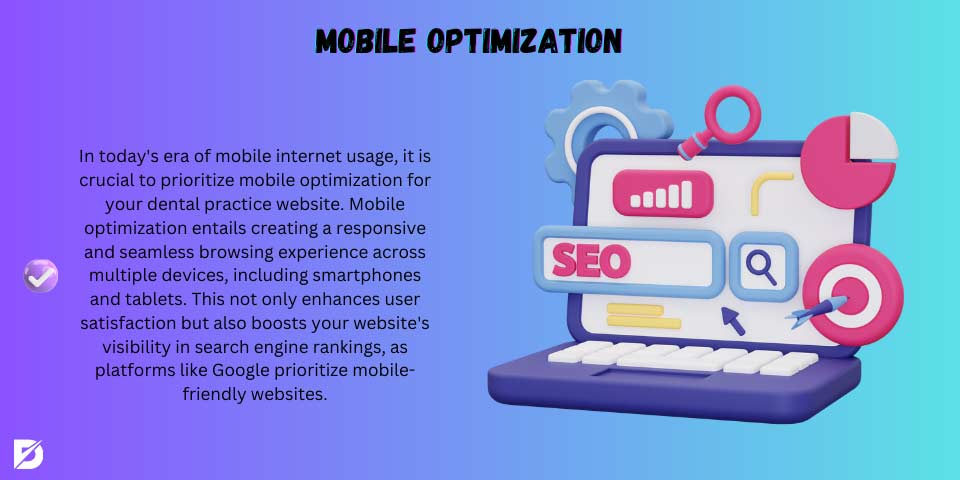 Mobile Optimization
In the age of mobile internet usage, ensuring your dental practice website is mobile-optimized is paramount. Mobile optimization means your site is responsive and functions flawlessly on various devices, from smartphones to tablets. This not only improves the user experience but also helps your website rank higher in search results since search engines like Google prioritize mobile-friendly websites. For dentists, this means that patients can easily access your website, book appointments, or find essential information, regardless of the device they're using. Don't forget to use our mobile-friendly test tool for free!
Speeding Up Website Load Times
Website load times have an important impact on user experience and search engine rankings. Impatient users seek faster alternatives instead of a slow-loading website. In the world of dental SEO, ensuring your website loads quickly is crucial. Optimizing images, minimizing unnecessary code, and leveraging content delivery networks are some strategies to enhance website speed. A faster website not only keeps visitors engaged but also enhances your search engine rankings. Check your speed with a website speed test.
Structured Data Usage
Structured data, also known as schema markup, is a method of providing search engines with explicit information about the content on your website. This data helps search engines understand your content better, which can lead to enhanced search engine results page (SERP) features. For dentists, structured data can be applied to provide details about services, operating hours, patient reviews, and more. This not only improves your website's visibility in search results but also gives potential patients a better understanding of your dental services. Check yours with a structured data testing tool.
Off-Page SEO for Dentists
While on-page SEO deals with optimizing elements on your website, off-page SEO focuses on factors external to your website that influence your online presence. For dentists, these off-page strategies play a critical role in building authority and credibility.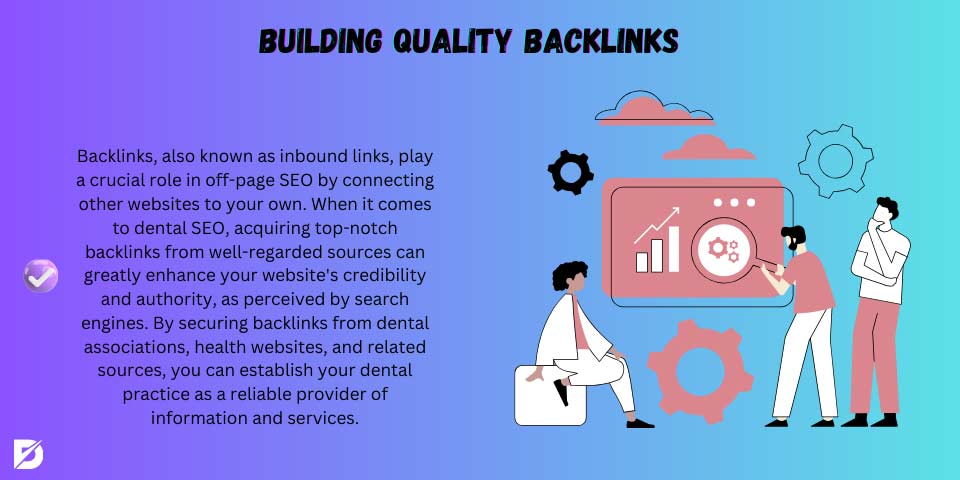 Building Quality Backlinks
Backlinks, which are links from other websites to your own, are a fundamental aspect of off-page SEO. In dental SEO, building high-quality backlinks from reputable sources can significantly boost your website's credibility and authority in the eyes of search engines. Backlinks from dental associations, health websites, and other related sources can establish your dental practice as a trusted source of information and services.
Engaging in Dentistry Forums
Participating in dentistry forums and online communities can also be a valuable off-page SEO strategy for dentists. By developing your expertise and insights, you can build relationships, gain exposure, and potentially acquire backlinks from authoritative sources. This not only enhances your online reputation but also positively influences your SEO efforts.
Analyzing Dental SEO Strategies
Analyzing the effectiveness of dental SEO strategies is a critical component of achieving sustained success in the digital realm. As dental practices embark on their SEO journey, it's essential to assess the impact of these strategies and make data-driven decisions to improve online visibility and user engagement.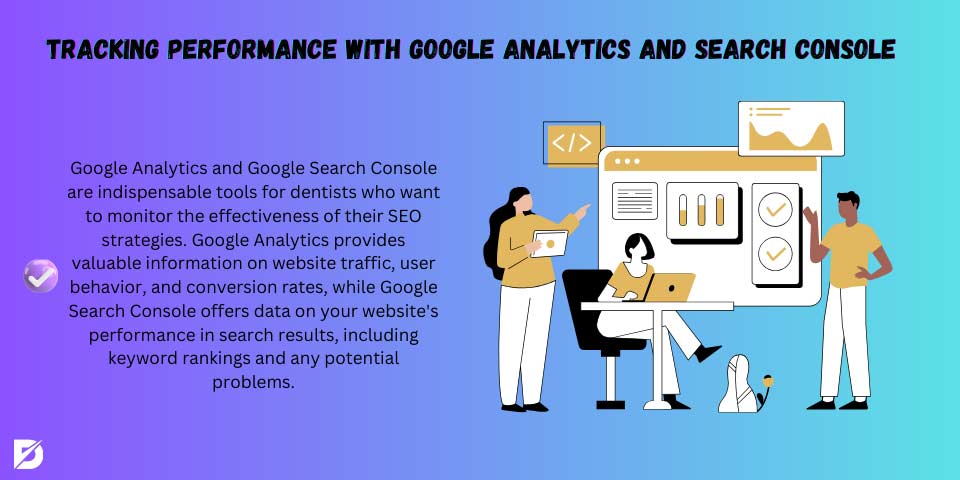 Tracking Performance with Google Analytics and Search Console
Google Analytics and Google Search Console are crucial tools for dentists looking to track the performance of their SEO strategies. While Google Analytics provides insights into website traffic, user behavior, and conversion rates, Google Search Console on the other hand, offers data related to your website's performance in search results, including keyword rankings and potential issues. By analyzing the data from these tools, dentists can fine-tune their SEO strategies to improve user experience. Don't forget to check Google SEO tools and also our SEO tools for free!
Dental Success with SEO
The evolving landscape of dental care is intrinsically tied to the digital world, and SEO has emerged as the compass guiding dental professionals through this transformative journey. As this exploration concludes, we recognize the indispensable role SEO plays in shaping the online presence of dental practices. From on-page strategies to local and technical optimization, dental SEO enables practices to serve their communities better. Embracing off-page techniques like building quality backlinks and engaging in dental forums further extends their influence through the meticulous analysis of SEO efforts and the invaluable insights derived from tools like Google Analytics and Search Console.