If you are in the marketing business and want to invest in advertising, pay-per-click is a great option to market your business. A well-organized campaign may help to boost your company's profit. You can use catchy ads, keywords, and landing pages to make your PPC campaign more profitable. Keep in mind that it never hurts to use some imagination and inspiration in your PPC campaigns. In our article, we will guide you through effective ways to improve your business by setting up a good PPC campaign. Here are ten tips that would help with your PPC campaign.
Set Your Goals
First of all, if you decide to start your PPC campaign, you must know the aim of the campaign because you will manage the whole process according to this main purpose.
The most popular goals for PPC;
Increase sales
Raise Site Traffic
Brand Awareness
When you determine a PPC goal, you should create a strategy in line with that goal. After choosing an aim, you make an efficient plan by defining your priorities aligned with this purpose.
Target Your Customers
You need to match your PPC campaign to your target customers to draw their attention. You need to know your customers, their pain points, and their demands to do that. If you do not have a buyer persona, you can start with creating one.
You can;
target your potential customers in several ways,
target LinkedIn profiles based on the industry and the company,
do research for your target customer, and communicate with them to improve your campaign with feedback.
edit your search ad campaigns to target people already associated with your company.
Be active on YouTube and use TrueView Ads to reach new customers based on the keywords they enter to search for your products or services.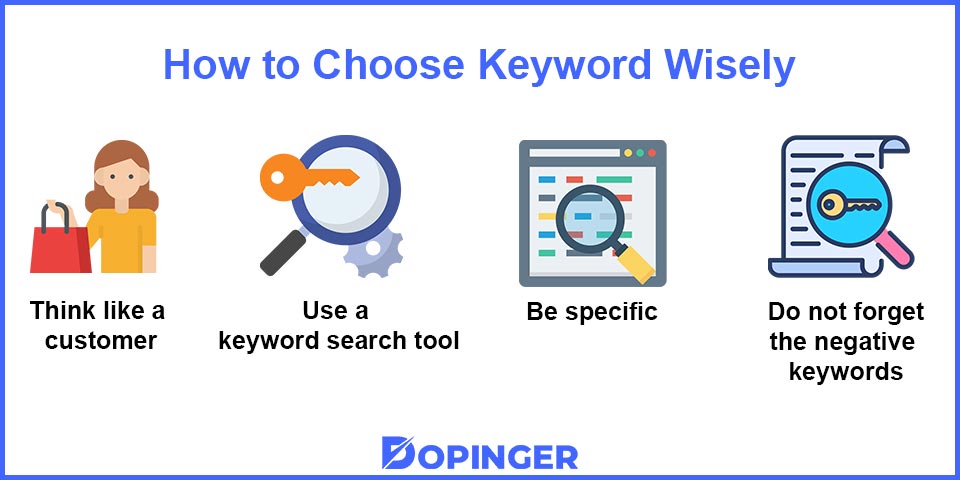 Choose Your Keywords Wisely
Keyword research must be an essential part of your PPC campaign. Otherwise, it would be impossible for your potential customers to visit your website in the first place. Here are some tips on how to choose your keywords wisely:
Think like a customer: Consider what a customer would type on a search engine if he were going to buy your products or services.
Use a keyword search tool: You may need some help with keyword choice. For that, you can use Google's keyword search or some other tool to find the most useful keywords for your website.
Be specific: Do not generalize while searching for keywords. Be specific so that you get more clicks on your website.
Do not forget the negative keywords: Negative keywords are words that you want to exclude from searches. Specify those unnecessary keywords to get a higher click rate.
Stop Using Keywords With Bad Performance
You need to follow the performance of the keywords that you have bid. If you notice that the keywords are not performing well, it is time to change them. But first, identify the reason why the keywords have poor performance.
One of the reasons for this may be that your bids are not competitive enough. Find out which keywords have the most click, and you will gain more traffic to your website. Another scenario may be that you are bidding enough, but the keyword is not functioning well and is not something the customers are searching for. Or, the keyword may be too general, so it has a low search volume. In these cases, pause those keywords to upgrade your PPC campaign.
Use Call to Action
A call to action helps you engage and convert your potential customers by telling them what you want them to do. It can lead you to success in your PPC campaign. You may want them to call, apply, subscribe, or share something. It is up to you! Do not forget that having more than one CTA may confuse your customers, so stick to one. You can also support your CTA by adding site links to CTA.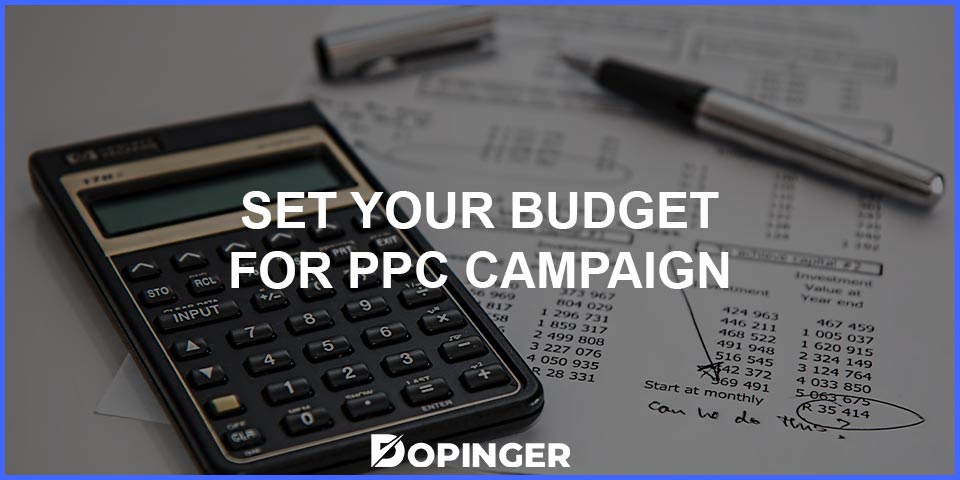 Set Your Budget
When you start a campaign and want it to succeed, you need to set a budget at the beginning. Determine how much you can pay for a keyword to have a certain click cost. Also, make sure you spend money on your most profitable products or services.
Do not spend your PPC budget at the weekends. It is stated that users are less active at the weekends. You should also avoid launching your PPC campaign in the peak season. Try launching it before the peak season starts, so you will have optimized stats when it begins.
Optimize Your Ads
Let us say you have already created an ad and stepped aside. It is a big no for a successful PPC campaign. You need to constantly update your ads to get the most click.
Keep it short and relevant if you plan to create a new ad. Catching the attention of your potential customers is the key, so ensure you have ad copies that are going along with our daily routine. You may also create an effective landing page that goes along with your ad. After your potential customer clicks on the PPC ad, he will be directed to the landing page you have created. Be sure that the landing page is clear and to the point. You can benefit from some landing page tools.
Analyze Your Competitors
Analyze your competitors' PPC campaigns and create unique ads to stand out. You can use competitor analysis tools to identify details on your competitors' ads. There are various tools that reveal how your competitors profit from certain keywords. Do not forget to include the distinctiveness of your products or services in your ads to draw the attention of your potential customers.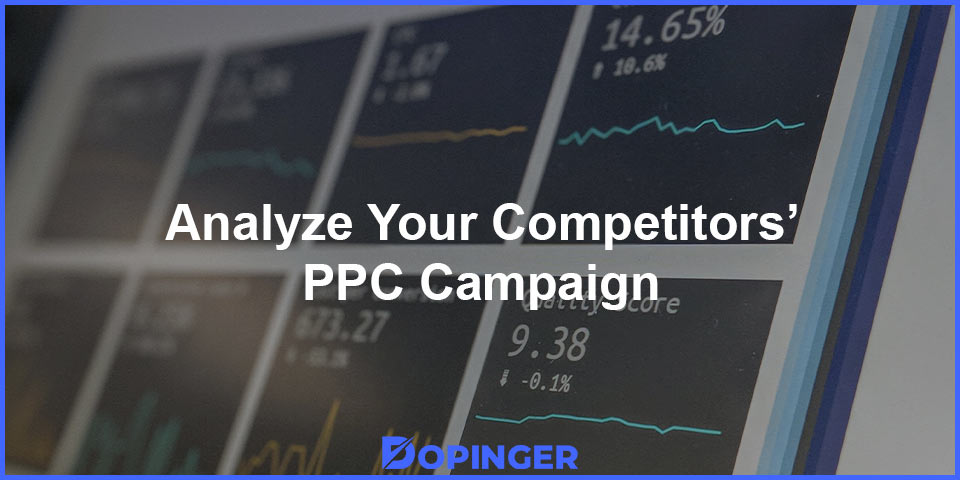 You can also use ad extensions. Ad extensions provide extra information about the product or the service you promote on the search results page. Ad extensions provide more traffic, raise your quality score, and lowers cost-per-click. You can add site links, callouts, and structured snippets to your ad. There are several tools you can create your extension. If you have created your ad in Ad Builder, you can use the "Extension" tab and choose your extension type. Google also has extension features you can get help from.
Timing Is Important
There are certain periods to display your ads. Dayparting is a PPC marketing tactic that schedules your ads for specific hours in the day or for particular days in the week so that you target specific audiences. As some audiences are more active at certain times of the day, if you target those hours, you will have a higher chance to convert them. It may not work for all businesses, but if you provide services or are a local company, dayparting can help you profit easily. Make sure you identify the optimum time and run your ads. Otherwise, you will be wasting your money.
Be Patient
A PPC campaign may be the best way to increase sales and get more traffic. It may boost brand awareness and make you profit too. However, PPC campaigns require at least three months of work to provide you with specific data to improve your ads and, eventually, your company. Three months later, you can revise your keywords and target your customers on point using that final data.
RECENT POSTS
Is Cro a Good Investment? 
A/B testing is something you've likely heard about before. Although it always seemed helpful, it was never truly necessary. But as the noises have bec...
Three months may sound like a very long period. It takes a long because you need time to gather data with a new promotion. As your PPC campaign does not have any performance history, platforms like Google, Bing, etc., will gather information about your ads and create a quality score, which you can use later to better your company.
Conclusion on a Good PPC Campaign
Having a business and managing it is huge work. However, promoting your business and presenting it to the world takes extra effort. In this article, we have given you how you can manage your ads and have a good PPC campaign. It takes time and energy to better your ads and try new features and strategies, but remember that there is an effort behind every success. Lastly, as we have already mentioned, studying your competitor must create a good strategy.