Do you ever wonder how to change location in Google? When you open the Chrome browser, Google's GPS location services automatically determine your current address. While you frequently don't want to provide Google and the many websites you visited access to your location data. The good news is that you can modify your location settings to stop Google from tracking your whereabouts.
When performing SEO assignments like SERP analysis, changing the location in Google Search can occasionally be helpful. In light of this, let's look at a few quick methods for how to change location on Google.
How Does Google Know My Location?
Google analyses a number of signals, including your IP address, the GPS on your device, the settings in your browser, the searches you've already done, and the settings in your Google account, to approximate where you are. Google may also use other sources like Wi-Fi networks, mobile towers, or Bluetooth gadgets to pinpoint your location. When using these signals, Google strives to strike a compromise between accuracy and privacy, and it does not keep a record of your precise position.
Does Location Affect Google Results?
Google adjusts search results based on location to suit your requirements and tastes. For instance, if you type "pasta" into Google, it will provide nearby pasta shops, user ratings, and delivery possibilities. When you type "weather" into Google, the current conditions and forecast for your location in Google accounts are displayed. Google will provide pertinent regional and international news stories if you search for "news". The adverts and features you see, the order and ranking of the results, and other factors can all be influenced by your location.
Why Should You Change Location in Google?
On the internet, people frequently prefer to visit different locations from their actual ones. There are several reasons to think about changing yours: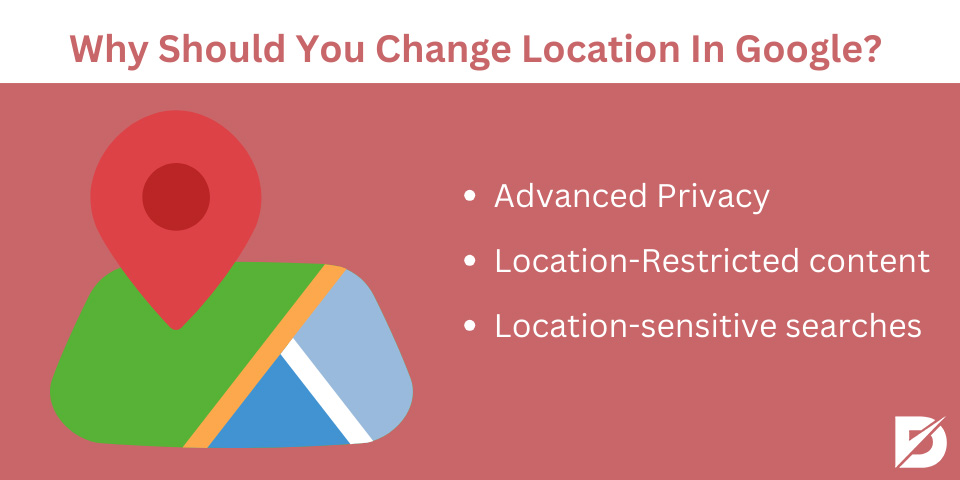 Advanced Privacy: Let's face it, nothing on the internet is secure, not even your locational information. Maybe it's time to take action (at least online) if you want to stop websites from tracking where you are.
Location-Restricted content: Many websites or streaming services forbid the presentation of their material in specific geographic locations. As a result, it's possible that your actual location configuration prevents you from accessing it.
Location-sensitive searches: Understanding how certain search queries appear in local SERPs, particularly when local keywords are involved, is crucial. As a result, you may want to consider using an alternative Google location to get more accurate information on your critical terms and their SERPs.
Changing your location can assist in hiding your true identity and location if you value privacy when browsing the internet. In order to observe how their website performs in search engine results for various locations, businesses and marketers may alter their location. This matters for local SEO tactics.
What Are The Common Ways To Change Location Google?
Google may use the location of your device to deliver localized search results when you conduct a search. You can use one of the following techniques to alter your location for a particular search: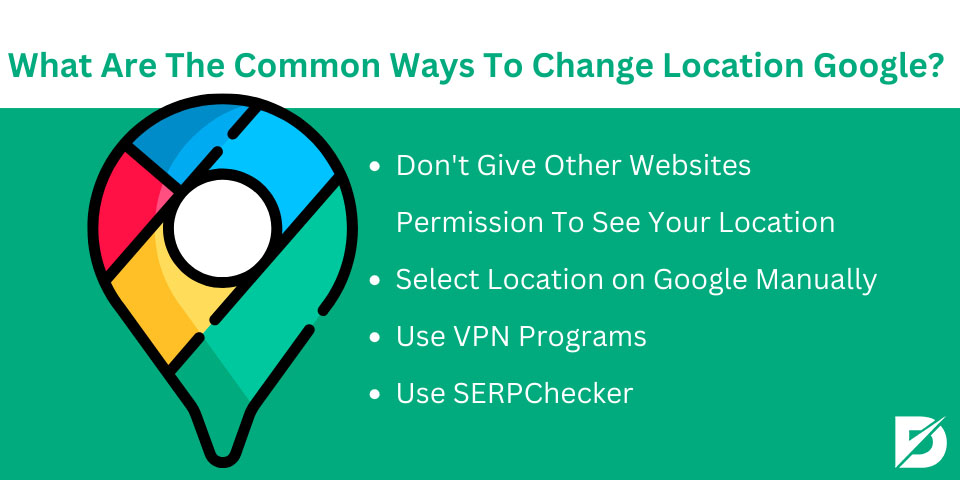 Don't Give Other Websites Permission To See Your Location
Blocking location services in your browser is one of the simplest ways to stop Google from knowing your whereabouts.
Generally speaking, you can choose to block your location for privacy reasons in all of the major web browsers.
Using an internet browser, the procedure is rather simple:
Click the three dots in the top-right area of your screen, then choose "Settings" from the menu.
From the options on the left, click the "Site Settings" option under the "Privacy and Security" tab.
Select "Location" from the "Permissions" menu by clicking on it.
Choose the "Don't allow sites to see your location" option under the "Default behavior" column. All websites won't be able to access your location with this in place.
Other browsers can also be used for a similar procedure, albeit the steps to access the location settings may differ slightly. This method is really simple and easy to follow, but it does not offer you much in the way of SEO benefits. Furthermore, Google can use sources other than your browser to determine your location.
Select Location on Google Manually
If you want to manually adjust the location browser settings to receive more precise search results in SERP for a particular location:
Visit Google Maps, select the country, city, or even address you want to use as your location, and then right-click on that area.
The precise coordinates of the site will be displayed on Google Maps; note them down or just copy them.
Go to Google Search and enter the search term you want to look up from a different location.
You may either right-click on the screen and choose "Inspect" or press Ctrl + Shift + I to access your developer options.
At the bottom of the panel, click the three dots next to the "Console" tab.
Pick "Sensors" from the menu.
Choose the "Other…" option under the "Location" tab, then type the location information (latitude and longitude) in the boxes provided.
Return to the SERP you want to examine and click the "Update location" option at the bottom of the page after scrolling down.
You can experiment with your browser's settings and test out various locations and coordinates to see how SERPs might vary depending on your location. Verify that you gave Google Search permission to access your location. You must first provide Google permission if you attempted to update your location and received the warning "Can't update your location":
Launch your browser and navigate to the Google page.
Next to the URL address bar, select the lock icon.
For Google.com, check (or tick) the location permission box.
Use VPN Programs
One of the most often used services for concealing a user's online location is a VPN. Because VPN services are based on actual servers with physical locations around the globe, Google is not able to see your true IP address.
By establishing a connection to one of these servers, you can virtually move to another place. As a result, different search results for the specified location are presented.
There are hundreds of inexpensive VPN providers that may assist you in changing your location; according to your demands, you may choose to test the most well-known ones or simply free VPNs that provide a trial period or some form of limited access to their services.
Use SERPChecker
You can easily check out SERPs in different areas and nations using SEO tools like SERPChecker if you want to alter your location for SEO purposes and see SERPs for a specific country:
Simply enter any search term you want to look up,
Choose the nation (or just type the region)
Select the platform (desktop or mobile).
Click "Enter".
The tool will display all of the pages that are currently ranking for that region, along with crucial information like Keyword Difficulty, SERP Features, Link Strength, etc.
Ready To Change Your Co-ordinations?
Now that you have knowledge of the possibility move forward with your plans. Discover how updating your Google location can improve your online experience by following the step-by-step instructions we've provided above. Don't be reluctant to share this article with people who could use these tips.