It's the same time of year. This is the time you need to explore and prepare a digital marketing strategy for your work next year. Getting your digital marketing strategy ready is crucial to your success next year. From new business areas to new marketing trends, you should soon create your marketing plan for the next year. This way, you can move one step ahead. Start your digital marketing strategies for the next year using this guide. It presents one or two different options at each step. You must choose that option according to your needs, whichever location you are in your business. You may be just starting work, or your business may be operating for years. Let's get started with digital marketing strategies.
Set Business Goals
If you're just starting out on everything, a successful marketing plan will be time-consuming to put things together. Since you don't have much information at the beginning, you should develop your business and marketing strategies in a different direction. But first, you need to set your business goals before you can plan your marketing strategy.
Business goals will help you move in the right direction within the marketing plan. For example, having 5000 email subscribers by the end of 2020 is a goal. This main goal reveals where you should focus.
Make sure your main goal is quite specific because it will only be applicable in this way. The specific the target, the better your marketing plan will be.
Aspects to Consider for Digital Marketing Strategies
Think about every aspect of your business. Consider setting goals for these fields and add them to the marketing plan. Here are some aspects to consider:
You can also like this post: Alternatives to Google Analytics for Data Collection
The products or services you want to offer and how you want to market them,
Marketing tools you want to use to meet your goals,
Who you need on your team to meet your goals,
Possible strategies for a marketing plan.
Once you've laid out what you want to achieve, you'll be laying the groundwork for your marketing plan.
If you're starting a new start and you don't have any information from past years, everything starts with you. You're in the center in every part of your business. When you start planning your marketing strategy for the next year, clear your mind, set your main tasks, and start working from this point.
Use mind maps and manages them to bring your ideas to the present. Reveal what the goals that need to be determined are. Map your marketing strategy and get ready for the next year.
You should pay attention to something when creating goals: Plan what you want to do with your marketing strategy and focus on what's going to make you prominent. From your point of view, this step will require a lot of time and research. But if you want to have an effective marketing strategy for next year, you have to do what you can.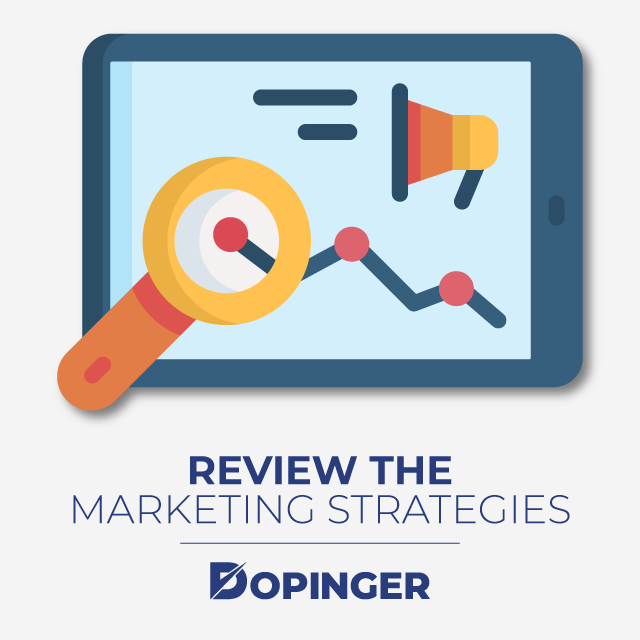 Review the Marketing Strategies of this Year or Previous Years
If your business has been operating for the past year or more, you have some information that you will browse in the past, and you can use them at the core of your marketing strategy for this period. You should take the time to improve your achievements in digital marketing last year. When examining previous periods, you should ask yourself and your team the following questions:
What are the strategies that drive and work for your business?
What are the most effective marketing strategies that contribute exceptionally to your business?
How did your customers feedback on marketing and advertising?
What is the digital marketing work that results in the fiasco?
What kind of changes has your business undertaken in the past year? Have you made your digital marketing strategies ready for this period to adapt to these changes? Will you make any changes to your business at the beginning or later of the previous periods?
Has your target market changed? Have you set your strategies for the next year, including your new target market? What changes should you make to suit your new audience?
How is your competition? Can you keep your business competitive?
Examining the past periods will show you where you are and which way your business is headed. This information will form the basis of your digital marketing strategy for this year. Gather your team and check out the details of your past marketing strategies. Note everything you find important because they will support you in your success this semester.
You can also like this post: Reasons to Fire Your SEO Agency (Right Now)
Create Small Goals and Plans for Main Tasks
In the previous step, we tried to set the main goals for this year. In order to manage and easily achieve them, you must turn big goals into small goals or applicable steps.
We can explain this with an example:
Main Marketing Task: To create an email list with 3,000 subscribers in the first 6 months. Here are the steps:
Create a landing page for the email list and edit a form so that visitors can subscribe.
Offer free products with sweepstakes to convince the customer.
Create automated emails and plan to send them on certain days.
Create more content ideas and get help from specific tools for content ideas if necessary. Type content and add them to the automated email series.
Follow the process for six months. Track subscriber figures. Improve your email marketing strategy until you reach 3,000 subscribers.
You should think retrospectively to understand the steps you will take. You have to act thinking you've already achieved the target. Think back and back to what you should do in the steps. Keep thinking retrospectively and keep doing this until you're in your current direction. The step you're in will be the step in which you set your goals.
Of course, you can't understand what you're going to do in all the steps. If you think too much, you can stress yourself out. If you're stuck in one step, take a break and try again later. For all your other main goals, first, create small plans and check out the specific goals you're stuck with later.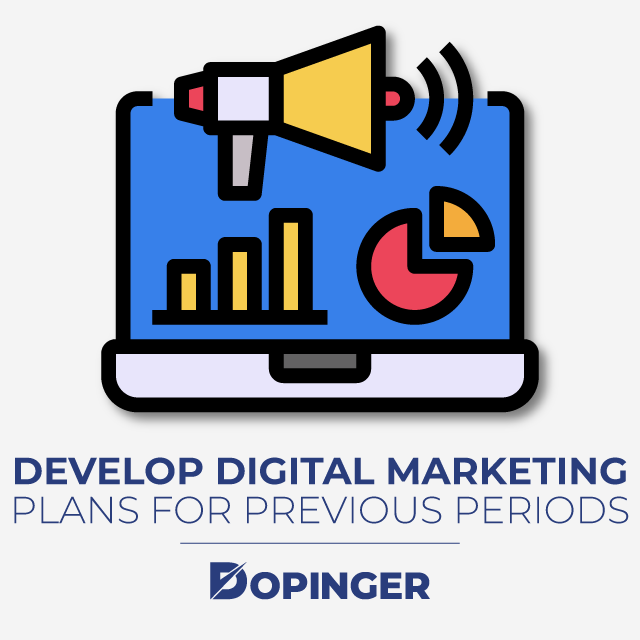 Develop Digital Marketing Plans for Previous Periods
You may be skeptical that you can do something to develop a plan that has historically lost its influence. But this step will help you with this and allow you to do something different.
You can also like this post: eBay SEO: Techniques to Increase Visibility and Sales
Instead of creating a marketing plan from the beginning, you already have last year's plan, and this plan has improved since last year. For this step, you need to focus on the points that will improve your marketing tactics and the changes in the industry over the past year.
After reviewing last year's plan and updating it, you can edit the necessary plan for the next year. Are your changes and improvements to suit your marketing goals for this period? Develop this improved marketing plan and review whether it fits your plans for this year. However, from this step, you can now start building your marketing strategy for the next year.
Select The Right Tools
You may have enough experience for this period, or you may be starting a new start. No matter where you are, digital marketing tools will be one of your strategy's main parts. They not only increase the efficiency you get from your marketing efforts, but they also offer you the easiest and fastest solutions where you're stuck.
In this step, you should learn the various tools to add to your marketing strategy. These tools will help you achieve your marketing goals faster and more effectively.
Edit Your Marketing Plan
Once you've identified the tools you'll use, you can organize your marketing strategy and decide which areas to use.
Now let's take a look at some vehicles that might be useful and put them together. CoSchedule, Buffer, and Workado get our main digital marketing tools. Because you can connect Coschedule and buffer, you can do more for social media marketing and create a better plan for your marketing strategy.
With CoSchedule, you can make an adjustment so that you can share half of the social marketing posts as soon as you share blog posts. I can then schedule my other social marketing articles using the Buffer tool. You can also use the Buffer tool for the idea of instant-minded effective social media messages and set them up so that they can share them on specific days so that they don't disturb the current calendar.
You can also like this post: How Amazon Started? - The Story Behind
With Workado, you can track all marketing activities and tasks to be accomplished within certain campaigns.
CoSchedule Buffer and Workado can help you achieve your marketing goals and work well together.
You should choose these tools to choose what you need. You can test your ideas with digital marketing tools, but you shouldn't use those who don't contribute to your business or marketing. Don't try to implement or test ideas that you can think of as you move forward in your marketing strategy. Add the tactics you know and help them take your marketing strategy one step further.
Specific Areas You Need to Focus on
Here are the areas that are important to focus on digital marketing strategies:
Content Marketing
You'll need to plan content that you'll create from your social posts to your blog posts. You don't have to plan all the articles you'll publish next year. However, you must have a content marketing plan. Here are a few questions you should consider:
Are you just going to focus on writing blog posts? Spend more time on social media and spend less time on blog posts that already have enough or even a lot of time?
How often will you enter the summer in a week? Will you try different time zones to see which one will be more effective?
What information does your audience want to know? How are you going to get them?
What tools will you receive support for creating content?
Will you hire someone new to create content, or will you get support from existing employees?
Branding
If you're in a niche with a lot of competitors, then you should consider the elements that will make your brand stand out. How can you attract customers to your brand?
You can also like this post: What Is Shopify SEO: A Complete Guide
What changes should you make to your marketing plan to attract more customers if you have experience in the business world? You have to decide that.
Remember, you don't have to change your brand all the time or do things like that. On the contrary, continuity and consistency give customers a warmer impression. It is extremely important to check what your competitors are doing and review your marketing plan.
If you want to draw attention to your brand, you should use some marketing strategies on different events and holidays. If you implement a tactic like this, you will increase the efficiency you will receive through your social media marketing tactics.
Objectives
You must clarify what you want to accomplish with your marketing plan and place them at the center of your marketing work. Whatever your main objectives, you must surely have several small goals to support or feed them. Next year's marketing strategy should be a major focus, and your small goals should support the main goal.
Each goal can be accomplished and realistic. You don't want to achieve a series of failures by keeping your goals at a very high level.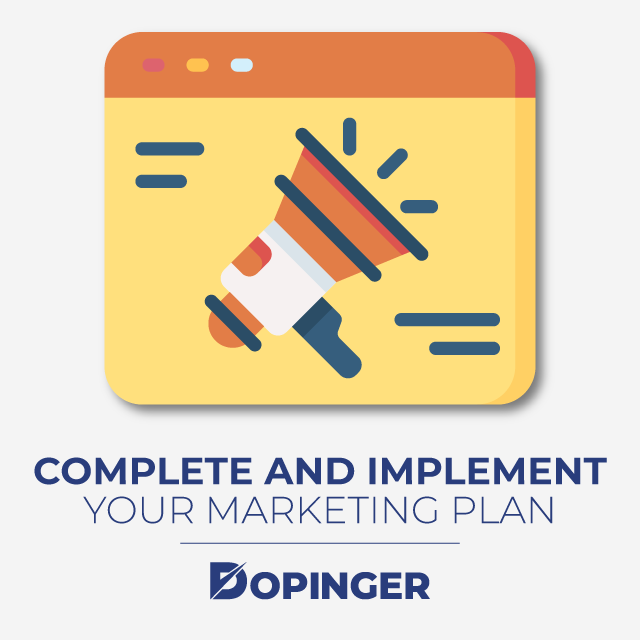 Complete and Implement Your Marketing Plan
You should transfer your marketing strategy next year to a rough draft paper. It is better to have the marketing tools you will use and be ready to start. You must now complete your marketing plan and start implementing it!
A checklist for your new marketing plan:
Have you set your goals? Do you know what you're really aiming for?
Do you know the target market? What do the people you target want?
How does your brand differentiate itself from the brands you are competing with?
In your marketing plan, what are the core values of your business, and can you project them to your plan?
What kind of offers or incentives do you offer your customers?
What other methods do you think you're going to try to get customers interested, and how do you get older customers to come back?
How will you keep your customers? How do you connect with customers and create relationships with them?
What are the tools that can help you with your marketing plan?
What will you do for content marketing and social media marketing?
Is the message you send through marketing clear enough?
Do you offer an easy to use website? Is the user interface simple in a way that your customers will be pleased with?
Do you have a way to manage all your tasks? Are you ready for success?
At this stage, you are reviewing your marketing plan for the new year. In this step, you have to make sure everything is as ready as it should be. Before you implement your plan, you should check out all the details.
You can also like this post: Etsy SEO Tips to Improve Product Visibility
When you need to do the next decision marketing strategy when your marketing plan is ready. Many businesses don't start this in January. Therefore, you should avoid pushing yourself to try to achieve this in the first month.
As the Last Step
Keep in mind that your marketing plan for the new year will help you to get you to the point where you want to be at the end of the year.
You may face some obstacles that grow your business during the year and you may have to make difficult decisions. You may also have to make some changes to your marketing plan during the year. For example, if content in a category isn't doing a good job, you might consider changing it. You may have to change that because your publishing calendar isn't good enough.
You should always be open to making some changes while your business is growing.
FAQs
What falls under digital media?
Examples of digital media include apps, digital images, digital video, video games, blogs and websites, social media, digital records and directories, digital music such as MP3, electronic documents and electronic books.
What are digital media skills?
The new media business is booming, and digital marketing is becoming a must for every organization or start-up today. Digital marketing positions range from search engine optimization and web analytics to digital strategy and content marketing.
What's the difference between social media and digital marketing?
Digital marketing reaches beyond the Internet and aims to reach out to people in the off-line universe through visual means, while social media is confined to the limits of the Internet. Digital marketing strategies may contain one or more components (Internet Advertisements, Smartphone Ads, TV, SMS, etc.)
You can also like this post: What Is a Subdomain? - A Simple Guide
Conclusion
In this article, we have covered digital marketing strategies. As long as you continue your marketing strategies, you should follow the processes of them one by one. You should take a look at how they affect your business. If necessary, you must make the necessary arrangements or get rid of strategies that don't work. In some cases, you should edit small details, but you may have to make serious changes in some cases.
You have devised your marketing strategy for the new year by taking many steps from identifying your goals to identifying the tools and tactics you will use. This plan you have is just the beginning. You should collect as much information and feedback as possible for the new year. So you get the chance to come up with a better plan for each new year. Success awaits you this semester!
If you liked our article about digital marketing strategies, please check out our other articles about digital marketing. You may also like social media management.