You may have heard many types of marketing, like affiliate marketing, paid performance marketing, etc., but do you know what they mean? It is precisely what the name suggests when it comes to paid performance marketing. Why do people prefer this type of marketing? It is highly favored because the success rate is relatively higher due to the targeted audience. You can find the relevant information below if you are new to paid-performance marketing.
What Is Performance Marketing?
What is performance marketing, you may ask. Actually, it's rather a simple question. Advertisers pay marketing agencies or ad platforms depending on the number of clicks or conversions they achieve in PM campaigns. Performance marketing definition is basically marketing based on performance. Performance-based marketing can take several forms. However, there are two key players. They are the brand or the firm that wants to be advertised and the publisher or the person or corporation who promotes it. These two entities collaborate to define specific goals, create a plan and set of agreements for achieving them, and track progress so everyone knows when those goals have been fulfilled. The promoter is paid for their performance digital when they are fulfilled for those two entities.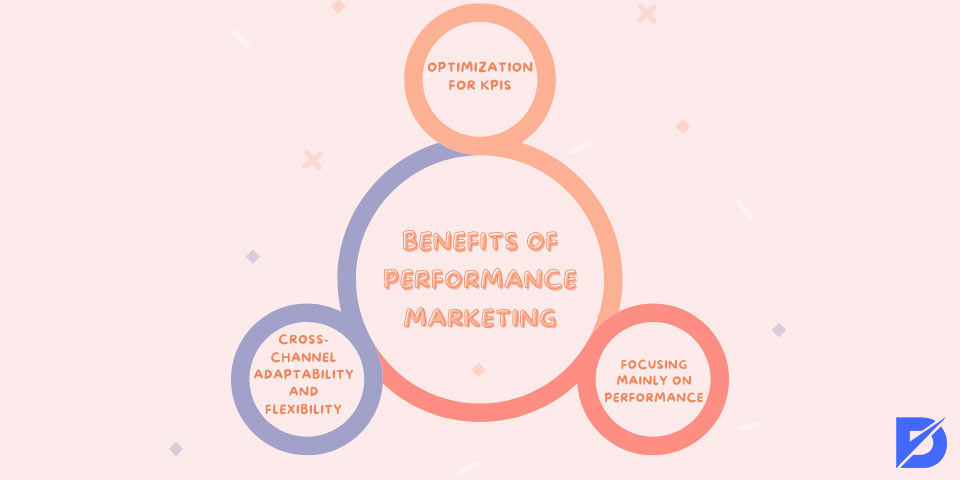 What Are the Benefits of Performance Marketing?
The most prominent benefits of performance marketing are:
Optimization for KPIs
Cross-channel adaptability and flexibility
Focusing mainly on performance
Let's investigate those benefits.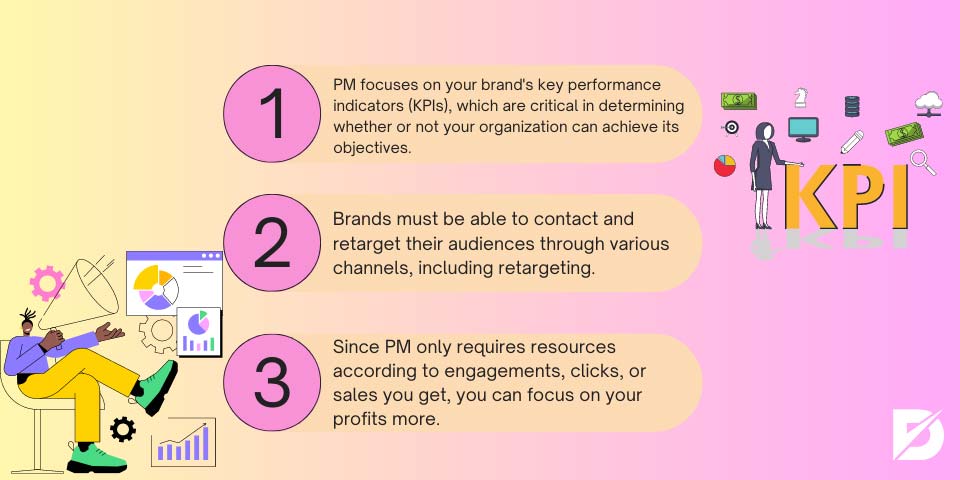 Optimization for KPIs: What are KPIs in marketing, though? PM focuses on your brand's key performance indicators (KPIs), which are critical in determining whether or not your organization can achieve its objectives. You can test and optimize for such metrics if your marketing is geared at boosting the most critical metrics, such as sales, retention, and revenue. PM and conversion rate optimization provide you with the facts and information you need to compel your audience to act.
Cross-channel adaptability and flexibility: Brands must be able to contact and retarget their audiences through various channels, including retargeting. A PM strategy ensures that all your marketing plans and tools are in sync, allowing you to maintain your campaigns consistent and optimized at scale. Testing across channels provides you with a comprehensive picture of your program's performance, allowing you to maximize engagement and results.
Focusing mainly on performance: Since PM only requires resources according to engagements, clicks, or sales you get, you can focus on your profits more. The higher performance you get increases the possibility of your sales and profits, which makes the strategy and marketing management more efficient.
How to Start Performance Marketing
Performance marketing and starting a new business require establishing a network and new connections to broaden your audience and increase efficiency. You can improve your company's prestige and create a high-value image for your company. Starting with a couple of clients that you can reach at the beginning is the easy way. The new clients you will try to reach later will have an idea about your work and the company's value.
Secondly, before using expensive platforms for your marketing, use the free ones. Free apps such as Facebook and Instagram carry the highest potential for getting engagement. Those platforms have billions of users to whom you can introduce your services. So Facebook Marketing and Instagram Marketing are your reliable friends. Besides, free apps have promotion options for businesses. You can publish your ads and pay as much as the engagements you get. Grow your performance advertising with these performance media channels.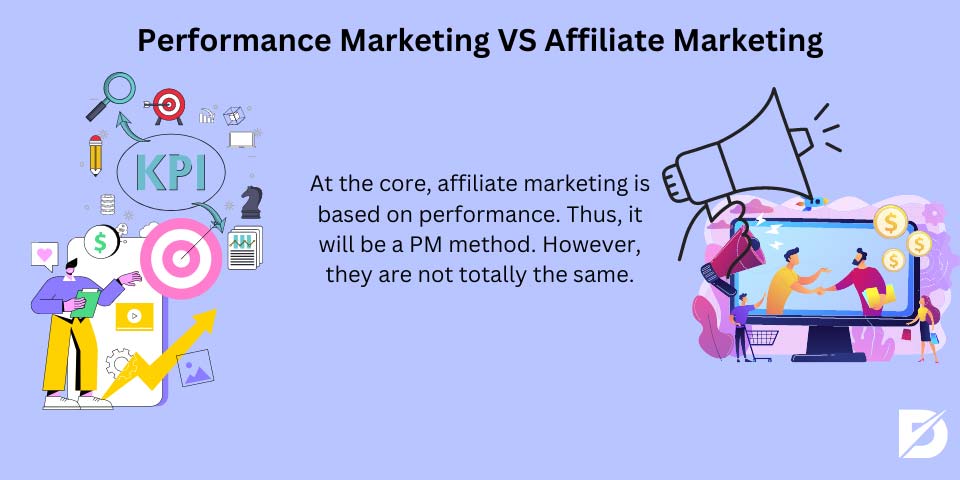 Affiliate and Performance Marketing Are Not the Same
When you think of PM as an umbrella term, affiliate marketing is a part of PM. As the term suggests, affiliates collaborate with businesses and show effort to market those businesses' products. They get commissions or payments from companies if they can contribute to the products. At the core, affiliate marketing is based on performance. Thus, it will be a PM method. However, they are not totally the same.
Affiliate marketing is also influencer marketing. That brings us to the previous part because each social media user is familiar with influencers who are marketing products of many brands. Especially influencers with a high number of followers are successful in introducing products. It shows how free apps can be a powerful source for PM.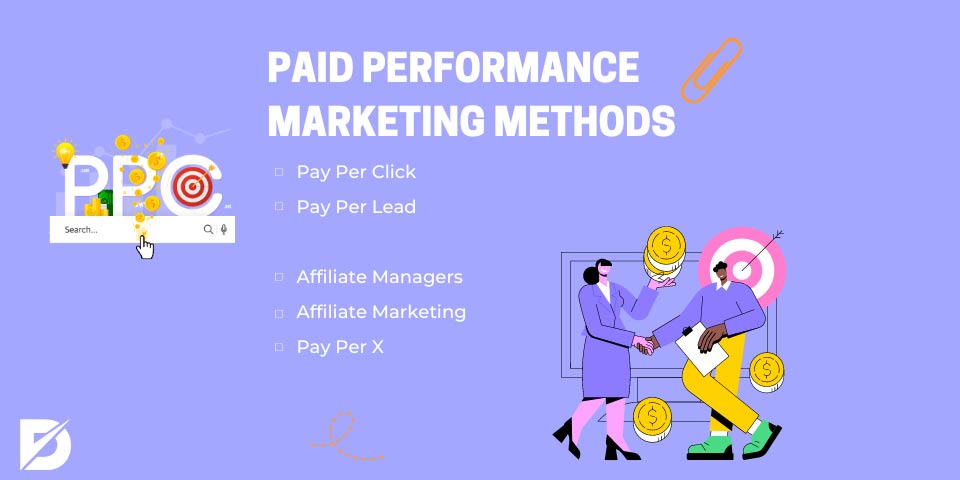 Paid Performance Marketing Methods
Pay Per Click
Pay-per-click is the payment method in which companies pay the affiliates or intermediaries for each click they get. They do not pay for their ads to be published. Only gained clicks require resources. Check here for details about what is PPC.
Pay Per Lead
Leads are not the same as sales or gained clicks. The "lead" word is used for contact or basic information about potential clients. Registrations can help get information to convert interested buyers to sales. In performance marketing, agencies can be helpful in getting leads by using this method.
Affiliate Managers
Companies, in this case, merchants, collaborate with affiliate managers to conduct their performance marketing strategies. Usually, you can work with agencies by yielding full responsibility for your performance marketing purposes. Those agencies are the connection with merchants and affiliates. Since you leave the responsibility to the agency you can trust, you do not need to spend any other resources.
Affiliate Marketing
You may prefer conducting your business' performance marketing activities and making partnerships with affiliates. If you have a marketing specialist, they would determine the proper strategy because affiliate marketing can be done in different forms. For instance, while some publishers use magazines or review websites, some, such as influencers, may use their social media power. Learn more about what is affiliate marketing.
Pay Per X
In this performance marketing method, merchants define the needs of companies' strategies and, therefore, the marketing strategies. The "X" can be anything depending on the merchant's decisions, such as leads, clicks, sales, or other engagements.
Paid PM as a Marketing Strategy
The paid PM area has been growing each day since its influence became enormous. Brands and companies earn money and broaden their scope with paid PM, while affiliates and agencies win. Hence, it is an area in which everyone can win similarly. Since affiliate marketing is also a famous area, some people think it is similar to performance marketing. However, PM is an umbrella term that includes affiliate marketing and other performance-based strategies. It means that by learning and diving into that area, you can increase your influence on your target audience and earn more and more every day.
RECENT POSTS
Is Cro a Good Investment? 
A/B testing is something you've likely heard about before. Although it always seemed helpful, it was never truly necessary. But as the noises have bec...
If you found this article helpful, we are more than sure that you will also find these digital marketing trends helpful too.
Conclusion on PM
So far, we covered the basics of performance based marketing. We have also touched upon key concepts such as Optimization for KPIs, Cross-channel adaptability, and flexibility, focusing mainly on performance. Hopefully, this article was helpful for you in understanding performance marketing and performance marketing channels.