Advertising, in any format, continues to evolve. The latest trend is Bumper Ads, short videos reminiscent of Snapchat and Vine. These little clips may fit your strategies, but how can you create the best Bumper Ads?
This innovative form of advertising is a big challenge for creatives. Discover everything this resource can offer you and the secrets that will make you stand out.
What Are Bumper Ads?
A Bumper ad is a 6-second video advertisement that can't be skipped by the user. They are played during, before, or after the videos that the user wants to see on YouTube. They can also be on web pages and applications on the Display Network.
Today it is one of the most common YouTube ad formats. Many advertisers use it to make advertising "less annoying" for the audience.
It's also a service that can help you connect with your potential customers. If you use it correctly, you will increase the visibility of the brand on the market.
Why Should One Consider Using It?
The significant influence of Bumper Ads is that the YouTube user cannot ignore them. This does not happen with other ads on the platform, which can be closed after a few seconds. This ensures minimal attention from the viewer. It may take a few moments for the brand to stay in their mind.
The immediacy also plays in their favor. The user wants everything now and, if they don't understand it, they change and move on to something different. The attention extent is getting smaller, and for commercials, it's even less. For this purpose, the compact commercial format is perfect for spreading a message. The quicker it is, the more efficient the answer you can get.
Another of its pros is the short time it needs to create such an ad. It does not take a lot of sources, or time, to make a 6-second advertisement.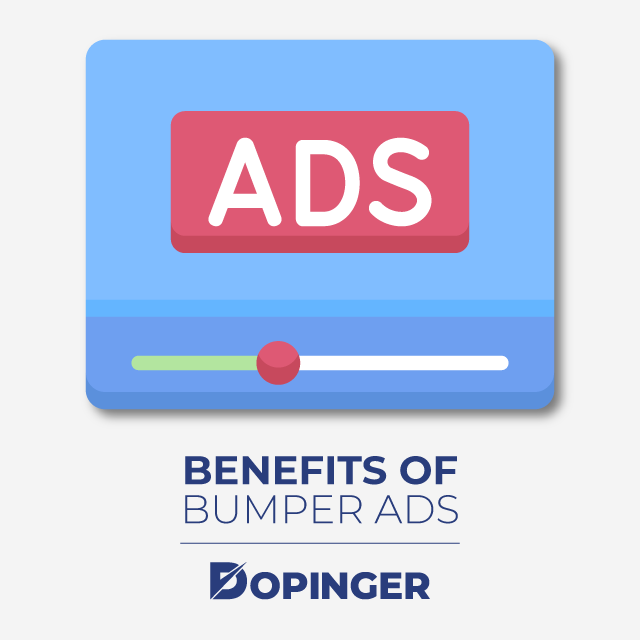 Benefits of Bumper Ads
Before you start learning how to create the best Bumper Ads, it's convenient to know what they can bring to your brand. Here are the main benefits of this form of advertising.
Possibility to reach millions of users. YouTube currently has over 2 billion users worldwide and is, after Facebook, the most used social network.
They are not irritating. Even though an ad is never well-received, its brevity doesn't make it irritating. If they are presented during a video, for instance, the interruption is minimum.
Minimum expense. They work by CPM bids; this indicates that you will pay every time the advertisement is posted more than a thousand times.
They improve the visibility of your brand. You can touch a large audience with minimal fiscal and labor investment. Your brand name and message will remain etched in the memory of thousands of users.
Harness the potential of Google Ads. These advertisements can be customized to be presented to a particular group of people. Amongst the segmentation possibilities, you can pick territory, age, gender, income, or interests.
Outstanding performance. This advertising format, as a common rule, regularly gives good results. The best data is usually obtained on mobile devices.
They can be integrated with other elements. Analyze the option of adding a 300 × 60 banner to promote your items and services.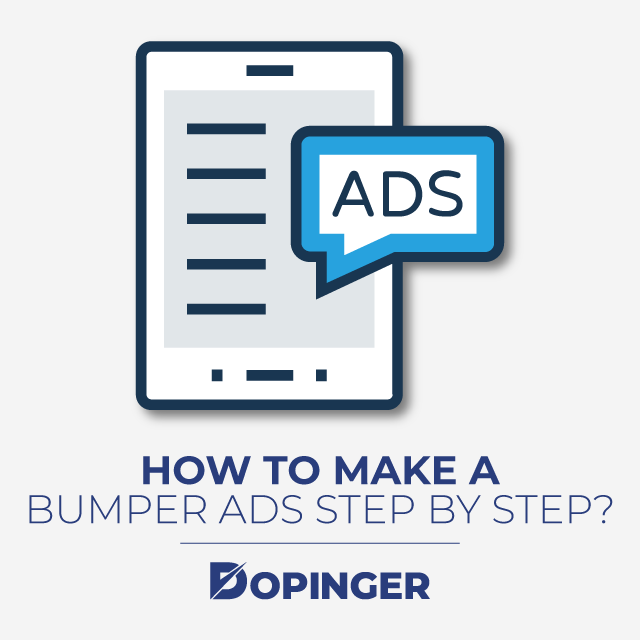 How to Make a Bumper Ad Step by Step
To create the best Bumper Ads, the key thing is to know how to manage them correctly. Follow a simple and intuitive process:
Log in to the Google Ads account that you usually use for your campaigns.
Click Campaigns in the Page menu, click the + button and select New campaign.
Choose the target area.
Select the video campaign mode.
Choose the Bumper.
Write the title you want to give to the new campaign.
Set your budget. Select the networks you want to show up in, the locations you want to target, the language of prospects, and any other advanced settings.
Enter the name for the ad group.
Enter your target CPM bid.
In "Create your video ad," enter the URL of your YouTube video and follow the steps to create the ad. Remember that the video length must be at least 6 seconds.
In the video ad format, you must select the "Ad" option.
Enter the final URL of the video, the visible URL, and all the URL options.
You can select whether you want to automatically generate the Video Clip banner or upload an image. The first option is better.
Enter the name of the ad and finish by clicking Save and continue.
Tips for Building the Best Bumper Ads
Now that you understand what Bumper Ads are and how you can produce them, you'll be excited to start. It's the ideal way to immerse yourself in YouTube advertising or level up in an already successful campaign. Creating the best Bumper Ads will put you one step ahead of your competitors. Take notes of the following nine steps to follow:
1- Present Your Product Quickly and Clearly
If you try to give too much in a short time, you could end up confusing viewers. According to a Google research, the best method to create the best Bumper Ads is to present a product for just 6 seconds.
2- Focus on One Goal
With such limited time to communicate, you have to restrict yourself to convey a concept in the best achievable way. Promote the product, provide visibility to your brand, emphasize a particular function of the article – the options are different. Once you have concluded what you want to communicate well, limit your creativity to what you need.
3- Don't Forget That It Is a Special Format
Don't consider Bumper Ads as a continuation of other campaigns you've run. These short videos require your planning. They mustn't be simply a collection of plans for a larger ad.
4- Keep Them in Mind for Remarketing
If you believe retargeting is just a way to recover an abandoned cart, you are underestimating this strategy. This format is ideal for bringing your brand back in front of viewers who have interacted with you.
You can contact people who have visited your website or those who are on your mailing list. You can also use it with viewers watching and commenting on videos on your YouTube channel.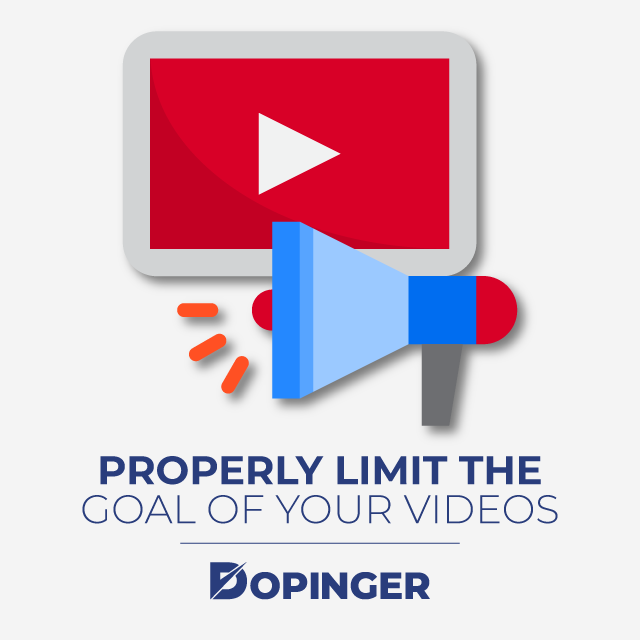 5- Properly Limit the Goal of Your Videos
One of the solutions to creating the best Bumper Ads is acknowledging what your goal is. You can be guided by two essential parameters to determine your goals: location and interests.
Just as you wouldn't do any campaign without careful guidance, take your time here too. Keep in mind that you'll need to make changes once you have a better idea of ​​what works.
6- Consider Using Bumper Ads in Conjunction With TrueView Ads
They are YouTube advertisements that can be jumped and that the user can see if they are interested in the firm. The advertiser solely pays for the advertisements that people want to see.
Running alike campaigns for TrueView and Bumper ads allows you to extend your brand reach and reduce your advertising investment. The combination of the two formats can significantly improve the metrics of the conversion funnel.
7- Try to Be Creative and Original
If you want to produce the best Bumper Ads, you must brainstorm. Create a simple but highly engaging message. It must be an idea that has a great impact on the viewer when they see the ad. The surprising advertisements are the ones that strike the most. Play with ingredients that can draw attention, such as color and music.
8- Better an Ad Group
This kind of advertising can be a forceful push to strengthen something bigger. Plan ad series that rotate around the same concept as if they were puzzle pieces.
RECENT POSTS
Is Cro a Good Investment? 
A/B testing is something you've likely heard about before. Although it always seemed helpful, it was never truly necessary. But as the noises have bec...
Building in series will likewise allow you to think of various ways to make an impression. You can use varied ads to narrate a story or merge them with other compositions, such as display ads.
9- Don't Forget to Respect the Technical Recommendations
This type of video requires different specifications for its correct reproduction. It is a format designed for mobile phones, so the recommended resolution ranges from 640 x 360 px to 480 x 360 px.
Size is also important, and the recommended maximum, in this case, is 1GB. Remember that it must be compatible with the common browsers.
Digital video advertising is a powerful tool for creating an emotional connection with potential customers. You will be able to reach your consumers through emotions.
Final Thoughts
Blending Bumper ads into your current funded ad campaign allows a variety of benefits for growing awareness of your brand and sending traffic.
Those ads are extremely affordable, customizable, and make the most of the ever-shortening concentration spans of online customers. Plus, YouTube's superior targeting opportunities allow you to show advertisements to distinct audiences types, rather than misusing money showing ads to the millions of YouTube viewers. Matching Bumper ads with TrueView or retargeting ads can enhance their efficiency as well.