The use of video in email marketing is still among the most popular business strategies. This article will attempt to provide an overview of its main components.
First of all, let's start with a few reminders about video in email marketing. Simply put, this term comprises the efforts made to render emails more 'alive' and thus to increase the number of subscribers. This type of email typically includes an animated GIF, a static image with a play button leading to a video link, an HTML5 video, etc., or even several types of material at the same time. No doubt that the video mail concept is a smart choice when it comes to enhancing the attractiveness of your posts. Let's take a closer look at its advantages.
Benefits of Video in Email Marketing
Using video in email is definitely a good idea, especially for marketing purposes. Several reasons can be listed:
Positive Impact on Conversion and Click-Through Rates
Indeed, some statistical sources estimate that embedding a video in your emails can increase your click-through rate by up to 300%. This would give you a big advantage over your competitors who don't make use of animated material. The same goes for conversion rate, and this is quite understandable: recipients will retain about 95% of the information gathered from video content versus only around 10% with text-only content. This is due to the processing speed of the brain, which is 60,000 faster for visuals compared to text. But before becoming memorable, you may want to ensure that your recipient simply opens the email! Message titles directly indicating the word 'video' will also increase your open rate.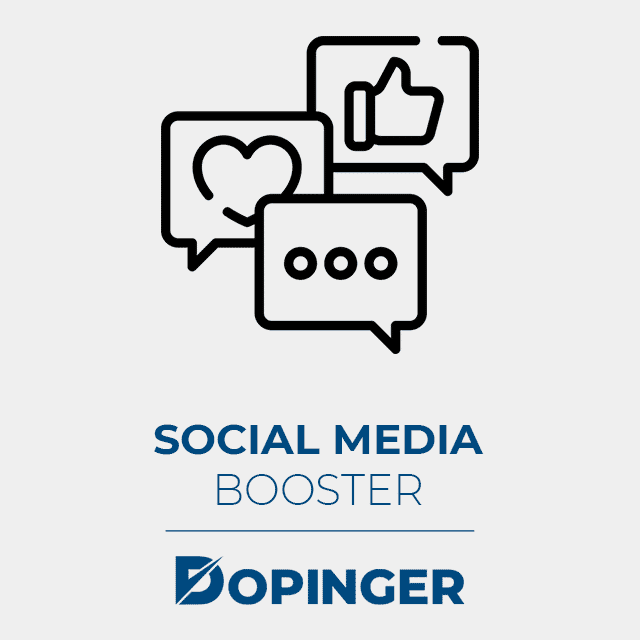 It Acts Like a Social Media Booster
Yes, it is a fact. Your social media presence is likely to become stronger thanks to video email. People who are watching a video included in your email campaigns may become your new promoters by sharing your content on other channels and networks. This can attract brand new audiences to you. Consequently, this can also contribute to growing your email marketing lists.
Provides Tailored Content to Your Audience
For example, think about a blog post to which you would like to draw more attention. How about including its main messages within a video and thus grabbing the opportunity to share content in a much more entertaining way? Your subscriber may be a slow reader, but (s)he may probably want to spare some time to watch animated visuals and all the more if the video thumbnail is appealing. Indeed, don't forget that the latter is like a book cover and so you should design it with particular care.
First impressions matter! Keep in mind that you don't have to sacrifice your other content supports for all that. For example, you can make your videos more interactive by adding calls-to-action in them. This would allow you to redirect your audience to your original blog post's link or to a photo gallery, among others. The most important is to prove to your audience that any of your content is valuable enough to be consumed. Incorporating video in your emails can serve as a first step when you aim at earning long-term trust and loyalty from your recipients.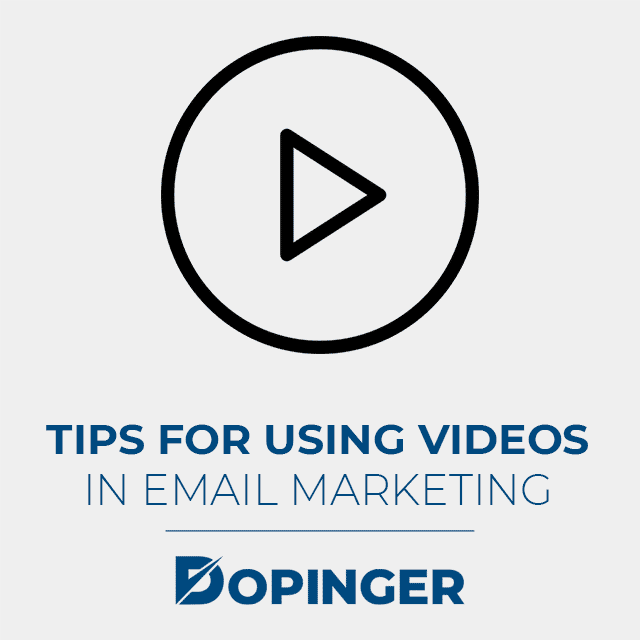 Tips For Using Videos in Email Marketing
Use your videos as proofs: If you are looking for something to make your arguments even more convincing in the eyes of your leads, then video content can be your best bet. Try to film and collect testimonials from your current customers who are satisfied with your products and services. You can then integrate that footage into your email marketing process. Watching positive experience stories can motivate your recipients about using what you are offering.
Don't abuse embeddings: In the previous paragraphs, we have briefly mentioned video embedding. Caution, though: it may not always be an optimal idea. Many email clients (including the major ones, such as Yahoo or Gmail) don't support this functionality, at least not for all types of video content. Even short videos may not be a solution because of the large file size. Instead, use a video thumbnail as a link to redirect to a video on your website, YouTube or Vimeo.
Use your videos as a bridge towards landing pages: The integration of video in email marketing serves several purposes. One of them is to highlight your other creations as well. In other terms, videos should also serve as means to bring the audience's focus on specific content or message. If you want to learn more about landing pages, visit our article.
Time needed: 1 hour.
Here is what you can do:
Awaken curiosity with calls-to-action.

First, try to create a more casual ambiance or simply surprise. As said previously, you can, for example, use calls-to-action in your video email (such as 'learn more' buttons). 

Redirect to your landing pages.

By clicking on call buttons, your recipients will be led to your landing pages which may contain your latest collection, your major products, or discount codes, to name only a few. They can also be used to draw attention to more serious topics (e.g. a blog post about an ecological issue).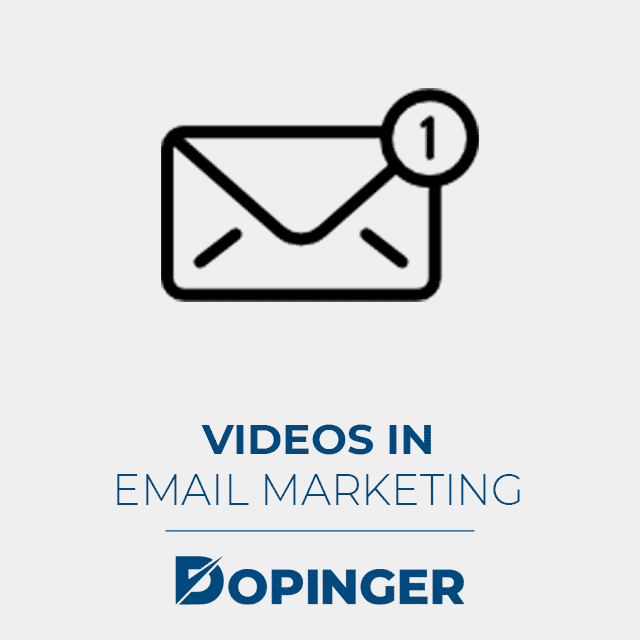 FAQs About Video in Email Marketing
Can I add Instagram videos to my emails?
This will depend on your email client. You may use intermediary platforms like Playable and configure your email account accordingly. 
Can video mails be useful for boosting my SEO?
Yes, they can. Factors such as time spent on the page or reduced bounce rates are extremely important in SEO strategy. Video contents are helpful in that regard. 
How long should my videos be?
There is no predefined answer here. A video in email marketing can have different lengths varying between seconds and minutes. This will depend on the message that you are trying to convey, your targeted audience, your sector, and many other parameters. Either way, the most important here is to design videos in which you avoid redundancies. So regardless of the length, what you should do is to keep your audience captivated from the beginning to the end. 
With which age range is video email likely to be most successful?
Even though it may sound vague, the answer will depend on your abilities. If you manage to identify the areas of interest for different groups properly, then you can succeed with almost any age range. 
Speaking of frequently asked questions: can I make FAQs videos and use them in email marketing?
Yes, you can. This method may even add much more clarity to your FAQs and answers. You can even use it as an anticipating and empathetic tool. 
Summary of Video in Email Marketing
We have briefly reviewed some of the facets of video in email marketing. As you have probably noticed, it is a whole methodology in itself, offering attractive opportunities for digital marketing campaigns. By keeping in mind the old saying according to which 'the customer is always right', designing video emails tailored to your audience's needs is the top priority. Making your content intuitive and easy to access is another important aspect. All in all, as long as you pay attention to these basics, the sky is the limit for your creativity.
We think that you may also be interested in
Robots.txt Sitemaps
which is our previous post about
SEO
.