Hyperlink, that is, the connection exists between multimedia tools. If you want to rank high in the search engine, you should make a hyperlink for your pages. With HTML, you can generate a certain amount of traffic even if your site is small and new. Because users are always prevented from being directed to the same sites, resulting in different results.
Thanks to the clickable link, regional clicks also increased. For example, the site of a particular city or region may appear in front of users. Because you can assign a hyperlink to any file, site, or any text or image within the site. Moreover, it is very easy to create. If you click the search button after typing any URL, you can create a hyperlink through Word. So, how to make a link?
What Is a Hyperlink?
A hyperlink, often simply called a "link", is a reference in a document or webpage that can be clicked to navigate to another document, page, or resource. Hyperlinks are a fundamental feature of the World Wide Web, allowing users to jump from one page or resource to another, typically by clicking on a highlighted word, phrase, or image.
Hyperlinks can navigate to:
Web pages
Specific sections of web pages
Files
Email addresses
Telephone numbers
Social Media Profiles or Shares
Streaming Content
Steps to Make a Hyperlink
Creating a hyperlink is pretty easy. All you have to do is choose which text, word, or image to hyperlink to. Although there are many ways to make hyperlinks, it is easy to follow the steps and add web pages and different media types.
Steps to Add Hyperlinks on WordPress
You need to follow a few steps to add hyperlinks on WordPress.
Steps to create are as follows;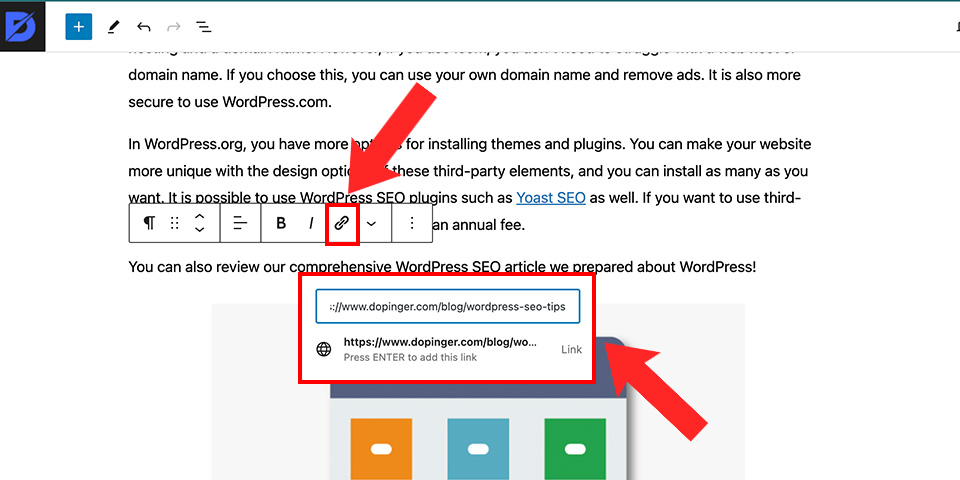 Right-click on the word or picture you want to assign a hyperlink to.
Select the hyperlink option from the shortcut menu (or CTRL+K/ command+K).
Paste the link and enter it.
If you want, click on it again and click the "edit" button. You can edit the link to open it in the new tab or highlight it as a sponsored link.
You can also have hyperlinks automatically prepared. If automatic formatting is turned on, Word continues to make hyperlinks for you. By following these steps, you can find an answer to the question of how to make a clickable link.
If you want to change the screen tip, you can click on the "screen tip" option. You can then change the screen tip that appears on your pointer's hyperlink by entering text. All these are the most important features of clickable links.
Adding a Hyperlink to Document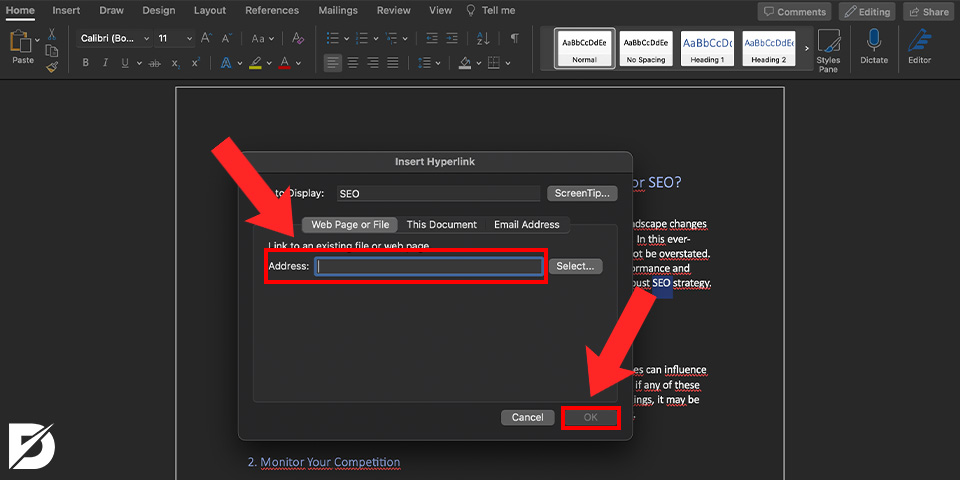 You can also find an answer to the question of How to make a clickable link through the documentation. Start this by marking the link targets in the Word file. Click on the bookmark tab for this. You can then add a hyperlink to a current or different document.
Adding a Hyperlink with HTML
In HTML, hyperlinks are created using the anchor element, with the target URL or destination specified in the href attribute. For example, < a href="https://www.example.com" > Visit Example.com < / a > creates a clickable link to "www.example.com". The link's visible text is placed between the opening < a > and closing < / a > tags. Hyperlinks can lead to various destinations, such as web pages, email addresses, files, or specific sections on the same page. Attributes like target="_blank" can modify the link's behavior, such as opening the destination in a new browser tab.
Hyperlink Briefly
A hyperlink is one of the situations that people may prefer to stand out in search engines and complete SEO. What hyperlink is, how to use it, and what to pay attention to are mentioned in the article. In conclusion, creating a hyperlink is vital for ranking higher on search engine results and bringing more traffic to your website. HTML allows you to reach different audiences all over the world, no matter the size of your site.