As we all know, Instagram is the top social media platform today. Create, share, reach, and follow. At this point, targeting specific groups of people on Instagram through Facebook ads is a powerful way for your company to expand its Instagram presence. So, the question is, "How am I going to achieve it?" You've come to the right place! We will provide everything about Facebook ads on Instagram. In today's guide, we will examine all the steps that help you boost the number of followers on Instagram using Facebook ads.
First, we will introduce you to creating your custom audience and how to set up a new Facebook ads campaign. Second, we will also briefly mention how to select your campaign budget and schedule. Third, we will discuss creating Lookalike Audiences based on your target Instagram audience. Then, you should decide on the placements of your ads, whether to use automatic or manual placements. After determining the ad format, you will be ready to run your Facebook ads on Instagram.
Of course, if you have an ad campaign, you would like to see whether it works. At the end of the guide, you will also see how to achieve it. Before diving into our topic, we would like to briefly talk about some of the key benefits of gaining Instagram followers in this digital age. Let's get started!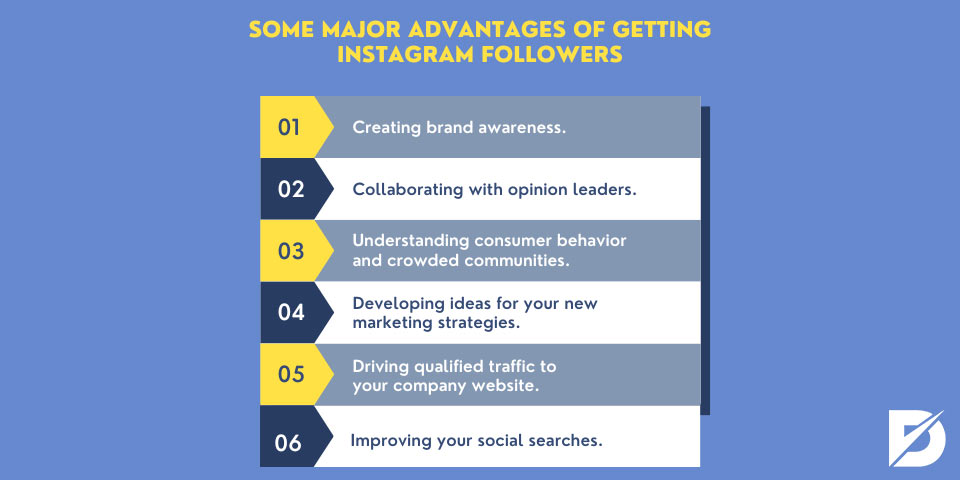 Some Major Advantages of Getting Instagram Followers
As we guess, there are dozens of benefits of getting real followers on Instagram for our business and marketing objectives. Some of these benefits can be listed as follows:
Creating brand awareness.
Collaborating with opinion leaders.
Understanding consumer behavior and crowded communities.
Developing ideas for your new marketing strategies.
Driving qualified traffic to your company website.
Improving your social searches.
Starting a conversation with your target audience.
Improving the reputation and image of the brand.
Increasing your product or service sales.
Achieving your marketing objectives.
Introducing your new product or services.
Check the Instagram marketing blog for more information!
Facebook Ads On Instagram
If you already run an ad campaign on Facebook, Instagram ads for followers are easier. All you need for this is a Facebook Business Page, a Facebook Business Manager account, and an Instagram account. However, if you still need an Instagram account, you can easily use your business Facebook page name and profile picture to create an Instagram account. If you have these three prerequisites, there is only one thing left; Connect your Facebook page to your Facebook Business Manager and Instagram accounts. In order to do this: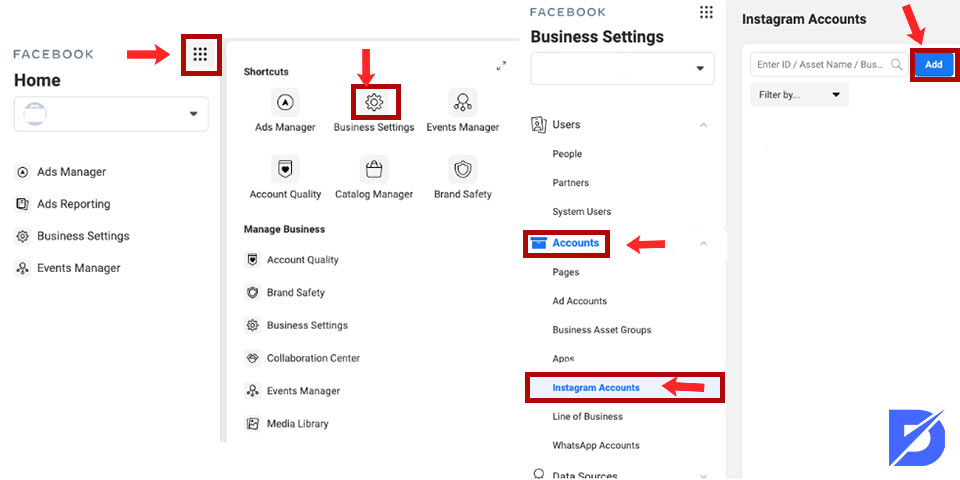 Go to the Business Manager page.
Click on the Business Settings from the left-hand side of your screen.
Select Instagram Accounts.
Click on the blue +Add button.
Type your Instagram login information, like your account name and password. Here, if you have more than one ad account in Business Manager, you should choose one(s) you would like to connect with on your Instagram.
After you've connected your Instagram and Facebook, let's examine the steps to increase the number of followers with Facebook ads!
Steps to Boost Instagram Followers Through Facebook Advertising
Before examining the methods that help you increase your Instagram followers through Facebook advertising, it is essential to grasp a crucial concept: To acquire followers using Facebook ads, you need to have the appropriate campaign structure and sufficient information. You may wonder, "Why?" It's essential to keep in mind that while our article focuses explicitly on obtaining real Instagram followers through Facebook Ads, it may not be the optimal approach for your business strategy. Gaining more Instagram followers and Facebook page followers can provide many advantages, but if your objectives differ, this strategy may not be suitable for you. If you're trying to reach more sales and clicks or increase specific conversation rates, increasing your followers with a Facebook Ads campaign may not help you achieve your actual goals.
Of course, several prerequisites exist for getting Instagram followers with Facebook ads. First, you need to have an active ad account on Facebook and Business Manager Account. Second, you need to create an Instagram Business profile and a Facebook page.
Create Your Custom Audience
Targeting the correct type of users is essential to success in your Facebook ads on Instagram. So, here are the basic steps you can follow to create your customer audience.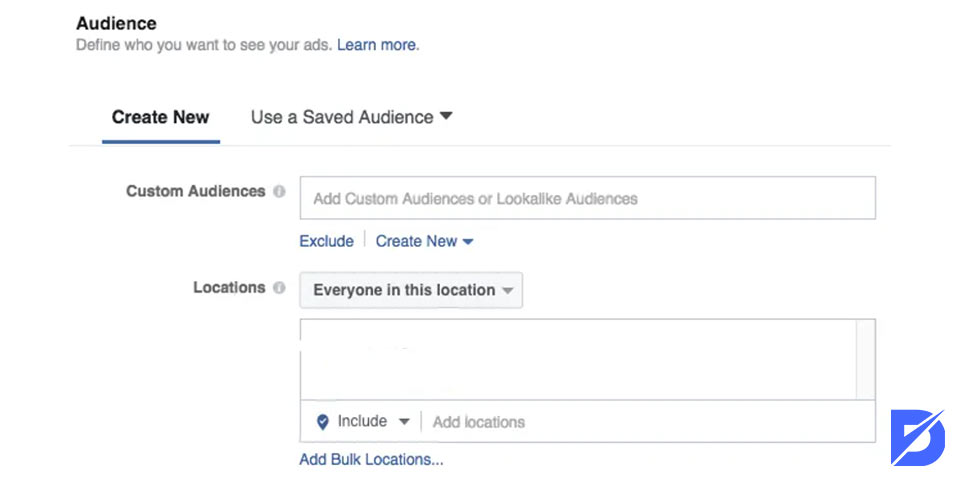 Go to the Facebook Ad Manager and select the 'Audiences' tab.
Click on the blue 'Create Audience' button on the Audiences screen and click on the 'Custom Audience' from the dropdown menu.
Click on the "Engagement" option from the list, and select Instagram Business profile, allowing you to include individuals who have previously shown an interest in your Instagram profile or the posts you have shared.
After these steps, Facebook provides several options to target your Instagram audience. These are: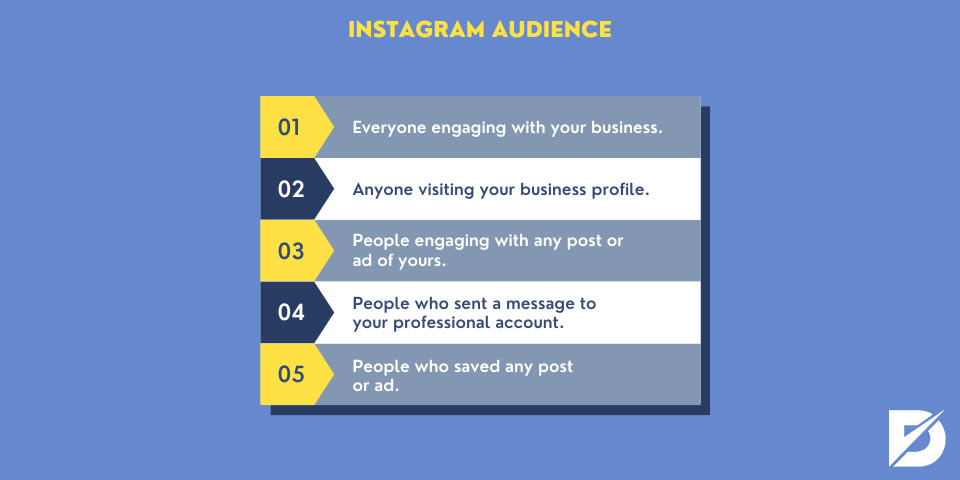 Everyone engaging with your business.
Anyone visiting your business profile.
People engaging with any post or ad of yours.
People who sent a message to your professional account.
People who saved any post or ad.
Tip: If your business profile does not have a large number of followers, it's better to select the "Anyone who visited your business profile" option from the dropdown; it will increase the number of people you can reach.
Once you have determined the groups to include in your target audience, it is necessary to specify a time frame for the selection. The maximum time frame that can be selected is 365 days. However, the important note here is that Instagram only began to collect data in June 2017, so even if a 365-day window is selected, data for Instagram engagement is available from Jun 2017.
After you have selected the time frame, all you have to do is to type a memorable Audience Name of up to 50 characters. You can use two more advanced options on this screen: 'Inlude More' and 'Exclude.'
Let's take a look at the 'Include More' part first.
Choosing this option will allow you to expand your audience beyond those who have performed a single specific action. This means that, for instance, you can include individuals, anyone who visited your business profile within the past 45 days, or those who have sent a message to your profile within the last 60 days. 'Include More' also allows you to add a second Instagram account. It means that if you have more than one Instagram business account, this option enables you to merge them into one comprehensive Facebook Custom Audience and target both accounts' audiences within the same advertisement set.
Now, let's examine the 'Exclude' option.
This option is an ideal one if you wish to display your ads only to a specific group of your Instagram followers who have taken a particular action but not others. For instance, you may want to show ads to those who have visited your business profile but haven't sent a message to your account. So it will be easier to reach your target audience.
After these steps, click the blue "Create Audience" button.
Set Up a New Facebook Ads Campaign
Now, it's time to create your Facebook ads campaign. First, go to Ads Manager and click on the blue 'Create New Campaign' button. On this screen, you will see the "What's your marketing objective?" part. Depending on your marketing objective for your ad campaign, choose one of them.
Here are the objectives you can select among: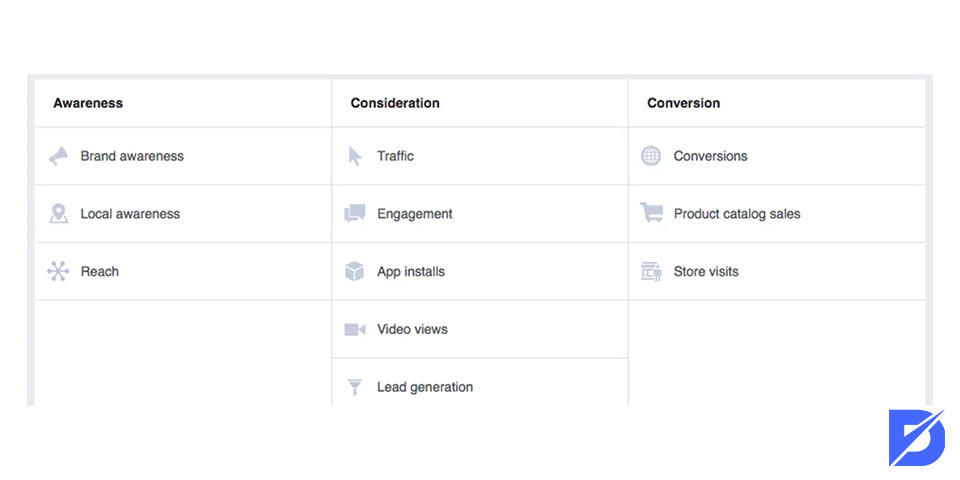 Brand awareness: This helps you to introduce your brand or products and services to the target audience. This objective is specifically designed to gain views from individuals within your desired demographic or niche.
Reach: Targets your advertisement to individuals within a specific geographic location.
Engagement: Increases the visibility of your posts to a larger audience.
Traffic: Directs users to visit your website or app store.
Conversions: Encourages users to take action on your website, such as making a purchase or a phone call.
App Installs: Encourages target audience for the installation of your mobile application.
Video Views: Increases views on videos posted on your Instagram account. Typically, videos that range between 10 seconds and 2 minutes perform the best.
Lead Generation: Helps to gather new leads and contact information for potential customers.
Here, we can recommend that you click Traffic as your campaign objective. This campaign aims to drive targeted new followers to your Instagram account.
Select Your Campaign Budget and Schedule
On the next screen, you should enable Campaign Budget Optimization; This budget determines the amount that will be spent on displaying advertisements from your ad set during the specified duration. In other words, it is the budget that shows how much you want to spend on the ads on a daily basis. Here, you may wonder, "How much budget should I allocate to my campaign?" Well, it is better to start your campaign with a small amount.
Build Lookalike Audiences Based on Your Target Instagram Audiences
Once you've completed the three steps, first, you should define who you want to see your ads. This step is also very critical to attract the right type of people's attention. In the audience section, adjust the location settings to specify where the ads should be displayed. What geographic location are your customers primarily in? Are they mainly located within the US or UK? Or are you looking to reach a worldwide audience? As you may guess, the answers depend on your business's specific needs and goals; You can target a broad or narrow range.
After you've identified the location decision, it is time to identify other demographic characteristics, like age, gender, and language.
Age as a factor in your Facebook ad targeting can be used in an effective way. This setting can be particularly relevant, as what appeals to one age group may not appeal to another. That's why it is important to consider the specific age range that aligns with the content and audience of your Instagram channel.
If your channel is geared towards a female demographic, including males in your target audience is not logical. Therefore, it is important to consider this point.
You can also aim your advertising efforts at individuals who speak a specific language. For example, if you operate an Instagram account that primarily uses Deutsch, you can target your Facebook ads to people who are fluent in that language.
Tip: Narrowing the audience too much may have a negative effect on the performance of your ads.
RECENT POSTS
Facebook Pixel: Step-by-Step Guide
The Facebook Pixel is a bit of code that you can put into a website in order to monitor user behavior. And also collect data for marketing purposes. T...
Once you've entered the demographic information of your target audience, you can see the "Potential Reach" part on the right-hand side of your screen. It will show the number of people you can reach with the age, gender, and language groups you have already determined.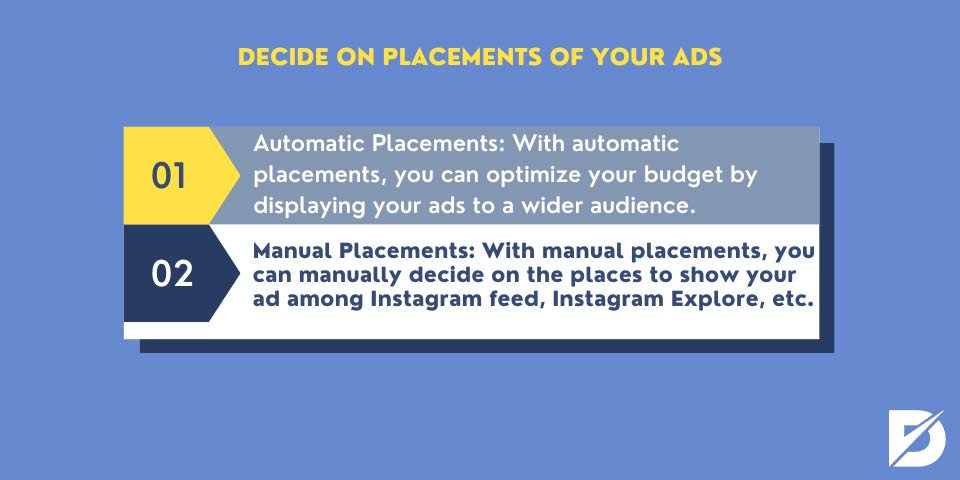 Decide on Placements of Your Ads
Placements refer to the places where the ad will be shown, such as the Facebook News Feed, the right-hand column of Facebook, as well as the Instagram Feed, Explore, or Stories. On this screen, you see two options: Automatic placements and manual.
Automatic Placements: With automatic placements, you can optimize your budget by displaying your ads to a wider audience. The system will automatically allocate your ad budget across various placements, depending on where they will likely perform best.
Manual Placements: With manual placements, you can manually decide on the places to show your ad among Instagram feed, Instagram Explore, etc.
Tip: Remember, the more placements you choose, the more opportunities you'll have to attract your audience's attention and successfully achieve your business goals.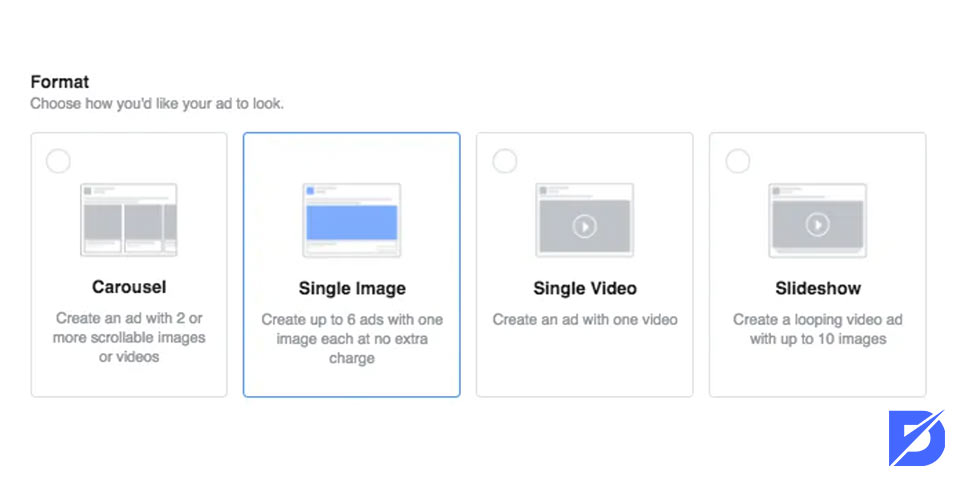 Choose Your Advertisement Format
Well, one last step to run perfect Facebook ads on Instagram! Next, you need to choose how you would like your ad to look. At this point, you have four different options. Let's quickly take a look at them!
Carousel: The format type allows you to create an ad with two or more scrollable images or videos.
Single Image: the format type allows you to create six ads within only one image; there is no extra charge for each.
Single Video: the format type allows you to create an ad with one video.
Slideshow: the format type allows you to create a looping video ad; you can use up to 10 images in this format.
Note that when it comes to image size, Facebook suggests using a 1200 x 628 pixels image with minimal text overlaid on it.
Tip: Uploading static image ads help you reach 90% or more of your target audience compared to other types of advertisement formats.
Congratulations! Once you've chosen the format, it is time to upload ads, photos, or videos. It's time to increase the number of followers on Instagram.
How To Measure Your Facebook Ads and Optimize Performance
Once you have learned how to initiate Facebook advertisements to increase your Instagram followers, let's take a look at how you can evaluate the performance and apply data-driven adjustments. Here are some points you can examine to measure and optimize your campaign performance.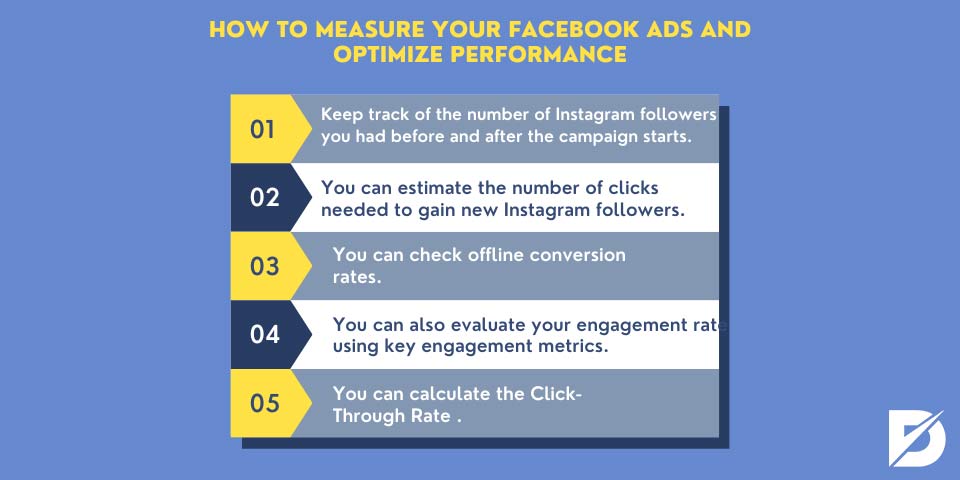 Keep track of the number of Instagram followers you had before and after the campaign starts.
You can estimate the number of clicks needed to gain new Instagram followers and use this information to determine an approximate conversion rate; this will also help you allocate your budget effectively.
Facebook Insights can be used to measure your total reach and impressions of your ad campaign.
You can check offline conversion rates like "when customers make purchases at your brick-and-mortar store after they have viewed or engaged with your ads on Facebook."
You can also evaluate your engagement rate using key engagement metrics, such as the number of likes, comments, and shares you get.
You can calculate the Click-Through Rate (CTR), which refers to the ratio of how many users clicked your ad to the number of times users viewed your ad. For instance, if 10,000 users saw your ad on the platform and 1,000 people clicked on the ad, you can easily calculate CTR by dividing 1,000 by 10,000, which equals 0,10.
How to Increase Real Instagram Followers
Of course, there are a lot of ways to gain new and real Instagram followers. Here, the thing you should care about is that the fake followers you get bring nothing to the table. Therefore, your priority is to gain real followers with your efforts. Here are some tips to organically increase your followers on Instagram.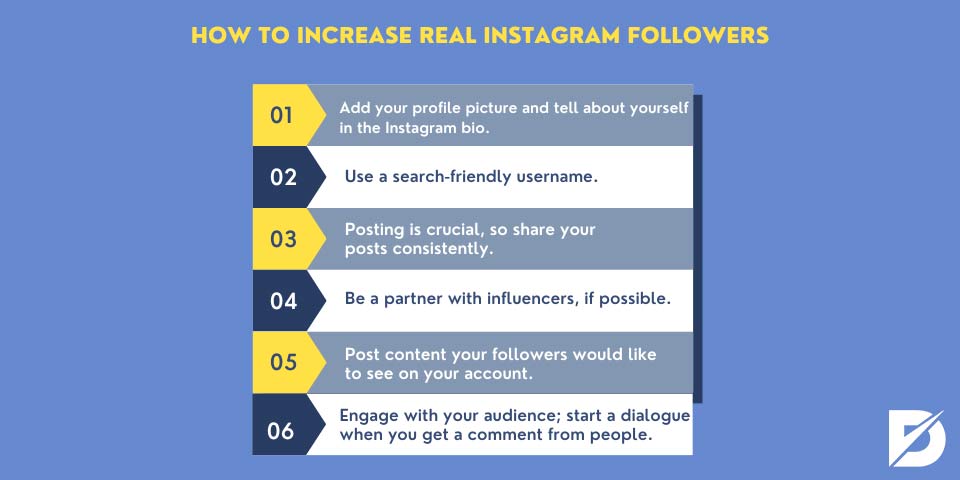 Add your profile picture and tell about yourself in the Instagram bio.
Use a search-friendly username; Your username should be easy to type, easy to pronounce, memorable, and unique.
Posting is crucial, so share your posts consistently.
Be a partner with influencers, if possible.
Post content your followers would like to see on your account.
Do not try to increase your number of fake followers.
Engage with your audience; start a dialogue when you get a comment from a person.
Use relevant hashtags where your target and potential followers hang out.
Buy Instagram ads to grow your account.
The suggestions listed can assist in creating a base for a natural following that actively interacts with you. By implementing these strategies, it becomes easier to grow your Instagram family. Don't forget to check Facebook advertising strategies to help you with your Instagram strategies.
Conclusion
Instagram is now an indispensable part of our life, making it also important for businesses. So, as a business owner, you can achieve a lot of things, from creating your brand or product/service awareness and creating unique ideas for your new marketing strategies to starting a conversation with your target audience and achieving your marketing objectives. In today's guide, we would like to show you how to create Facebook ads for Instagram followers. It is so important to understand. Now, you will be able to reach and target a new audience and also increase your business engagement with Facebook ads on Instagram. After you run your campaign on Instagram, you can also measure and optimize your ad performance based on its results. Don't forget that the only method to understand what will be most effective for you is to try different options and observe the results.