If you do not want to waste your time with unnecessary backlinks, you can use the GSA Search Engine Ranker to get top results. GSA Search Engine Ranker is a fully automated backlink building software. The most crucial ranking factor is how many unique domains you point to. You can build backlinks from many unique domains. If you are building backlinks, you do not want to get backlinks from the same websites all the time. You want to get backlinks from a wide variety of unique domains. Do you want to learn about what GSA Search Engine Ranker software offers? It is a large platform of a wide variety of platforms from which it generates backlinks. In our article below, we will guide you through how GSA Search Engine Ranker works.
What GSA Search Engine Ranker Does
What GSA Search Engine Ranker does is that it scans the internet and drops your links in all the hot spots to get your website to the top of the search engine rankings. GSA Search Engine Ranker has the propel to smash the internet with links to blogs, trackbacks, guest books, forums, directories, wiki sites, image sites, article directories, social bookmarks, and many new platforms. You can even remove links which is a great feature to help avoid future Google Algorithm updates.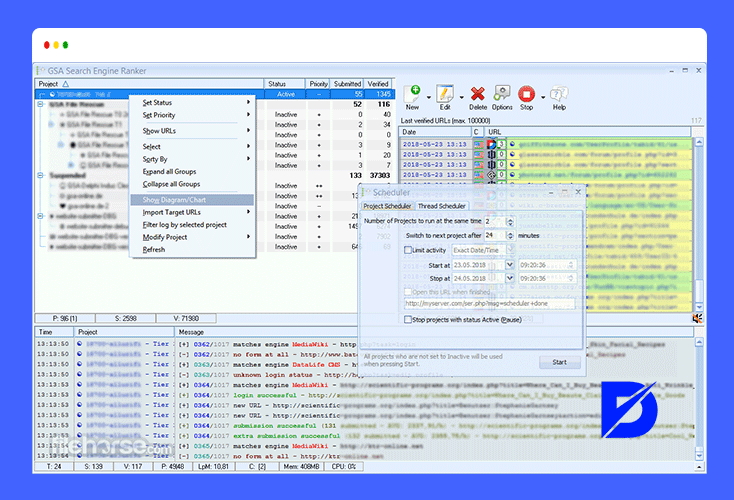 What You Can Do on GSA Search Engine Ranker
On your project pane, you will see a list of all your projects. Next to the project pane, you have a variety of tools to create new campaigns and editing options. Below these options, you will see a list of the last verified links that you built. The green link means there is DoFollow. The yellow link means there is NoFollow, and the grey link is a re-direct link. Below the project pane, you can see a box of all the different things that are running in the background.
What to Do With GSA
There are lots of pinging, and you can see the place you are submitting URLs.
Under the box, you can see various stats. You can see the current number of running threads, how many links you have submitted, how many links are verified, how many active proxies there are, and your number of submitted links per minute.
You can also view the number of captchas sent to captcha services and solved, the amount of memory it is using, and the usage of CPU.
If you hover your mouse over different parts, you will see various tooltips to explain different options to you if you have trouble.
By right-clicking on a project, you can change the status with various active and inactive options on the project pane.
If you want, you can list them by priority and view the URLs. Verified URLs are links that you have submitted and are live at present. They are guiding to your website or target URL. Whereas submitted URLs are not yet verified.
You can select more than one project if you need to make mass changes.
You can edit how it sorts the projects. It is possible to view the comprehensive diagram of links that you have submitted and is verified.
There is also an option to sort by engine types, blog comment, trackback, indexer, and the engines themselves.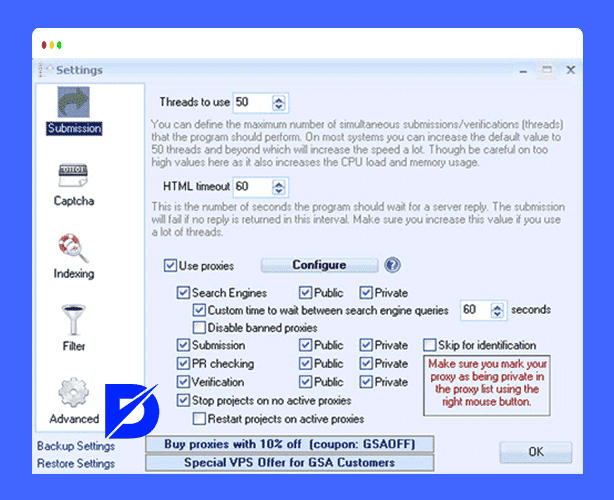 Advanced Options
After clicking on Options, a settings window will appear. Threads are usually fixed on 50. However, you can increase this if you have a more powerful computer and bandwidth to play with. You will need to use proxies. You have two options there. One of them is, you can use GSA Search Engine Ranker to pick public proxies from all different sorts of sites on automatic. You can arrange it by telling it to look for new proxies every hour on automatic when there are less than 100 active proxies. There are also the options to test proxies and delete bad proxies. Keep in mind that public proxies are not that safe, there is a higher risk of failing, and they are often slow. Private proxies are quite efficient, you may get a higher submission, and the performance may increase.
After you add your private or public proxies, you can select when to use them. You can also choose between your public and private ones. You will also need to arrange captcha solving services. GSA Search Engine Ranker supports a variety of captcha solving services. You can use something software-based, which is software that tries to solve captchas on automatic. You can try using GSA Captcha Breaker as your first and main service to help you avoid captcha expenses. After that, you can use a human-based solver service where any of those errors from captcha breaker transfer to these services, and a real human solves it.
Indexing
Indexing will inevitably locate every backlink it creates. If you want to, you can also merge with one of the many indexing services that GSA Search Engine Ranker supports. It is easy to integrate them all by checking the box and inserting the API key. The advanced option helps you create lists of sites that each project can use globally. For example, if you have two projects in there, each project will generate a list of identified sites it could post to, affected sites it already posted to, verified links that it could create, and the failed ones. After starting to use GSA Search Engine Ranker for a couple of months, you will have a massive database of submitted and verified links that you can easily use in other projects.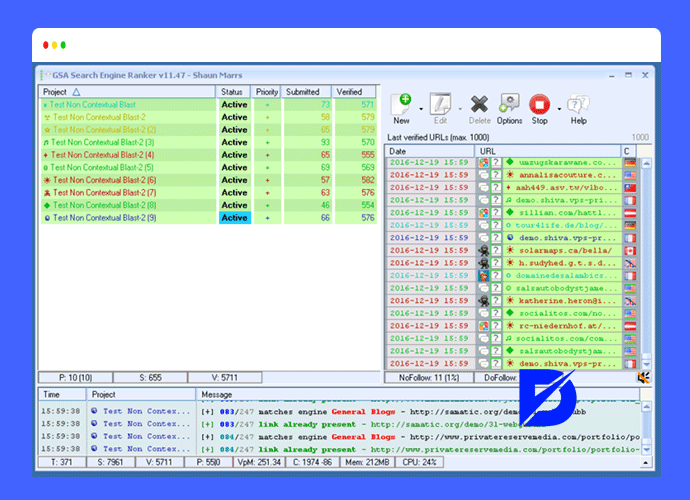 Creating a Project
In the beginning, you need to choose what sort of links you want to submit on the left side. If you hover your mouse on the options, you can see some more details. They are platforms used by lots of different websites and URLs. On the right, you can import numerous data and information, which updates according to what you have selected on the left. If you want to build a link for your business, you may tick "Article," "Social Network," and "Wiki." Then, you need to add the URL to your business site. In the keywords section, type in the keywords. GSA Search Engine Ranker will use them to find compatible sites to post your links on.
You will need to fill in the anchor text, partial match anchor text, and branding anchor text as well. By adjusting these, you will have control over making it look natural. In the About Yourself section, you can use default content or tools. Complete the description, forum comment, and website headers.
GSA Options
In options, you can decide to pause the project after it reaches a number of submissions or verifications. The GSA Search Engine Ranker examines all the different types of platforms and associates them with your keywords there to detect target sites to post to. It uses search engines as the source to do this. You can right-click on them and say check by country. Check the "always use keywords to find target sites." as it returns more appropriate and precise results.
The filter URLs options are essential specifically if you want to build links to your business site. You can select if you want to skip sites with more than a number of outgoing links on a single page. You can skip building sites if the PR is under a certain number or not. There is the option to skip unknown PR if you want to call the shots. If you decide to use PR of the actual page, you will receive far fewer results, so try using PR of the domain. Another good option to check is "skip sites where the following words appear" to avoid bad words.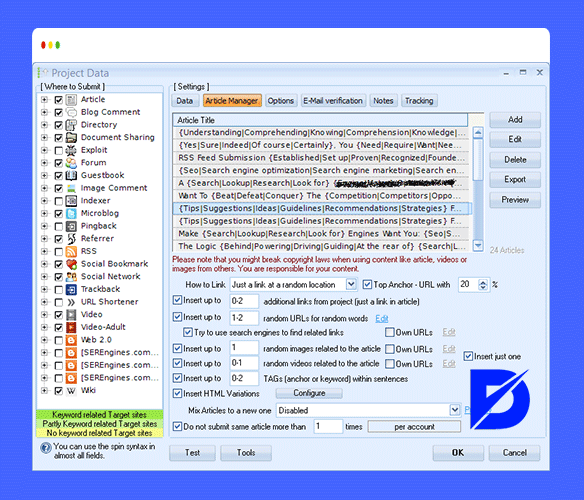 Article Manager
You can import articles to use for the submissions in Article Manager. When you are building links straight for your business site, it is essential that you create original high-quality content. It has very different options. After clicking on Add, you can add the title and the body. When you spin the articles, you need to add the links immediately, and then in GSA, you select "insert no link" to be able to have more control over them.
If you want, you can set up a tiered link too. If you would like to create a second-tier for your campaign, click "New." You can set it up like you are starting a new project. The only distinction is that you must check "Use verified URLs of another project." After you click on it, you will select the project. The new tiered campaign will build links to the verified links of the first campaign. You can add a third tier as well.
Click Add in Article Manager, and you will see the option to "Search Online + Mix." You can mix only paragraphs, paragraphs, and sentences, or only sentences. You can enter your search into them, and GSA Search Engine Ranker will go find them for you and come back with articles. To make it work, you need to adjust your spin config settings. It supports a number of different spinning software.
Do not forget to keep an eye on your CPU. If you see it is pinned below, you will need to go to the threads and change the number. Having a limited memory will need you to keep an eye on your memory too. If you are getting a lot of download errors, you may have a problem with your proxies, or you may be using too many threads.
Importing Target URLs
Import target URLs is a useful feature to have. You may have your own target list of URLs somewhere other than GSA Search Engine Ranker. If you want to import those URLs for submission, you can do so under Import Target URLs. You can import from either file or clipboard, also from site lists.
In your tier campaign, you can import links under Tools. It will be faster to create content using another tool. You can choose which fields you want it to fill as well. It is a quick way of setting up and generating content.
Shortly GSA
GSA Search Engine Ranker has developed a great deal through the years with updates, including book fixes, many major and minor features. GSA Search Engine Ranker can relate to a variety of link platforms and has a lot of advanced features like anchor text control. You can also use it by paying for it only once instead of paying for an expensive subscription every month.