You are not alone if you don't have a comprehensive content strategy in place. According to the Altimeter Group, a consulting firm based in San Mateo, Canada, 70% of marketers lack a consistent or integrated content strategy.
"Content" has lately been the digital marketing hype. Since brands realized with their first websites that they were given the power and means of production to get their messages and information out of the press or adverts.
Firstly, viewing content as a marketing communication tactic without a unifying strategy to create and deliver as demand grows is a recipe for missed opportunities, mixed news, high costs, and great risks for the brand. How a marketer plans content creation and delivery will ultimately determine its dissemination and success and further optimizations based on reader feedback and behavior.
So, here is a quick guide to creating a meaningful content marketing strategy. Based on technologies and structures that have made your customers successful.
Importance of Content Marketing
If you are asking what is content marketing, actually marketing content is – let's be honest – a one-sided "advertorial". With far less objectivity and value than the honest review of a customer, the unfiltered words of the press, or the published opinions of an industry analyst. The burden of designing and developing honest content rests on the content team, which has gained insights through careful research and experience.
So, you need to reveal what is important for the reader using the data from CRM records, historical weblogs, social media trends, analyst studies, etc. Dealing with numbers is just one step in better understanding the target audience. Secondly, there's no substitute for face-to-face meetings with customers or for that in-house who conduct customer meetings. So, sales teams, customer support, and field reps are great sources for getting deeper customer insights and reviewing data.
Monitor and Manage Content With a Strategy
According to a 2015 DemandGen study, 67% of B2B buyers said they would rely more on content for research purposes and B2B purchase decisions. As a result of the growing importance of content to a company – from meeting sales goals to telling the company's story – brands and companies produce enormous amounts of content. Many call this "content chaos". Chaos occurs when content is created within a company independently of one another by several departments and several teams, in several languages ​​and countries, with different agendas and target groups in mind. In fact, with content in so many different places, it becomes difficult to find the content, let alone manage it efficiently.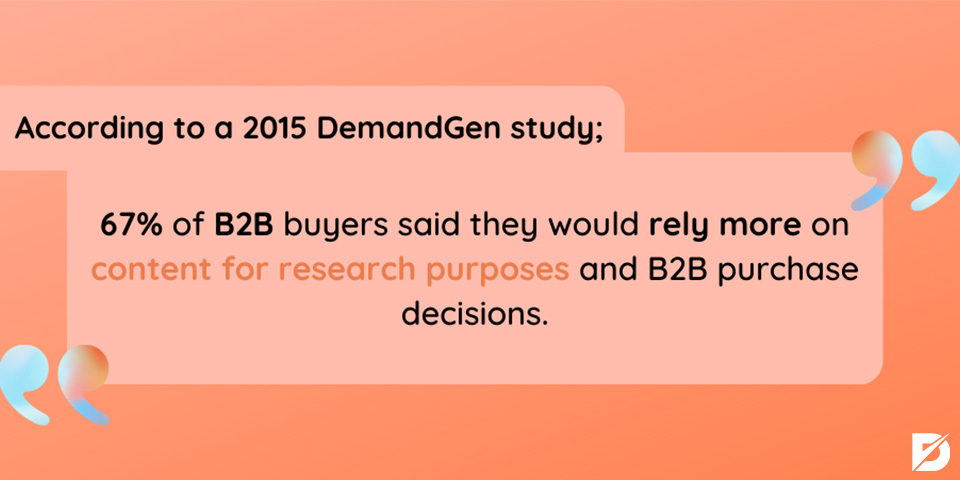 There is practically no major brand or company with just one website. Medium to large companies often have multiple websites under their control. To be honest, according to a study by Forrester Research in 2015, the typical business organization has more than 250 websites associated with its brands and products. Content is required for every website, every channel, and every touchpoint. From the homepage of the main brand and the individual brand or product pages to the provision of social networks and mobile apps. Content is also needed for sales outside of the company's website. Which makes it even more important for companies to have the right strategy and specific technical tools.
The Real Challenges of Monitoring and Managing
The real challenges do not lie in the maintenance of content over several websites but in updating and maintaining even the most mundane content, such as Terms and conditions, standard formulations, disclaimers, copyright information, etc. Without a content strategy to maintain all content across all websites and channels, updating each piece of content becomes a laborious, manual task with a high risk of human error. And a decimal node in the wrong place or antiquated legal text can be costly for a company in a tightly regulated industry such as pharmaceuticals or financial services. How does the digital team stipulate that content must be removed from all global websites within a certain period, meet the deadline without a process, and have the right tools? The most inconspicuous content element is often the one that can cause the biggest nightmares.
Develop a Content Strategy
When building a content strategy, all content authors and managers must be brought into line with a precisely defined process. The first leap in creating this process is deciding what you want from your content and setting goals to get you there. Are you trying to build customer loyalty? Do you want to generate sales? Are you explaining to an existing user about using your product? Are you presenting a client? Do you quote messages that interest your customers? So, knowing the purpose of your content will help you create the right content to achieve those goals.
Determine Who Does What
The key to thriving content production and management is identifying roles and workflow, especially when you need to scale. Who are your authors? Where does the information come from? Who has the final say on what's going live and when? What is the process of creating new content or updating existing content? So, determining who is responsible for what completely in the content production and distribution chain helps streamline the process.
Setting Standards and Best Practices
Firstly, defining processes and creating guidelines for audits and approvals across the company contribute to mutual understanding between the various content creators and keep content production moving at a constant pace. Governance (the monitoring and management of content) is critical to effective content management.
Find Out What Content You Have
Before spending your time and resources creating content, think about what may already be available. Conducting a content review is important. It can help you find existing content that can be recycled or redeployed rather than creating/recreating new ones. It also helps you understand your gaps in content and shows where to invest your time.
Build Your Content Marketing Technology Stack
When it comes to content discovery, automation, distribution, and aggregation, you and your team are not the only ones who count. A diversity of tools and technologies are available to optimize your process further, personalize your digital experience, and expand your reach.
Having a solid content strategy on hand is not nice; it is a necessity. Setting up the right content tools and technologies to support your overall strategy helps. It helps you distribute content and keep websites up to date, and reduces the risk of outdated and inaccurate content. Consumers are tech-savvy, and even the smallest mistake in a product description can come back like a boomerang. So, a successful content strategy should allow everyone to create and manage content within your company to understand each other. In conclusion, the right content plan and the right technology stack are the keys.
Content Distribution Strategy Models: Centralized or Decentralized
Creating and syndicating high-quality content has become a top marketing priority for businesses large and small in every industry. Marketers are continually working toward the right content balance. One that hits the right note provides the right information and involves the target group, everything that meets customer expectations. However, with too much focus on content production, the distribution of the finished content can often become secondary. Content doesn't make sense if your audience can't access it. A content distribution plan is nearly as important as content creation itself.
The aspects of content distribution include not only what content is available but also where it can and must be syndicated. Choosing the right content distribution model largely depends on a company's omnichannel presence. Do you have a primary global website that houses most of your company's content? Does this content have to be distributed to secondary websites? Do external websites also receive content from the primary site? Or do many secondary websites send content to other secondary sites on a peer-to-peer content exchange network? Most companies will fall into the following distribution models: centralized or decentralized.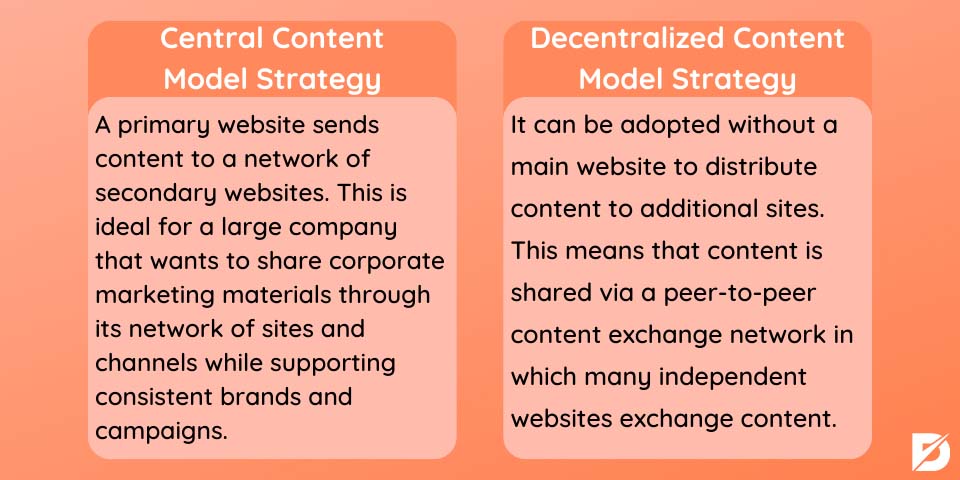 Central Content Model Strategy
A central content model is also known as a hub-and-spoke model. In this scenario, a primary website sends content to a network of secondary websites. This is ideal for a large company that wants to share corporate marketing materials through its network of sites and channels while supporting consistent brands and campaigns. A website acts as the anchor for distributing content to global websites, product websites, etc.
A perfect use example of the centralized model is the United Nations. The UN has a primary website and 160 country websites, each with its marketing team and specific content. If there is a new global action or important information that needs to be shared, such as new study results on malaria, a marketing officer at UN headquarters could distribute the information to all of their secondary websites in addition to being published on the primary UN website. This centralized scenario pushes the content from the primary website to the secondary pages.
However, sometimes the most interesting, relevant, or important content is on secondary web pages. It could be the case that a primary website imports content from a secondary website. So that precisely this content can be distributed to other secondary sites via further organization. The primary web page in these two examples is the center of the organization's content distribution model. A core content model.
Decentralized Content Model Strategy
A decentralized content model can be adopted without a main website to distribute content to additional sites. This means that content is shared via a peer-to-peer content exchange network in which many independent websites exchange content.
For example, a sports network can be composed of many different regional websites. If a Boston team is playing in Seattle, partner Boston could reuse the coverage of partner Seattle's game on their regional site. Collecting news and reports in real-time was usually stressful and email-bound. If you were the Seattle partners, you would have to ask if anyone on the network wanted updates on the game. And then email your coverage to interested parties if necessary. This process is cumbersome. Secondly, you'd have to check emails, keep the schedule in mind, rely on other partners for updated stories, provide updates for anyone interested, and copy and paste the content that needs to be shared. Today there are other ways to distribute and reuse content in a decentralized content model.
Choosing and implementing the right content distribution model is critical to success. Your content model will play a role in deciding what and when to distribute content to your websites and, more importantly, your customers. Content production is showing no signs of slowing down. The only way to streamline the process and work as efficiently as possible is to prioritize content distribution.
Mastering Content Strategy Challenges With Technology
Although the top priority for most businesses today, content strategy comes with many challenges. How Much Content Should You Produce? Are you oversaturating your target group with too much content, or are you leaving them with too little content? How do you create content that your target audience wants to read, see, or watch? And how do you deal with the target group's demand for up-to-date, fully personalized content delivered to them the moment they need it?
Fortunately, a whole world of marketing technology is designed to address these common content strategy challenges. The choice, implementation, and use of the right content tools can significantly support companies in countering and mastering content challenges. These solutions can streamline processes, provide information to make more efficient decisions and save time searching for content rather than creating it. Let's break it down into three of the most common content challenges businesses face today.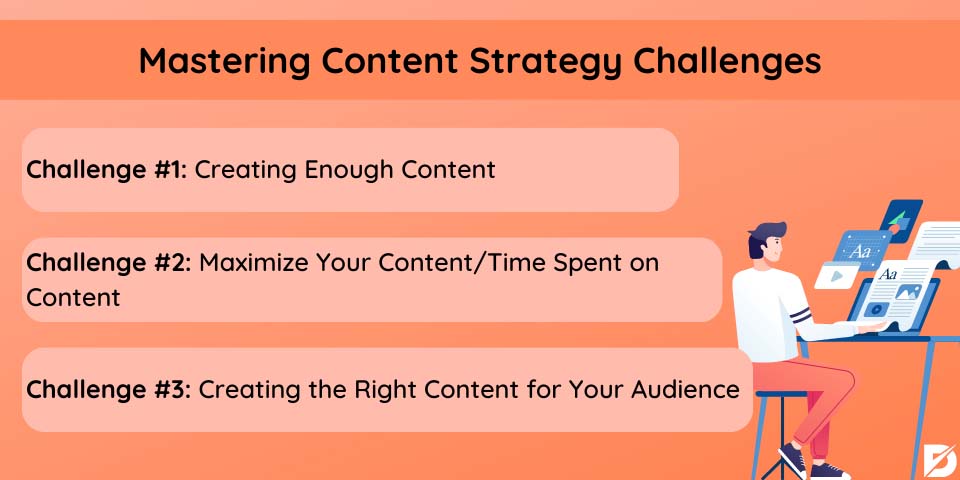 Challenge #1: Creating Enough Content
Despite the importance of content, content teams are typically small, and budgets are low. Even the best writers can only produce a limited number of articles, blogs, and documents on the assembly line.
Even if your company is full of content developers, there is likely a core team. Most likely within a marketing or public relations that does the distribution and has editorial responsibility for all content. This team has to be able to provide content, meet deadlines, and attract target groups continuously.
How Technology Can Help: Reusing Existing Content
Firstly, with content developers working fast and under pressure, it's hard always to know what content is there. Mostly different authors, teams, departments, or even third parties isolate the creation of content. That means you simply don't know about the widespread availability of content within your network. Technology can help. One solution is to implement a content repository in your company. Therefore this solution optimizes the content creation process. Simplifies the search for existing content, reducing the time and costs involved in unnecessary content restoration.
Challenge #2: Maximize Your Content/Time Spent on Content
With all of your company's content in one place, you need to be able to find that content. For instance, browsing through articles, blog posts, documents, and product descriptions is stealing too much valuable time. Therefore, the time spent searching could be spent productively.
How Technology Can Help: Search Function
The skill to search for content stored in a content repository is essential to realize the full potential of the repository. How else do you get a complete overview of what content is available? Some tools offer basic search functionality. Other tools are a bit more advanced and can save previously searched terms to speed up your content search process. Some allow you to set up feeds and updates that automatically import the content you need. Imagine what you could have done with the time saved.
Challenge #3: Creating the Right Content for Your Audience
According to Hubspot, 54% of B2B and 50% of B2C marketers named "producing appealing content" their top content challenge in 2015. It's no secret that relevant, accurate content that serves your audience with the exact information they want is likely to gain the most interest.
No company can be everything for everyone. To try is almost certain doom. So how do you offer engaging content to a wide variety of audiences? New customers want to feel welcome while existing customers want to feel known and understood. New business prospects may require case studies and information about your successful projects. In contrast, existing clients who have a deeper understanding of their business may want to see your new products or projects. You need to be able to serve each of your audience segments with what they need. But how?
How Technology Can Help: Collecting and Analyzing Customer Data
You cannot offer personalized content until you know who you're talking to. There are a few different personalization options that collect user data from both known and anonymous users. This data can then be used to divide your audience into segments based on location, order history, etc. Once you know who your audience is, you can determine what content they want and how best to deliver it.
Marketing tools and technologies vary widely in functionality, purpose, and price. With so many options available, it's still not difficult to assemble the right tech stack for your needs. Let technology take the burden of the content author and let him do what you hired him to do. Create the best possible content and deliver engaging digital experiences.
Build Your Content Marketing Stacks
By now, you have realized how important a solid content strategy is. And how marketing tools and technologies can help you achieve your content goals. While content creation is best left to the writers and subject matter experts, technologies to manage, find, and optimize content are required to improve customer engagement and expand reach. However, not a single tool or software does everything. To meet your organization's content marketing needs, your tech stack will likely consist of a mix of different technologies and legacy systems.
Content Management
When you start building your technology stack, whether from scratch or around your existing technology footprint, you are likely managing your content primarily in web content management (WCM) and/or digital asset management (dam) solutions.
Companies create a WCM or CMS to create, publish, and manage website content. On the other hand, a DAM should support the management of workflows, manipulation, digital rights, and the storage of rich media content. Today, most software companies build DAM capabilities directly into the CMS.
These systems are important and often necessary for the entire organization and distribution of content across a company. Yet, there are often functional gaps and missing skills. Such as the strength of the search functionality, the automation of content delivery, and the ability to communicate with various other technologies easily. A CMS is powerful at managing content that is already in the system. However, content created and localized in other sites or systems outside of the CMS can be difficult to share and use with other technologies. In addition to the inherent complexity of content strategy and management, different departments within a company sometimes have their own CMS and/or DAM. In these scenarios, content is isolated because it is organized at the department level rather than the company level. Indeed, adding content marketing technologies to your mix of current CMS and DAM investments will help you close these functional gaps.
Core Components of Content Marketing Strategy
There are hundreds of content marketing tools, software, and applications. Spanning every aspect of content marketing, including writing services, promotional tools, data maintenance, automation, personalization, and analytics. How do you start building an effective technology stack that will help you achieve your content marketing goals? By starting with the basics that every content marketing team needs, regardless of the industry; planning and workflow, curation and distribution, and measurement and evaluation.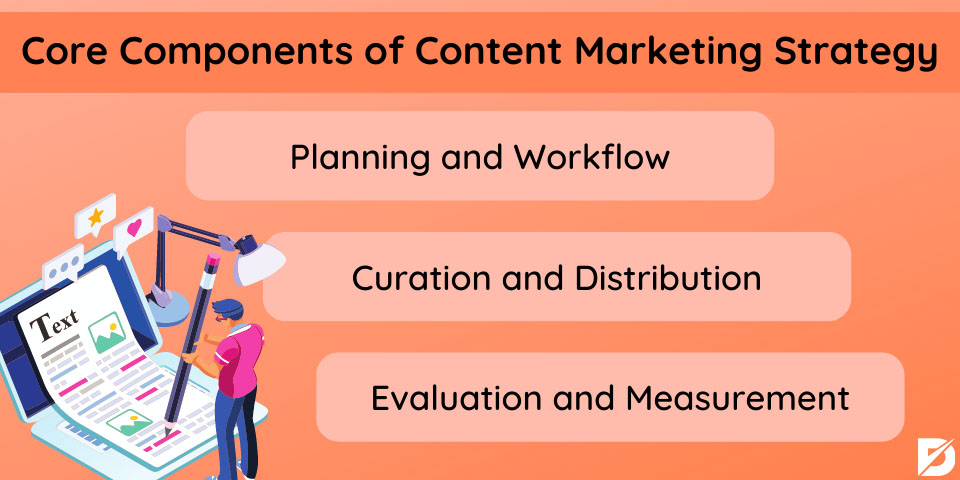 Planning and Workflow
The first leap in any content strategy is the process. Ensuring you have tools on hand to plan, execute, and manage content in your native workflow is critical to success. Do you choose an agile approach for content, or is an editorial calendar a more effective way to manage projects? Tools such as; Workbench, InMotionNow, JIRA, or Content Marketing Platforms (CMPS) can manage your workflows, tasks, and projects internally and across other teams and departments.
Curation and Distribution
Admittedly, not all content has to be new content. We mostly don't realize the value of using what is already there. Curating content from other websites and departments within your company, or even third parties like analysts, bloggers, and outside experts, can add value to your content organization. In addition to increasing the ROI on produced content, content curation and distribution reduce the likelihood of wasting your time and resources duplicating content. Many companies are turning to custom solutions to address this issue. Unfortunately, the construction and maintenance of customer-specific solutions are associated with very high costs. Finding content marketing tools is the best way to maximize your content curation and distribution performance. Tools like the Acquia Content Hub connects all of your content sources and channels.
Evaluation and Measurement
In case you don't know how your content is performing, how can you even know if it affects you? Adding business intelligence and/or analytics tools like Google Analytics or Tableau is probably the most important part of your content marketing stack. Depending on your organization's needs and the level of analysis required, you may have several analysis tools that can give you a more detailed view of your customers.
So, by building your content marketing stack, you allow the technology to support your business goals and automate previously manual tasks, such as the distribution of multisite content. This can free up valuable time for creating new content. Let your technology act as a member of your team. Let it give you the power to produce and syndicate the right content for the right audience.
Conclusion on Digital Content Strategy
In conclusion, the need for content will only continue to grow. Because the digital is expanding beyond the traditional website experience to new channels. This shift has already started with mobile and is ongoing through the Internet of Things. Regardless of the device or channel, there will always be a need for relevant, useful, and engaging content tailored to the customer.
Fortunately, as the need for content grows, so does the technology to support it. Any business hoping for success needs a solid content strategy with the right tools and technology to enable writers to create, manage, and distribute content effectively. Moreover, the key to managing today's content on a scale; is having a solid content strategy on hand and using it to put your customers' needs first.