Citations are very important for local SEO. They are necessary when people mention information about your business. When this information is correct and the same on different websites, it helps more people find your business in local citations. This facilitates the process of potential customers finding your business.
What Are Citations?
An SEO citation is when someone talks about a local business online and mentions its name, address, and phone number. People also call it an NAP citation. These mentions can be seen in various spots, like business directories, social networks, and websites. It also gives extra information like pictures, reviews, and opening hours. SEO citations mean making your business more visible online in your area.
Why Citations Matter in Local SEO?
Local citations are crucial because they help people discover new businesses and also affect how businesses appear in search results. Here are some facts that show how important local searches are for businesses: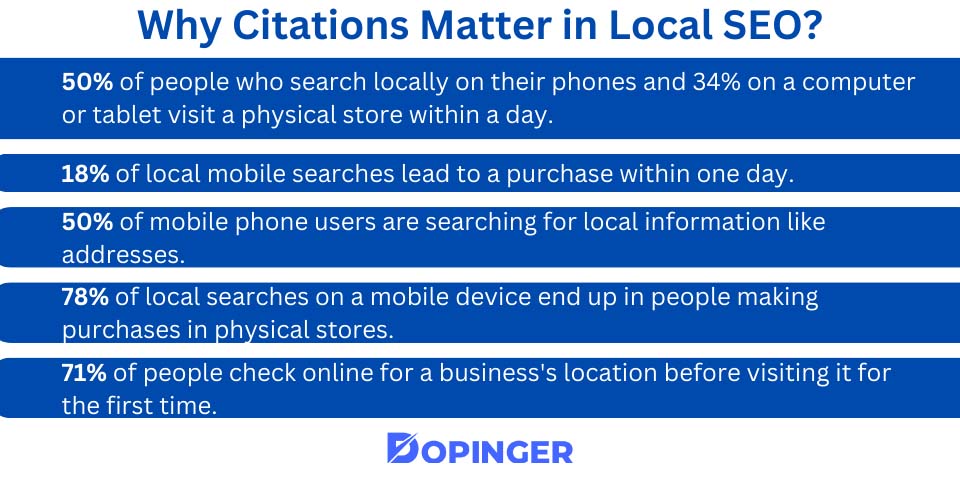 50% of people who search locally on their phones and 34% on a computer or tablet visit a physical store within a day.
18% of local mobile searches lead to a purchase within one day.
50% of mobile phone users are searching for local information like addresses.
78% of local searches on a mobile device end up in people making purchases in physical stores.
71% of people check online for a business's location before visiting it for the first time.
What Are the Types of Citations?
Local citations can be divided into two main groups, and both kinds of citations for SEO can make your local search rankings better, but they are not the same in how they look and where they show up online.
Structured Citations
Structured citations have a set format and appear on websites such as local directories and review sites. They contain details like your business name, address, phone number, and website link. People often call these "NAP citations" because they include your name, address, and phone number.
Here are some examples of structured citation sites:
Bing
Facebook
Yahoo! Local
Unstructured Citations
Unstructured citations, unlike structured ones, are when people talk about your business differently and can be found on various websites like blogs, news stories, and social media. For example, unstructured citations can be when your business is mentioned on social media sites like Twitter or Instagram, in blog posts, or in news articles.
Citations and Local Search Ranking Factors
When you're creating an SEO citation, remember these important factors:
Consistency in Citations: NAP, which means your business name, address, and phone number, is very important for local citation. Be sure these three things are the same on all websites.
Quality over Quantity: It's not about making your business appear everywhere but ensuring it is mentioned correctly and regularly in the right spots. It's better to have good local citations on trusted websites and directories to boost your local search engine ranking rather than having many citations.
How to Build and Manage Citations
Building local citations means making and managing online business listings. When you build citations, your brand's name gets mentioned more online in these listings. SEO Citations are good because they help people find nearby businesses, and they give Google Maps citations about your business to help customers find the right details.
Citations Sources Worth Considering
To discover good places for your citation, check for categories, industries, your city, and local guides that match. Creating citations for SEO helps people find your business more easily and also shows that it's a trustworthy and reliable company. Also, see where your competitors are listed and aim for the same popular spots. You can find listings that are specific to your city or industry in local directories or business directories.
Tools and Platforms for Citation Management
There are some of the most important tools and platforms for citation management:
EndNote: The industry-standard citation management tool is used by millions of researchers to search online bibliographic databases, organize references and related files, and create bibliographies and figure lists instantly.
Mendeley: This citation management tool provides essential features, allows networking with fellow researchers, and has a large searchable database with nearly 100 million documents.
Zotero: It's an open-source tool that's freely available. It connects to your web browser for easy source-saving with just one click and is compatible with Mac, Windows, and Linux operating systems.
Common Mistakes to Avoid in Local Citations
If you're a new insurance company or have been here for a long time, it's really important to be seen by people so you can get more customers and do well in online searches. If you don't know how errors in your local business listings can affect your local citation search ranking and business, you might make them without knowing. Wrong details like the name, address, and more can cause problems, which is a common mistake for new website owners. This happens because they don't realize the harm in using different information.
Inconsistent NAP Details
Consistent NAP information is crucial for businesses because it directly impacts their online visibility and search engine rankings. When your business information is accurate and consistent across various online platforms, search engines can more effectively index and present your business in relevant search results. Also, consistency ensures that customers always find the correct and up-to-date information about your business. In addition, when your business's NAP information is consistent and accurately listed across various local directories and platforms, it can improve your chances of appearing in local search results.
Ignoring Negative or False Citations
Ignoring negative or false citations can have adverse effects on your local search rankings and online reputation. Inaccurate NAP details can confuse potential customers. If they encounter different information about your business, it may lead to losing trust and credibility. Maintaining consistent and accurate NAP information is a fundamental aspect of online business management. It not only ensures that potential customers can find your business but also enhances your credibility and trustworthiness in the eyes of both users and search engines.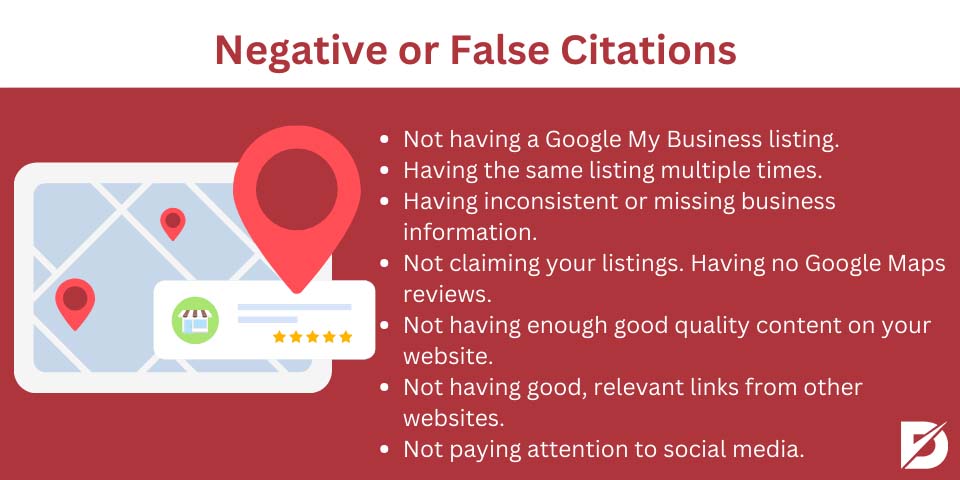 Some issues include:
Not having a Google My Business listing.
Having the same listing multiple times.
Having inconsistent or missing business information.
Not claiming your listings. Having no Google Maps reviews.
Not having enough good quality content on your website.
Not having good, relevant links from other websites.
Not paying attention to social media.
Tracking the Impact of Citations on Local SEO
Checking and updating your citations regularly is important. It helps your business be seen more and get a better place in local searches. As search engines improve, local businesses must change how they do things to stay ahead in local searches.
To do so:
Check your current citations: Before you start making new listings, look at the ones you already have. Make sure all the information about your business is correct, and fix any mistakes.
Own and check your listings: Say you own your business on websites where people leave reviews and on social media. Make sure they know it's really you.
Choose the right places: When you make new listings, pick good websites that fit your business, like ones that are popular or about your location and type of business.
Ask customers for good reviews: When happy customers leave nice reviews on places like Facebook, Yelp, and Google, it helps your business look good and appear in local citation search results.
Monitoring Local Rankings
Monitoring local rankings and updating your citations regularly is important. It helps your business be seen more and get a better place in local search results. Keeping an eye on analytics can help you see how well each citation is working and find ways to make it better. Using local business listings can really help your local SEO search ranking.
Leveraging Analytics
Google and other search engines often change how they find things online to make searching better. These changes can impact how local businesses are ranked. Staying informed about algorithm updates allows you to adjust your strategy accordingly to maintain or improve your rankings.
Future of Citations in Local SEO
Because more people are using phones and looking for nearby things, local SEO citation is becoming more and more important for businesses with a real place. This means making their website and online stuff better for local searches. To stay competitive in search results, you must learn about new things and the best ways to manage citations. Being able to change is important in the world of SEO because things keep changing. As search engines improve, you need to change your SEO citation plan, too. Be ready to adapt to new trends, like people using voice search and phones more.
Evolving Role of Citations
Especially in local SEO has evolved over time. While citations in local SEO remain an essential element for businesses seeking to improve their online visibility, there have been significant changes in how they are leveraged.
Staying Updated and Adapting
Your competitors are also likely working on their local SEO strategies. Staying updated helps you stay competitive and adapt to changes in the local search. Local SEO is an ongoing process. What works today may not work as effectively tomorrow. By staying informed and adaptable, you can ensure your local SEO efforts remain effective and continue to drive organic traffic.
Tips for the Latest Trends and Shifts in Local SEO and Citations
The tips for the latest trends and shifts in local SEO and citations are listed below:
Find the right local keywords for your business.
Make your website better for local searches, like making special pages for each place and describing images.
Make sure your website works well on phones, as Google Maps like this for local searches. Answer reviews quickly, whether good or bad, to show you care about your customers.
Use the same business info (name, address, and phone number) in all the local listings. Use reports and dashboards to see how well your local search is doing.
Check things like website visitors and where they come from with Google Analytics. Look at how people use your website.
Keep your website interesting and useful. Add new blog posts, news, and things about your business and where it is.
To stay competitive in local search, keep up with digital marketing trends. Use new ways and ideas that help your local search.
The Importance of Accuracy
Even small changes in local SEO rankings can greatly affect your visibility. Suppose your business ranks near the top of the first page in mobile search results. In that case, potential customers are more likely to see it, which can lead to extra income. Citations are a method to expand your local business's reach and improve your ranking. Creating citations may take some time, but it's an easy task and something you can manage. Additionally, it can offer accurate and helpful information to many potential customers.