For more than a decade, people have been blogging. It can be seen in how people share their stories, publish articles to educate others, promote their ideals and ideas, and express their thoughts. People have long used blogs in their daily lives, and many businesses now use them to their benefit.
You can be completely new to blogging, or you might already have a blog but find it difficult to progress. This is the place for you if you want to learn what blogging is and how it operates.
In this article, we will discuss the meaning and importance of blogging, explain the relationship between SEO and blogging, and look deeply into how to create a blog. At the end of this article, you will clearly understand how blogging works.
What Is Blogging?
Blogging produces online content to inform, entertain, or promote your company and brand. It merely means communicating your feelings and ideas to others whenever and wherever you like.
Since blogging allows for the online sharing of personal stories with people worldwide, it has become an essential component of companies and businesses. It evolved into a tool to tell brand stories, establish connections with the target market, and raise awareness of your company. Because of this, publishing an article on a website or blog has greater significance than simply making money.
Why Is Blogging Important?
Today, blogging is a popular method to connect with others, share our experiences, drive traffic to our websites, and earn money. In other words, having a blog simply becomes a method to tell people about who we are, what we stand for, and what we do for a living.
Over the years, storytelling has always been important to the human experience. It transmits ideals and beliefs to those who listen to our tale and sends a message we cannot simply tell. It also encourages your viewers to share your experience. Furthermore, creating blogs is a vehicle for telling your experience and spreading your message. It enables you to connect with your target audience in a way impossible with other methods. But blogging is also more than what you may think.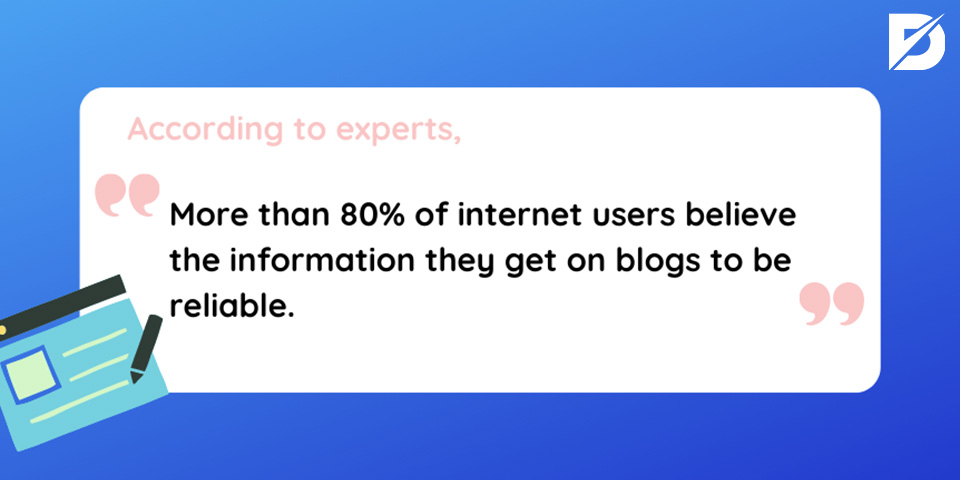 According to experts, more than 80% of internet users believe the information they get on blogs to be reliable. For this reason alone, blogging may be essential to your business strategy today. Hence, blogging makes your website fascinating and gives you the impression that you are an authority on the subject.
Also, having a frequently updated blog ensures that your readers are devoted to you. If you want to sell goods or services, this is a fantastic opportunity. People will visit your website frequently and purchase your products from you. As a result, your sales will go up, and it will raise your online visibility.
Blogging for SEO
If you've ever written a post or an article, you are aware of the time and effort it takes. This also implies that you are conscious of the possibility that your efforts may be in vain if your blog post does not appear on Google or other search engine results pages (SERP). Your efforts to choose the topic, research the keywords, develop the subject, and publish it may not result in the desired amount of organic traffic. Here's where SEO blogging comes into play.
Writing a blog article with SEO in mind will raise your position in search engine results. Blogging for SEO procedure includes actions like conducting keyword research, producing high-quality content, and optimizing your blog for crawlability.
Use the following steps to ensure that your content will have a strong online presence and attract organic traffic to your website: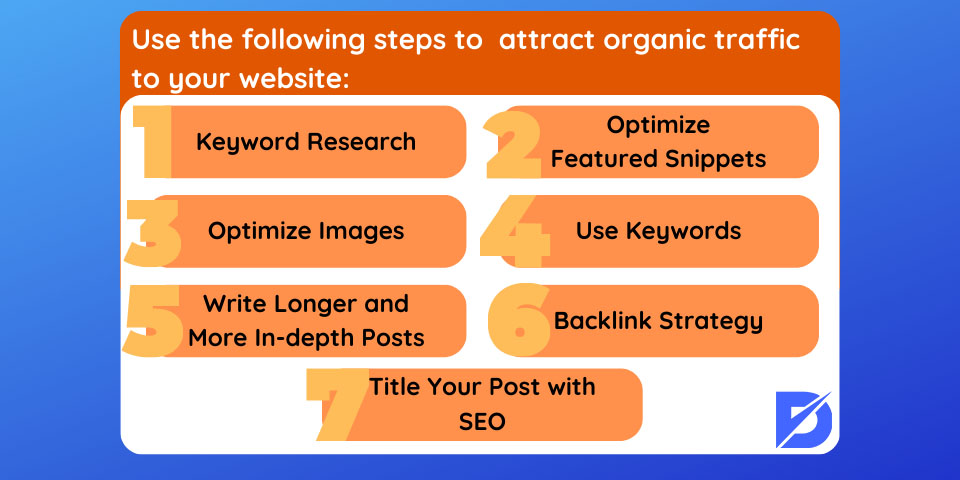 Start with keyword research to find the right keywords.
Optimize your content for featured snippets.
Optimize your images to ensure fast page load speed.
Include keywords in your content and meta description but don't overuse them.
Aim to write longer and more in-depth posts. Ensure that your blog post has two or three sentences in a paragraph.
Create a good backlink strategy so authority and high-quality websites can link to your website.
Title your post with SEO in mind.
Here you go. You now know the key points of blogging for SEO. Remember that if you want Google and other search engines to recognize you, you should write for your targeted audience and include the elements search engines will love.
What Can You Blog About?
Deciding what to write about is the first challenge of starting a blog. It can be tough for you to choose just one topic from your interests and topics you wish to discuss.
To inform readers, you might write about a particular subject, person, or experience. Whatever you write about, keep in mind that it will help you identify your niche. Focus on certain topics that will draw in your target audience if you want to establish a blog and earn money.
When choosing your topic, make sure to ask the following questions: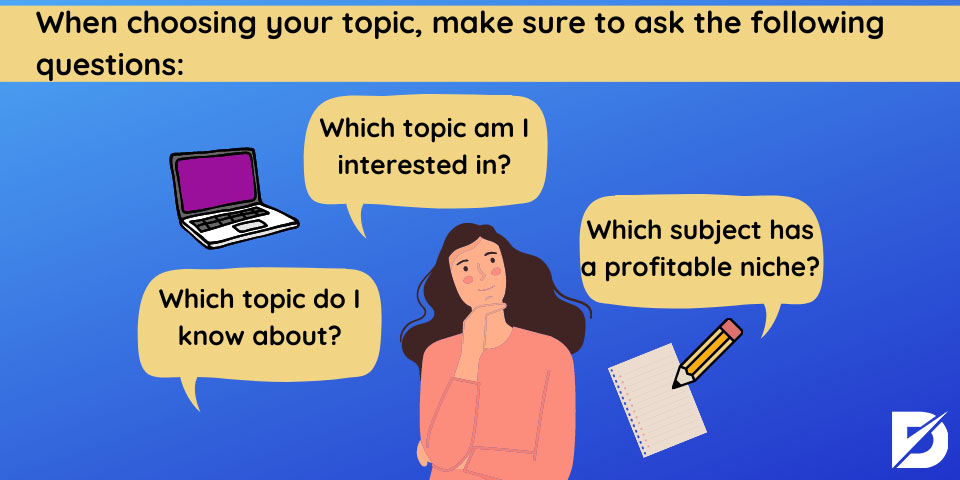 Which topic am I interested in?
Which topic do I know about?
Which subject has a profitable niche?
Your answer will be suitable if you can come up with one that satisfies each of these inquiries. You can choose a topic that interests you (such as sports or cooking) or one you are skilled at (airplanes, travel, etc.) The most important thing is to identify your specialty and write for your readers. Your audience may lose interest if you frequently switch topics, which could cost you money.
Thus, before doing anything else, you should consider whether you can write about a particular subject for a considerable amount of time and whether the subject you select will continue to change and produce fresh material for you. If the response is positive, you have likely located your niche. So, let's now take a look at how to start a blog.
Setting Up a New Blog
Blogging unquestionably takes a lot of time and patience. Even if it takes time and work, starting a new blog may not be too difficult. Thankfully, various blogging platforms, including WordPress and LinkedIn, are available to make your job easier.
You should consider six stages while setting up a new blog if you want to start blogging and are unsure of how to do it. Choosing your niche and domain name is the first step. Simply put, a domain name serves as your blog's web address, making it easy to find. You can choose a domain name following your niche and the topics you will write about once you have decided on your niche.
The next step is to choose a web hosting provider. All blog materials, including graphics and code files, must be stored and accessible to internet users through hosting. You can use a blogging platform's hosting if you use one like one of the best blogging platforms, WordPress. You may also explore other blogging platforms like Wix and Weebly to examine their web hosting options.
Your level of expertise, financial state, and business objectives will all be important factors when selecting your blogging platform. We advise using WordPress if you're a beginner and want a content- and SEO-focused blog. There are many blogging tools that can save you time. For example, to design your website, you can also utilize a tool like Hostinger.
The next step is to choose your theme or template, both of which are options offered for free by many blogging services. You can pick a theme that is simple to modify for easy navigation and optimization. An SEO-friendly blog can be made in this way. After completing all the other steps, you can concentrate on picking your blogging tools in the final phase. Several tools are available to help you manage and write better blog content. You can use these tools to improve the SEO of your blog.
You are prepared to create your first blog post now that you know the steps for starting a new blog. Write interesting, high-quality content specifically for your target audience. You can also look into how to plan your content for better blogging results.
Create a Content Plan
Making a content plan will ensure that your blogging experience is successful rather than uncertain. Planning everything out might seem like it would kill the fun of blogging, but the opposite is true. All tasks will be easier to complete if you have a content plan.
The content plan is popular today for a reason. It not only inspires you but also informs you as to what your audience expects from you. You can design your blog posts effectively and achieve greater results if you take the time to consider your target audience and their demands.
The content strategy includes determining what your audience wants to read. You watch them, determine what topics they want to read about, conduct keyword research, and organize your content accordingly. Because of this, content planning is effective for SEO. It ensures that your post will be read, bringing additional organic traffic to your blog.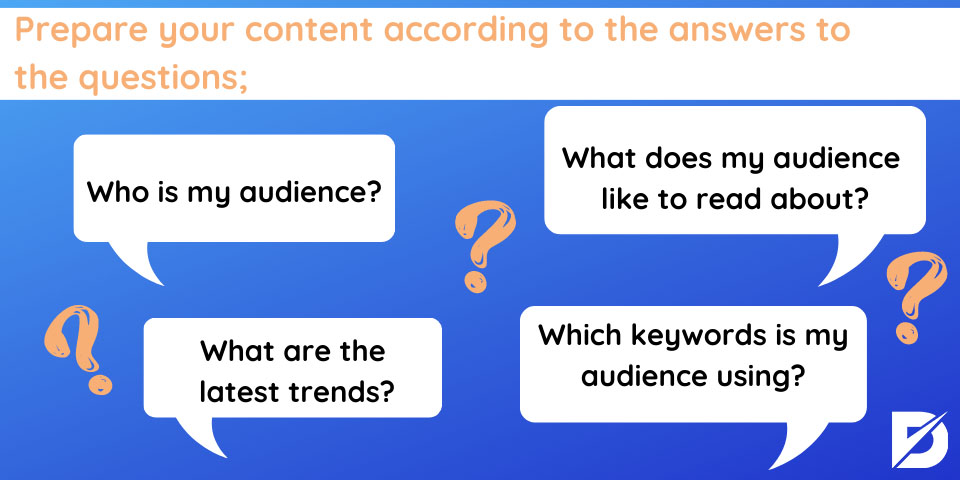 Because of this, be careful to prepare your content according to the answers to the questions such as "Who is my audience?" "What does my audience like to read about?" "What are the latest trends?" and "Which keywords is my audience using?"
Keyword Research
Finding out how many people are searching for a particular keyword in your niche is easy by using keyword research. The more research you do in your industry, the more likely you will succeed there. So, keyword research will directly impact how many people visit your website.
You may think that targeting highly searched terms can boost your position, but we're here to tell you this is false. The most important aspect of keyword research is to find keywords that your rivals are using in the same industry and choose low-competition keywords to grab the attention of your intended audience. In addition to earning a competitive edge by choosing a long-tail term with little competition, you'll also catch the attention of your target market.
Knowing the value of keywords, you might wonder where to go for the best ones. By looking at their average monthly search volumes, competition, and other factors, you can use the Google Keyword Planner tool to find new keywords.
Original and Quality Content
Without a doubt, high-quality content will provide your business with several opportunities. You might have beautifully designed visuals and a blog. Yet, if your content is poorly constructed, you will inevitably lose viewers.
Unique and high-quality content is specifically designed for your business objectives and blog. It is unique and high quality since it raises your website's ranking, user experience, click-through rates, and revenue. Due to this, your blog's ranking will suffer if it has low-quality content.
To make sure you prepared original and quality content for your blog, apply the following suggestions:
Provide useful information
Use your call to action
Make your content unique by adding experience
Make sure to use the right keywords
Use titles, questions-answers, meta descriptions, and more
Apply optimized images to your text
Review, edit, and proofread it before sharing
Advantages of Blogging
If you're thinking about sharing your content but aren't sure if blogging is the best option for you, have a look at the benefits we've listed below: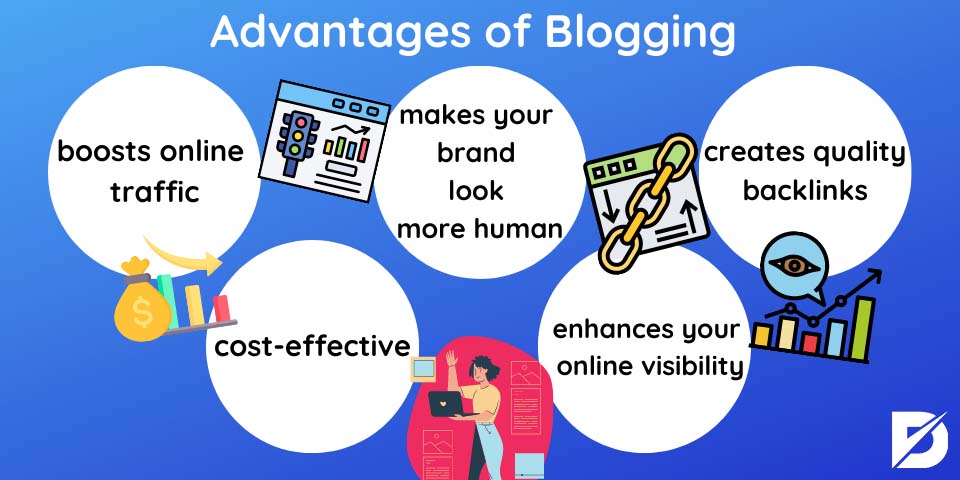 It boosts online traffic: When used properly, blogging will drive organic visitors to your website. Keywords are essential in this. It aids in attracting your blog's targeted audience. And your engaging narration persuades them to remain.
It makes your brand look more human: Blogging gives your company a voice that humanizes your brand. It incorporates your principles, beliefs, and ideas into your blog article. Your blog post serves as a representative of your brand and expresses these ideas to your target audience. As a result, your brand is perceived by your audience as a person rather than merely a good or service. This sets you apart from your rivals.
It creates quality backlinks: You can employ blog articles as a part of your SEO efforts because it produces high-quality backlinks. By producing helpful content, you might be able to develop high-quality backlinks pointing at your company. Also, this might increase online activity and boost your credibility.
It is cost-effective: When you use blogging as your primary method, you won't need to spend much money advertising your company or distributing your information. The money won't be an issue, even though seeing your content's benefits can take some time.
It enhances your online visibility: Without a doubt, blogging benefits SEO. Your blog will rank higher in search engine results if you use relevant keywords, provide quality content, and update it frequently.
Conclusion
In conclusion, we discussed blogging and clarified why it's crucial in this article. Blogging is one of the most popular ways businesses communicate a narrative. We also gave you a starting blog guide to assist you in starting your own blog. We sincerely hope that this article has succeeded in giving you a thorough explanation of what blogging is and how it operates.