With online shopping on the rise, launching a new e-commerce site is appealing. E-commerce can be defined as a sector where buyers and sellers meet on the Internet instead of in physical places. In this type of transaction, almost all steps, from product inspection to payment, are carried out online. Therefore, this sector is in rapid growth. For many years, thanks to the developing internet technologies and portable devices, it is now possible to shop from everywhere. However, User Experience (UX) means how people feel and what they think when they use something like a website, app, or product. A good programmed UX is important because it keeps users happy and makes them want to keep using it. So, with the help of best practices for e-commerce development, it can help the business find it easy to reach people because happy users are more likely to come back and tell others about it. Let's learn more about the best ecommerce practices.
The website is essential in e-commerce as well as user experience. When designing the site, you need to consider your customers' preferences and how they can use it easily. Research proves that ecommerce customers shop more from easy-to-use sites. Your site design must look pleasing to the eye. The choice of colors and the tabs to be added are essential in terms of attracting your customers' attention and directing them to shop on the site. Let's check the most vital points about the most common e-commerce best practices that store owners should take seriously.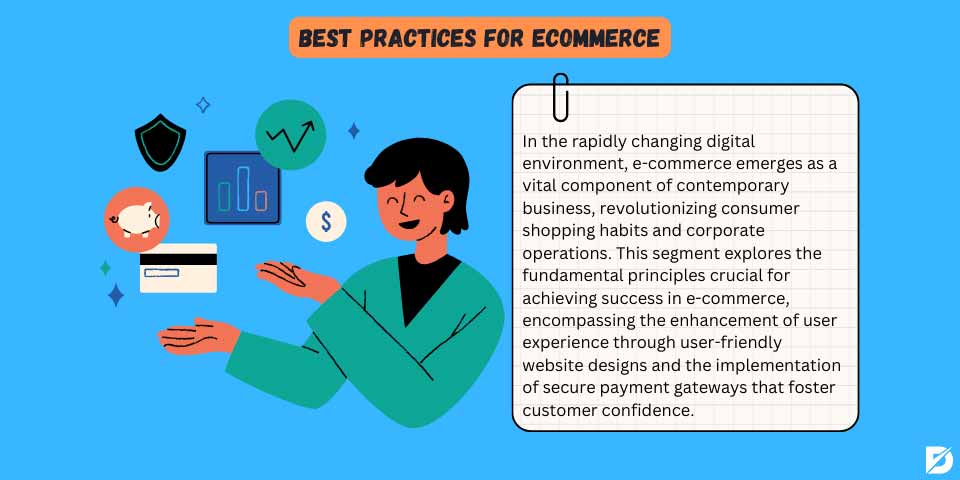 Best Practices for eCommerce
In the rapidly evolving digital landscape, e-commerce stands out as a cornerstone of modern business, transforming how consumers shop, and companies operate. This section delves deep into the best practices essential for e-commerce success, from optimizing user experience with intuitive website designs to implementing secure payment gateways that inspire customer trust. We'll explore strategies for effective product showcasing, harnessing the power of analytics to understand consumer behavior, and mastering the art of seamless checkouts. Beyond mere transactions, we'll highlight the significance of after-sales support, cultivating reviews, and fostering long-term customer relationships. Whether launching a new online storefront or refining an existing one, these best practices serve as a comprehensive guide to maximizing your e-commerce potential. Take a look at the best ecommerce practices below.
Design Features and Mobile Compatibility
Optimizing Loading Speed
On-Site Search Feature
Product, Brand, Category Pages
User-Friendly Payment Convenience
Customer Loyalty on Your E-commerce Site
Blogging and E-Commerce
Frequently Asked Questions
Campaign on Your E-Commerce Site
Search Engine Optimization (SEO)
Data Security and Privacy
Provide Preview for Visual Products
Let's now examine the best ecommerce practices closely. Also, don't forget to check Shopify SEO services to improve your best ecommerce practices more with SEO!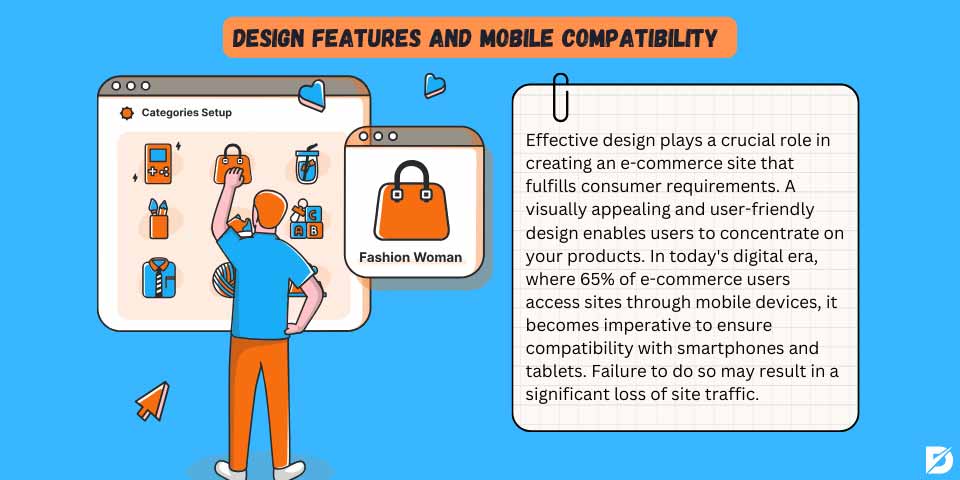 Design Features and Mobile Compatibility
A good design is the key to building an e-commerce site that meets consumer needs. A stylish and functional design allows the user to focus their attention on your products. 65% of e-commerce users access from mobile devices, so it's an essential best practices for e-commerce. A design that is not compatible with devices such as smartphones and tablets will cause you to lose most of the traffic to your site. By choosing a design suitable for different screen widths and devices, you can ensure that users who come to your site have a quality experience, thus significantly increasing ecommerce sales of your products. For the best e-commerce websites, responsive designs are a significant design feature for e-commerce companies. Because responsively designed e-commerce sites work correctly on mobile platforms, and consumers using mobile devices shop faster through responsively designed e-commerce sites.
Considering that most of the internet shopping is through mobile devices and the must-have features of the e-commerce site. Learn how to check if a website is mobile-friendly here and also use a mobile-friendly test tool.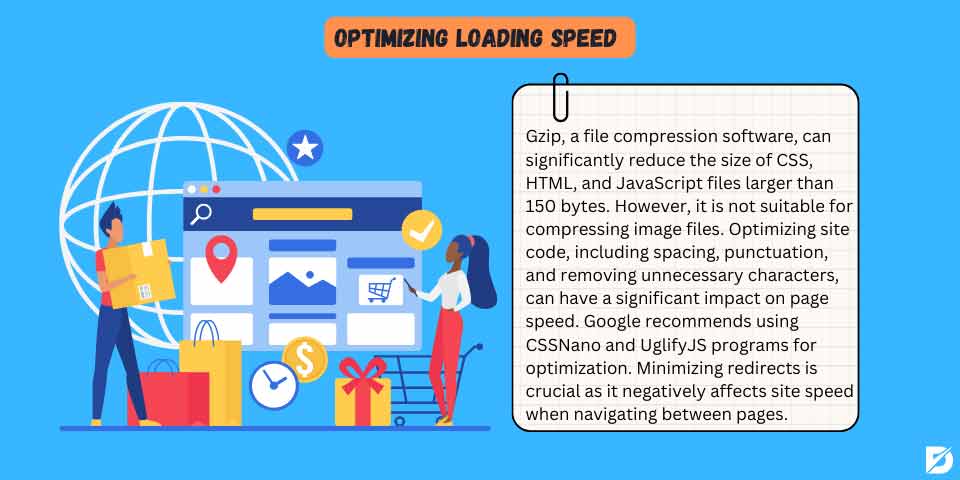 Optimizing Loading Speed
Even a 1-second delay, especially in the opening of e-commerce sites, can mean losing 15% – 20% of users. Google states that site speed is among the most important factors affecting search results. Google measures the time taken until the first byte when considering page speed. In addition, slow pages cause fewer pages to be crawled in the measurements allocated by search engines; It shows that Google searches will lag and be negatively affected. Some successful points of best practices for e-commerce are listed below:
Using Gzip (a software application for file compression), minimizing CSS, HTML, and JavaScript files larger than 150 bytes can be reduced in size. Gzip should not be used for image files.
By optimizing the site code (spacing, punctuation, and unnecessary characters), page speed can be increased in a significant and impactful way. Google recommends the use of CSSNano and UglifyJS programs.
Redirects should be reduced. This negatively impacts site speed as loading times will occur when moving from one page to another. In this way, the increase in your site's open time in a user's tab will be a positive factor for your site.
Before rendering a page, browsers parse the HTML to create a DOM tree. If the browser encounters scripting during this process, it must stop and execute it before it can continue. Google recommends minimizing JavaScript and wants to avoid such blocking.
Browsers cache a lot of information and do not have to load the whole page on the next visit (style sheets, images, JavaScript). There should be an expiration date for the cache.
Server response times are affected by the amount of traffic received, the resources used by each page, the software used by the server, and the hosting solution used.
Learn how to speed up your ecommerce website and also use a website speed test tool to examine your ecommerce website.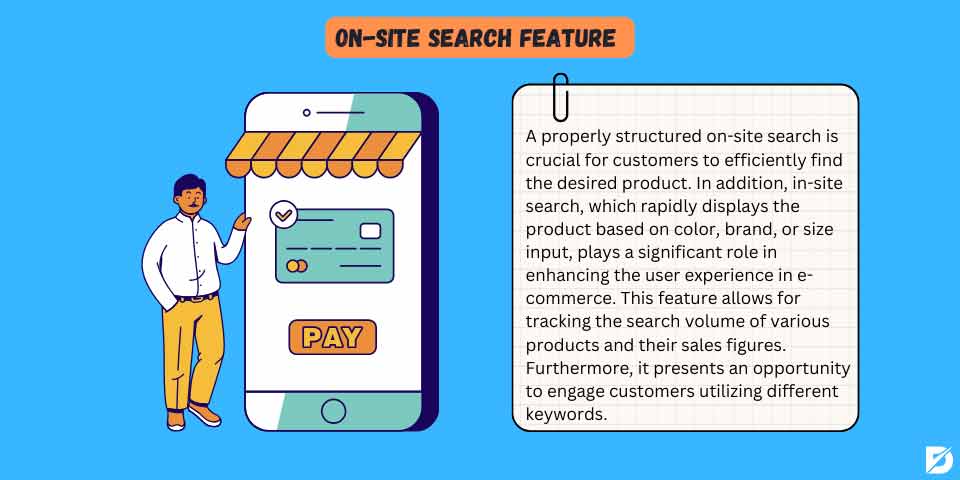 On-Site Search Feature
An on-site search should be well organized for the customer to quickly reach the product they are looking for. In-site search, which instantly reveals the product by entering only color, brand, or size, is also useful for UX e-commerce. It creates the opportunity to report the search volume of different products or how many of which products are sold. It is possible to attract customers with different keywords. Products accessed with keywords will create a chance for the customer to think about alternatives with best practices for e-commerce. Internal site search attracts customers who buy, not look; hundreds of customers log in to e-commerce sites daily. However, only 1/3 of this rate makes a purchase. The customer who searches within the site is the customer who knows what they are looking for. Thanks to on-site search, you have the chance to identify in-demand products; identifying products with high search volume will be a gain in terms of knowing what is needed in the selection of new products.
On-site search increases the time the customer spends inside; the customer who enters the site in search of only one product spends a lot of time inside with the excitement of reaching what they are looking for immediately. In addition, the specific design and placement that works best for your search bar may vary depending on your website's audience, industry, and content. Regularly conducting A/B tests can help you fine-tune your search bar to align with your well-developed UX e-commerce evolving needs and preferences.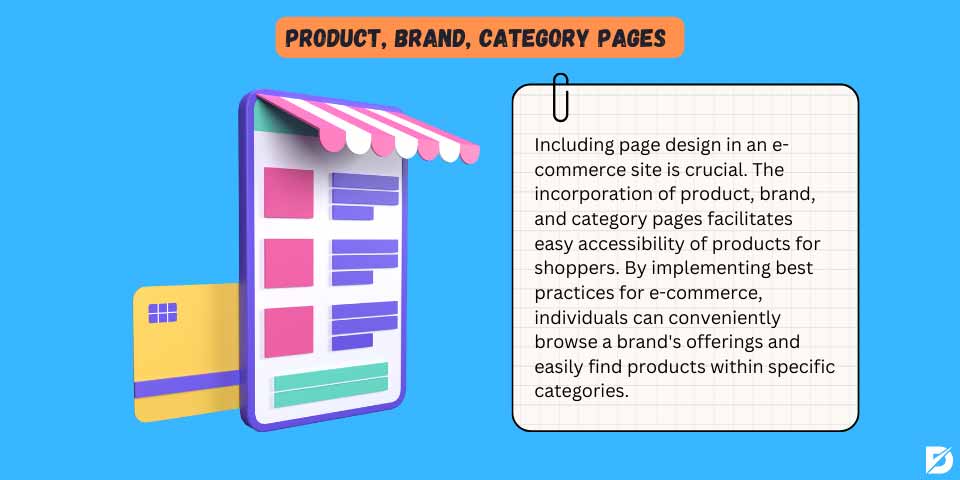 Product, Brand, Category Pages
Page design is also among the things that should be on the e-commerce site. Product, Brand, and Category pages make it easier for people who want to shop from your e-commerce site to access products in a specific category or a certain brand. With the help of the best practices for e-commerce, and brand pages, people can easily access a brand's products, while with categories, they can quickly see the products in a certain category. For this reason, you should take care to create brand, product, and category pages on your site.
A UX e-commerce user shopping from your online store should be able to examine the products you offer in detail. In other words, product categorization on the e-commerce site is as essential as the shelf layout in a store. For the consumer to find what they are looking for, the category and product pages should be organized in detail according to the sub/top heading hierarchy. Product and category content gives you an advantage in terms of SEO. By producing original and quality content, you can ensure your site has a high ranking in search engines. These texts also help consumers learn about products and categories.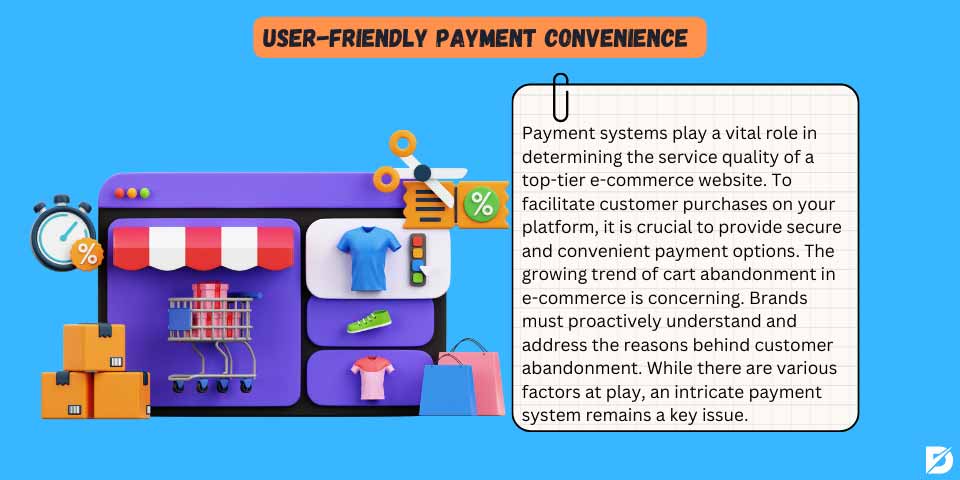 User-Friendly Payment Convenience
Payment systems are among the critical issues that determine the service quality of the best e-commerce website. For consumers to buy products on your site, you need to offer convenient and secure options for payment. It's worrying that abandonment rates for e-commerce sites are on the rise. To prevent a customer from abandoning a purchase, brands need to have a good understanding of the reasons why customers leave a purchase. There are several reasons for this, but one of the most important is the complex payment system. Complex and lengthy checkout processes during the purchase process can discourage customers from completing the purchase. Keep the checkout process as simple and fast as possible. Another situation that causes customers to stop buying is the lack of reliable payment methods.
Generally, people who shop through e-commerce sites want to use reliable payment methods when purchasing their products and services. Thus, they prevent the theft of credit card and debit card information. Therefore, the best e-commerce website companies that want to increase their sales should give confidence to consumers and use reliable payment methods on e-commerce sites.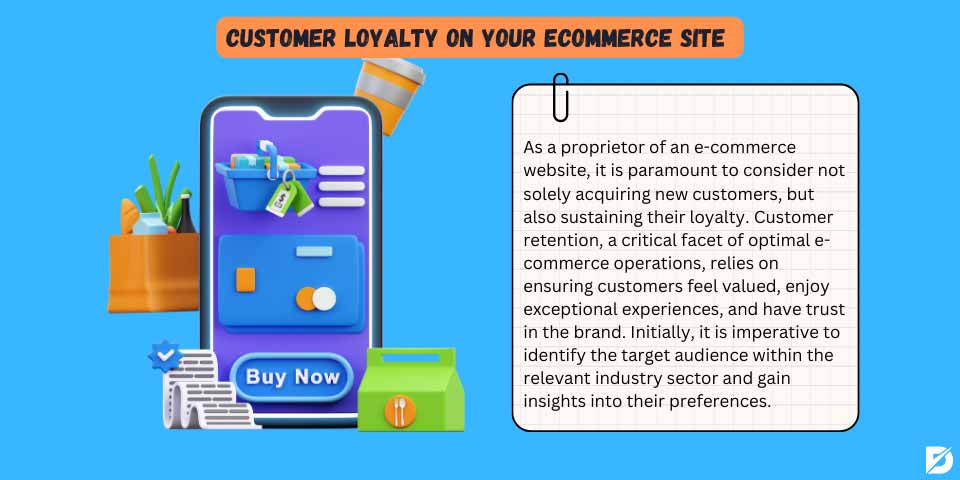 Customer Loyalty on Your eCommerce Site
As an e-commerce website owner, you need to think not only about how to get new customers but also how to retain them. Customer retention in the best ecommerce practices depends on the customer feeling like they belong, having a great customer experience, and trusting the brand. First of all, you should determine your target audience according to your company's sector and know what your target audience likes. If you know your target audience well, you will know how to communicate with them. Even a little research on your target audience will guide you in the right direction. For example, you can examine demographic characteristics such as gender, age, income level, occupation, and education and shape the interface and user experience of your e-commerce site accordingly.
By using the best practices for e-commerce, you can also attract the attention of your target audience by creating campaigns according to their interests. Customer retention is directly related to company growth.
Engage with your customers: The surest way to make them feel like they belong on your e-commerce site is to engage them in a dialog.
Offer your customers the best possible online shopping experience: Encourage them to register on your site. To do this, explain the special conditions for members they will have once they register and the convenience they will have in their future shopping.
Keep your brand consistent: Delivering what you say about quality and service will increase the value of your brand in the eyes of your customers.
Perfect your brand reputation: Try to produce quality blog posts, videos, and vlogs about the uses of your products, what you can do with them, or the slightly broader areas that your products cover, and feature them on your website and social media channels.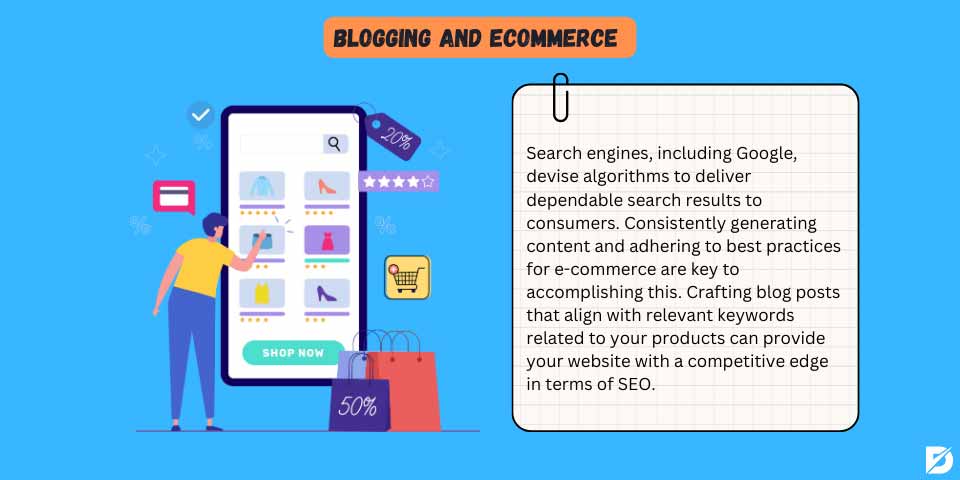 Blogging and eCommerce
All search engines, especially Google, develop algorithms that give consumers reliable results for their search terms. The way to achieve this is to produce regular content and follow tricks for best practices for e-commerce. Blog posts that you shape according to keywords related to your products make your site advantageous in terms of SEO. Creating your blog page informs your buyers while at the same time significantly increasing your visibility in search engines. Keeping your blog page active by producing content regularly increases the interest in your site. It will benefit consumers to access practical information about your products before or during shopping. Blog posts written about various and helpful information about your products accelerate the arrival of potential buyers to your page.
By adapting the best practices for e-commerce and getting professional support for blog posts, it is quite possible to increase interest in your company by producing efficient content.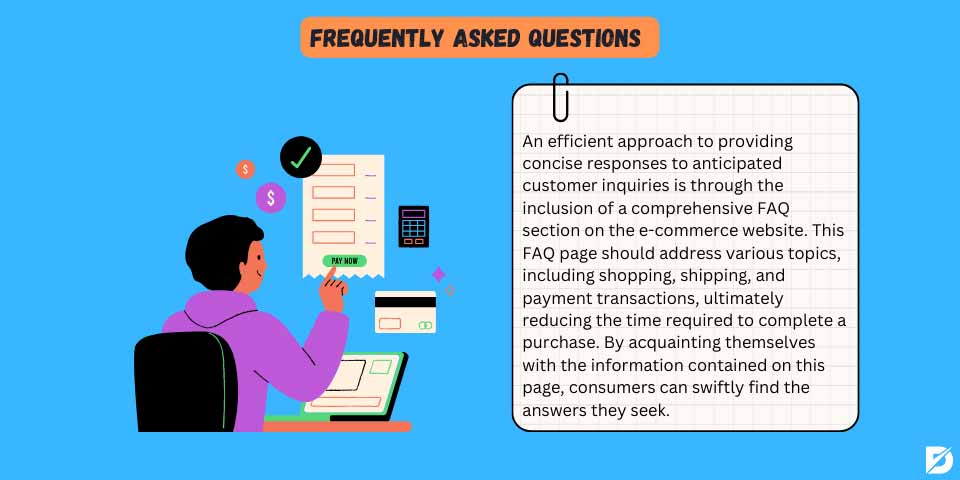 Frequently Asked Questions
It is a very effective method to share clear answers to questions that customers will likely ask among the things that should be on the e-commerce site. Creating a frequently asked questions page about topics such as shopping, shipping, and payment transactions shortens the shopping completion time. Customers who review what you share on this page will quickly satisfy their curiosity. Working on UX e-commerce practices for your website is very useful for finding the best answers sought without contacting customer service.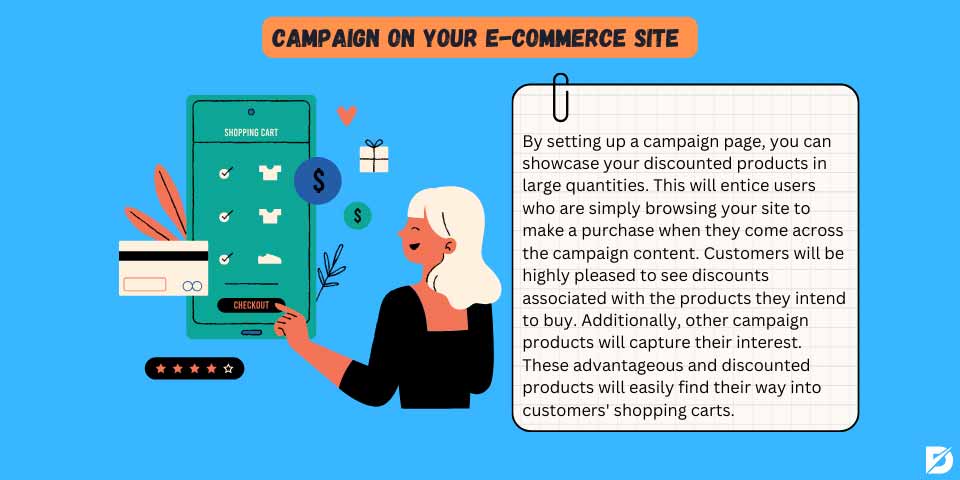 Campaign on Your E-Commerce Site
By creating a campaign page, you can show your discounted products in bulk. Users who view your site just to browse your products will be more likely to shop when they see the campaign content. The customer will be more than satisfied if a discount is seen related to the product to be purchased. Not only the current needs but also other campaign products will attract attention. Products that are believed to be advantageous and discounted will take their place in the baskets. Among the things that should be on the e-commerce site, the campaign and discount page will contribute to both your customers and you. Showing your discounts to your users in an easy way will greatly improve your retention rate. Quickly showing current discounts will increase your number of visits and sales figures.
RECENT POSTS
The Comprehensive Guide to eCommerce
Today's business landscape rapidly evolves, and e-commerce holds a remarkable place in it. As businesses discover technology day by day with improveme...
Is Cro a Good Investment? 
A/B testing is something you've likely heard about before. Although it always seemed helpful, it was never truly necessary. But as the noises have bec...
By implementing these best ecommerce practices, you can create a trustworthy and customer-centric online store. This is more likely to succeed in a competitive digital marketplace.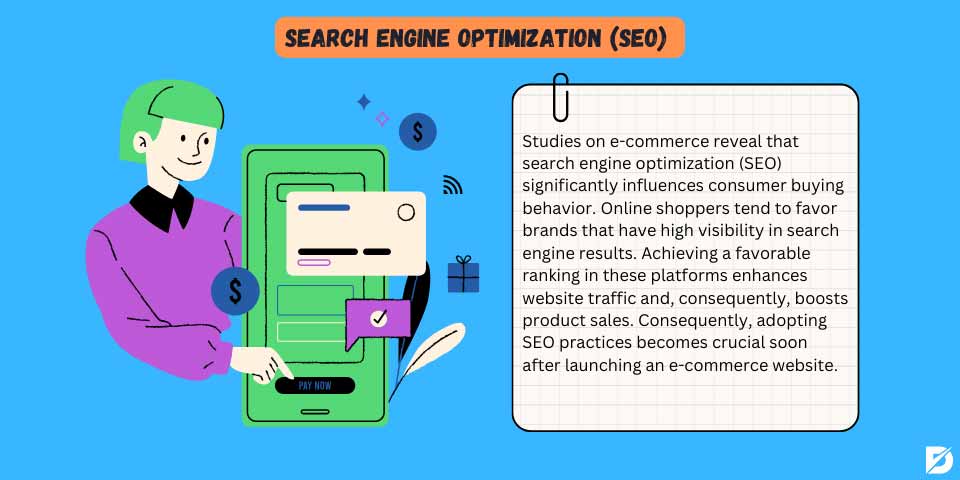 Search Engine Optimization (SEO)
Research on e-commerce shows that SEO has a huge impact on purchasing behavior. Online shoppers tend to prefer brands that are visible in search engines. Having a good ranking in these channels increases traffic to your site and, thus, your product sales. Search engine optimization is important in following the ways after opening a new e-commerce site. By working effectively on SEO, you can ensure your products and brand are visible. To make your site SEO-compatible is through technical improvements, content management, and best practices for e-commerce. Also, learn how to define target audience for SEO.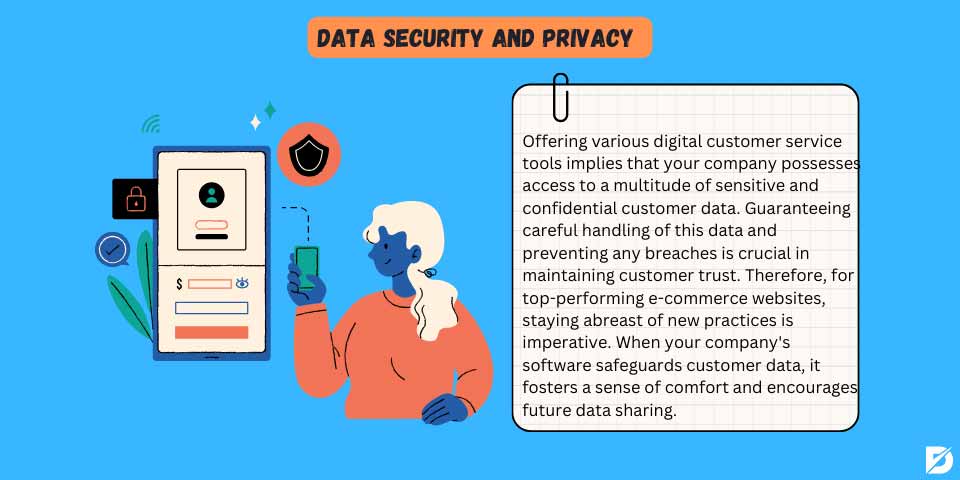 Data Security and Privacy
Providing different tools for digital customer service means that your company has access to many sensitive and private customer data. Ensuring that all this data is handled carefully and preventing any compromise is vital to maintaining customer trust; hence, for the best e-commerce websites, it's essential to keep up with new practices. If your company's software protects customer data, they will feel more comfortable sending any data in the future. Furthermore, when managing an e-commerce site practice, it is helpful to calculate the security problems that may arise from cyber attacks and infrastructure problems. By taking precautions against such situations, you can eliminate the risk of losing time, money, and reputation. Also, check these best ecommerce platforms for your online store practices.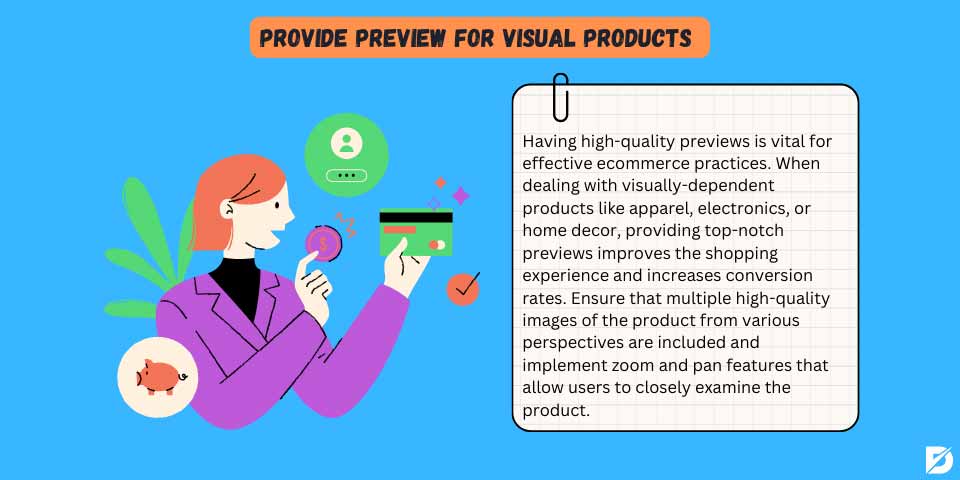 Provide Preview for Visual Products
Previewing visual products is crucial for practical ecommerce best practices. When selling products that rely heavily on visuals, such as clothing, electronics, or home decor, providing high-quality previews enhances the shopping experience and boosts conversion rates.
Include multiple high-quality images of the product from different angles. Implement zoom and pan functionality that enables users to inspect the product closely.
Offer 360-degree product views or 3D models when possible.
Show the product in real-life contexts or settings. Provide thumbnail images that users can click to view larger versions.
Incorporate product videos that showcase how the item works, its features, and its benefits.
Organize images into a gallery or slider format that users can quickly swipe or click through.
Include descriptive alt text for images to improve accessibility and SEO.
Ensure all visual product previews are fully functional and user-friendly on mobile devices.
Ensure that you have the appropriate rights and licenses.
Also, check these best ecommerce product page practices to learn more.
E-Commerce Practices
The advantages offered by electronic commerce increase the desire to develop and expand electronic commerce. To date, the most important factor that has paved the way for the development of electronic commerce has been the investments made in information technologies. As such, it has become an important system in developing systems for the best practices for e-commerce. To ensure customers who like your brand have a great shopping experience, you need to create a website they find easy to use. When your site meets their needs, it makes them trust your brand more. To do well in online sales, there are important things your website should have. By focusing on things like e-commerce best practices, how it looks, how payments work, keeping the information updated, and making it easy to find things, you can run your online store smoothly and make customers happy.
Hopefully, the best ecommerce practices we provided above will guide you through your online success!