In the marketing world, copywriting is crucial because it acts as a persuasion tool that moves audiences to take action. The perfect words can make all the difference, whether creating an enticing advertisement, an interesting social media post, or an educational blog article. In this thorough tutorial, we dig into the frequently enigmatic world of how much does a copywriter make. We'll clarify the numerous elements that affect copywriting service costs so you can navigate this crucial marketing area. Let's take a minute to recognize the importance of copywriting in the larger marketing context before delving into the specifics of copywriter pricing.
Consumers are flooded with information from every part of the internet in today's fast-paced digital world. A copywriter's responsibility in this content abundance is to produce messages that not only catch attention but also resonate with the target audience. Copywriting bridges the gap between a brand's offers and the needs, desires, and emotions of the consumer.
As we begin our investigation into copywriting prices and how much does a copywriter make, we'll also present an outline of the numerous services provided by copywriters. Copywriters have a diverse role in the marketing environment, from producing captivating product descriptions to constructing persuasive email campaigns. Understanding the extent of their services can provide you with useful insight into why their cost might vary so greatly. So, without further ado, let's get into copywriting rates and what to expect when working with a professional copywriter.
What Is Copywriting?
The art and science of creating written material that persuades, informs, entertains, or engages an audience to perform a specific action is what we call copywriting. It is a critical component of marketing and communication, spanning everything from commercials and product descriptions to website content, email campaigns, social media posts, and more. At its foundation, copywriting is about utilizing words strategically to achieve a certain goal, whether that goal is to drive sales, raise brand awareness, inspire trust, or elicit a response.
If you're new to the great world of copywriting, you should know that there are three categories of writers who specialize in online content: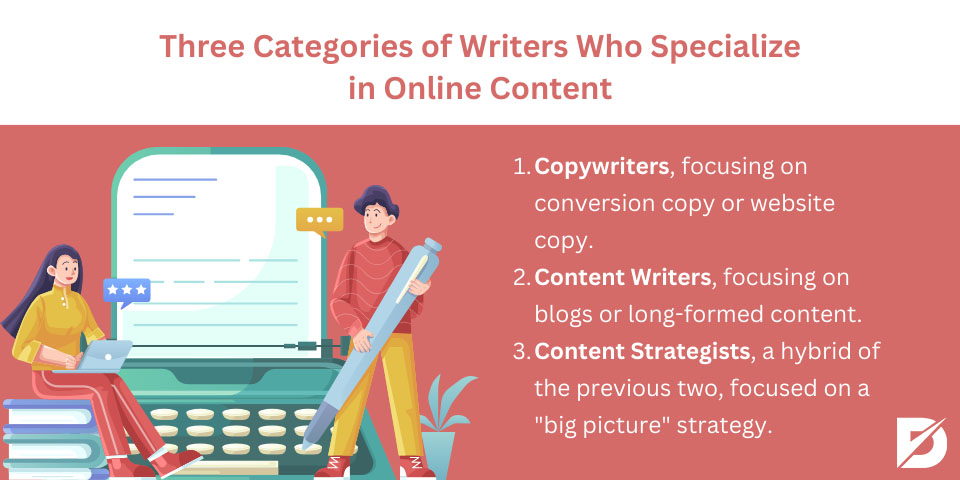 Copywriters, focusing on conversion copy or website copy.
Content Writers, focusing on blogs or long-formed content.
Content Strategists, a hybrid of the previous two, focused on a "big picture" strategy.
Whatever you select, you should be hiring an experienced, trained expert so that your writer can embrace your company's voice and message. They can also increase conversions and bring in more leads with their experience and acceptance in the company.
Understanding Copywriting Pricing Structures
Copywriting services are priced differently, and understanding the differences is critical when estimating how much does a copywriter make for your specific needs. Hourly rates and project-based pricing are two prevalent copywriting rates. Depending on the scope and nature of your project, each has its own set of pros and disadvantages.
Hourly Rate vs. Project-Based Pricing: Pros and Cons
Hourly rates are simple: you pay for the number of hours a copywriter spends on your project. This adaptable paradigm might be used for smaller jobs, changes, or continuing projects with a fluctuating workload. It enables you to track the time spent on your project, giving you a clear view of how much does a copywriter cost for your budget.
On the other hand, hourly rates can sometimes create ambiguity about the eventual copywriting cost, especially if the project's scope changes. Customers may not be sure about the possibility of unanticipated time delays. Furthermore, it does not necessarily correspond with the output of the copywriter, as some may work more efficiently than others. This variance in efficiency can affect the total cost.
Project-based pricing, on the other hand, provides a set price for a certain work. It gives clients budget stability and guarantees that the project's costs will not exceed the agreed-upon amount. Because they have a defined price for the assignment regardless of time spent, this approach motivates copywriters to work efficiently and achieve deadlines.
Factors Affecting Copywriting Prices
Many factors can influence how much does a copywriter make. Thus, it is crucial for you to consider those elements before working with a copywriter. The following are the most important factors: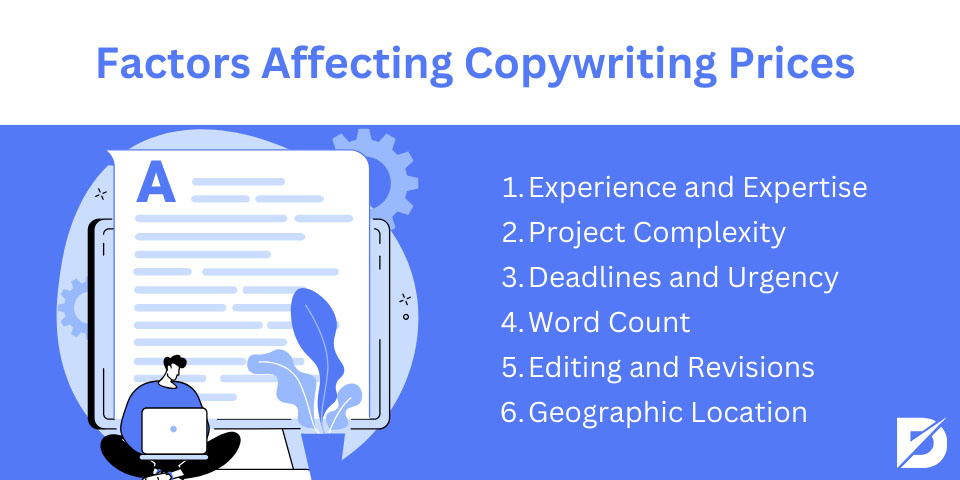 Experience and Expertise
More experienced copywriters frequently expect greater copywriting rates. They have a history of completed projects that were successful, they are knowledgeable about the sector, and they are more adept at copywriting strategies. Copywriters with expertise in a particular market or sector may charge you extra. Their services may be more beneficial due to their in-depth understanding of the language, trends, and audience preferences in the business.
Project Complexity
Copywriting price may differ depending on the sort of content being written. For instance, providing a straightforward product description might be less expensive than constructing a detailed sales funnel or technical documentation. The entire cost of a project may go up if it requires substantial study, such as learning about a complicated product or industry. Before writing, copywriters can need more time to acquire and process material.
Deadlines and Urgency
It costs more to complete urgent tasks. To fulfill short deadlines, copywriters might have to reorganize their calendars or work beyond normal hours, which could result in an increased copywriter rate. Customers who set more flexible deadlines may discover that copywriters charge more reasonably.
Word Count
The length of the content directly influences the copywriting price because some copywriters charge by the word. Naturally, longer articles or books will cost more than shorter ones, like social media updates.
Editing and Revisions
Pricing for copywriting projects may include a set number of revisions. Beyond this point, additional alterations can result in additional fees. Together with writing, some copywriters also provide editing services. This also entails editing and refining already-written content, which might be done separately.
Geographic Location
To compensate for their costs, copywriters in areas with a high cost of living, like big cities, may set higher fees. Those who live in cheaper places could have more affordable prices.
Different Types of Copywriting and Their Costs
The field of copywriting is broad and includes a variety of textual forms, each with a specific function in the context of marketing and communication. You can more effectively estimate how much does a copywriter make by being aware of the particular requirements of the various copywriting specialties.
Here are some ballpark figures for the copywriter costs of various projects. These costs might vary based on the criteria we discussed above, but they should give you a basic idea of what to anticipate.
| | | | | |
| --- | --- | --- | --- | --- |
| Project Type | Freelancers | Junior Copywriter (1 – 5 years of experience) | Senior Copywriter (5+ years of experience) | Agencies (a team of copywriters) |
| Website Copy | $150 – $500 per page | $100 – $300 per page | $200 – $1000 per page | $500 – $1000 per page |
| PPC Advertisement | $30 – $150 per ad | $30 – $100 per ad | $50 – $200 per ad | $100 – $300 per ad |
| 1000 Word Blog Post | $100 – $800 | $400 – $1000 | $1000 – $2000 | $700 – $1600 |
| Landing Page | $300 – $1000 | $300 – $800 | $1000- $2000 | $1000 – $1500 |
| Brochure | $200 – $1000 | $400 – $700 | $400 – $700 | $400 – $700 |
| Email | $400 – $700 | $300 – $900 | $500 – $2000 | $500 – $2000 |
Copywriter Salary: How Much Do Copywriters Make?
Understanding the income potential of copywriters is essential for prospective copywriters and those who are thinking about hiring one. Based on variables including geography, expertise, sector, and the particular function they hold, how much does a copywriter make might vary widely.
The fact of how much does a copywriter make might vary widely by location. Copywriters typically command greater compensation in major cities with higher costs of living, like New York City or San Francisco, to offset the higher cost of living. On the other hand, copywriting salaries could be lower in less expensive areas or in smaller cities. Since they frequently work from home, independent copywriters may have more freedom in setting their own pricing, which may be impacted by the places where they discover their clients.
RECENT POSTS
Content Marketing: Beginner's Guide 
Content marketing stands at the crossroads of creativity and strategy, offering businesses and individuals an opportunity to engage, inform, and inspi...
According to geography, expertise, and industry, the average yearly salary for an in-house copywriter in the United States, for instance, ranges from about $45,000 to $75,000 per year. A freelance copywriter's income can vary greatly depending on their clientele and the demand for their services. They are free to determine their own fees and might be paid hourly or per job.
Negotiating Copywriting Rates
It's crucial for both clients and copywriters to reach a win-win agreement because negotiating copywriting rates is a frequent practice in the field. Here are some suggestions for settling on reasonable costs when employing a copywriter: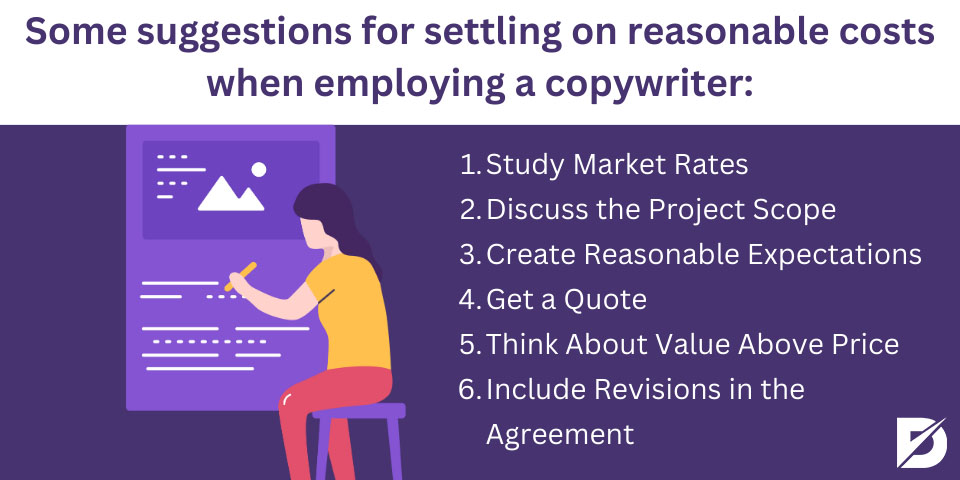 Study Market Rates: Do some market research on how much does a copywriter make in your business and region before starting any discussions. You may determine whether the copywriter's offered charges are appropriate by being aware of the industry norm.
Discuss the Project Scope: Clearly define the project's scope. Provide information about the project's word count, degree of difficulty, and any unique research needs. The more specific your requests are, the simpler it will be to get a precise copywriting rate.
Create Reasonable Expectations: Be upfront about your financial limitations and delivery schedule. If you have restrictions, state them up front to prevent confusion later in the negotiation process.
Get a Quote: Ask the copywriter for a thorough copywriting price estimate. A breakdown of expenses, such as hourly rates, word rates, or project-based pricing, as well as any additional charges for revisions or specialist services, should be included.
Think About Value Above Price: Keep in mind that quality frequently has a price. Although a copywriter with a solid track record and glowing recommendations could charge more, their work might provide you with more returns on your investment.
Include Revisions in the Agreement: Specify how many revisions are covered by the price quote. Decide how additional modifications will be handled and whether there will be additional fees if more adjustments are required.
How to Budget for Copywriting Services
Any company wishing to leverage the power of convincing and engaging content in its marketing efforts must effectively budget for copywriting rates and services. Here, we'll look at methods for allocating money from your marketing budget and determining how much copywriting jobs will cost.
Firstly, you need to understand the role that copywriting plays in your marketing plan. You should set aside a set amount of your marketing budget for copywriting services. If you are asking why, think about how crucial high-quality content is for increasing brand awareness, conversions, and consumer engagement.
Secondly, your marketing goals and objectives should be very clear. You can align your copywriting investments with your strategic aims, whether they be growing revenue, driving more visitors to your website, or raising brand awareness. Higher percentages of your budget can be needed for high-impact projects.
Lastly, you need to consider long-term relationships with your copywriters. You need to investigate the prospect of long-term collaborations with copywriters or agencies if you foresee recurring copywriting requirements. Long-term agreements can include cost-saving options like retainer agreements or discounted rates for repeat business.
Creating a budget for copywriting rates is a dynamic process that calls for striking a balance between investing enough money for high-quality material and making the most of your resources. You can make sure that your investments in copywriting efficiently contribute to your marketing success while staying within your budget restrictions.
Conclusion: A Recap of Costs and the Power of Investment
Understanding copywriting expenses is crucial in the realm of marketing and communication, where words serve as the link between brands and audiences. The elements impacting copywriting rates, tactics for negotiating reasonable costs, and budgeting for copywriting services have all been covered in this article.
To sum up, we've dived into the nuances of how much does a copywriter make, and compared project-based pricing against hourly rates. Understanding these factors will help you choose the best copywriting services for your particular needs.