Google is an ever-ending, constantly developing search engine that shapes what we see on the search engine results page (SERP) according to our search queries. If you are an e-commerce website owner or an SEO specialist working for one, you may have noticed a change in your rankings. Of course, it would be safe to say that the Google BERT update may have impacted you.
One of the primary mistakes website owners and web devs make treating SEO like a static tactic. However, as Google progresses, the SEO goals change, too. Moreover, Google has made more than three thousand changes to its algorithms. So, SEO specialists need to keep an eye out to recent changes to improve their rankings. In this article, we will explain the Google BERT update and its impacts on e-commerce websites.
What Is Google BERT Update?
More improved than Google's RankBrain, Google BERT is an intelligent algorithm. It understands unformulated search queries and reverts them effectively and relevantly. As it continually grows, it learns the intent behind a search query. It understands synonyms and prepositions, combined with the overall context. BERT stands for "Bidirectional Encoder Representations from Transformers." In other words, the algorithm is based on the natural language processing (NLP) technique. NLP helps to understand complex search queries. Moreover, approximately 10% of search queries are and will be impacted by the BERT update. However, understanding what the update does and learning how it affects e-commerce sites are important. Keep reading to learn how Google BERT update affects e-commerce websites and the improvements available for on-page SEO.
What is The Difference Between BERT and RankBrain?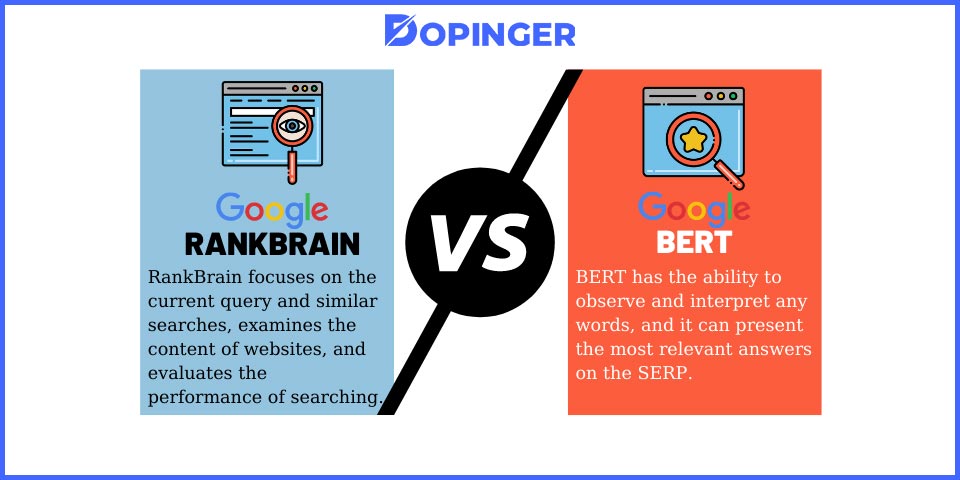 Google BERT and RankBrain are types of artificial intelligence but both of them are different algorithms. They have the same main purpose: to increase user satisfaction and make searches more successful. The difference is in the algorithm's searching process. RankBrain focuses on the current query and similar searches when you search for something on Google. It examines the content of websites and evaluates the performance of searching. If you need more information about RankBrain, you can read our What is Google RankBrain article. On the other hand, BERT has the ability to observe and interpret any words, and it can present the most relevant answers on the SERP.
Google BERT Update and E-Commerce
The BERT update is positive for SEO specialists and web devs. It helps rank product and category pages more efficiently. After understanding the query's intent, the update filters product and category pages for complex search queries. As a result, the web pages on a website have a higher chance of ranking better in the SERP while driving quality and organic traffic. And this results in better visibility for e-commerce websites and improves their sales.
Google's purpose in the BERT algorithm is to assist users in getting helpful results. The primary purpose of the BERT algorithm is to understand longer, more conversational queries. So, how can you optimize your website to help BERT pop your link up on the SERP?
How to Optimize for the BERT Update—Tips For Better SEO
Even though the BERT update did not impact your website, you may still want to optimize it to improve your e-commerce website's ranking. Besides, updating your content for BERT will also improve your organic traffic and store sales. Here are some tips you can look at and advance in your search engine ranking: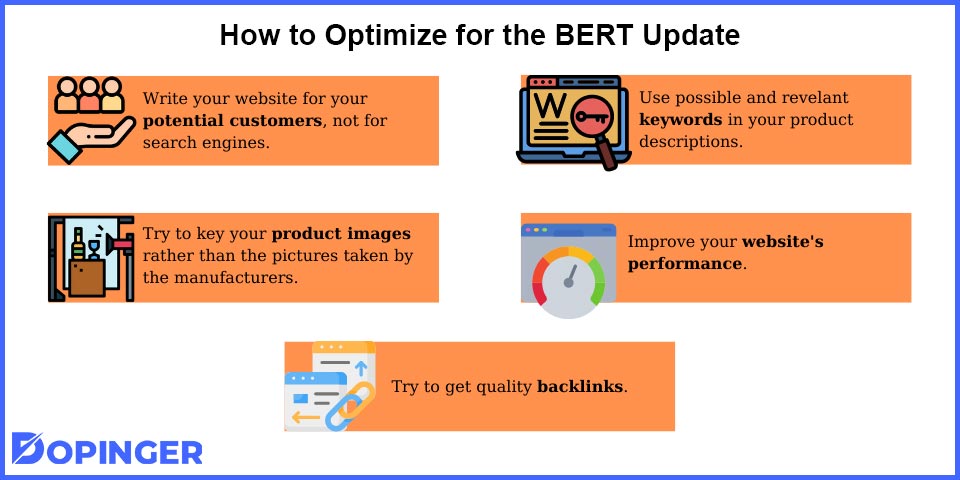 Write your website for your potential customers, not for search engines. This will help the algorithm understand your content better and match it with long-tail keywords.
Try to key your product images rather than the pictures taken by the manufacturers.
Include possible and relevant keywords in your product descriptions.
However, there are some optimizations you can consider to make your e-commerce website Google-friendly even more. You can:
Improve your website's performance. Site speed is a crucial factor e-commerce website owners need to consider. Also, lower site speed results in losing a possible customer. Moreover, optimizing the website for mobile devices as well will improve your overall SEO.
Try to get quality backlinks. Getting quality backlinks results in getting ranked higher. Getting quantity and quality backlinks is possible through social media and blogging.
Conclusion Google BERT Update
Google's search algorithm is still advancing to understand the differences between human language. However, the BERT algorithm is yet another step in the right direction. With its ability to understand the context of an entire query, BERT helps eCommerce businesses with an opportunity to drive more relevant search traffic to their product and category pages.