Amazon is the world's largest marketplace when it comes to online commerce. Amazon keeps growing by increasing its sales by 20% every year. Thus, it manages to dominate one of every two online shopping in the USA. As you can see, Amazon offers a whole new world for entrepreneurs. In order to be successful in this world full of opportunities, it is necessary to pay attention to a few points. The most important of these issues is that your product lists rank higher. The most important factor that helps sellers in this regard is keywords. In relation, there are multiple Amazon Keyword Ranking Checker Tools that we will list in this article.
Each seller should use different keywords according to products. So as a seller, how will you know which keywords to use for which product? There are many tools available to help Amazon sellers do this. These tools mainly check the ranking of related keywords for any product. Therefore, you may identify the keywords that rank best for each product. A higher ranking means more leads, and more leads mean higher conversions. So, without getting you too excited, let's get started with a list of these Amazon keyword ranking tools:
Data Hawk
Helium10
AMZScout
SellerApp
Jungle Scout
Keyword Tool Dominator
Keywordtool.io
Merchant Words
Data Hawk
First on our list is a paid Amazon keyword tracker. However, we can say that it is at a more affordable price compared to others. Data Hawk performs the keyword tracking process analytically. Thus, it provides intuitive and robust insights. It is also pretty successful at finding almost any relevant keyword for any product. Data Hawk not only helps you find keywords. It also allows you to track how your optimization efforts are affecting your ranking. From this point of view, you can more clearly evaluate which move was successful or not. Let's take a closer look at how this tool works.
The working principle of the tool is based on using AI semantic analysis. That allows you to discover new keyword opportunities for your products. One of its best features is that it also displays the competitive score for the keywords it discovers. This competitive score provides you with a clearer insight into which keywords are worth ranking for. Considering starting a pay-per-click campaign? Then you can count on Data Hawk to discover the most relevant and best keywords for your campaign.
The tool also allows you to store your historical data. So, after long periods of time, you can go back and browse and analyze them. Data Hawk also has one more important advantage. It offers to its users to connect multiple Amazon Ads accounts. The interface is simple and works well. The control panel is quite intuitive. The data you can view here is mainly clicks, impressions, conversion rates, and sales. The tool allows you to examine all this data in detail. Here you can also access data related to your ads in detail. In short, its control panel offers quite fast and easy access to the most important data you may need.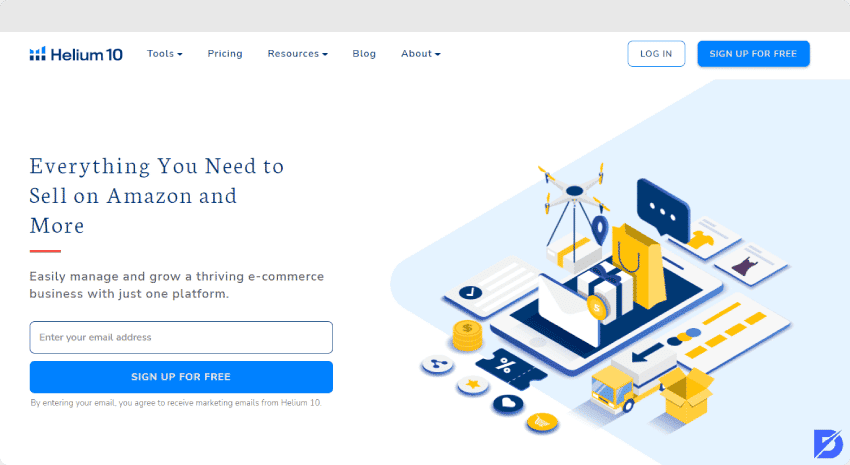 Helium10
It is one of the rare tools that will simplify the keyword discovery process for your products. The best part is that it allows you to follow the entire keyword discovery process through a single dashboard. You can follow both paid and organic keywords of your products without any difficulty on this panel. Another remarkable feature of this tool is Rocket Boost. In fact, this is the feature that many users are most satisfied with. This feature sorts the data of all the prominent keywords in the last ten days on an hourly basis by product. Thanks to this feature, you can get the most important data about your target keyword. Let's go back to the tool itself.
Helium10 also allows you to track Amazon keyword rankings on a per-product basis. You can also track these keywords for percentage changes. So, what kind of advantages will doing this give you? First of all, you will be able to predict trends easily in any time period. Besides, you can determine the monthly searches of Amazon users in this way. Doing so will provide you with clear insights into which products users are most searching for. Maybe it may also provide you with ideas for new products that you need to put up for sale in your online store.
SEO and Helium10
Another prominent feature of the tool is that it helps you evaluate your Amazon Keyword Search and SEO strategy. In this way, you will be able to test firsthand how competitive your strategies are. The design of the tool is extremely intuitive and yet simple. So much so that there is often no learning curve for new users. That means that even the newest users will have no trouble getting the most efficient results as soon as they get started. Finally, let's mention that Helium10 is completely free.

AMZScout
AMZScout is essentially an Amazon SEO tool. And it is quite functional in that regard. The fact that a single tool provides so many functions to users makes it the reason for preference. Let's list what kind of issues this great tool may help Amazon sellers.
First, it is one of the tools that provide the most efficient results on the platform when it comes to keyword research.
AMZScout can determine the demand and competition levels of keywords.
AMZScout also possesses several useful extensions to help you monitor keyword performance.
It also makes it easy for sellers to create smart URL links.
Thanks to the product search feature, you may examine the database and thus analyze the supply-demand balance of the products.
It provides the opportunity to monitor the performance of your competitors. In this way, you can analyze which products are in demand and how profitable they are.
It has many free plugins to help you calculate your FBA fees.
It has free plugins that may predict the average number of sales of a product based on niches.
In sum, AMZScout
As you can see, AMZScout offers much more than just a keyword tool. So, what are these features useful for? We will deal with this issue within the scope of the main theme of our article. In other words, we will evaluate it in terms of keyword research. Understanding how keywords are in demand also gives you an idea of which products are in demand. Besides, knowing the competition levels of keywords also provides important benefits. Thus, you can understand which keywords you can use to achieve higher rankings for your products. Using highly competitive keywords will negatively affect your product's ranking higher. Finally, by tracking the performance of your keywords, you'll have the opportunity to replace the unsuccessful ones with new ones.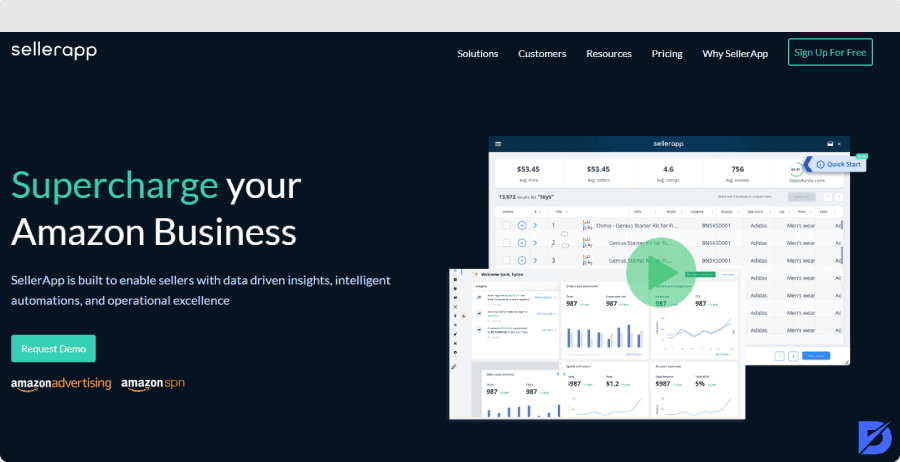 SellerApp
Another comprehensive Amazon SEO tool is SellerApp. It allows you to optimize your product listings and prices on Amazon. Moreover, you can even optimize your PPC campaigns with this tool. Although it offers much more, these are the most important features that make it so popular among sellers. Thanks to its features, users describe it as an all-in-one tool. That undoubtedly saves you the trouble of searching for different tools for your other studies.
The database of the tool contains almost 150 million keywords. Most of these keywords are high volume. On the other hand, the level of competition is also quite low. So, it's definitely worth targeting. All you need to do is to identify the right keywords for the products you will sell. Do not worry! The tool also has features that may help you with this. After all, it's not called SellerApp for nothing. It offers extensive filtering features so you can find the right keywords. It also has match-type selection features.
Let's look at the features of the keywords in the database of the tool. We may list the supporting data provided by the tool for each keyword in the database as follows:
These are data that can be vital to any keyword research because analyzing this data will help you go beyond forecasting for your PPC campaigns. Thanks to these valuable insights, you can identify the best-performing keywords. Now, let's talk about the reverse ASIN feature of the tool. Reverse ASIN searches focus on reviewing products from competing stores. It determines which keywords these products have in the ranking. That is actually quite useful for keyword research. Because all you have to do is use these keywords in your own related products. Pretty simple, right?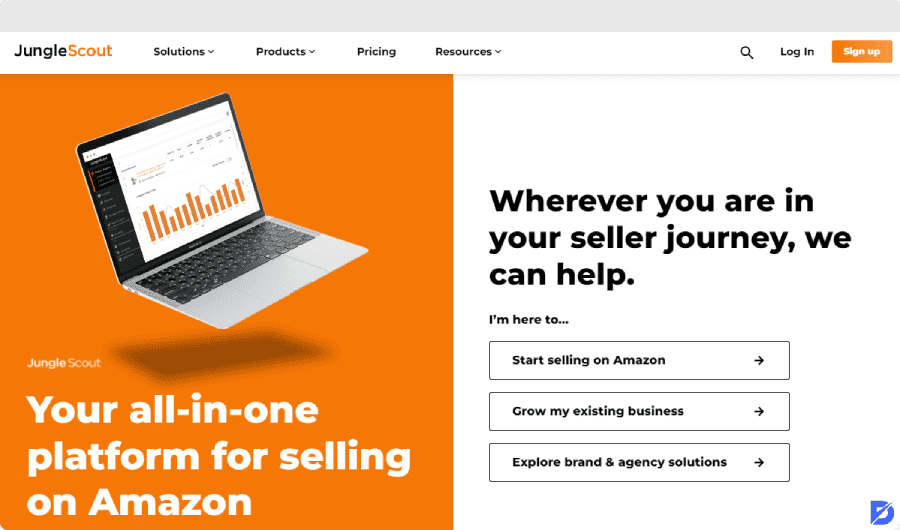 Jungle Scout
We will explain another paid keyword tool at this stage of our list. But even though it is not free, it definitely does its job well. The tool comes with a truly complete suite of functions. In other words, it saves you from paying for different tools for different functions. Let's take a closer look at this complete suite of functions from Jungle Scout for you.
One of the most basic features of the tool is, of course, keyword research. Do not doubt that you can track the performance of your keywords with such a comprehensive tool. Besides, it has tools that allow you to follow the products listed by rival stores. One of its most important features is that it allows you to optimize your listings for Amazon SEO.
We called Jungle Scout a complete seller tool. It's totally worthy of that phrase. Because in addition to all its optimization features, it also allows you to track your sales and inventory data. Isn't that amazing? You won't even have to resort to another tool to understand how your optimization efforts affect your sales.
Additional Features of Jungle Scout
Jungle Scout also has features that can help you discover more profitable niches. So you can use it to discover new product ideas and expand your listings. Another important feature of the tool is that it automates review requests. You can be sure that Jungle Scout has much more than what we've mentioned here. Despite being so comprehensive, it can appeal to new sellers as well as experienced sellers.
We have already mentioned that it is not free. We can even say that it is a bit more expensive compared to others because of its comprehensive features. Jungle Scout's basic plan costs $29 per month. The suite plan is $49 per month, and the professional plan is $84.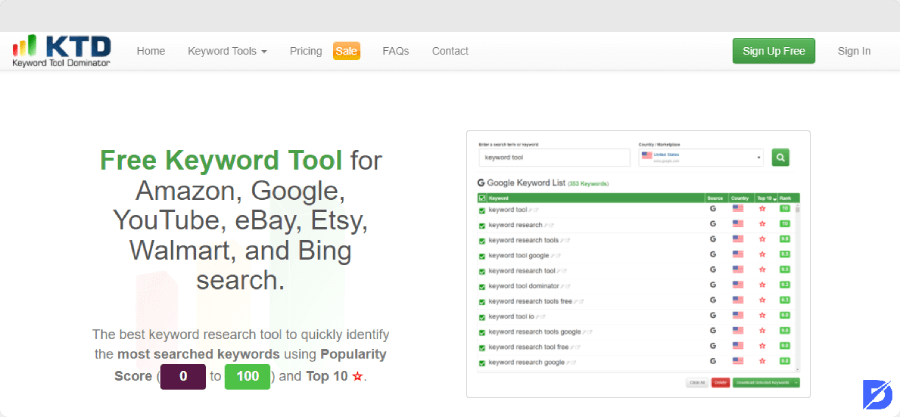 Keyword Tool Dominator
A free tool that won't disappoint sellers where Jungle Scout can be pricey. You can identify the most popular search terms for product listings. Keyword tool dominator also has another remarkable feature. It can find the most trending search queries in different online markets and Amazon departments.
There are three different keyword research modes in it. One of them is the normal search mode. The other is the precise mode for sellers who want clearer results. Finally, those who want more comprehensive results for their search can use the broad mode. In addition to all these, the tool also has features that will make your searches more targeted. You can use filters for this task. Thanks to the filtering, you can determine the word count of the terms in the search results. You can also filter out terms you don't intend to rank for.
RECENT POSTS
The Comprehensive Guide to eCommerce
Today's business landscape rapidly evolves, and e-commerce holds a remarkable place in it. As businesses discover technology day by day with improveme...
Is Cro a Good Investment? 
A/B testing is something you've likely heard about before. Although it always seemed helpful, it was never truly necessary. But as the noises have bec...
One of the best things about the tool is that it constantly updates the keyword suggestions. These updates are based on search trends and the popularity of topics. This way, you can discover trending search terms before their competition levels rise. We have already mentioned that the tool is free. However, Keyword Tool Dominator also grants lifetime access for a certain fee. By paying $75 at once, users can have unlimited keyword searches in the advanced keyword tool for life. However, we need to note that the updates are also completely free. So after paying any fee, you will not have to use the old version for life. Finally, let's mention that Keyword Tool Dominator supports the Amazon marketplace of 16 countries.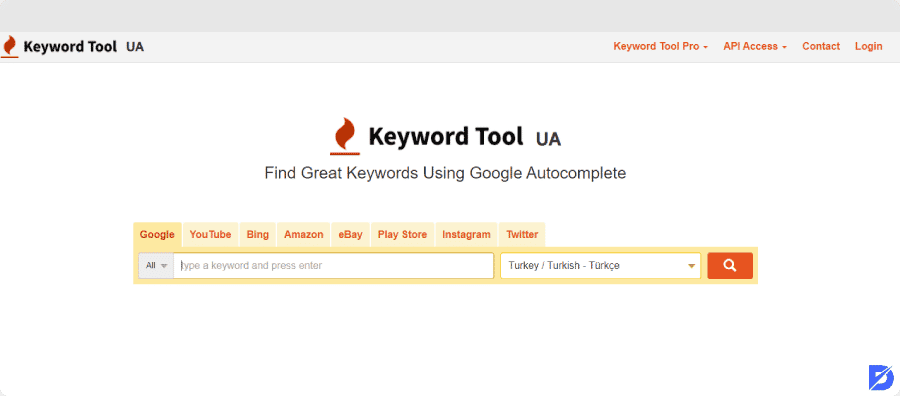 Keywordtool.io
Unlike other tools on our list, Keywordtool.io focuses on comprehensive keyword research. It is basically an expert at finding relevant keywords for your products. At the same time, it is also quite successful in evaluating the competition levels of the keywords it finds. But as we said, this is a comprehensive tool focused only on keywords. So, you can expect much more from it.
Search volumes are among the data the tool provides to users in keyword research. Moreover, it allows you to analyze the search volumes according to certain time periods. Among these data, naturally, the competitiveness of keywords is also included. Besides, their suggestions about keyword trends can also provide very useful insights for sellers. Among the data provided by the tool is the average cost-per-click data for the keywords. Thanks to this information, you can understand which keywords will cost how much for your ad campaigns.
Another important feature of the tool is that it allows you to search by filtering negative keywords. In this way, you can be sure that the most accurate target audience can see your lists. Negative keywords are also critical for paid ads. Thus, you can make sure to only pay for the ads that the potential customers who're most likely to convert will click on. By doing so, you can hit two birds with one stone. First of all, you pay less for your cost-per-click ads. Besides, your sales will increase as your ads will appear to potential customers with the highest probability of conversion.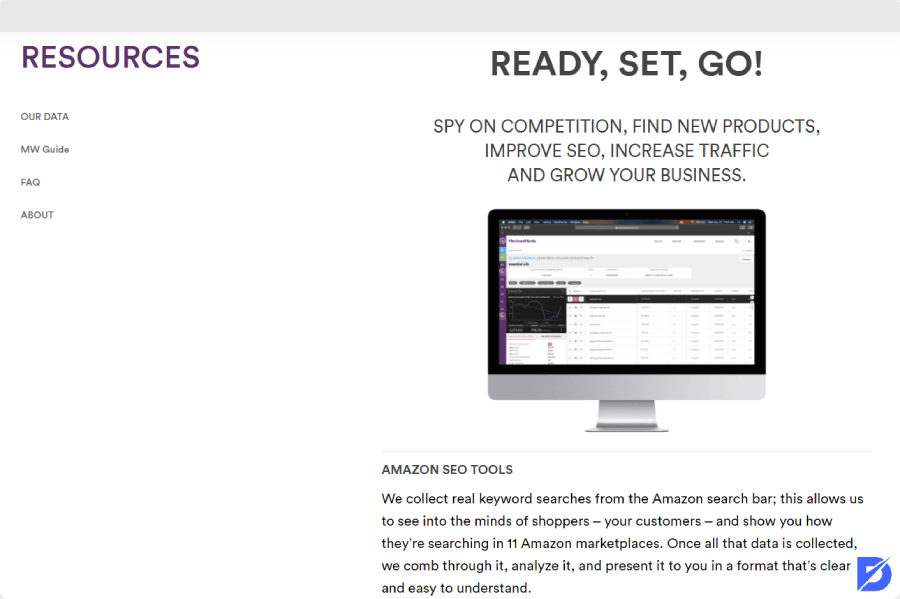 Merchant Words
Merchant Words is a tool that focuses more on which products consumers are demanding. It is great for sellers who aim to discover consumer trends. The keyword tool helps sellers gain clearer insights into the competitive landscape on Amazon. These studies help you to build more successful campaigns.
The tool covers the Amazon marketplace of 11 countries. It also bases all research on these marketplaces. In other words, it works by scanning these marketplaces in every research. Don't be fooled by its comprehensiveness. It's actually quite easy to use. At the same time, the data it presents is so understandable. Because it presents research data in a quite understandable format to its users, besides all these, you can also limit your research to only the market places that depend on your preferences. One of the most popular features of the tool is bulk ASIN Plus scanning. The limit for bulk searches is 50 ASINs. The keyword limit is a thousand.
Merchant Words is another paid keyword tool. However, it offers different plans with different tariffs for different usage purposes. The silver plan is based on the Amazon market in one country only. The price of this plan is $35 per month. The golden plan will be the best for you if you are a regional seller. The tariff for this plan is $79 per month. Finally, Merchant Words also has another plan for global brands. This plan is called the platinum plan. The tariff for this plan is $149 per month.
The biggest advantage of Merchant Words is that Amazon reports are always free. The advanced search functions of the tool are also quite satisfactory. Using the advanced search, you can easily discover the most trending keywords around the world.
Amazon Keyword Ranking Checker Tools, In Short
Just before we finish, if you're looking for a browser-based keyword rank tracker, you can use Dopinger's rank tracker for free. Into the final words, ranking keywords are vital to any successful seller on Amazon. In this context, almost every seller has to identify the right keywords for their products. Fortunately, there are many tools that come to the aid of sellers in Amazon keyword rankings. Therefore, we have explained the best Amazon extensions and tools that may help you in this regard. We also mentioned search volume Amazon plugins here. Although you can use some extensions on Google Chrome, Amazon may not allow it in its own app. We have mentioned such issues while talking about the related extensions. We hope you have found the right tool to help you with your Amazon keyword rankings.