Google Ads has match types to determine your target audience. These five types of matches are determined according to the company's decision. Let' see them!
Broad Match
Broad match type is a very comprehensive match type. When you choose it, Google makes your ads visible to people who search for your keywords and different variations of your keywords. This match type enables you to reach more people with your ads.
Modified Broad Match
This type of match has the same logic as a broad match in general. The difference is that you can specify the words which should be in the query. Therefore, while still reaching more people, you also can specify your target audience.
Phrase Match
Phrase match is focused on phrases more than keywords. If you choose to do so, your ads will be shown to people who search for the exact phrases or their variations. Hence, the ads' visibility will be more focused on your target audience.

Exact Match
With the exact match type, you restrict the ads' visibility to people who searched for the exact keywords of your ads. Even it will bring fewer impressions than the other Google Ads match types, the probability of winning new clients increase. Your ads will be especially shown to people who are searching for the content of them.
Negative Match
This match type is mostly for avoiding confusion. You specify the words that shouldn't be in the query. Therefore, irrelevant matching can be prevented.
Phrase Match vs. Exact Match
The difference between the phrase match and exact match can be explained simply with one word: restriction. If you choose the exact match for your Google ads, your ads will be shown to your exact target audience. Although the number of people you have reached will not be as higher as the phrase match, it will increase your ads' efficiency. On the other hand, the phrase match is more flexible. Therefore, you can access the people who can become your marketing qualified leads more.

Phrase Match vs. Broad Match
As given above, broad match includes your keywords and all variations of them. Hence, we can say that the phrase match is more restricted than the broad match. Broad match enables you to reach more impressions, but the efficiency rate probably will not be the same as a phrase or exact match. It is because irrelevant matches' rate of bringing income will not be that high. Of course, it also depends on the sector. If you have a wide target audience, reaching more people can bring you more customers.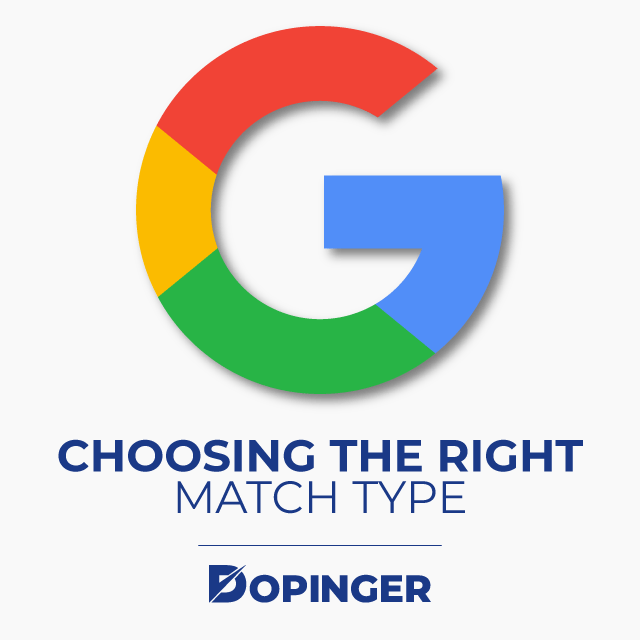 Choosing the Right Match Type
You can find the right matching type by taking your company's strategy into account. If your company offers specific needs, a phrase or exact match can be more efficient for you. However, some companies offer wider needs for people. To be more specific, there are some products which are decided to be bought in ten seconds. They can be daily necessities. For example, according to some research, products such as shampoos, creams, or packaged food are decided to be bought in 8-10 seconds by customers. Moreover, these products are needed by everybody. Hence, reaching more people creates a more efficient way to gain new customers.
Besides, it is good to be more flexible generally. Even though you can reach your specific target audience by exact match type, there can be people who might be impressed by your ads and then decide to utilize your service.
FAQs for Google Ads Match Types
What are the primary match types of Google Ads?
There are three of them. Broad match, phrase match, and exact match types are the primary ones. Modified broad match and negative match can seem like the additional ones.
Is there a limit for keywords?
There is no limit for keywords. However, the suggested amount is generally 20 keywords. It is because more than twenty can affect your rankings in SEO.
Can I sign in to Google Ads freely?
Signing up is already free. When your customers start to take action on your ads, then you should pay a fee. They can click your ads, or they can be visitors to your website.
How many budgets should I use for Google Ads?
It depends on your company's strategy. You can start with a certain budget, and then according to your impression share, you can make changes to your budget. Moreover, there is no minimum amount of money needed for Google Ads. Nevertheless, you can start with 10$ on average to get the benefit.
Can Google Ads be helpful for small business owners?
Of course, it can. However, it would help if you came up with good and well-considered strategies. It would be best to be careful about your keywords, your matching types, and your target audience.
Conclusion on Google Ads Match Types
Google Ads match types can bring well income to your company if your strategies are well planned. We suggest you be careful about deciding your Google Ads' match type and its benefits. Moreover, you can check the answers to frequently asked questions to clear your mind. We hope they would be helpful! If you like to know more about Google ads start by learning about Google Ads quality score.