Kumaş Home Success Story
Kumashome.com was an e-commerce site that wanted to establish an authority in the fabric industry and wanted to be more permanent in the long run. In addition, they wanted to expand their sales volumes. In this field, both the brand values and advertising values of its competitors are quite high. They needed SEO for their website, which would be a permanent solution to both compete in this field and increase their organic traffic.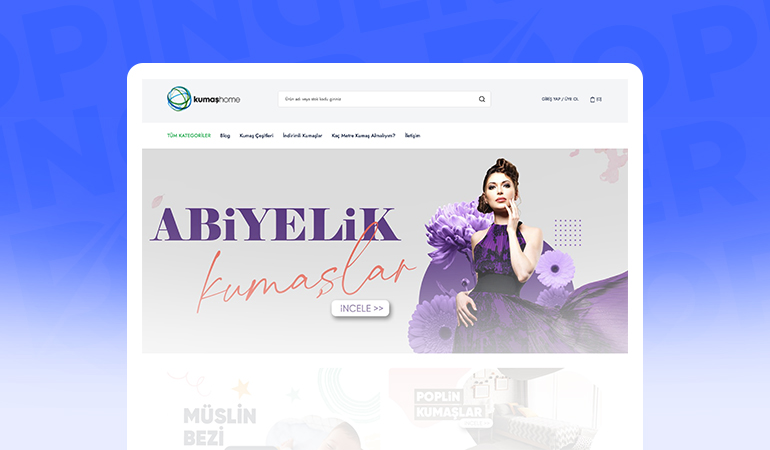 First of all, we listened to our customer's goals and expectations and conveyed our own strategies to our customers. In line with these plans, the first thing we did was to get our customers to the first page from their main keywords. At the end of the 4th month, we were on the first page of the main keywords that our customers specifically requested. We started to get higher rankings for the words that have high search volume and are the most important in their own industry.
As a result of this; We achieved a ranking in our customer's main keywords with the highest search volume, such as; müslin kumaş, poplin kumaş, pazen kumaş, krep kumaş ve viskon kumaş. We also managed to rank in high-prestige words such as kumaş and online kumaş. Most importantly, we managed to double the brand volume by increasing the monthly search volume for the word "Kumashome" from 600 to 1200.

As a result of 6 months of work, we managed to increase our impression rates by 1 million. We managed to increase the number of impressions from 1.5 million to 2.5 million. There is an increase of 80% in our total number of clicks. In other words, a total of 3 times increase has been realized. In average positions, there is a total increase of 2 times. So how did we achieve this success? Before explaining this, I shared a table with you where you can take a closer look at our keyword statistics.

Now that we have taken a closer look at our positions on the keywords, we can now take a detailed look at the difference between impressions and clicks on some keywords. As you can see in the table below, there is a huge increase in click and impression differences. For example, in the word "viskon kumaş, the 6-month click difference is 397, and the impression difference is 81,908. The click difference for the word Kumashome is 376, and the impression difference is 1287.
So How Did We Achieve This?
In the first periods of our working process, we analyzed our customers' expectations and goals in the best way possible. Because the expectations of our customers were directly related to their sales volume and stocks. Although our strategies were attracting website traffic, we prioritized the products and categories that our customers wanted to sell. Then we started to work on gaining authority with our own strategies. In these strategies, we focused on the keywords with the highest volume in our client's sector and carried out detailed studies on these words. Well, let's take a step-by-step look at what we did together.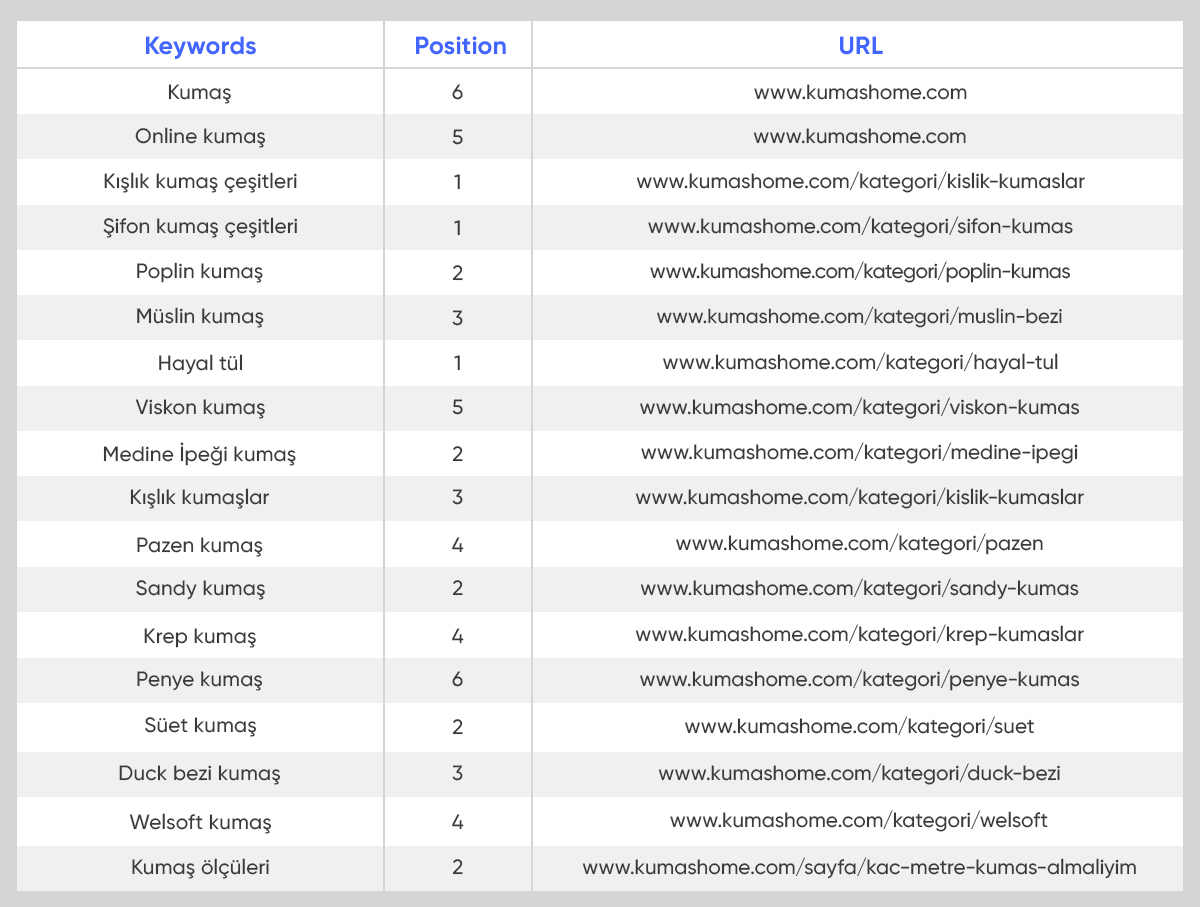 Keyword Analysis
In this process, we primarily focused on secondary keywords around our main keywords. Instead of directly targeting the main keyword, we chose to set up a more inclusive strategy. If we explain this with a small example, instead of targeting the "pazen kumaş" keyword first on the pazen kumaş page; We chose to focus on keywords with lower volume, such as "Bebek pazen kumaş" and "pazen nevresimlik kumaş."

Title and Meta Description Analysis
No matter how easy title and meta description editing may seem, it is a very important issue in SEO. Especially in e-commerce sites, titles and meta descriptions should contain keywords for sales. We have set up strategies in this direction. For example, if our target page is Pazen kumaş, the title is "Pazen kumaş fiyatları ve modelleri". The use of words like prices and models here is meant to stimulate more customers and be suitable for commercial search.
Content Planning & Development
In SEO, content comes first. Well-constructed content strategies are always more likely to succeed. Considering this, we carried out the following studies for all categories;
SEO-friendly content planning
Editing title tags in an SEO-compatible way
Content optimizations
Establishing keyword strategies
Use of FAQ structures
Keeping the content up-to-date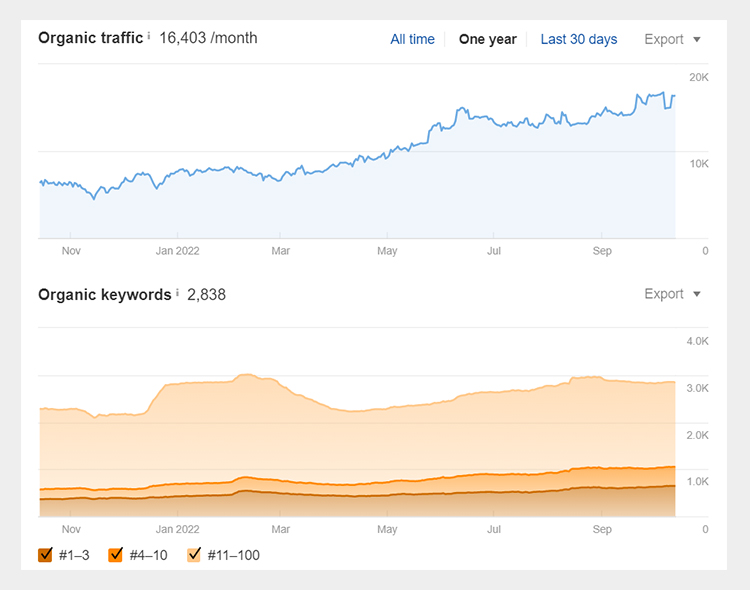 Web Site Speed Optimization
Site speed is one of the most important criteria for both Google search engine bots and users. Users want a faster experience, especially since purchasing products is carried out on e-commerce sites. But if you lose users at this point, you will lose commercially. We also carried out optimizations for the Kumashome site to bring the site speed to better levels on both mobile and desktop. So what did we do for site speed optimization?
We reduced the size of high-dimensional images
We minimized the extra CSS and JS files
We fixed 404 pages
We preferred the image formats as JPG instead of PNG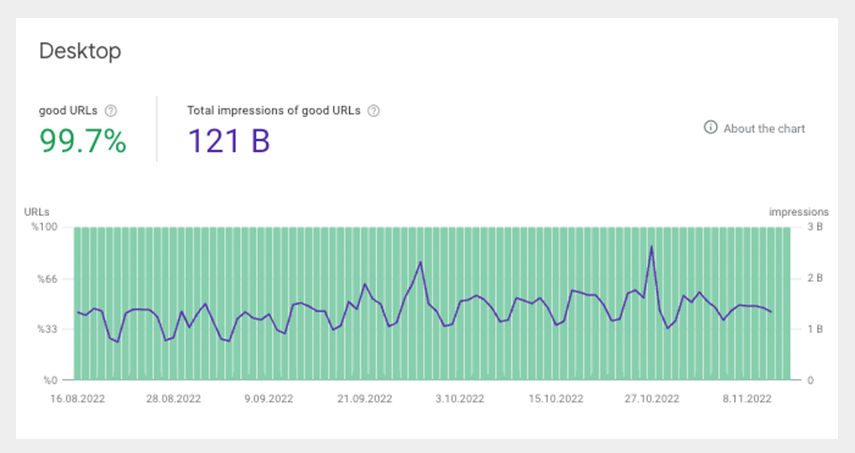 Technical Optimizations
We started to carry out technical analysis on our Kumashome e-commerce site, especially within the framework of core web vitals.
In this way, we took advantage of good page views by increasing your page experience rates to 100% and succeeded in having a positive impact on our rankings. Apart from this, what technical SEO work have we done?
404 error pages
Fixing broken link errors
Editing Canonical errors
Fixing Orphan Page Errors
Google Search Console Coverage errors
Editing tag pages issues
Multiple H1 issues

What's Next?
The Kumashome site currently has around 70 categories. Two-thirds of these 70 categories are on the first page when their main keywords are searched. The Kumashome website has succeeded in gaining great authority in the "fabric" sector permanently. From now on, it will be about how to get more conversions through this gained authority and visibility. In this context, we started focusing on conversion optimization.
Kumaş Home Success Story F.A.Q.
Click the questions to see frequently asked questions and their answers.
Website Speed Optimizations
Site speed is seen as an important ranking factor by search engines. In this context, it is very important to have a good site speed on both desktop and mobile sides. In this direction, we have carried out many different actions, including priority points such as optimizing high-dimensional images and eliminating 404 errors for our customer's websites.
The Core Web Vitals tool has been a very important guide for us in terms of the technical optimizations we have carried out on our customer's websites. Within the scope of this data, the elimination of orphan pages, broken links, and coverage errors were among the main actions we have undertaken.
Content Planning and Development
In SEO, content comes first among the factors that should be given importance. In this direction, we have carried out studies on the planning of SEO-compatible content, content optimizations, and keeping the already existing content constantly updated.
Keyword, Title, and Meta Description Analysis
Especially considering the competition in the e-commerce sector, good keyword analysis is one of the essential processes. In this context, important steps have been taken to reach the targeted point with the title and meta work carried out after the keyword analysis on a sectoral basis.