Mooncorn.com.tr Success Story
Mooncorn.com.tr was an e-commerce website that wanted to be permanent in the hijab clothing industry and leave a mark in this industry and build a reputation. Of course, this would not be easy. They needed a professional SEO service to both increases the organic traffic of the website and its brand awareness. This is how Mooncorn and Dopinger met!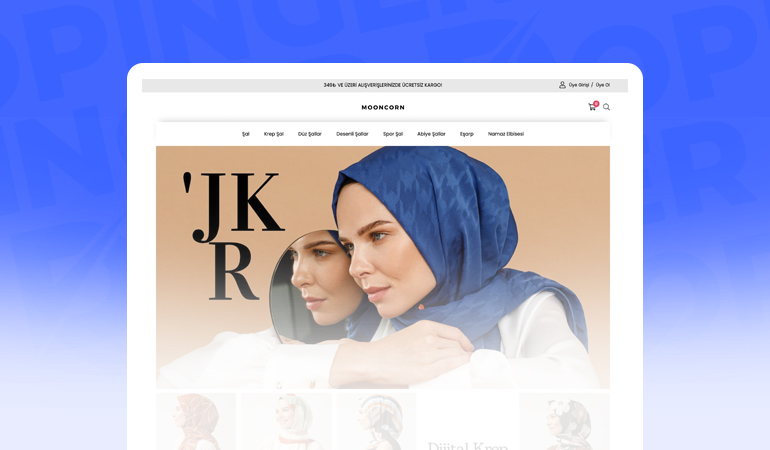 Mooncorn signed with Dopinger in April 2022 to increase its digital visibility and brand awareness. Before starting our work, we listened to our customer's expectations and goals, conveyed our goals to our customers, and created plans in line with them.

At the end of the 6th month, we started to receive serious traffic from many keywords. We managed to be on the first pages of keywords that are important on a sectoral basis with a high search volume. As a result, we showed a 335% increase in click-through rates. We managed to increase the number of impressions by approximately 169 times.

Keywords With Which We Have Achieved Success
Before we explain our success story in detail, let's examine which keywords we are on the SERP. In the table below, you can examine the keywords that mooncorn.com.tr receives the most traffic.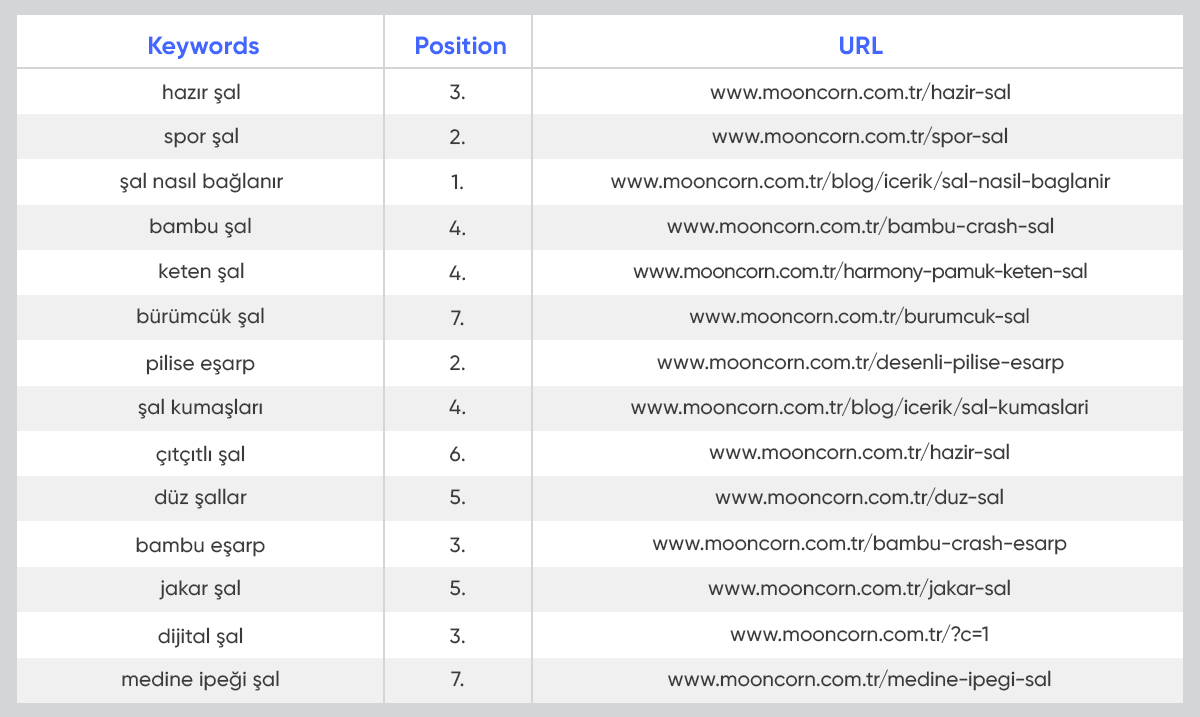 Technical Optimizations
We know how important technical work is for any SEO project. That's why, as Dopinger, we try to comply with technical SEO criteria in each of our projects. In the Mooncorn project, technical SEO criteria were first examined, and work was started for the parts that needed improvement.
Analysis of Non-Indexed Pages
Since the authority of the website was low, many pages on the site were not included in the search results on Google. We regularly made requests for these pages to be indexed again by performing index status, status codes, and content analysis. As a result, we saw a huge reduction in the number of non-indexed pages.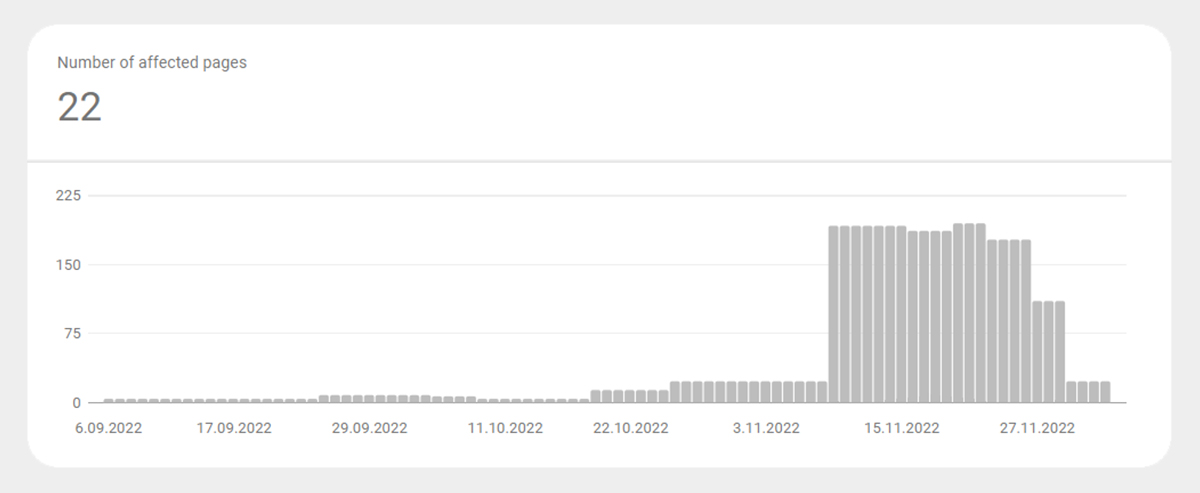 URL Redirects
We spent a lot of effort trying to increase the crawlability of the site and minimize the pages with 404 errors. Some of the 404 pages on the site were redirected to the relevant categories, and some were removed with the "URL Removal" tool. As a result, the rate of our pages with 200 status codes increased to 74%.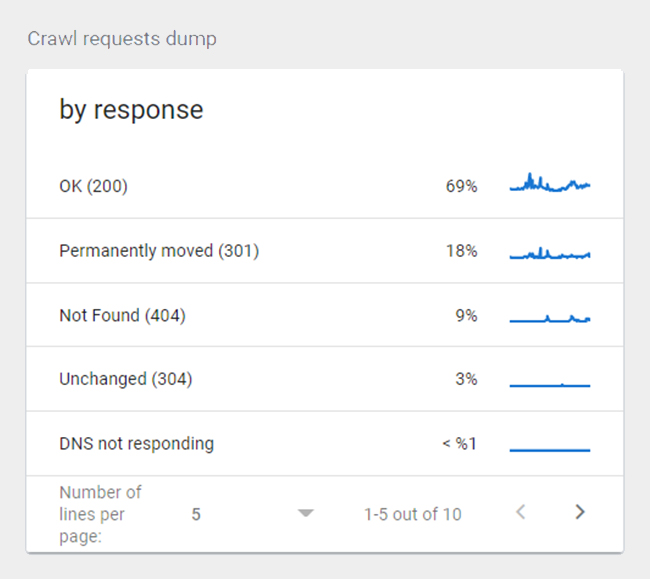 Fixing Orphan Page Error
We detected pages on the site that were not linked at all. We have resolved this error by giving internal links to these pages from the necessary places and adding some of them to the footer section. As a result, we have created a strong internal link network on the site.
Duplicate Title and Meta Descriptions
As a result of the analyzes we have made through various SEO tools, we have determined that some pages on the site use the same meta description and page title. After creating the original title and meta description for each of these pages, we were able to fix the error. As a result of this, each page on the site now has a unique title and meta description.
Structured Data
Since we know that structured data has a great impact on SEO, we also implemented various structured data for the website Mooncorn. We created FAQ scripts for each page where we entered content and integrated them into the site. Additionally, we were able to generate traffic from the videos added to the site and the comments made by the users on the products.

On-Site SEO Work
After fixing some technical errors on the site, we turned to On-Page optimizations. Within the scope of On-Page work, we carried out various studies and plans such as keyword analysis, blog studies, content planning, title-meta description studies, and internal link studies. Let's examine what details we paid attention to while doing our work.
Keyword Analysis
We perform keyword analysis, which is indispensable for SEO studies, for each project. In this project, we examined the sectoral keywords and analyzed them. After determining the most searched keywords by users, we integrated them into the site. We have created categories and pages for high-volume keywords that were not on the site. Thus, we started to rank for keywords with high search volume, and the number of keywords ranked on Google continued to increase regularly.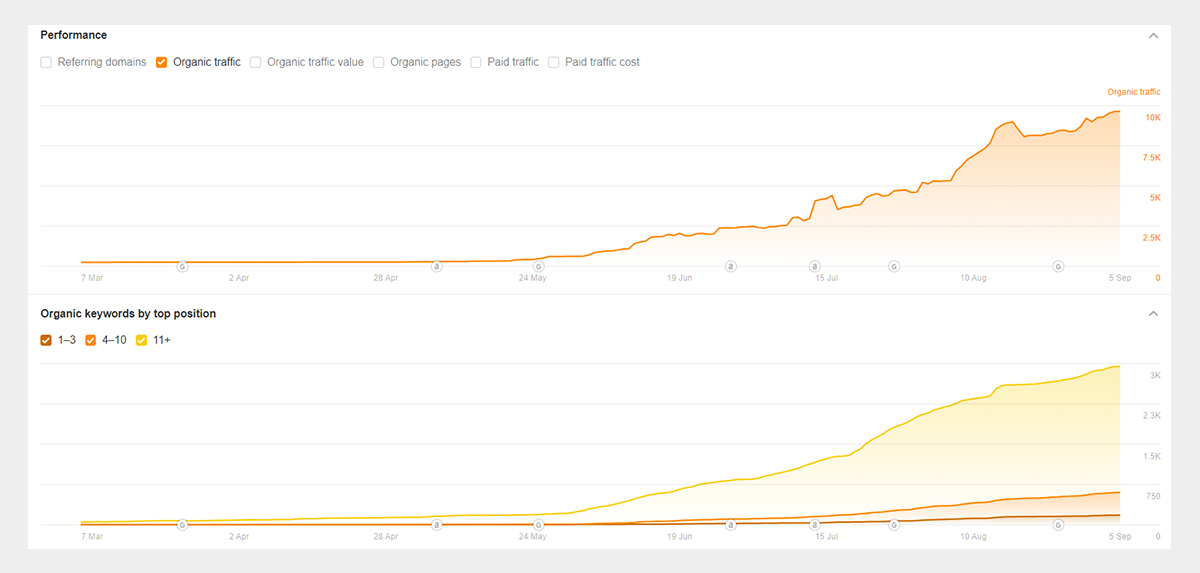 Blog Strategy
Of course, increasing the number of sales and shopping cart values in e-commerce projects is one of the main goals. However, users should visit the site not only to shop but also to get information about the products they intend to buy. Since we know this, we have identified the questions that users are most curious about in the hijab clothing sector, and we have produced blog content for them.
Content Plan
As a result of the keyword analyses we have done, the content for the categories with high search volume and the potential to generate traffic to the site has been created and added to the site in an SEO-compatible way. Keywords and titles that users search for and that must be included in the content were determined. As a result, the number of organic keywords on search engines increased regularly.
Title and Meta Description Work
Since we know that title and meta descriptions are one of the most important on-site SEO criteria, we have created each page title and meta description added to the site in an SEO-compatible and unique way. We shortened the page titles to longer than 65 characters and extended the very short page titles to make them SEO compatible. We have also edited the meta descriptions on the category pages. We have included the keyword of the relevant page in both the page title and the meta description.
Off-Page SEO Studies
After the success we achieved in technical SEO and on-site SEO work, we shifted our focus to off-site SEO for our project. In order for the website to have a clean link profile, we regularly conducted malicious link analyzes. However, we also identified backlink sources that could add positive value to the site and started link building.
Identifying Backlink Sources
We decided to strengthen our link profile because there were not enough backlinks on the site. Of course, we were very careful when choosing backlink sources, avoiding spam links and low-value link sources that have nothing to do with the site. We have created guest posts from many news sites with high DR value.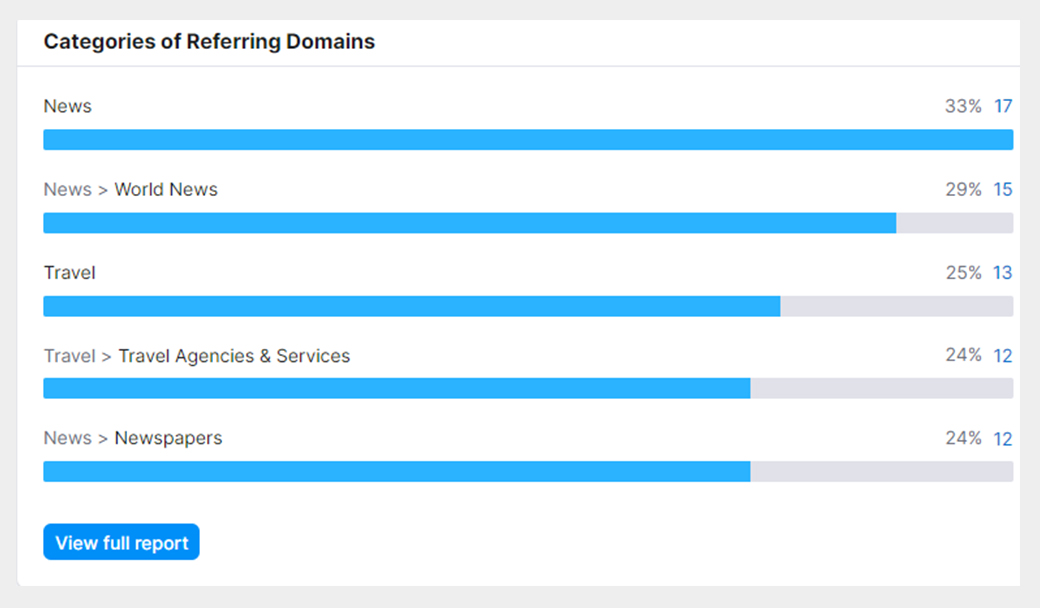 Malicious Link Analysis
We regularly examined the links on the site with the help of many different tools, such as Google Search Console, Ahrefs, and Semrush. As a result of the investigations, we rejected spammy links that are irrelevant to the site and do not add any value to the site, so the website has a clean link profile. Thanks to the external SEO studies, we have increased our DR (Domain Rating) value from 2 to 12 levels.
Conversion Rates
As a result of 6 months of SEO work, according to Google Analytics data, the revenue of the website increased by 570%. In addition to this, shopping cart value demonstrated a great increase between April 1 and September 4.

What's Next for Mooncorn?
We plan to continue on our way without slowing down after the successes we have achieved. Since we have given certain authority to the website, we are now planning to work on keywords with a much higher volume. What is more, we will continue the off-site work in order to increase Mooncorn's brand awareness. We aim to increase our lead rates and maximize the user experience so that users who visit the site can log in again. Our goal is to be on the first page in all product categories, and when we achieve this, Mooncorn will become a much bigger brand.