Kale Taksi Success Story
Kale Taksi was a well-established company that has been in the sector since 1979, first in the automotive sector, then offering new and second-hand car buying and selling and rental services, and then selling taxi license plates, minibus license plates, and service plates.
Kale Taksi wanted to show its presence in the digital world after its success in the sector. As a result, they contacted Dopinger SEO Agency.

After having come to an agreement with Kale Taksi, we listened to our customer's expectations. As a result of the analyzes and examinations we made on these expectations and the sector, we determined a road map, and we remained true to our plan throughout the project.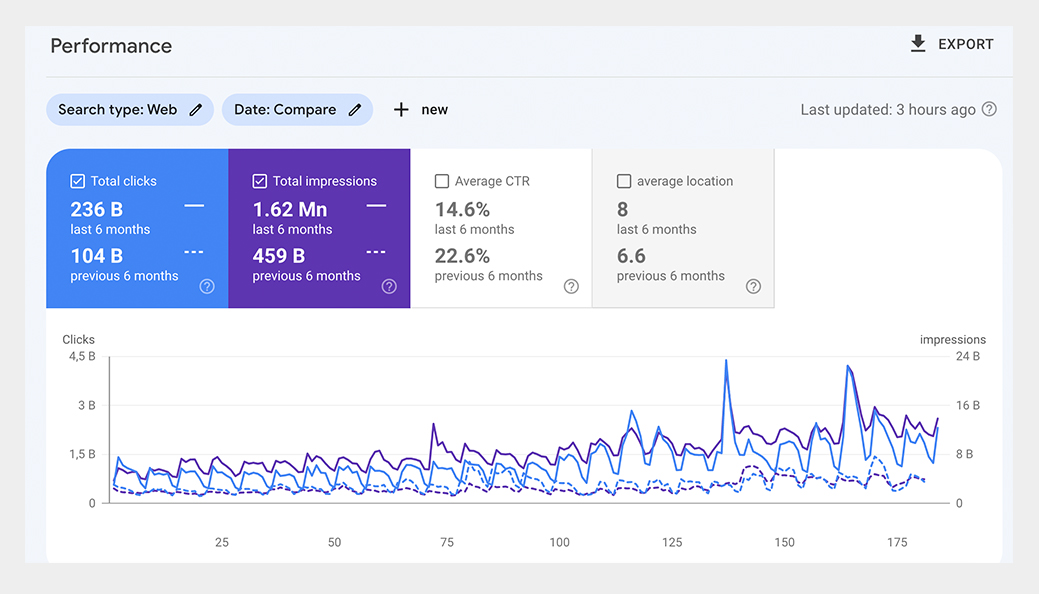 As a result of our efforts, we increased our click-through rate by 116% and the number of impressions by 224%.
According to the data on Google Analytics;
Number of Users: 171%
Number of New Users: 164%
Number of Sessions: We achieved a 238% increase.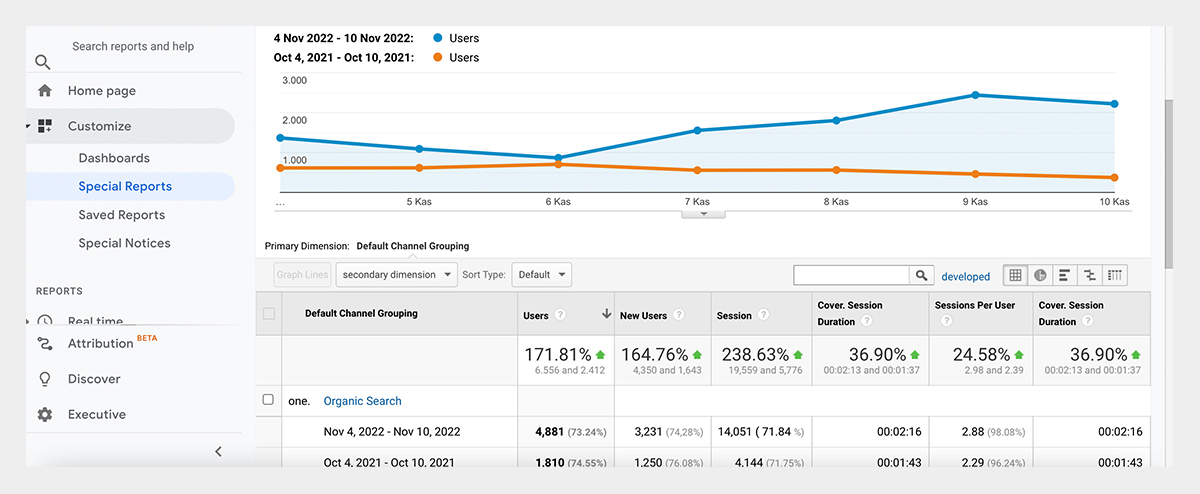 Targeted Keywords
We first focused on the keywords that our customers asked us to improve, starting with the keywords that had a lower competition ratio.
In a short time, we improved our ranking in words such as "istanbul taksi plakası, istanbul taksi fiyatları, kiralık taksi plakası"
Then, we focused on keywords such as "taksi plakası, taksi plaka, taksi plaka fiyatları" which have high search volume and appeal to a wider audience.
Successful Keywords
Before delving into the details of our success story, we wanted to share our rankings on search engines with you. You can review the keywords and pages on which kaletaksi.com has achieved success by examining the table below.

Site Redirection
When we closely examined our client's brand and website name on Google search results, we found a second website with the exact same design and content as the one we had been working on with SEO.
Even the menus in the footer and header section of this website were exactly the same. However, the contents on the sites were exact copies of each other.
As soon as we realized this, we contacted our client and explained that this could cause a big problem in terms of SEO and that the site could potentially receive a manual penalty.
We then requested that the duplicate site be redirected to the site we were working on via the domain registrar. Once the domain redirection was completed, we sent a signal to Google through the Search Console that we had redirected the current site.
As a result of this process, we observed an approximate 2x increase in organic traffic on the site.
You can view the organic traffic and keyword increase of the website on Ahrefs in the image below.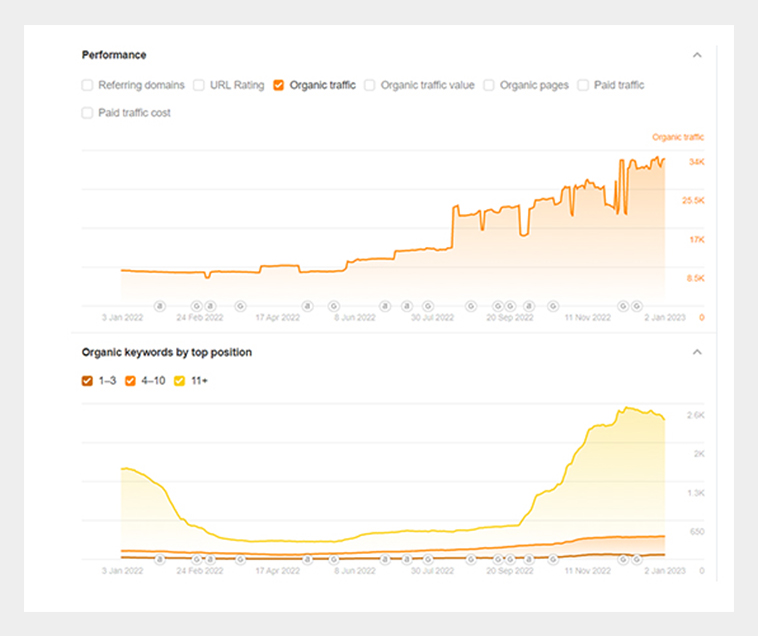 Improving Crawl Stats
We began the technical work on the kaletaksi.com site by first reviewing the crawl statistics. As a result of our review, we found many unnecessary 301 redirects and URLs with redirect chain errors. 
As a result, we began work to remove unnecessary 301s and also minimized 404 errors by redirecting many of our pages that were giving 404 errors.
With these efforts to improve the scanning statistics, we were able to achieve a successful level of 82% in the ratio of URLs that give a 200 status code.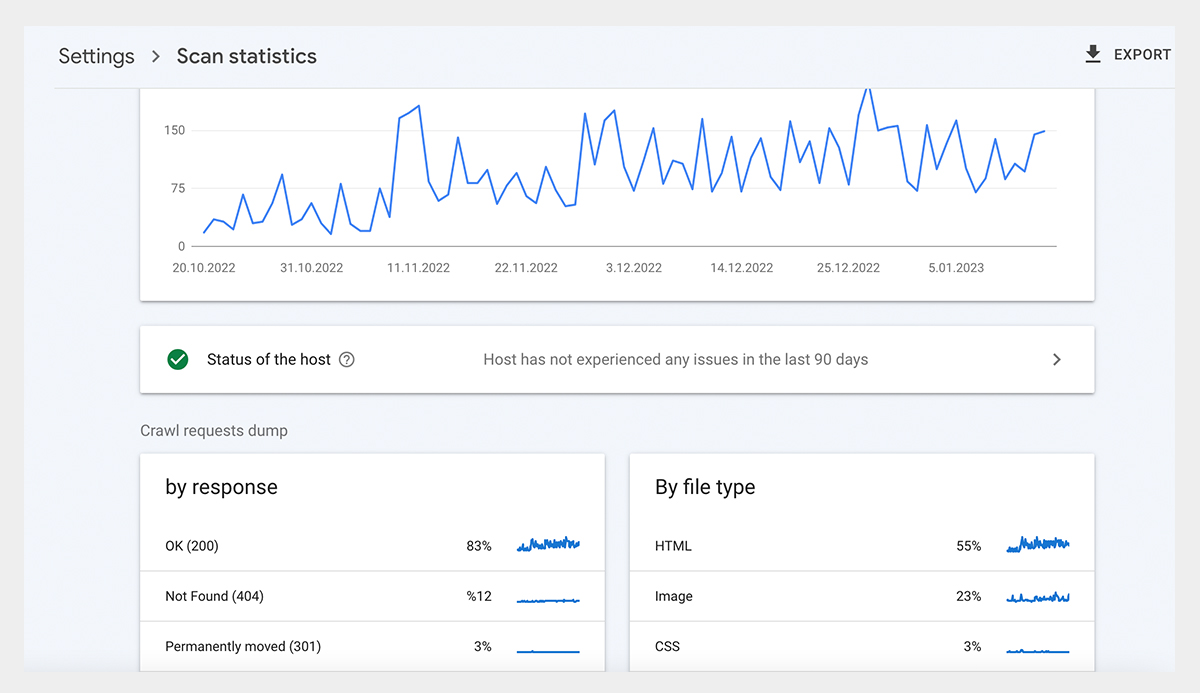 Improving Page Experience
With Google giving more importance to page and user experience every day, we have ensured that the pages on kaletaksi.com reach users with maximum performance. We made sure that the large-size images on the site were reduced, and the sizes of the images that caused the slides and the page layout were re-optimized.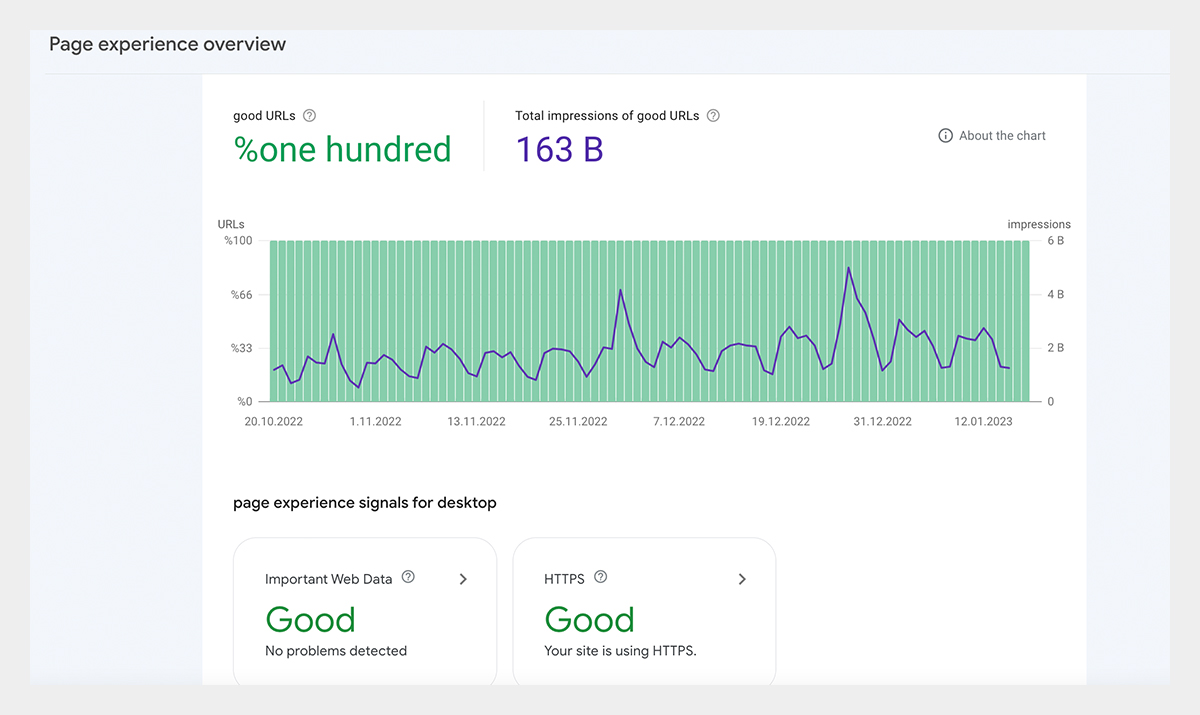 As a result of the efforts to improve the page experience, we have achieved approximately 140,000 clicks and over 1 million impressions on Google because we have a "good page experience.

Mobile Usability
In our efforts to maintain the highest level of user experience, we placed great importance on "mobile usability." After identifying pages that were not effectively presented on mobile and making the necessary improvements, we observed that all URLs on the site work seamlessly and with maximum performance on mobile devices.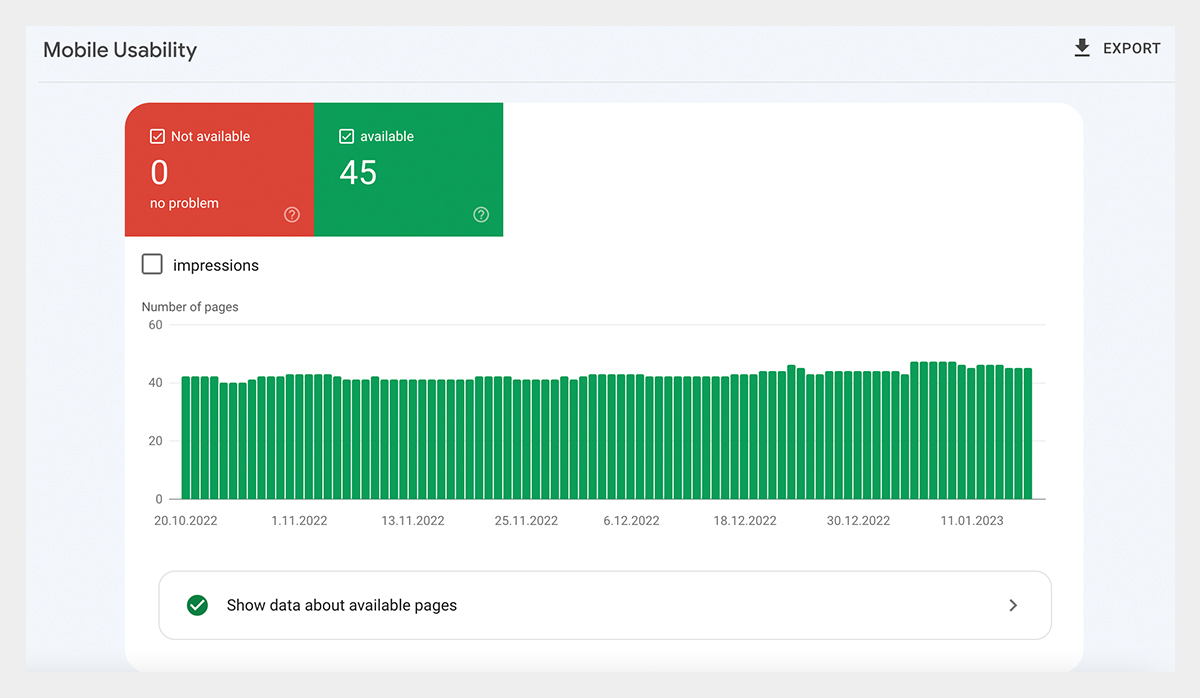 Pages Blocked by Robots.txt
We performed the necessary actions for pages that were not given permission by the Robots.txt file but that we wanted to appear in search results. As a result, we have resolved the error "URL blocked by robots.txt" on the site.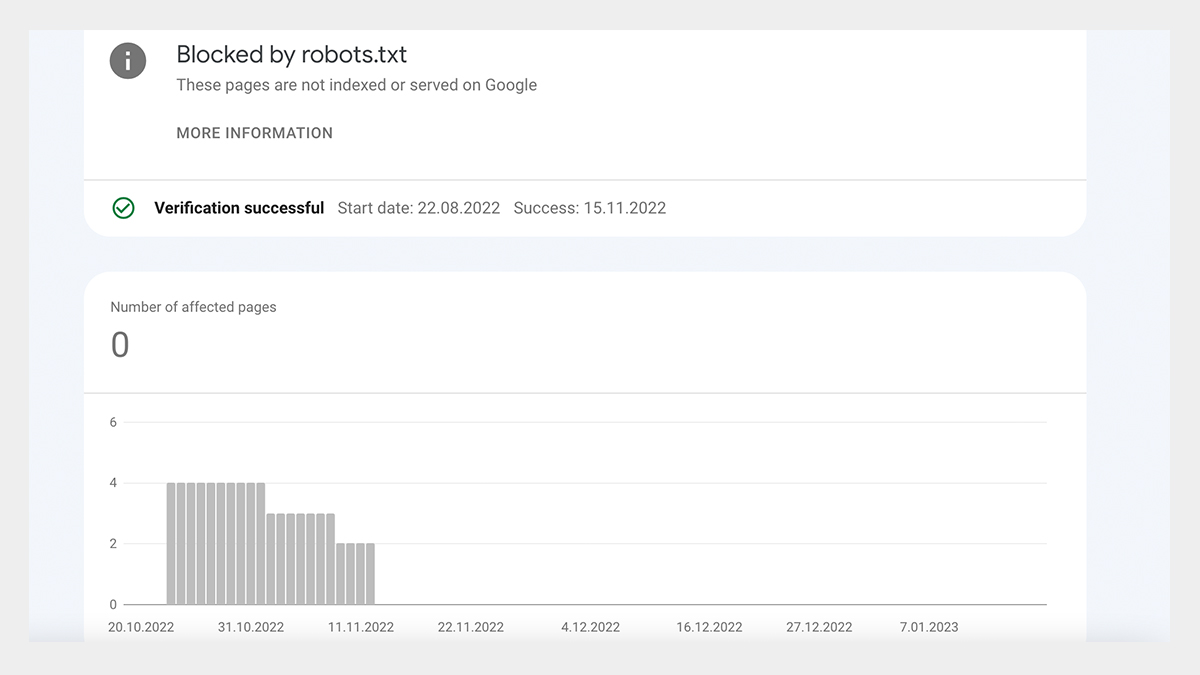 Permanent Link Analyses
As a result of the technical SEO improvements we made, we focused on internal SEO processes. As a result, we identified that the permanent links of the pages we targeted were insufficient.
We optimized the permanent links on the service pages on the site again and preferred keyword clusters with higher keyword volume in the permanent link structures we created. As a result, we made the permanent links on the site cleaner.
For example:
Old Permanent Link: https://www.kaletaksi.com/plakalar/sari-taksi-plakasi
New Permanent Link: https://www.kaletaksi.com/plakalar/taksi-plakasi
We also observed that many pages had numbers in their permanent links. To fix this error, we optimized the permanent links and updated all permanent links with special characters.
For example:
Old Permanent Link: https://www.kaletaksi.com/plakalar/sari-taksi-plakasi-36
New Permanent Link: https://www.kaletaksi.com/plakalar/tekirdag-taksi-plakasi
Old Permanent Link: https://www.kaletaksi.com/plakalar/ankara-taksi-plakasi-214
New Permanent Link: https://www.kaletaksi.com/plakalar/ankara-taksi-plakasi
Old Permanent Link: https://www.kaletaksi.com/plakalar/izmir-202
New Permanent Link: https://www.kaletaksi.com/plakalar/izmir-taksi-plakasi
Content Optimization
With "content optimization," which is one of the most important and critical on-site SEO criteria, we have made sure that the content on the website is presented to users in a quality manner.
First, we added content to pages that did not have content such as "ankara taksi plakası, izmir taksi plakası, antalya taksi plakası". Afterward, we made improvements to pages that had insufficient content. We added keywords that we thought should be included in the content to the relevant content to improve them.
As a result of the content work we did, we caught a nice increase in the number of organic keywords on search engines.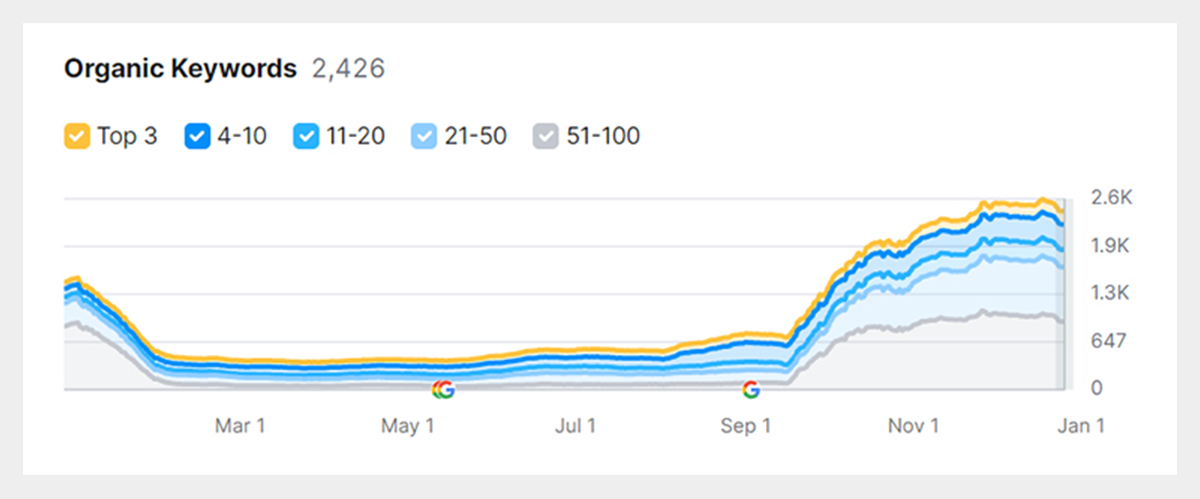 Off-Page SEO Work
After the successful work we did in technical and On-page optimizations, we focused on "Off-Page SEO.
First, we performed Off-Page SEO work for the pages we targeted, and then we performed link-building work for the brand name to increase the general authority of the website.
As a result of the links we obtained from many high-value news sites, blogs, and industry-related sites, we gave the site a more authoritative identity on search engines. After the increase in external SEO criteria, such as backlinks and referred domains, we also achieved a noticeable increase in website authority score