Dr.Ozlem Ozcan Case Study 


Dr. Özlem Özcan is an expert physician who has a high-level career in dentistry and has been serving his guests at the Istanbul Gayrettepe location for years. However, she needed a professional service to improve her digital assets, get better rankings on search engines, and bring her high-end services to more people.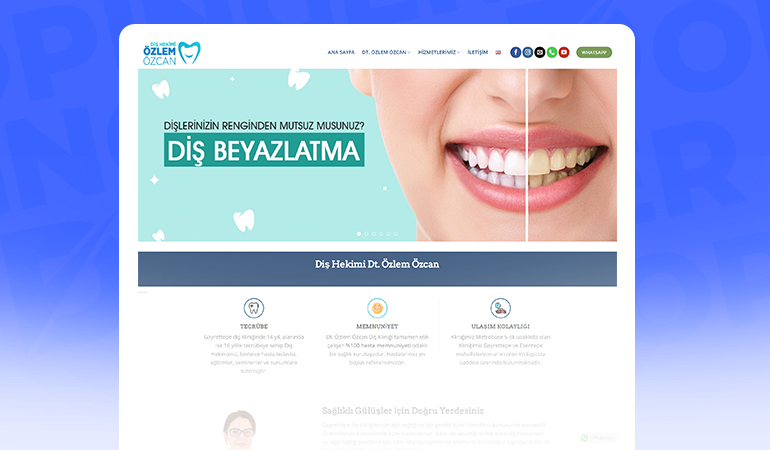 In June of 2021, she took the first step to strengthen her digital assets by contacting the Dopinger Performance agency. After Dentist Özlem contacted us, we took action to understand her goals and plan a process in line with them. 

These goals were like that: 

It was our utmost priority to rank first in the location-based words "Gayrettepe diş hekimi, diş hekimi gayrettepe" 

We were able to get to first place in these words, which were our primary goals, in a short period of 2 months! In addition, we focused not only on these words but also on our other service words, riveting our rise. 

As a result of 6 months of work, we managed to increase our impression rates by 10 times, that is, by approximately 1000%. In addition, we managed to increase our click-through rates from 0.7% to 1.2% and reached a click-through rate (CTR) that increased by 18 times. 


So how did we achieve that? 
First and foremost, we should say that we have set our goals well. When we started our work, we listened to the expectations of our business partners and evaluated our objectives in the short-medium-long term by calculating the realization dates of these expectations. Since it was not an authoritative site before, we carried out our work by focusing on words with low competition. In addition to these works, we started to implement our long-term plans step by step. But how? Before we move on to our success story, let's share a table showing our keyword statistics.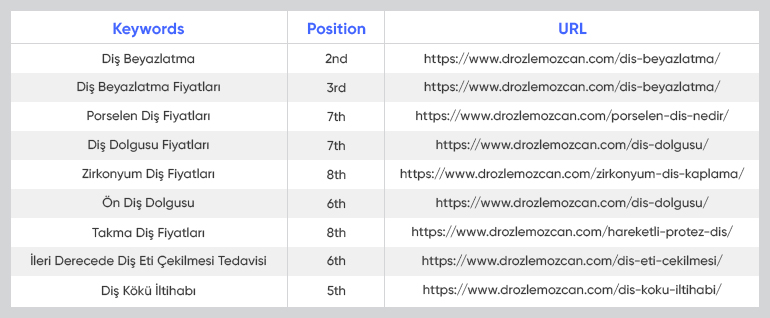 Blog Strategy 
In our work, we started to identify and plan both niche and high-traffic volume blog content that will directly benefit users. In order to keep up with the competition, we provided gradual blog content production and sharing, not exceeding 10 per month, instead of producing fast and poor-quality blog content.
We have integrated all of our blog content into our site in accordance with user search intentions and SEO compatibility.

E.A.T. Criteria 
Google E.A.T criteria are one of the most important criteria for Y.M.Y.L sites. Since our website Drozlemozcan.com will be a site that provides services and shares information in the health sector, it should have complied with the E.A.T criteria and provided authority within its framework. In this context, we created an author profile in accordance with E.A.T criteria, highlighting the identity of Dentist Özlem Özcan, and took the first steps to gain authority. This was one of the most logical ways to deal with the sites in the sector with a very high level of competition. 

Content Development Strategy
In addition to improving our blog contents, we have made the development of our service pages on our website one of our priorities, making our high-volume service pages especially close to potential visitors. In this way, we were able to achieve the success we wanted in our service pages, such as teeth whitening, tooth filling, and tooth coating in 3-4 months. By designing our service pages as a guide to related subjects, we aimed to create leads and ensure that we could be reached from our contact forms. 
Would you like to write a Case Stuides?

Would you like to increase your organic visibility and brand awareness by being among the success stories of the Dopinger expert team? You can contact us right away!
Contact
Technical Work 
We started to carry out technical analysis on our website Drozlemozcan.com, especially within the framework of core web vitals. 
In this way, we took advantage of good page views by pulling our page experience metrics to 100% levels and ensured that it had an impact on our rankings. 

In addition, we analyzed our website in the form of weekly routines through technical tools such as Ahrefs, Semrush, and Screaming frog. In the light of these analyzes, we aimed to minimize technical errors by creating plans with the data we obtained. 


During the technical work, we also paid attention to the structural data. We aimed to both improve our rankings and earn extra clicks by processing FAQ structures and video structured data in accordance with user intent. 


Location-Based Work 

Since Drozlemozcan.com is a local business, its local visibility was important. Especially if it is assumed that most of their conversions come from here, the successes that can be attained in Google maps were very critical for us. In the light of these conditions, we have also focused on 
optimizing for Google Maps. A clearer profile was created, and photo additions and the development of brand identity were carried out. Thanks to these optimizations, we achieved our first objective, which is to rank 2nd in organic searches for the words "gayrettepe diş hekimi," "diş hekimi gayrettepe." in location searches. 

What Is Next? 
Continuing our work on behalf of Ms. Özlem, we planned the works that will enable her to take the positions she deserves in other service pages' words and to appear as a tough competitor in these positions for a long time. We are starting to implement these plans for drozlemozcan.com, which now looks like a more authoritative site, and we aim to be on the first page of all our service words and to increase our lead rates by being in the 1st-3rd. 

Dr.Ozlem Ozcan Case Study F.A.Q.
Click the questions to see frequently asked questions and their answers.
While doing SEO for websites in the health sector, extra attention should be paid to E.A.T andY.M.Y.L. criteria. As we mentioned in this case study, we have paid extra attention to E.A.T. criteria and made plans to gain authority.
Detailed and User-Friendly Content
In our SEO service for drozlemozcan.com, a detailed study was carried out in order to update the content, especially on the service pages. Information has been added to all service contents directly within the guidelines and supervision of Dentist Özlem Özcan, who is an expert in her field. In this way, the content has been made user-friendly.
The Google maps profile opened for drozlemozcan.com was of great importance in terms of getting conversions. We, as the Dopinger SEO team, performed optimization on the maps. Especially in location-based searches, we have made sure that Dentist Doctor Özlem Özcan ranked first place on the maps.
Since the drozlemozcan.com website has WordPress infrastructure, special paid plugins are used. In addition, code writing was also implemented during the improving website's speed.