Site Analysis
To carry out effective SEO practices for your website, it is crucial to conduct SEO analysis. Site analysis is a subject where you can analyze the status of your website in the search engine results and identify the deficiencies and errors of your site. Website analytics lets you use the data you accumulate from your site to learn more about your business. There are many website analysis tools, and they all have several features, but this one is something else.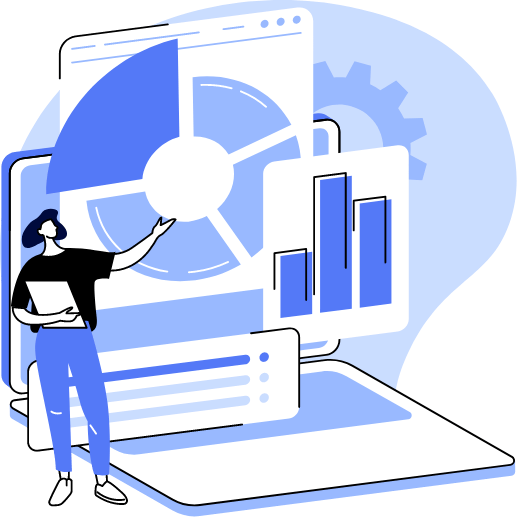 How to Use the Site Analysis Tool
Using the free SEO analysis tool is quite simple. After typing the URL address of your site into the URL field in our Web page analysis section, it will be sufficient to press the "Check" button. Immediately after, our tool will visit your site. It will analyze on-page SEO, indexing, analytics and counters, structured data, mobile compatibility, efficiency, server and security, Domain (domain name), and social media presence subheadings to the finest detail. In line with these analyses, the points of your page that need improvement will be pointed out.
Contact us now to get SEO Consulting!
Your website will be analyzed by Dopinger SEO Experts within the framework of SEO criteria. Your SEO consultancy proposal, including your analysis, will be sent to you as soon as possible.
What Are the Advantages of the Site Analysis Tool?
This SEO audit tool communicates the SEO report of your site and its status in search engines. Before doing a general SEO analysis, it is essential to do a site analysis to know more about your site. The main advantages of site analysis are;
You can find more about your site infrastructure,
You can measure your website's SEO compatibility,
You can provide supervision and control over your site,
You can fix errors in your website,
It helps you fix your website and determines additional strategies according to the results you gain from the analysis.
Check out our PDF guide about Site Analysis Tool
Achieve your goals with SEO!
Do you want SEO to reach your goals? Take a look at our SEO services now, let our professional team carry out all your work for your targeted performance increase!
SEO
What Information Can I Obtain with the Site Analysis Tool?
With this site checker, you can obtain detailed information about your website. In particular, you can have information on many sub-titles such as whether your site's technical infrastructure is in good condition; is it SEO compatible; is it crawlable and indexable; is it mobile-friendly? The information you can obtain thanks to our site analysis tool is as follows;
Title, Meta Descriptions, On-site SEO Analysis, On-Page links, Image alt texts, Most common keywords, Duplicate content control, XML sitemap control, URL structure, Broken links check, etc.
After site analysis, in line with this information, our tool offers you five different headings; successful checks, errors, warnings, and basic information. By studying these rates, you can learn how much optimization your site needs on which subjects, and you can take your steps accordingly. You can check our SEO consultancy service for driving more traffic to your website.
Dopinger SEO Tools
Dopinger offers free SEO tools to analyze your websites and create strategies to increase their performance. Here are the tools that we offer that can give a boost to your websites:
Site Analysis F.A.Q.
Click the questions to see frequently asked questions and their answers.
Site examination is the comprehensive analysis executed before the optimization studies to make your websites stand out.
Is Site Analysis Tool Free?
Our site analysis tool is available without any fee.
Is Site Analysis Program Reliable?
The site analysis program was created with entirely secure software programs.
How Do I Use the Site Analysis Tool?
To use the site analysis tool, type your URL in the related field in our web page analysis category and press the button.
What Does the Site Analysis Tool Do?
The site analysis tool helps you see the contextual and infrastructural errors or deficiencies in your site.
Why Site Analysis Should Be executed?
It should be done so that you can better see the deficiencies and performance of your site and make optimization studies.
What are the Advantages of Web Site Analysis Tool?
The website analysis tool allows you to see the status of your site in detail. This way, you can do more specific work. Moreover, you can use it completely free of charge.
What information do I access with the Web Site Analysis Program?
With the website analysis program you can easily access data regarding on-page SEO, indexing, structured data, mobile compatibility, analytics and counters, social media presence and domain name subheadings.
Should I Always Do Site Analysis?
You should analyze your website periodically, but not always. Because site analysis is a work that requires continuity. For example, you can do 1 in a week or 1 in 2 weeks.
What are the Commonly Used Web Site Analysis Tools?
The most known and widely used analysis tools are Google Page Speed, Ahrefs, MOZ pro, Semrush, Google Analytics, Search Console, Tag Manager, Yandex Matrica and Screaming Frog SEO spider.