Search Engine Marketing and Search Engine Optimization are commonly confused. Although they may seem similar, fundamentally, they are two different things. If you can't tell the difference, don't worry, you are not the only one. In this article, I will explain everything you need to know about Search Engine Marketing or SEM in short. So, grab a cup of coffee and enjoy the read.
What Is Search Engine Marketing?
Any approach used to boost a brand's search visibility or make a brand appear more often in search results is named search marketing. This approach can either be SEM or SEO, or both. SEO uses long-term practices to gain an organic place in a search engine results page. However, SEM uses paid strategies to appear in search results. If we were to define SEM by a single sentence, this is how it would be; SEM is a type of internet marketing that entails improving the visibility of websites in search engine results pages (SERPs) mainly through paid advertising. It aims at getting your business to the top of the page in search engines like Google, Bing, and Yandex. In short, the end goal is to increase the amount of traffic to a website which the businesses can ultimately convert.
Pay-per-Click (PPC) Marketing
While explaining what SEM is, you will come across a term called Pay-per-Click or PPC. PPC is a digital internet marketing approach in which advertisers are charged a fee each time a user clicks on one of their ads. When PPC ads are used in search results, it is considered SEM. But companies can use PPC ads and strategies on other channels as well. These channels can be social media sites like Twitter and Facebook, or they can be banner ads on a simple website. But when brands or companies use PPC on different channels, it does not fall under the SEM category. So, while we can say PPC is an SEM strategy, it can also be a part of social or display ad marketing.
SEO vs. SEM
SEO and SEM have the same goal but different strategies to perform their roles. The strategies that both SEO and SEM use do not mean that one of them is better than the other. Their different strategies are what make them convenient for every kind of visitor on the internet. Let's look at how their strategies work for the same situations:
Organic Search and Paid Search
SEO simply aims to adjust a website's internal and external structure in order to increase rankings in organic search results. On the other hand, SEM also does the same thing but you need to pay for your advertisement to show up at the top of search results. Both of them are convenient but if you want further improvement for your website, you may want to use paid advertisements.
Cost
SEO is a long-term strategy process, that is mainly because it is a strategy without payment requirements. However, the costs are content creation and checking the progress all the time. When it comes to SEM, you are responsible for creating an ad, and also you are responsible for paying for each click on your ad.
Online Traffic
Online traffic in SEO is related to user's search queries, therefore it will make it easy for the visitors of your website to find what they are looking for. As for SEM, the certain keywords that focus on your ads can help you attract users who have related interests to your ads.
Clicks
SEO does not demand payment from you when you click on ads. However, SEM wants payment for each click. You may speed up the process of your website's popularity but you have to pay for the focused keywords.
How Does SEM work?
A search engine like Google uses complex algorithms to ensure that the most relevant results are returned for each search. These include location and other relevant information. Let's assume a hypothetical situation in which you're a customer looking for a product or a service on the internet. You enter your search terms (aka keywords) into a search engine. You'll see various ads on your search results page whose keywords match the words you searched for. These ads, along with the other search listings that match your keywords, appear in eye-catching positions on the page. Because the paid listings are highly relevant to your search, you are more likely to click on them.
Why Use Search Engine Marketing?
You might be wondering why you should employ Search Engine Marketing. SEM generates high-quality traffic to your desired website without the long and drawn-out SEO process. Contrary to a long-term SEO campaign, you can see the results of SEM much faster. On top of this, users coming to your website will be guaranteed to be interested in your products or services. This is because they searched for specific keywords that led them to your site.
Why Is Search Engine Marketing Important?
The common goal of any digital marketing campaign is to improve business results. SEM is perfect for this because it puts your site at the top of the search results page. Let's look at the importance of SEM in the digital marketing field: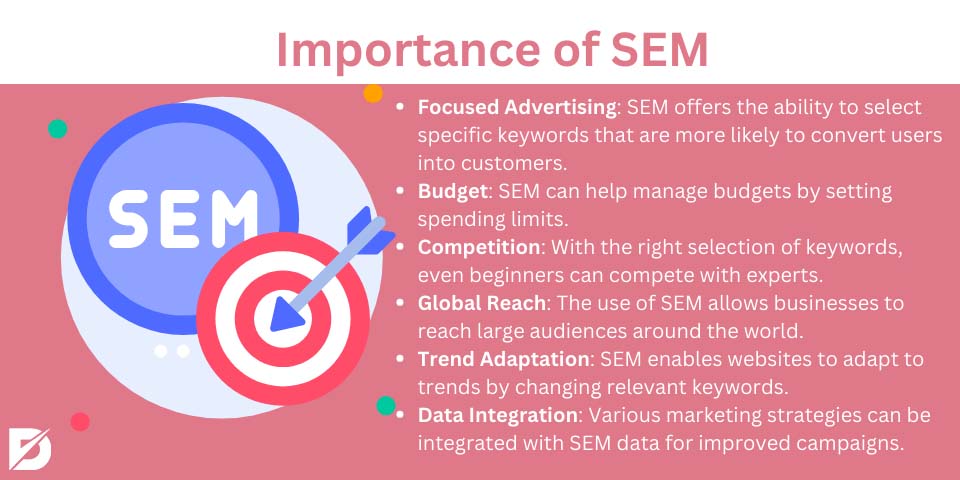 Focused Advertising: The advertisers who are benefiting from SEM can select the keywords they decide in order to make their ads reach a related audience. This is an important move for beginners because advertisers who are new to the usage of SEM can increase their chance of changing users' minds to make them their customers.
Budget: SEM helps you to manage your own SEM budget. The important thing about SEM budgets is that SEM allows you to set a spending limit so that you do not overspend your money on your ads.
Competitive: SEM helps you to join the competitive world of the online marketplace. If you can give an offer to the right keywords relevant to your users, it is possible for you to compete with even experts.
Global: This is an important milestone for your website to reach the masses because your customers will not only consist of regional customers. One of the most important things about SEM is that it allows you to grow your own business. This goal will take a long time and dedication to achieve, but it is rewarding in the end.
Trend Adaptation: In the online marketing world, it is crucial for website owners to adapt to trends. If you change the keywords related to trends, SEM can help your website adapt to trends.
Integration of Data: SEM can integrate its data with different types of marketing strategies in order to make its own marketing strategy.
What Can You Get from Search Engine Marketing?
At this point, you have a basic understanding of what SEM is, how it works, and why you should use it. But what else can you get from SEM? There is a misconception that SEM is only for larger companies, brands, and businesses. This is not true. You can start your investment in SEM at relatively affordable prices. And as your business gains traction, you can invest further according to your needs to preserve your momentum. Apart from affordable and adaptable prices, SEM also comes with tools to measure and fine-tune your results. One of these tools is Google Ads, which provides a number of various metrics for you to adjust your SEM campaign. This makes it easier for you to get the most out of your marketing budget.
Disadvantages of SEM
We explained a lot of impressive things about SEM which is providing their advertisers and customers. However, if we only inform you about the good things without the cons of SEM, we would not be able to explain it objectively. Let's look at the disadvantages of SEM that website owners have to pay attention to if they want to use SEM in their business: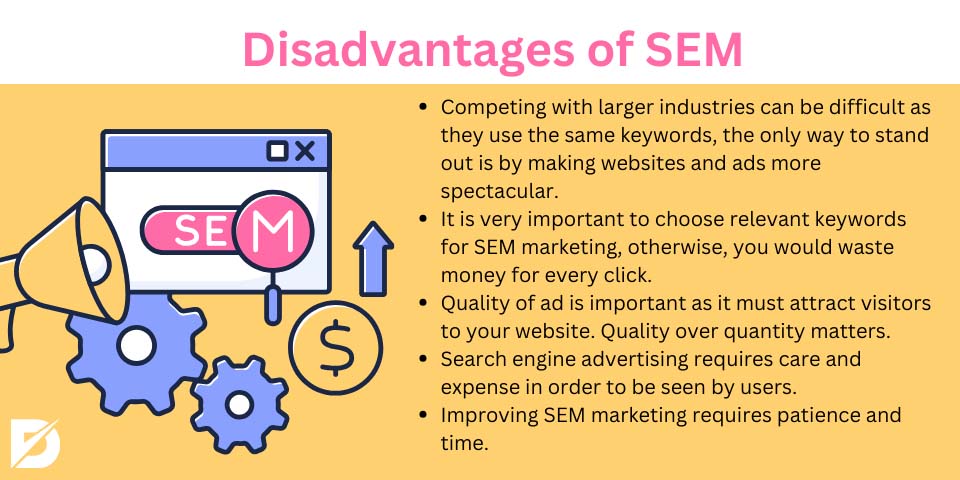 Competitive World: Sometimes, it can be difficult to compete with larger industries because these industries are giving and offering the same keywords as you. The only way for you to get more clicks from users is through your efforts to make your website and ads more spectacular.
Keyword Decision: Deciding on relevant keywords for relevant users is extremely important for SEM. If you happen to choose the wrong keyword for your ads, you are going to end up wasting your money for every click you get from users.
Click Frauds: The purpose of click fraud is simply emptying the advertiser's budget. They often do that with AI clicker bots in SEM marketing.
Ad Quality: If you cannot make something that will attract a lot of visitors to your website, even if you chose the right keywords for your ad, you will not be able to reach the masses. Do not forget the fact that quality over quantity matters.
Expense: Your search engine advertising in SEM marketing needs perpetual care in order to make it seen by users. If you stop paying for the ads that are showing up at the top of search results, users will not be able to see your ads again.
Requires Time: Before everything about SEM, you need to realize the fact that improving your SEM marketing requires plenty of time. Being patient is the key.
Search Engine Marketing Process, Campaign, and Strategies
Even though SEM is faster and requires less hustle than SEO, it still needs a well-defined path. To help you understand, here are a few universal steps to take in SEM.
Determining an Effective Approach: When starting an SEM strategy, you should analyze your competition, choose your audience, learn their intent, and adjust your business accordingly.
Identifying Correct Keywords: Keywords might be the most important step here. Even if you have the best product out of your competition, you will not get the expected conversion. You can learn more about SEM and keywords later in this article.
Measure and Manage: Like every other digital marketing, SEM is not a do-and-forget. You must keep a close eye on your metrics and make changes as necessary along the way.
Ad Auction in Search Engine Marketing?
Ad auction is an inseparable part of Search Engine Marketing. This is where you will have to make precise decisions on how to manage your budget. At first look, the whole process may seem overcomplicated, but it is relatively straightforward. Every ad goes through this process. Here I will explain how this process works in Google Ads. Google Ads uses a super-fast ad auction to choose which ads should appear when someone searches on Google or visits a website displaying ads. By setting your bid, you're telling Google Ads how much you're willing to spend for a click on your ad. In addition, Google Ads considers how relevant and beneficial your ad and the page it links to are to the person who will view it. All of this combines into how effectively you manage your budget and how much of it you're getting back.
Search Engine Marketing and Keywords
It is safe to say keywords are an essential part of Search Engine Marketing. Search engine algorithms use keywords to match search queries and results. Therefore, it is crucial that you choose and bid on the right keywords to bring in users. Researching your keywords beforehand and laying down the groundwork is just as important. You can utilize a free or paid keyword tool to achieve this. After you decide on a tool, you can pin down keywords highly relevant to your company. Beyond that, you can even exclude keywords that are not related to your business or product. For example, imagine if you were selling cake or pie; in such a case, you would want to exclude the keyword "cake recipes." As the users looking for cake recipes are highly unlikely to be searching for your product.
SEM Keyword Research Strategies
We talked about the importance of keyword selection for your sem marketing. Assuming that you grasped how important it is for you to choose the correct keywords for your website's ad, we will dive deeper into this matter now.
RECENT POSTS
Is Cro a Good Investment? 
A/B testing is something you've likely heard about before. Although it always seemed helpful, it was never truly necessary. But as the noises have bec...
What Is Bayesian A/B Testing? 
In the age of data-driven decision-making, businesses are constantly looking for innovative and effective methods to improve user experiences, optimiz...
There are several keyword research strategies for your website to be seen by the related audience. Let's look at these SEM keyword research strategies: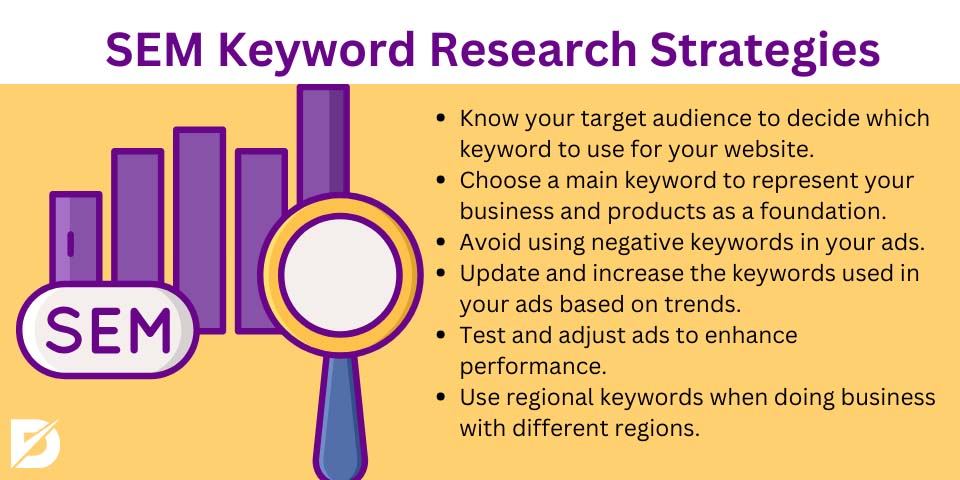 Be Aware of Your Audience: The first step in deciding which keyword you should choose for your website begins with knowing your target audience. Figuring out their choices will definitely give you a good idea about what keywords they will type in their search engines.
Foundation: After figuring out what kind of audience you have, you need to choose a main keyword that will represent your business and products. This keyword will be your origin.
Do not Use Negative Keywords: Using negative keywords in your ads may have a bad influence on your website. Make sure to remove those negative keywords in your ads.
Update Your Keywords: The trend is changing rapidly. You have to follow the online trend every day and every time if you want to attract more visitors to your website.
Increase Your Keywords: When you manage to attract a lot of visitors to your website with your relevant matching keywords with your audience, consider enhancing the keywords you are going to use in your ads.
Testing: When you create a list of keywords for your website's ads, you need to adjust and test your ads in order to enhance the performance of your ads.
Regional Keywords: When you get to the point that your business is reaching the masses, you will need certain keywords for every region you are going to do business with.
Final Thoughts on Search Engine Marketing
Now you have everything that you need to start using SEM. You can get immediate results with it, unlike SEO. Furthermore, whatever your budget is for advertising, you can start from somewhere with SEM. And if you follow the basic steps in this article, you can quickly improve your business in no time. I hope this article has proven itself useful for you. If you want to learn more about online marketing, you can check out our Online Marketing Guide.