As everyone knows, emails are one of the most important elements in marketing strategies, but they can be more effective than you can imagine. In this article, we will answer two important questions to improve your business marketing strategy. "What is email personalization, and why is it important?" and "What are the benefits of email personalization for your business?" We will also take a look at two different levels of personalized emails. If you're ready, let's start with answering the first question!
What Is Email Personalization?
Customers want to feel special. You should put them first in order to create more customer value. That's where personalization in emails comes into play.
Personalized emails can be described as emails sent by brands, companies, and organizations using subscribers' personal information to make an offer they cannot refuse.
As you may guess, personalized emails are more attractive with higher open rates compared to other emails. However, there are two necessities. First, you have to be aware of what you are doing. Second, you have to show that you care about your customers.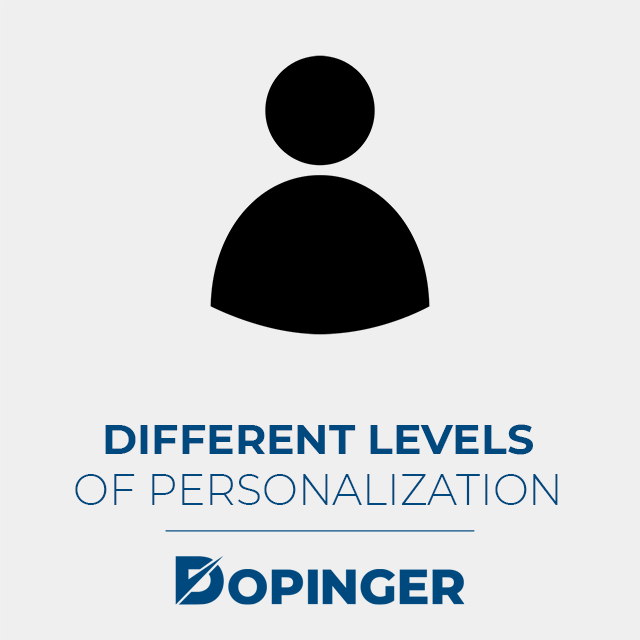 Different Levels Of Personalization
Creating personalized emails can be divided into two parts: simple or complex personalization. Let's try to explain them in a simple way.
Simple email personalization is a simple procedure that includes minimal customization. To give an example, you can call a subscriber by his/her first or last name in emails.
Complex email personalization includes using more personal information simultaneously, such as the subscriber's gender, age, location, occupation, interests, or other personal information you know about him/her.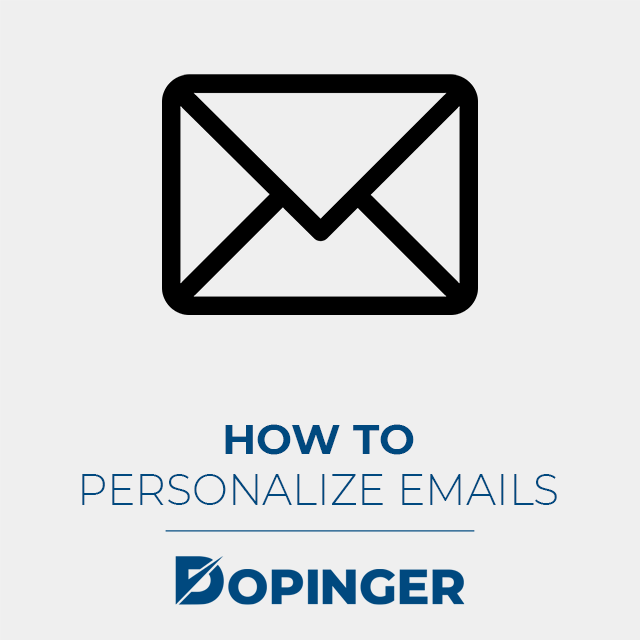 How to Personalize Emails
There are different methods to make your emails personal. Now, we are going to examine 5 common methods.
Use Subscribers' Name
As we mentioned above, there are two personalization methods in emails: simple and complex. Using subscribers' names is the basic step to start making your emails personal. It is an easy but effective strategy. How does this work? According to research studies, if you call people by their first names, you will increase your chances of getting their attention.
For example, you can start with the "(The person's name), we have something that might interest you" sentence.
Use Personalized Subject Line
The subject line is the first thing people notice when they see emails. In order to attract their attention, you need to use this part as efficiently as possible.
Use Subscribers' Interests
Most people tend to be more close with things that they like. Think about a shopping lover. She wants to follow the latest developments in the fashion world, right? Because of this, if you send her an email about the latest fashion trends, the shopping lover will definitely open it. This is an easy example. However, how can you know what your potential subscribers are interested in? That's where social media platforms come into play. You can check the pages they follow, comments, likes, posts, and stories in their social media accounts (Instagram, Twitter, Facebook, Youtube, etc.)
Remember Anniversaries
If you remember important dates and send your customers an email to their celebrate anniversaries, they will feel more valuable. Their first anniversaries with you or birthdays are perfect options.
Use Gender and Location Information
Let's say you have a clothing brand for both women and men. You should send female customers an email relevant to women's clothing instead of men's clothing; otherwise, the female customers will delete the email without reading it.
5 Essential Benefits You Will Get From Personalized Emails
Personalized emails are one of the major parts of email marketing. Let's see what are the essential benefits of them:
You will be able to sell more products and services because you can reach the most appropriate target audience. That's why you can perfectly improve your email marketing strategy by understanding them.
Your number of active subscribers will increasingly increase and unsubscribe rates will significantly decrease. It means that you will have more loyal customers.
You can create deeper relationships with your loyal customers.
It's not necessary to spend money because it is a perfect cost-effective method.
You can easily stand out from your competitors in your industry.
FAQs About Personalized Emails
Why is location important for personalized emails?
Suppose that two people live in the same country, and the only difference is the weather conditions. If you want to attract these two customers' attention at the same time, you should use personalized emails. Why? This is because these two people can't have the same shopping behaviors. For instance, one guy tends to purchase t-shirts and flip-flops, and the other guy tends to purchase sweatshirts and coats. Now, "Should you send them the same content?
Why is personalization in emails important in content marketing? 
Compared to emails without any personalization, these types of emails help you get more click-through rates (CTRs), and it is one of the top necessities of content marketing.
How do I get personal information from customers to send them personalized emails?
There are several methods available to do this. For example, if your customers add a product to their online shopping cart but leave before purchasing, you can send them an email like this: "Hey, you forgot something in your cart!" You can also check their purchase histories.
Does it matter what time I send my personalized emails to customers?
It doesn't matter how good your email is if you do it at the wrong time. For this reason, you have to send emails at the most suitable time for the best results. So, when? It depends on your customers, products or services, content, marketing strategy, and other variables.
What is dynamic content in email marketing?
It can be described as email content that changes based on your target customers' habits, interests, and tendencies. 
What We Have Learned About Personalized Emails
As everyone knows, personalized emails are the most necessary part of the email marketing strategy. You can provide a better customer experience with personalization in emails. In this article, we gave five different methods to do this, from using your subscribers' name and their interests to using personalized subject lines and important anniversaries. Now, it's time to start making your emails personal.